Pantry Progress — An Incredibly Productive Day!
Y'all, I felt so productive yesterday! I was getting things done, crossing things off the list, and feeling so energized that when 11:00pm rolled around, Matt had to actually convince me that it really was time to stop and wind down for the night. I felt like I could have worked all night…or at least two or three more hours. Here's a glimpse of my progress…
(Having trouble? Click here to watch on YouTube.)
So let's start with the item that I only got about halfway done — clear coating the drawers. I finished six of them, which means I have eight left. But since the ones I did were all big drawers, and six of the ones I have left are much smaller, I'm calling this item half finished. 🙂 But that still doesn't warrant a check mark quite yet.
I also got the back and side walls and shelves painted…
And I also got the entry wall and door trim painted…
And just like the opposite wall, that wall and trim are painted the same color, same sheen, out of the same can of paint, and they look different. It doesn't bother me at all. I just find it interesting.
And then, there's the big one. I got the freezer outlet wired!! See that little green light? It's on! It's working!
That was my last list item that I was totally dreading, so it's all smooth sailing from here on out. Or maybe I shouldn't have said that. Oh well, I'll take my chances. I'm feeling excited and positive, so I don't mind tempting fate just a bit.
So here's what my list looks like as of this morning:
Finish painting the edges of the ceiling Done!
Add stile on top right cabinet Done!
Add stile on cabinet above freezer Done!
Add electrical outlet for microwave Done!
Wire freezer outlet to breaker box

Done!

Paint second coat on right side cabinet Done!
Paint second coat on freezer cabinet Done!
Paint walls and shelves on back and side walls Done!

Paint window trim

Done!

Install under-cabinet lighting
Paint four cabinet doors

Halfway done!

Finish building new drawer fronts Done!
Prime and paint drawer fronts
Build four more pull-out shelves Done!
Clear coat all pull-out shelves and drawers

Halfway done!

Install and caulk door trim Done!
Paint door trim Done!
Paint the wall around the door Done!
Re-install ceiling light
Load in stuff and start using the pantry!
I'm so excited! This is actually getting done! Accountability for the win!
---
---
Update:
My pantry is finished! Want to see the entire project from start to finish? You can find every single post about the pantry build right here…
Or you can skip to the end and see how it turned out. Here's a peek of the finished pantry…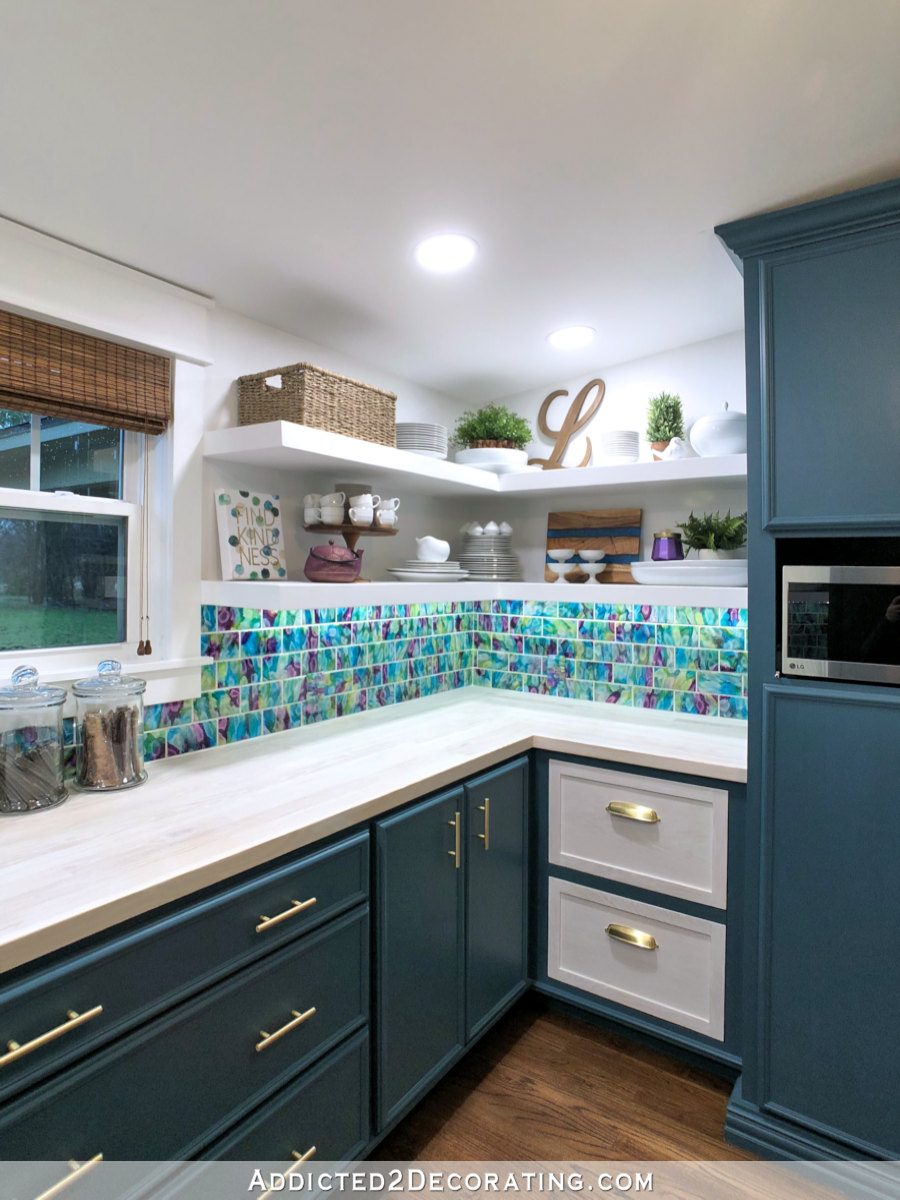 You can see more pictures on the before and after post right here…
Addicted 2 Decorating is where I share my DIY and decorating journey as I remodel and decorate the 1948 fixer upper that my husband, Matt, and I bought in 2013. Matt has M.S. and is unable to do physical work, so I do the majority of the work on the house by myself. You can learn more about me here.