DIY Colorful Shower Curtains (In A Watercolor Floral Fabric)
I love colorful shower curtains, but I always have a hard time finding ready-made shower curtains that I like. So I always opt for a DIY shower curtain for my bathrooms. They're not difficult to make at all, and they really lend a custom look to the bathroom. And I finally got the one for the hallway bathroom makeover made! I think the bright watercolor floral fabric adds so much color and life to my previously blah bathroom (which isn't finished yet…obviously)…
I still haven't painted the walls, and that drab green color is doing the room no favors. It will soon be a bright, clean white. I wish I could change the tiles in the accent border, but that's way more than I want to do right now. So for now, the tiles will stay. But I might swap those out later this year or next year after I've gotten way more done on the rooms I'm actually supposed to be working on this year. 😀
Here's a peek of the new shower curtain with the colorful resin petries that I intend to frame for the wall, and a glimpse of the new cabinet color.
I didn't take pictures of the process while I was making these colorful shower curtains, but I can explain to you exactly how I made it. I mean, in reality, this should be a very simple project. Mine was pretty frustrating because of sewing machine problems, combined with the fact that I was using some of the most hard-to-work-with fabric I've ever used.
I think it probably would have been better had I not washed the fabric first. You're really not supposed to wash decorator fabric, and I almost never do. In fact, I never wash fabric when I'm making draperies with it, but then they have to be dry cleaned. I didn't want to have to dry clean a shower curtain, so I pre-washed the fabric, and with this being a linen blend, it just destroyed the body (i.e., the hand, the weight, whatever you want to call it) of the fabric.
I washed it by itself, and I clean out my dryer lint trap after every single load of laundry without fail. So out of six yards of fabric, this is how much lint came out of that shower curtain fabric…
Isn't that crazy?! I've never seen that much lint from pre-washing fabric! And it's rolled up like a burrito, so it's that thickness all the way around. Just crazy.
So this fabric was a pain to work with. It would crawl and shift as I'd work with it, and it didn't even have enough body to it to hold pins. I'd pin a hem, and then go back to sew the hem, and half of the pins had fallen out.
The lesson here is that if you don't have a lot of experience sewing, stick with cotton. 100% cotton in a decorator fabric weight is a dream to work with compared to crawly, shifty fabrics like pre-washed linen and thin polyesters. If you want a simple sewing project, 100% cotton decorator fabric is always the best choice.
Steps To Make Your Own Colorful Shower Curtains
1. Sew two widths of fabric together lengthwise.
Shower curtains are generally 72 inches wide. That's 12+ inches wider than the standard width of decorator fabric. So to have enough width for a shower curtain, you have to sew two width of fabric together along the length of the fabric.
I cut two lengths of fabric that were about three yards long, and then I sewed them together lengthwise. I tried my hardest to match the pattern, but I finally gave up and just decided that close enough was good enough this time.
2. Sew in the bottom hem.
Along the bottom edge of the fabric, and with the fabric lying face down on my work surface, I turned the fabric up 2.5 inches and used my steam iron to iron in the fold. Then I turned it up another 2.5 inches and ironed again. Then I stitched the hem into place by sewing through all of the layers of fabric along the top fold.
When making draperies, I would never sew through all the layers of fabric like that and have the stitching show from the front. On draperies, I always use a blind hem stitch so it doesn't show from the front.
hese are colorful shower curtains, and I was already fed up with the fabric and my sewing machine, so blind hem stitching was the last thing on my mind. 😀 But if you want a higher-end look, you should definitely use a blind hem stitch.
Step 3 – Sew in the side hems.
This is basically the exact same thing as on the bottom hem, except that I make them smaller. This time, I fold the fabric 1.5 inches and iron. The fold another 1.5 inches and iron. Then sew into place along the inside fold.
And again, you can use a blind hem stitch if you want. But again, I didn't care at this point. 😀 I was in "just get the [email protected]#$% thing done!" mode. 😀
Step 4 – Sew in the top header.
Sewing in the top header is similar to bottom hem except that I sandwiched in a strip of three-inch buckram (i.e., non-woven drapery header tape, as it's called at JoAnn Fabrics and other stores) into the fold.
So I folded the fabric up three inches, ironed the crease into place, and sandwiched the header tape between the layers. Then folded up another three inches, ironed into place, and sewed along the inside fold.
If you've read my blog for long, and have seen my plethora of drapery tutorials, then you're very familiar with this step. If you're feeling lost, I'll link some helpful tutorials at the bottom of this post.
But do not skip the header tape!! That's what will give the top header enough body to actually stay upright and not slouch between the hooks.
Step 5 – Finish the header with pleats (optional), and hooks or grommets
I've shown y'all how to make a shower curtain using grommets in the past. If you prefer that method, I'll link it at the bottom of this post.
For this shower curtain, I chose to make it more like a drapery panel by skipping the grommets and adding a few single pleats. Since shower curtains generally use twelve rings, I made twelve single pleats at the top of my shower curtain.
The main purpose of the pleats was just to take up some slack. Most shower curtains and liners are 72 inches wide with about 6.5 inches between the grommets. My DIY shower curtain using two widths of fabric was 98 inches wide. I wanted to allow two extra inches on each end, so that meant I needed to take up 22 inches of extra fabric width with 12 pleats. That came to just over 1.75 inches per pleat.
After sewing in the 12 pleats, I added a drapery hook to the back of each pleat and hung it on the curtain rings. I used the type that has two hooks per ring — one hook for the decorative shower curtain and one hook for the shower curtain liner (i.e., the part that goes inside the tub and actually gets wet).
I hadn't actually intended to use drapery hooks for this shower curtain. I had planned to use large plastic rings that would be sewn on. But again, by this point, I was in no mood to do more sewing, and especially not hand sewing, so I went with the fastest option that would get this project over with the quickest. The plastic rings would really be better, so once my frustration with this DIY shower curtain has completely worn off, I might go back and add those. 😀
With the decorative fabric DIY shower curtain hung, I could then attach the store-bought shower curtain liner to the second hook on each shower curtain ring.
And that's it! I'll be the first to say that this isn't exactly my best work. I generally don't tolerate top stitching on hems, and I always hand-stitch the ends of hems and headers so that they stay perfectly flat. But right now, I'm okay with it just being done like it is.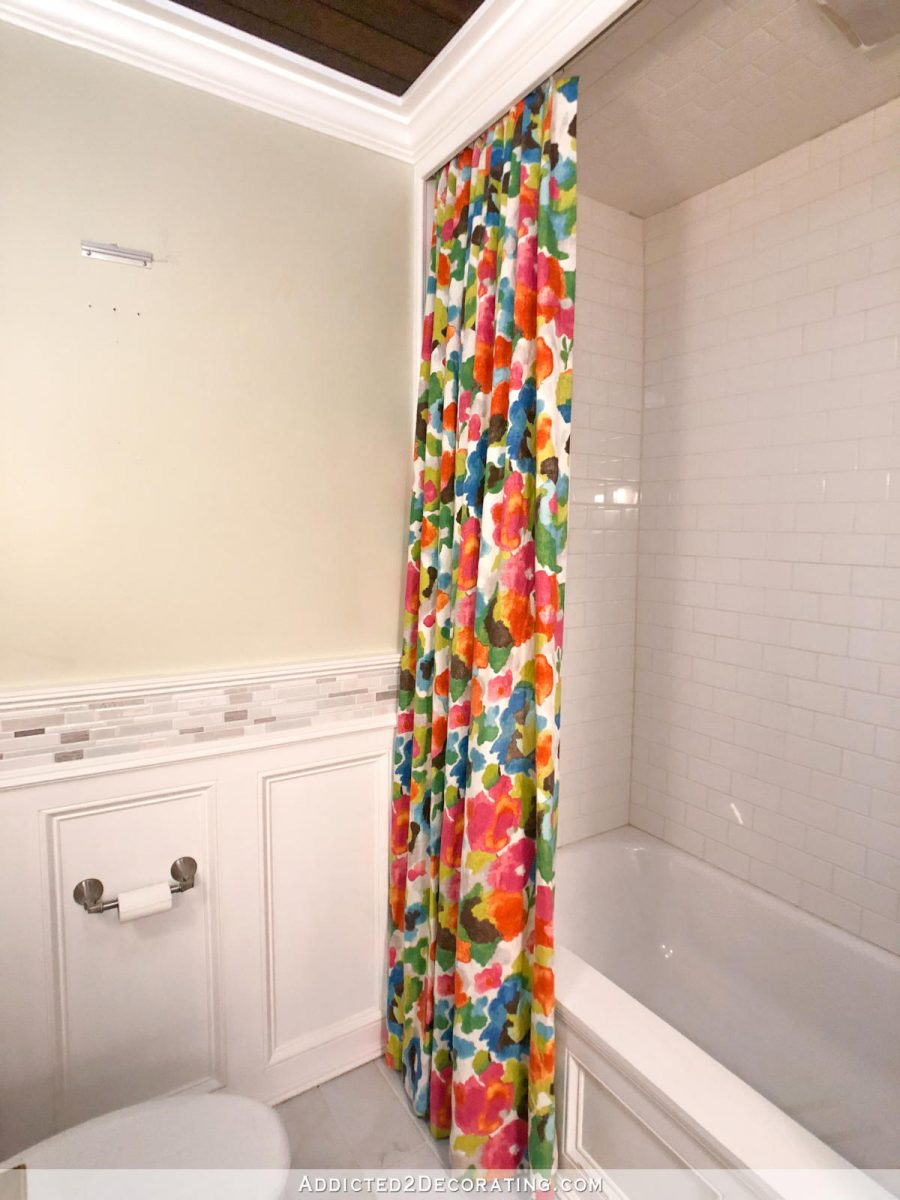 Now I can't wait to get rid of that drab green wall!
Recommended Liner For Your Colorful Shower Curtains
Now as far as the shower curtain liner goes, I never use the thick plastic ones. I can't stand those things since they can't "breathe", and that seems to encourage the growth of mildew. Instead, I use the woven polyester hotel liners that feel more like fabric and are breathable. And I buy them in the extra long length. So when I need to shower I just put the liner inside the tub and pull the curtain closed.
And then when it's dry, or if I have guests coming over, I can simply tuck it back behind the decorative fabric shower curtain so it's not so visible.
Helpful sources and products:
Want to see a shower curtain I made using a grommet header? You can see that here…
Need more thorough instructions on adding header tape to a shower curtain or drapery panel header? I have that info here…
Fabric shower curtain liner – These are the only shower curtain liners I'll use. They're polyester, so they're still plastic, but they're a woven, breathable fabric rather than a solid piece of plastic. They're washable but not bleachable, so I just add some OxyClean to the wash, and they come out bright white and clean as new.
---
---
Update:
My bathroom makeover is finished! Want to see the entire project from start to finish? You can find every single post about the bathroom makeover right here…
Or you can skip to the end and see how it turned out. Here's a peek of the finished bathroom…
You can see more pictures on the before and after post right here…
Please note: This post contains affiliate links.
Addicted 2 Decorating is where I share my DIY and decorating journey as I remodel and decorate the 1948 fixer upper that my husband, Matt, and I bought in 2013. Matt has M.S. and is unable to do physical work, so I do the majority of the work on the house by myself. You can learn more about me here.