One Year Housiversary Tour Wrapup (Plus Your Questions Answered)
I'm wrapping up the one year house tour today with the sunroom, kitchen, and breakfast room.  And I confess that once again, I didn't take any new pictures of these room.  Y'all have seen plenty of the kitchen and breakfast room over the last four months, and there's absolutely nothing new going on in the sunroom.  But I'll certainly share my plans with you!  And then after the tour, I'll answer some questions that I've gotten over the last few days regarding our house.
The Sunroom – 0% complete
The sunroom is a very large room located at the back of the house.
It's not original to the house, and whoever built it really didn't put a lot of effort into it.  It's more like a glorified covered patio with an air conditioner, some windows, and a sliding glass door.
Here's how it looked when we moved in.  For this picture, I was standing in the doorway between the sunroom and the breakfast room looking towards the other end of the sunroom…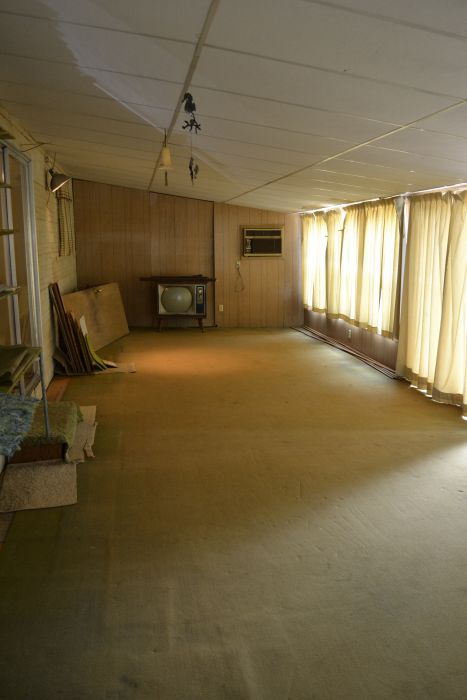 These days, it looks pretty much the same, except messier.  That far end is now where I have my washer and dryer (where those cardboard boxes are, underneath the bathroom window) and the hot water heater (in the far left corner).  I had those things moved over there when we first moved in because my plan at the time was to eventually create a laundry room/utility room at that end, and turn the end closer to the breakfast room into the family room.  But my plans have since changed.
Anyway, here's the view looking back the other way.
Again, nothing has changed except that I use that end to store things that are still in boxes, and some extra furniture that I'm not using right now.  That door straight ahead on the right goes to the breakfast room.  The sliding glass door on the right side of the picture has now been removed, and that goes to the music room.  When Matt's dad was here in February, he built Matt a wheelchair ramp so that he could get into the sunroom and then out into the back yard.  That's why the glass door had to be removed in the first place — it was too difficult for Matt to get through.
As far as the plans go, this room is very much like the "master bathroom" we currently have.  There's really nothing that can be done to salvage it in its current condition.  The floor is literally pieces of loose particle board (not even plywood! particle board!) placed on the ground and leveled in a few places with bricks and gravel, and then carpet rolled out on top of it.  The carpet isn't stapled or secured at all.  And you can see how low the ceiling is.  On the side with all of the curtains, I can actually stand there and touch the ceiling, and I'm only five feet tall!!!
So this room will have to be completely torn down and rebuilt so that it's level with the rest of the house (no step down into the room), and the ceiling is the proper height.  That will also give us the opportunity to expand the room towards the back yard about five or six feet to accommodate everything I want in this space.
And what do I want in this space?  This is the plan…
This was my absolute favorite idea that came about from my "Where can I put a pantry?" post the other day.  I had originally planned on putting the family room on the right side closer to the breakfast room, and the utility room on the left side.  But something about that doorway from the breakfast room leading directly into the family room just didn't sit well with me at all.  This way feels much better to me, having that walk through butler's pantry as a transition area between the breakfast room and family room.
And speaking of…
The Breakfast Room – 5% complete
Here's how this room started out.  Standing at the back of the breakfast room and looking towards the three big windows at the front of the room, this is what it looked like.  You can see the wall separating the breakfast room and the kitchen.
And then looking the other way towards the back of the house, it looked like this…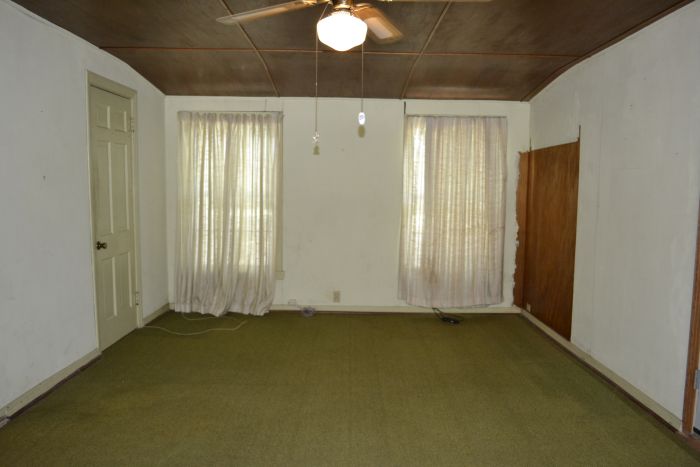 That door on the left goes to the sunroom.
Now I think y'all are all too familiar with the current condition of the breakfast room.  It's a complete mess because that's where I've done most of the work (sawing, cutting, sanding, spray painting) as I've been working on the kitchen.  It's also where my brother and I mixed the concrete as we were pouring the concrete countertops in the kitchen, and that gets very messy.  But at least that wall is gone, as is the green carpet!  And I also removed most of the thin plywood that was covering the walls.  It doesn't look like much of an improvement, but it had to be done.  🙂
It actually looks a bit better than that now because my mom came over and cleaned up quite a bit of the mess for me.
As of right now…this very moment (because y'all know I can change my mind at a moment's notice)…the plan is to leave the actual structural part of the ceiling alone.  There will be no vaulting or raising the ceiling joists or anything like that.  But I would love to remove the plywood that's currently on the ceiling, and then instead of drywalling the ceiling, I'd like to install tongue and groove wood slats above the ceiling joists so that the ceiling joists are exposed.  This was one of the suggestions made when I posted about my breakfast room ceiling a few weeks ago, and the more I've thought about it, the more I love that idea.
My hope is that it would look something like this…
Traditional Family Room by Dallas Design-Build Firms MORE design+build
While that wouldn't actually give more space between the floor and the ceiling (because the ceiling joists would still be low), it would give the illusion of a higher ceiling. And really, that's all I need.
I'm still not even sure if this is feasible because I haven't yet ventured up into the attic to see what our ceiling joists look like and what condition they're in. If it turns out that they're not really something I'd want exposed, then I might just drywall the ceiling and be done with it.
And speaking of drywall, I've decided to just drywall right over all of the random shiplap siding and tongue and groove paneling that currently covers the walls. Why remove all of that? It provides a firm base for the drywall, and it also provides an extra layer of thickness to insulate the room. Of course, I've already told y'all that I'm done with drywall, so I would hire that out. I actually have someone coming tomorrow to give me an estimate.
And finally…
The Kitchen – 95% complete!!!!
I have another confession.  I haven't done one single thing in my kitchen for a week now.  Not even one tiny little project.
Week before last, as I was trying to meet my goal of finishing by the 18th, I worked all day every day, and worked until midnight or later three nights in a row.  I worked myself into a state of complete and utter exhaustion.  Matt was concerned for me.  Frankly, I was concerned for myself.  So Matt insisted (and I didn't take much convincing) that I take the week off from the kitchen remodel.  So I spent last week taking things easier, cleaning my house, getting things put back in order, and doing the things that I've neglected since I started on the kitchen remodel.
I'll get back to this kitchen this week, now that I feel rested and refreshed, and hopefully be able to work more efficiently and get this project finished up.
But let's take a quick look back, shall we?  Here's how the kitchen started out when we bought the house.  The sink was originally on this wall, and the window (originally an exterior window) looked out to the sunroom.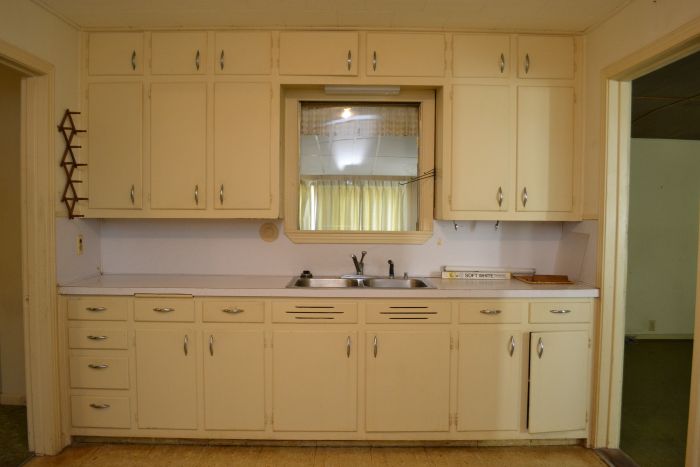 And now, that wall looks like this (except that the floor is sanded and no longer has striped painted on it)…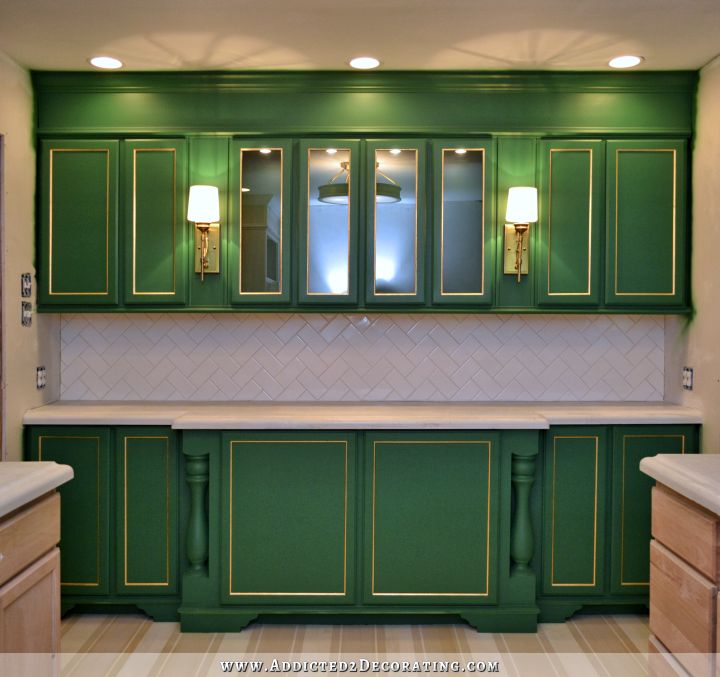 Here's another view of the original kitchen…
And now, there are no cabinets on that wall anymore.  I put the cabinets on the wall to the right instead, and the wall where the cabinets were originally is now a wall of tile…
And the biggest and best change of all is that this wall that made the kitchen feel so small and dark…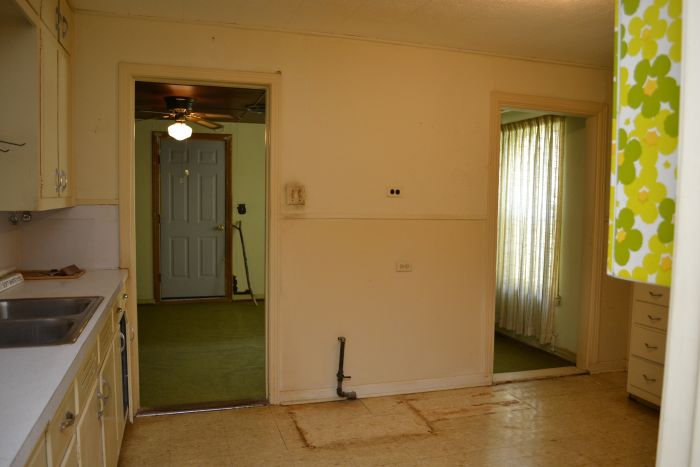 …is now gone, and there's a peninsula where the sink is now located.
Ahhh, what a journey this kitchen remodel has been!  And it'll be over soon.  🙂
Your Questions Answered:
I've had a few people ask some questions over the last few days (since I started this one year tour) that I know many of you are probably curious about but probably too shy to ask.  🙂
I really don't mind questions like these, and I'm happy to answer them.  I think having this info helps people to have a better understanding of what it's like to take on fixer upper like I've done, and to decide whether or not it's something they could do themselves.  Of course, house prices very drastically throughout the country, so my situation might not be what you'll find in your own area.
1.  How much did you pay for your house?
We paid $82,000 for our house, put $20,000 down, and have a mortgage of $62,000.  Our monthly payments are lower than the cost of rent for a one-bedroom apartment in our area.  That's one reason we can put so much towards fixing up our house.  We're not straddled with a huge monthly mortgage payment, and we're not house poor.  That, in my mind, is one of the best reasons for buying a fixer upper.  There's such freedom of mind that comes with having such a tiny house payment.
2.  What is your neighborhood like?
The area where I live is an old part of town, inside the city (not a suburb), so there's a real mix of houses around here.  If you drive around on our street and just a couple of streets either direction, you'll see everything from tiny houses that have fallen into disrepair and that are in desperate need of attention (some valued as low as $60,000), and then you'll see some houses that have been very well maintained over the decades with gorgeous yards that are valued at as much as $350,000.  And then you'll see everything in between.  (I'm getting those numbers from Zillow.com, which currently has our house valued at $114,000.  That's an improvement from the $80,000 that it was listed at when we bought it!)
So it's a real interesting mix, probably similar to what you'd see in many (most?) cities in the older parts inside the city limits.
The neighborhood is wonderful.  I have amazing neighbors, and the neighborhood is very quiet with very minimal traffic.  The kid across the street plays basketball in the street all the time without being bothered too much by traffic.
3.  What is your budget for fixing up your house?
I don't have one.  I'm just going to work from room to room, fixing up each room as I want it, doing what I see needs to be done (like new drywall on the ceiling), and spending as wisely as I can.  And then when it's done, it's done.
If I was forced to put a number on it, I'd guess that we'll end up spending about $100,000 to $120,000 by the time it's all said and done.  Now keep in mind that that will be spent over the course of the next 7 to 10 years…maybe a bit more.  Also keep in mind that we only paid $82,000.  So even if we put a total of $120,000 into it (which will all be paid in cash as we go along…we don't do credit cards), that will still only be a total of $200,000 that we've paid for our house, which will end up being about 2900 square feet on a one acre lot.  $200,000 for a house that is completely designed and decorated to my liking, and that needs no further modifications or remodeling, is quite a reasonable price if you think about it.  Many people spend several hundreds of thousands of dollars on a house, and then still want to make structural modifications and have to furnish and decorate the house on top of that.
4.  What about the return on your investment?  Will you be able to get that back?
I don't know, and I'm not concerned with that at all.  We're planning on staying put here for good.  Once I spend the next 7-10 years fixing up this house and getting it just like I want it, and putting all of that blood, sweat and tears into it, the last thing I'd want to do is pack up and move.  And there's absolutely no reason that we'd need to move, so we're not planning on it.  Ever.
5.  Do you still have your condo?
I get asked this at least once a week.  🙂
Yes, we still have the condo.  It's just sitting there gathering dust.  I know…that's the dumbest thing ever when we can sell it or rent it out and collect money rather than throwing away money each month.  I need to get over there and spend about a week finishing up some little projects, cleaning out all of the rest of our stuff, and then get it on the market or get it listed for rent.  It's very close to Baylor University, so I don't think we'll have any trouble selling or renting it if I can ever get my act together and do what needs to be done.  Fortunately, the mortgage on that is tiny as well.  But still…it's money wasted, and I need to be wiser with our money than that.  So hold me to it.  As soon as the kitchen is finished, and before I start any other house projects, I need to get the condo in selling/renting condition.
Addicted 2 Decorating is where I share my DIY and decorating journey as I remodel and decorate the 1948 fixer upper that my husband, Matt, and I bought in 2013. Matt has M.S. and is unable to do physical work, so I do the majority of the work on the house by myself. You can learn more about me here.