I have a question for you. What's the one thing you really want to do, but you're letting fear hold you back? And I'm talking specifically about the fear of what others might think. The fear of criticism.
For me, it has to do with creating and selling my artwork.
To be quite honest, I even feel stupid saying that. My artwork. I feel like I should be calling it "my craft projects" instead, because I'm not a real artist, right? I can't be. I didn't go to school to learn about art. I don't have a fancy degree in fine art. I didn't learn about composition and colors and famous artists and art history and such in college. (I was too busy learning about Freud and Jung and Skinner and Pavlov.) And I've had people tell me right here on my blog that there's no way I can consider myself an artist since I didn't do those things.
So when people like me call themselves "artists," there are always those people who will balk at it and say things like, "Oh my gosh, can you believe SHE thinks she's an artist? She has no formal training! Can you believe that SHE thinks her so-called artwork is good enough to sell? And for those prices? Who does she think she is?"
I suppose those people intimidate me. But why? Why do those few voices and their potential criticism ring so much louder in my ears than the very real voices (or typed comments) from very real people who ask me on a regular basis, "Kristi, do you sell your artwork? And if so, where can I buy it?"
I don't know why I let fear hold me back. Why do any of us let fear of potential criticism from others hold us back from what we really want to do?
After all, my mom wasn't formally trained as an artist. She is totally self-taught. And yet, there's no way you can convince me that her lack of formal training makes her any less of an artist than those who have degrees in art. As a young girl, I remember other women (and a few men) coming to our house and spending hours in my mom's studio learning from her during her weekly painting classes. I remember going to art shows where she would have a booth and sell her gorgeous paintings.
She wasn't formally trained, but she is, without a doubt, an artist. And I would dare anyone to tell me otherwise. (You can click here to see some of her artwork.)
And plus, artists come in so many varieties. There are painters, and sculptors, and mixed media artists, and graffiti artists, and performance artists, and so much more. Add to that the fact that art is so subjective, and who's to say who's an artist and who's not?
My first real attempt at artwork, from 2011
For me, part of the challenge was learning what I personally liked. Having grown up with an amazingly gifted artist for a mom, and one who painted very realistic and detailed paintings, that became the standard for "art" in my mind. But as I got older, I realized that my own personal taste in art was vastly different from my mom's.
When Matt and I lived in the condo, I started playing around with some very different styles of paintings — paintings that were more modern and abstract. I found that rather than trying to paint something that looked like something in nature, instead I enjoyed abstracts with lots of color and movement. My first attempts aren't ones that I'd want in my house today, but they helped steer me towards what I really like.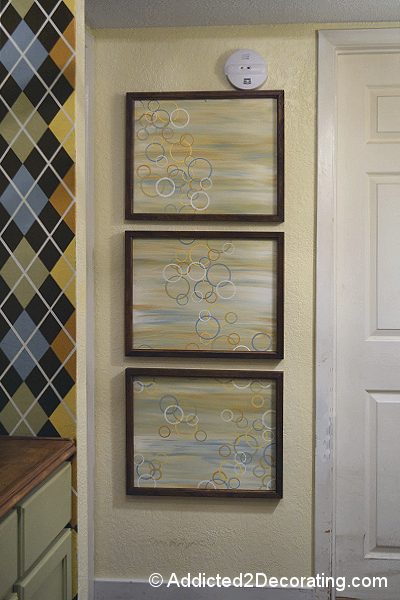 Abstract triptych that I made for the condo
And as I played around more, I soon realized that some of my favorite artwork included mixed media, specifically a combination of various paint colors and layered textural items.
Iridescent "fish scale" artwork that I made for the condo
My favorite piece to date is the pinwheel that I have above my mantel in the living room. I stare at it several times a day, and just love the color and texture it adds.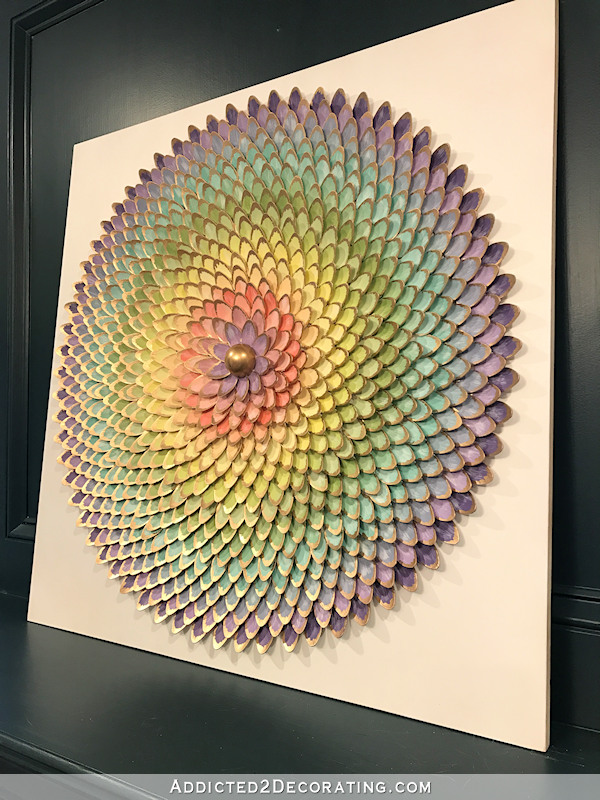 Pinwheel artwork in my living room
I do still like to do nature paintings, but now I've learned that my own preference is for them to be more colorful, fanciful, and whimsical and less realistic and detailed.
Paintings I did for the breakfast room
So my own favorite type of artwork to look at and to have in my house is mixed media, generally with paints and one shape repeated over and over (often in layers) for lots of color and texture. I'm about to start a piece that will hopefully end up in my music room that consists of 6,400 small wood pieces. Yikes! I must be crazy! 😀 But it's a vision I've had in my head for weeks, and I can't stop obsessing about it until I actually try it. It'll probably take me a month to finish.
But the paintings I get asked about the most (by people wanting to purchase them) are the ones in my entryway.
Acrylic paintings in my entryway
I think there are a lot of people out there like me who don't necessarily want a painting of a tree, or a landscape, or a seascape, but who just love color and movement, and possibly the hint of something, like an ocean wave, or a cloudy sky, without actually being pictures of those things.
At the beginning of the year, I said one of my goals for this year was to create more art. So far, I've done one piece — the pinwheel. That's it in four-and-a-half months. And that's not good. While getting my studio finished and getting my exterior projects finished are definitely important things, I'm the type of person who gets re-energized by creative, artistic projects. Without those, I start to lose all motivation.
So this needs to become a bigger part of my life. And I really want to stop putting people off who ask me, "Kristi, do you sell your artwork?" So far, my standard answer has been, "Well, I don't right now, but I might possibly in the future!" I need to put my fear aside and make the future now. So for those of you who have asked me that question, the answer from this point forward will be "yes." I have no idea how to go about it, but I'll figure it out soon. And I probably won't sell anything I've made for my own house (originals or prints), but I will probably do very similar things in the future.
So I'll circle back around to you. What's the thing you're wanting to do but fear (especially fear of criticism) is holding you back?
I'll end with one of my favorite quotes ever.
The majority of the time, the people who are the harshest critics are creative cowards. They are bystanders on the sidelines of life who risk nothing and create nothing." –Marie Forleo
Let's not let those people's voices be louder in our heads than the voices from those who are cheering for us. Starting today, I'm saying "no" to the fear of criticism. Join me!
Addicted 2 Decorating is where I share my DIY and decorating journey as I remodel and decorate the 1948 fixer upper that my husband, Matt, and I bought in 2013. Matt has M.S. and is unable to do physical work, so I do the majority of the work on the house by myself. You can learn more about me here.
I hope you'll join me on my DIY and decorating journey! If you want to follow my projects and progress, you can subscribe below and have each new post delivered to your email inbox. That way you'll never miss a thing!