Q & A – How Should Preethi Accessorize Her Bedroom?
Today's reader question comes from Preethi, who has made a great start on her bedroom, but needs help finishing it.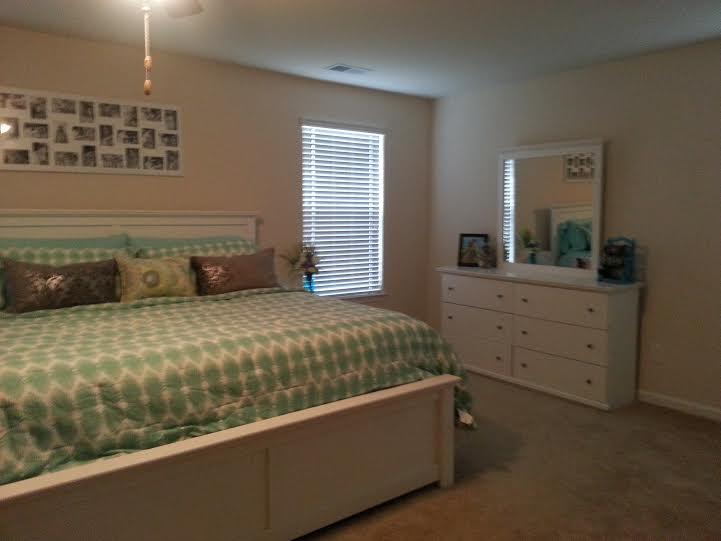 Here's what she says:
I really love your diy projects, I would really appreciate if you can give me suggestions on how to decorate my master bedroom. I have attached the pics. I was not sure on what color accessories and throw pillows to get that would go with the bedding.
Kristi's suggestions:
It looks like you've already brought in some brown and yellow on your pillows.  If those are colors that you're drawn to, they would definitely work with your bedding.  For a softer, calmer setting, you can stick with the soft yellows and browns that you already have.  If you want to bring in a little more contrast and excitement to the colors, you could opt for a brighter yellow, and a darker, richer brown.
Of course, if this were my bedroom, I would use turquoise with the green.  Take a look at how the various shades of turquoise and green are used in this living room.
Contemporary Family Room by Minneapolis Interior Designers & Decorators RLH Studio
The colors in this living room could give you a jumping off point for finishing off your bedroom.
You'll notice that the color of the sofa looks very similar to the green in your bedding.  Then they've added some floral pillows in turquoise and green, striped turquoise pillows, a darker turquoise end table, a darker green chair, a light and bright green lamp, etc.  These colors would translate very well to your bedroom, used with your bed and bedding.
Notice also how they have mixed different materials, like glass, metal, wood, ceramic, and various types of fabric.  This helps to add to the visual interest of the room.
If you're brave enough to paint some furniture, I would suggest painting your dresser the dark turquoise color that is shown on the end table in the picture above.  That would break up the look of your furniture set, and add some beautiful color to that wall.  (I'm not a big fan of decorating with sets of furniture, so if I use one, I always try to break it up with paint, or by using the different pieces in different rooms, etc.)
Another suggestion I would make regarding the dresser is removing the attached mirror, and finding a more decorative mirror that you can hang on the wall above.
Then you could also add some pretty window treatments — perhaps draperies in a darker shade of green, like the chair shown in the picture above.
And finally, I would add some colorful artwork above the bed.  Photo collage frames like you have are best used in hallways or areas where you and guests can get close enough to view and enjoy the individual pictures.  Hung above a bed, the small photos become difficult to see and enjoy.  So place that in a hallway, and replace it with something large and colorful.
Those are my suggestions for Preethi.  What would you suggest?
Addicted 2 Decorating is where I share my DIY and decorating journey as I remodel and decorate the 1948 fixer upper that my husband, Matt, and I bought in 2013. Matt has M.S. and is unable to do physical work, so I do the majority of the work on the house by myself. You can learn more about me here.