Q & A – How To Decorate The Ledge Above A Front Door?
This reader question comes from a fellow blogger, Lori from The Stonybrook House.  And her problem in one that many, many homeowners have — the really high decorative ledge above the front door.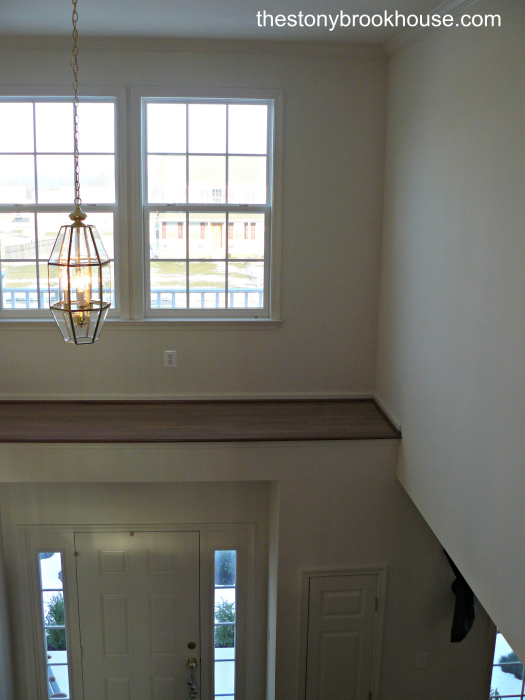 Here's what Lori said:
What should I do with this space??? It's hard to reach, except with a ladder. I'm not going to want to go up there and change is seasonally. It's like a ledge above the door. The picture is from my staircase. I like that adding that gave me two closets on either side of my front door. But my mind is at a loss.
Kristi's suggestion:
I'll admit that these ledges are a real decorating headache for me, because I never know what to do with them either!
I know what I wouldn't place up there — pictures or artwork.  That area is way too high for any pictures or artwork to really be enjoyed by you or your guests.
So I really have two different suggestions:
1.  Ignore it.
I feel like these ledges are similar to the space above kitchen cabinets.  Because there's space there, and there's a ledge, people feel this uncontrollable urge to put stuff up there.  Honestly, if it were mine, I would try to resist that urge.  There's not really anything you can put up there that will make or break the decor of your house.  Guests entering your house won't even see it.  It won't be until they're leaving that they'll see it.
So just as I tell most people to resist that urge to clutter up the top of their kitchen cabinets with fake plants and tchotchkes, I generally give the same advice about these ledges.
If you decide to ignore it, I would also suggest painting it out the color of the walls to make it disappear.  Right now, the color is causing it to draw attention.  Unneeded attention, in my opinion.
2.  If you must decorate, keep it large and simple.
Just remember that anything you put up there will just be a dust collector, and you will have to get up there and dust it periodically.
For that reason, I say that if you can't resist the urge to decorate up there, then keep it large and simple.  It needs to be large, because the space is large so whatever you put up there needs to match the scale of the area.  (So no collection of tiny little bottles or small figurines lined up along the ledge or anything like that.)  And simple because…you know…dusting.
Examples:
Three large (as in, really tall) glass or ceramic vases in varying heights in one corner, and one really full and pretty (and real looking) fake plant in the other corner.  (I'm not opposed to fake plants like so many homeowners and decorators are, as long as they're high quality and look real from that height.  But resist the urge to use fake ivy or grapevine extended across the full width of the ledge.)
Use two or three really big (but simple!) architectural salvage pieces.
Add some salvaged shutters to the window to add color and texture, and forget about the ledge completely.  (Open shutters.  Not closed.)
But again, big and simple is the key.  Keep the number of items limited.  In other words, don't just line up tchotchkes from one end to the other.  That would be way too busy and unnecessary.  Plus…dusting.
Now I know the question was about the ledge and not the lighting, but if this were my house, I'd go with option 1 (ignore and resist the urge to decorate the ledge).  Then I'd add some salvaged shutters to the window in a color that coordinates with the rest of the entryway.  (And it's okay if the shutters are wider than the area beside the windows.  If they stand open just a bit at an angle, they'll just take up some of that space, which is probably a good thing.)  And finally, I'd add a big, gorgeous chandelier and let that be the star of the entryway.  That way, no tchotchkies or fake plants are needed.  🙂
Those are my suggestions for Lori.  What are yours?
Addicted 2 Decorating is where I share my DIY and decorating journey as I remodel and decorate the 1948 fixer upper that my husband, Matt, and I bought in 2013. Matt has M.S. and is unable to do physical work, so I do the majority of the work on the house by myself. You can learn more about me here.