Q & A–How Can I Create A Defined Entryway/Mudroom?
Erin in New York has a problem that many of us have–no defined "entryway" and no place for a mudroom.  Here's what Erin had to say:
Normally, I have a knack for figuring out my own design dilemmas, but this one has me really flustered.  My problem (design-wise) is that I lack a mudroom, or even a "landing area" when you enter my house from our attached garage.  You enter directly into the eating area of our kitchen. And this is how we ALWAYS enter our home.  The front door is only used by guests.  So, as you can see from the pics, I've had to create my own make-shift space to store shoes/boots and I included a coat rack as well. Additionally, I have some baskets that I keep the kids' hats and mittens in that are on the bottom shelf of my sofa table.

It's not the worst setup in the world, but it lacks a spot to sit down to put on or remove shoes, there's no place to put bookbags or my purse, keys, cell phones, etc, so that stuff always ends up hanging on my kitchen chairs and cluttering up my kitchen table. And finally, the dirt that comes in from our shoes is out of control! With light colored hardwoods, you see every speck. I've thought about adding a runner, but don't want it to look completely cheesy. I've also thought about a bench, but where would I put it, and still have a spot for shoes? And then what about the other storage I need?

I'd love to have one design that addresses all my issues, and works within the confines of my space. Please, I need ideas!!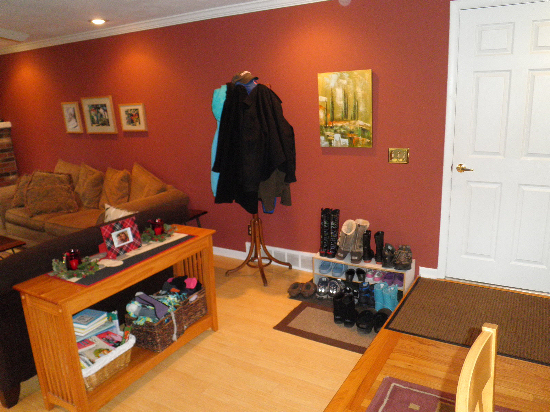 Kristi's Two Cents:
If this were my space, rather than trying to build or find storage for everything to fit along the limited wall space, I would instead build something perpendicular to the entry wall. That way, you would create a little entryway, you would have storage for coats, shoes, purses, and bags, and you could include a seating area to put shoes on.
I found this picture of traditional mudroom…
And inserted it into this picture so you could get an idea of how it would look.
I did a very quick and sloppy job, and obviously the scale and perspective are off, but I think it'll give you an idea of how it could look.  It doesn't have to be any more than 18″ deep, and could be configured any way you choose with cabinets, cubbies, baskets, hooks, seating, etc.
If you go this route, you may not have room anymore for your sofa table, but I think the trade off would be worth it.  Also, I really would encourage you to make it permanent and built-in, rather than trying to create something that looks like a mudroom with pre-built storage cabinets.
---
So what advice to you have for Erin?  Can you think of another way she can create a mudroom/entry that provides for all of her storage needs?  Give her your two cents!!
Do you have your own decorating dilemma?
Click here to submit your question and photos!
Addicted 2 Decorating is where I share my DIY and decorating journey as I remodel and decorate the 1948 fixer upper that my husband, Matt, and I bought in 2013. Matt has M.S. and is unable to do physical work, so I do the majority of the work on the house by myself. You can learn more about me here.