Last Updated on February 11, 2012 by Kristi Linauer
What happens when you live in California, but you're building a house 3000 miles away? Well, the builder makes some less-than-desirable decisions. That's what happened to Lori, who blogs at Bleak 2 Unique. Here's what she had to say…
What type of lighting can I use in this awkward hall where there are 3 lights in a row, and 2 vents?.Can you believe someone would place 3 "boob" lights in a row. This is what happens when you build from 3000 miles away….Help!

I only have the one pic of the hallway, but for an idea about the rest of the layout you can use this link.
Kristi's Two Cents
Ah, yes…the dreaded "boob" light. The go-to light for every builder in America. If you were to rely on builders, you might think that there were no other options for hallways, closets, bathrooms, etc., other than the boob light. Home Depot and Lowe's don't help much either, since they carry the standard cheap boob light, and then about fifty variations of the theme. (You can try to dress them up all you want, Lowe's and Home Depot, but they're still boob lights!)
But once you get online and start searching for "flush mount lights" or "semi-flush mount lights", you see that there are thousands of options that look absolutely nothing like…well…boobs!
(Wow, I don't think I've ever used that word on my blog, and now in one post, that count has gone from "0" to "5"! :-D)
The type of light you choose will depend on the style of your house and the style of your decorating, but here are a few good options I found:
If you want to achieve a country cottage style in your home, a schoolhouse light might be just right…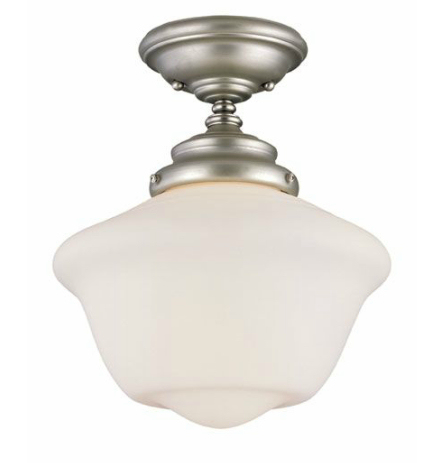 If you want a more transitional style, then this drum shade flush mount light might be what you need…
The great thing about that light is that it has a very contemporary shade, but you can easily re-cover the drum shade in a different fabric to achieve a more middle-of-the-road transitional look.
Now when you start looking at non-boob-shaped flush mount lighting, you start to understand why builders generally use those lights. One reason…they're cheap. You'll definitely pay quite a bit more for other types of lighting, so don't overlook the possibility of making your own like I did for my own hallway…
Three lights like that in a row could make quite the style statement!
Edit: The idea of three of the same light fixtures might sound a little busy, but I assure you it can work beautifully. Here are some examples:
---
So what advice to you have for Lori? Have you also dealt with the dreaded "boob" light? Did you find a more suitable option for your lighting? Give her your two cents!!
Do you have your own decorating dilemma?
Click here to submit your question and photos!
Addicted 2 Decorating is where I share my DIY and decorating journey as I remodel and decorate the 1948 fixer upper that my husband, Matt, and I bought in 2013. Matt has M.S. and is unable to do physical work, so I do the majority of the work on the house by myself. You can learn more about me here.
I hope you'll join me on my DIY and decorating journey! If you want to follow my projects and progress, you can subscribe below and have each new post delivered to your email inbox. That way you'll never miss a thing!