A's To Your Q's — Temporary Bathroom Makeovers, Condo Status, and Incomplete Projects/Rooms
Whenever I start getting asked the same questions over, and over, and over, and over, and over, and over, it's obviously time to just write a post and answer the questions directly.  🙂
So let's jump right in…
Why waste time and money on a temporary bathroom makeover?  Why not just do the final remodel right now?
There are a few reasons I'm doing a temporary makeover on the bathroom.  The main one?  MONEY!
Here's another look at the floor plan right now so you can see how the bathroom and hallway (and everything else) are configured right now…
And here's the long-term goal…
So the plan is to remove the small closet in the hallway, move the bathroom wall out about two to two-and-a-half feet (even with where the front of the hallway closet is now), and completely reconfigure the bathroom to include a large roll-in shower.  All of that is going to be very expensive.
First of all, that wall in the bathroom that needs to be moved is a load-bearing wall.  And unlike the wall in the kitchen where I could put a visible header, this wall will not be a DIY project since I'd want the header hidden in the attic.  That's a whole different ballgame when it comes to construction, and I'd want a professional handling that.  Based on estimates I've gotten for other framing jobs, I'd estimate that moving that wall will cost about $1500 to $2000 alone.
Then every single bit of the plumbing will need to be rearranged.  I'd estimate that will cost between $800 and $1200.
And finally, in order for the shower to be usable by Matt, it has to be curbless.  That requires some major construction on the floor in order to drop the shower pan below subfloor level.  Again, that's not a DIY project, as the design will interfere with floor joists, which will have to be reinforced another way, etc.  I mean, we're talking about some major construction.  And again, I can't imagine that that will cost any less than $2000 just to get the construction done and the shower pan in place so that it can be even with the rest of the flooring.
So right out of the starting gate, I'm looking at possibly $5000.  And that doesn't even begin to touch the other things I'd need just to finish the bathroom — drywall, Hardibacker cement board, tile, trim, vanity, sink, faucet, lighting, new electrical and (the big one) a frameless glass shower enclosure.
I could easily see that remodel costing $8000 to $10,000 with all of the professional help I'd have to hire for the major things.
If we had $8000 to $10,000 of discretionary money just sitting in our bank account, we would have an HVAC system right now.  But a bathroom remodel doesn't even rank in the top five list of my main priorities right now.
"Sell your condo!!  Then you'd have the money!"  No, actually we wouldn't.  Even in the absolute best possible outcome, we'll walk away from that sale with about $10,000 in our pockets.  And that's the best possible scenario.  Can you guess what that money is earmarked for?  (See previous paragraph.)  🙂
There's just simply no money for a bathroom remodel right now.  Unfortunately, neither of us are independently wealthy.  Neither of us are trust fund children.  We're just regular folks who have to scrimp and save for big purchases just like most normal people.
So for now, even though it looks like some pretty major things are going on in that bathroom, they're still really just cosmetic — new drywall, a few pieces of Hardibacker, and $100 of cheap subway tile will have this room put back together. I can handle a few hundred dollars right now.  I can even handle $1000 since things in that price range come out of my decorating "allowance" and not out of our "we're saving for big purchases" account.  But I just can't handle $8000 to $10,000 right now.
And when it comes time for us to start on major remodels around here, we very well might decide that the hallway bathroom is fine just like it is, and we'd rather spend our money on adding on the main stuff at the back of the house.  Who knows what the future holds?  I do have big dreams and plans in my head, but when it comes right down to it, the bathroom I'm creating right now could very well be the one I'll live with for the next decade.
What is the status of the condo?  Have you finished it?  Did you sell it?
The condo is exactly as I left it at the end of last year.  The last thing I got finished was this bedroom.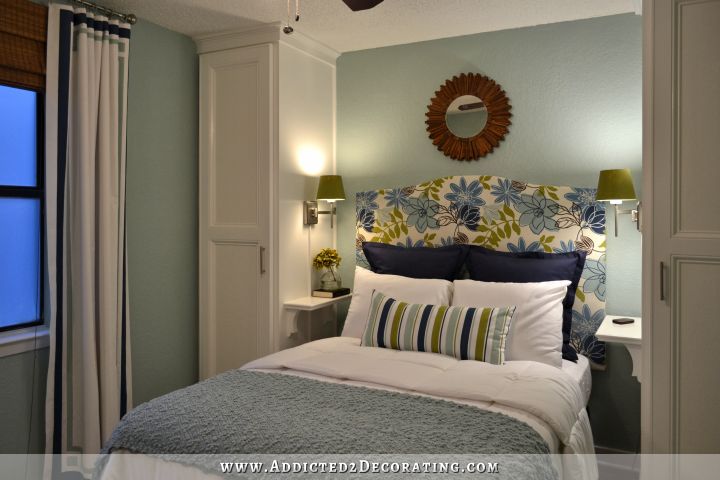 So if you saw that, then you're up to date.  I haven't done anything else over there since then.  And it's not because I'm just being lazy or burying my head in the sand.  I'd love nothing more than to finish the condo and get rid of it.
So why am I not making that a priority?
Well, one thing I don't think I've ever shared is how Matt's condition affects me and the projects I can tackle from day to day.  Matt has multiple sclerosis, and often needs help from me.  How he's doing on a day-to-day basis really affects whether or not I have to stay home, or whether I can leave.  On some days, he's doing well enough that I feel confident leaving him at home for hours on end.  On other days, I can't even leave long enough to run to the neighborhood grocery store down the street, or to go to Sonic to get an iced tea.  On those days, I just have to stay at home and figure out what I can work on around here using the supplies I have on hand.
So without going into details, let's just say that the past month has been tough for Matt.  And that means less freedom for me to come and go.
The condo will get finished, and we will sell it.  Eventually.  But right now, I just can't stress about it.  Stressing myself out about it won't help anything, so I've tried to adopt a laid back attitude about it.  It'll get done when it gets done, and in the meantime, I'll just keep myself busy around the house.
Why are you not finishing any rooms?
Okay, I'm going to try to answer this question once and for all.  🙂
There are many factors that go into how I work on projects, and what I choose to work on from day to day.  As mentioned above, on some days I'm not able to run to Home Depot to pick up supplies to work on a project that "makes sense."  So on those days, I look at the supplies I have on hand, look at my list of things to do, and just pick something that I can accomplish that day.
In some situations, what I can and can't work on is dictated by other factors.  For example, right now I'm not working on the living room, entryway, and music room because of the ceiling.  Before I move forward on any of those rooms, I want the ceilings re-drywalled, and that's a messy job.  Taking down all of that old drywall, with the decades-old insulation that's probably filled with disgusting things (we do, after all, have squirrels living up there, and we've had rats in the past) will make a complete mess of those rooms.  So why go to the trouble of decorating those rooms now, only to have to remove everything I've done, drape the doorways with plastic, and make a complete mess?  After all of that mess, I'm going to want to scrub down every surface and give the walls a fresh coat of paint, so it makes no sense to do any of that right now.  So I'll wait and move on to other projects that I can actually work on right now.
And the drywall will get done.  I'll be doing that with the  help of my brother and sister, but right now I can't do anything until the squirrels are gone and the holes where they're getting in are sealed up.  Hopefully the animal trapper guy will have all of that finished up in the next week.
But really, the main thing that dictates what I'll work on from day to day is my inspiration.  I've explained this over and over, and yet I still have people that don't understand.  And I've come to the conclusion that the reason some people simply can't understand is because left-brained, analytical people simply cannot understand people like me.  It's not that you don't want to understand.  It's that you simply may not be capable of understanding because your analytical nature prevents you from doing so.  And I say that because I live with a left-brained, analytical person, and it has taken him 12 years to become accustomed to my right-brained nature.  He still doesn't understand me, but he's just become accustomed to me.  Or in his words, "I just gave in.  I gave up on trying to understand."  🙂
But I'll try one more time…
I'm remodeling my house pretty much by myself.  One person, two hands, doing about 99% of the work (so far).  In order to plug away at this, day in and day out, without getting burned out, overwhelmed, and giving up, I simply must go where my inspiration takes me from day to day.  If I wake up and have the urge to sew that day, then I find a sewing project on my list that I need to do.  If I feel the urge to build something, then I find something on my list that needs to be built.  I'm led by inspiration, and that keeps me going day to day, and keeps me excited about the things I'm doing.
There are some exceptions.  The current bathroom makeover, for example.  I'll NEVER feel inspired to do drywall, but there comes a time when it's inevitable, and simply must get done.  On those days, I give myself a pep talk, and just get to it.  But I try to keep those days to a minimum, or at least spread them out with lots of fun stuff in between so that I'll be inspired to keep going.
Understand?  Ha!  I have a feeling that those of you who understand that already understood it long ago.  And those of you who don't understand it probably won't ever understand people like me.  But that's okay.  I love all of you left-brained, analytical people anyway!  Heck, I even married one of you!  🙂
Phew!  That was one wordy post!  Congratulations to those of you who finished.  I feel like I should reward you with a prize!  😀
Addicted 2 Decorating is where I share my DIY and decorating journey as I remodel and decorate the 1948 fixer upper that my husband, Matt, and I bought in 2013. Matt has M.S. and is unable to do physical work, so I do the majority of the work on the house by myself. You can learn more about me here.