How Much Do I Love My Husband? This Much…
Things are progressing on my bathroom demolition/remodel, but they're progressing much slower than I had hoped.  But a lot of that is because of Matt's special request.  Let's just say that if he were to ever doubt my love and devotion to him, all I need to do is show him these pictures to remind him of the lengths I'm willing to go to for him.  😀
When I left y'all on Friday, things were a mess in here, but I was about halfway finished busting out the tile on the walls, and not quite halfway finished wrestling that metal mesh off of the walls.
So after bagging up all of that debris and removing it from the bathroom, I was ready to start on the other side of the room.
So I unhooked the faucet, moved the vanity out of the way, and got busy on this side.  Again it was another full day of work to get this side of the room busted out, metal mesh removed, and debris bagged up.
At this point, I was so ready to be finished with demolishing tile that I would have paid just about any price to be done with it.  In my mind, I was still planning to leave the tile on the floor for now and just cover it with something temporary (i.e., peel and stick groutable tile).  I knew that it really made no sense at this point to leave it, but I was so exhausted that I didn't care if it made sense or not.
But then Matt came to look at my progress.  The first thing he said was, "Oh, look!  You cleaned the bathroom!  Good job, Sweetie."  😀
And then after surveying the mess for a couple of minutes, he said, "You're gonna take that floor out also, right?"  Ugh.  I did not want to hear those words.  It had already felt like I had been hammering away at that tile for a solid month (it had been three days).  My arms felt like Jello, and I getting so excited about nearing the demolition finish line…and he was asking me to remove the floor tile, too.
Quite honestly, I wanted to cry, but I knew he was right.  It needed to be done.  The fact is that Matt hasn't been able to enter this bathroom ever since we moved here because of this 3/4-inch lip on the tile going from the hallway to into the bathroom.  There's just no way he can maneuver over that.  Plus, really…what is the point in removing all of the rest of the tile and adding new finishes to the walls, just to leave the old tile on the floor?
I was very nervous about what I'd find under there, but it had to be done, so I went for it.  I started out just using a hammer and floor chisel.  I realized almost immediately that the floor chisel would be worthless on this floor, so I just went at it with a hammer.
Just getting this small amount busted out (what probably amounted to 1.5 square feet) took about 45 minutes, and was unbelievably difficult.  I mean, it was way more difficult than the walls.  Those tiles were set on a mortar bed that was a solid two inches thick.  And while in my mind, I know that mortar isn't as solid and hard as concrete, you couldn't have convinced my arms and hands of that.
At that point, I was so regretting having started busting out the floor, but I was kind of past the point of no return.  I knew for sure that there was no way that a hammer and floor chisel were going to do the job, though, so I headed to Home Depot to see if they had a tool that could speed this along.
I know that tool rental places have a power tool that can help remove tile much faster, but since I was working on this on a Sunday, and all of the tool rental places are closed on Sunday, that wasn't an option.  Home Depot sells a tool I could use with my air compressor, but since it was quite expensive, and that's not really the kind of tool I can see myself using often enough to justify the price, I passed on that option.   So some sort of manual tool was my only option.  A sledgehammer probably could have made quick work of this, but swinging a sledgehammer in such a small space didn't seem like a good idea to me, especially when I had no idea what condition the subfloor would be in.
So I ended up with this guy…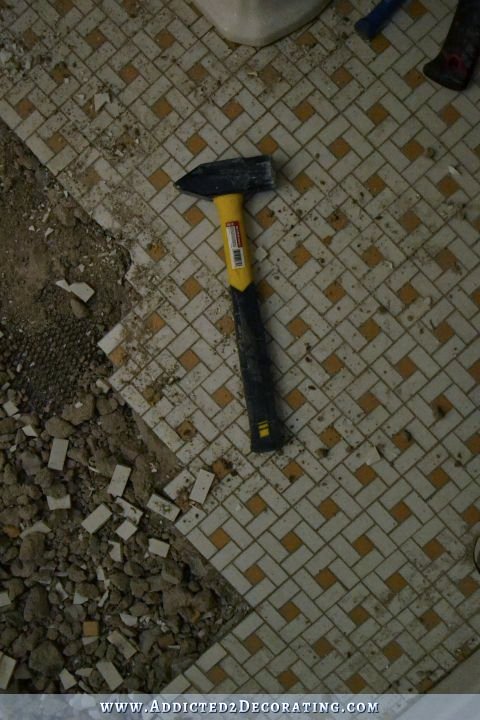 I have no idea what this is actually called, or what its intended purpose is.  It's like a drilling hammer (which is basically a mini sledgehammer), and it weighs 2.5 pounds.  But unlike a drilling hammer, this one has that pointy side in addition to the flat side.  In my mind, the pointy side would be really helpful with breaking up the mortar.  I was wrong.  It wasn't helpful at all.  The flat side actually worked great.  Had I known that beforehand, I would have opted for a 3- or 3.5-pound drilling hammer instead.  But probably anything over 3.5 pounds would have made my Jello arms completely useless.
But this 2.5-pound psuedo drilling hammer thing (I just looked it up, and it's actually a blacksmith hammer) definitely made the job much faster than my regular 16 ounce hammer.
I still have quite a bit more to do, and at this point I'm very uncertain about what I'll find underneath all of this rubble, wire mesh, and tar paper.  I'd be lying if I said I wasn't nervous about it.  I just keep telling myself that as long as the floor joists are in good shape, everything will be fine.  Even if I have to take this thing all the way down to the floor joists and start with brand new subfloor (which probably wouldn't be a bad idea anyway since whatever is under there has been carrying all of this weight for 65+ years), I've got it under control.
But if the floor joists are bad, that's a different story.  Just last night I watched the episode of Fixer Upper, which is here in Waco, where they ripped the floor out of the bathroom and found that the floor joists had basically rotted away from years and years of leaks.  So I have floor joists on the brain, and it definitely has me feeling a bit nervous.  But I'm trying to keep my mind from going there until I know for sure what's under all of this.  There's no need in worrying about it until I know for sure.  And even then, worrying wont' help, right?  I keep telling myself that.  🙂
On another note (because I know someone will ask me about this)… 🙂
Let me assure you that I'm not worried about my hardwood floors.  The main reason I chose to use Waterlox on my floors instead of polyurethane is because Waterloxed floors can be very easily repaired.  When all of this debris is cleared away, and my wood floors are swept and cleaned, I'll no doubt have some scratches and scuffs here and there.  A quick sanding (and I'm talking about using my small rotary sander, not with the big, heavy drum sander I used to refinish the floors) and a fresh new coat of Waterlox will have them looking as good as new again…or as good as 65-year-old oak floors.  🙂
Addicted 2 Decorating is where I share my DIY and decorating journey as I remodel and decorate the 1948 fixer upper that my husband, Matt, and I bought in 2013. Matt has M.S. and is unable to do physical work, so I do the majority of the work on the house by myself. You can learn more about me here.