Teal Kitchen Cabinet Progress (Plus, Cabinet Hardware – Black or Brass?)
I'm making progress on my kitchen cabinets. I promise. But I swear to you that every time I think I'm ready to paint a section, I find more wood filling, sanding, and/or caulking that needs to be done. It's never ending. Or maybe this is me torturing myself with perfectionism. Either way, it's been slow going.
I also decided to paint the cabinets with a brush. I just couldn't get myself motivated to do all of the taping and draping that was required for spraying these cabinets, so I'm brushing.
I'm really going to like it if I can ever get it finished. 🙂
So one thing I can't quite decide on is the cabinet hardware. I currently have brass. It's what I purchased specifically to go on my green cabinets. I've been wondering how the brass would look on the new color, and in the back of my mind I've had this plan to paint all of the hardware black. I'm keeping my gold light (see it in the picture above), and in general, I'm trying to use more of a mix of metals. Plus, I'm moving towards black hardware on my interior and exterior doors. As a point of reference, here's my current garage door — Benjamin Moore Kendall Charcoal with a black door knob…
And here are my pantry doors…with black pulls…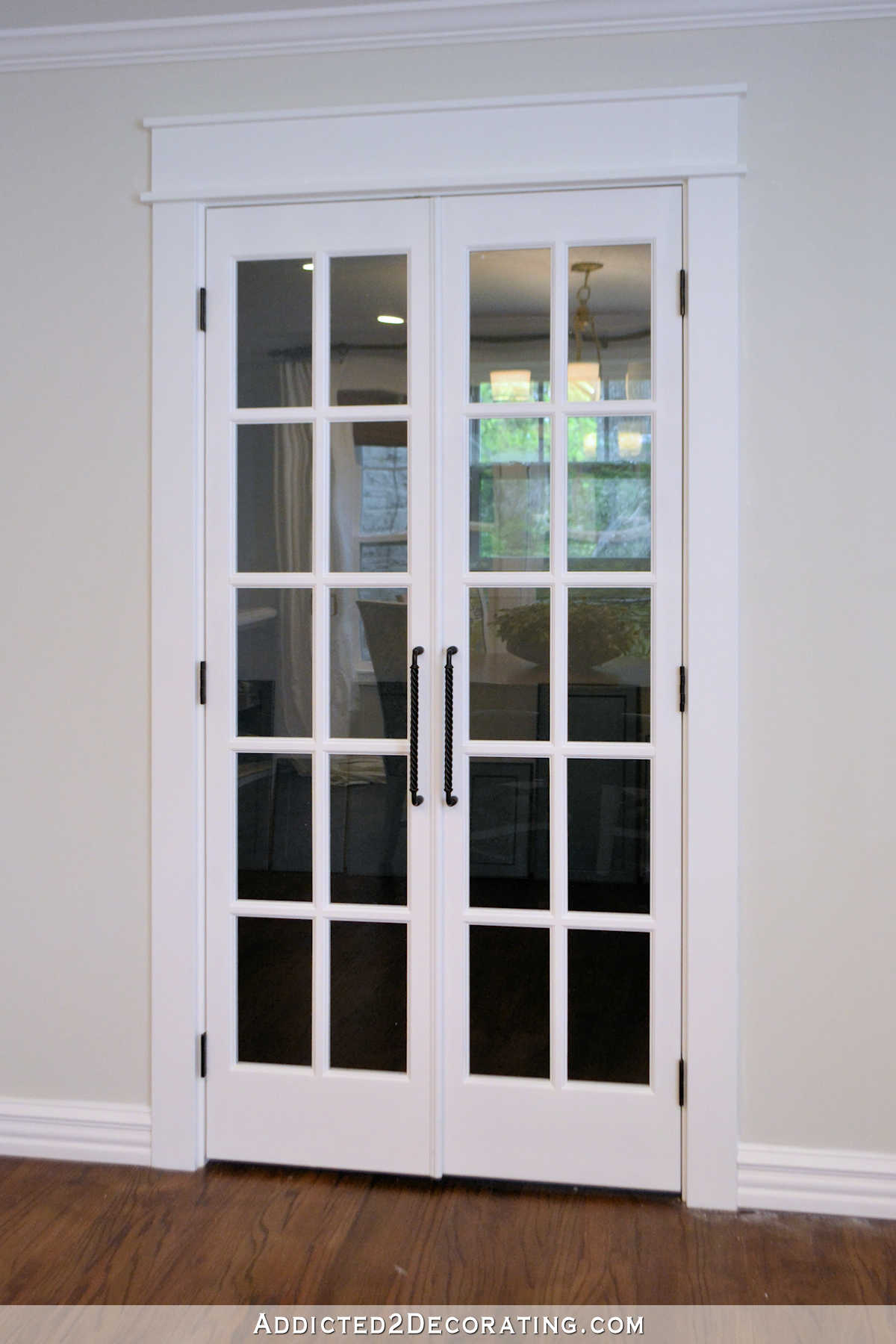 And my new-ish front door with its black handleset…
So with that in mind, I tried both colors on the cabinet doors. Here they are side-by-side…
And to be honest, I have no idea what I think. I thought I would like the black much more than I do, but this isn't really what I envisioned.  BUT…I also wonder if it's because the rest of my black door hardware has a really matte finish, and this has a shine to it, which kind of looks cheap. I think a really matte finish with zero shine would look much better.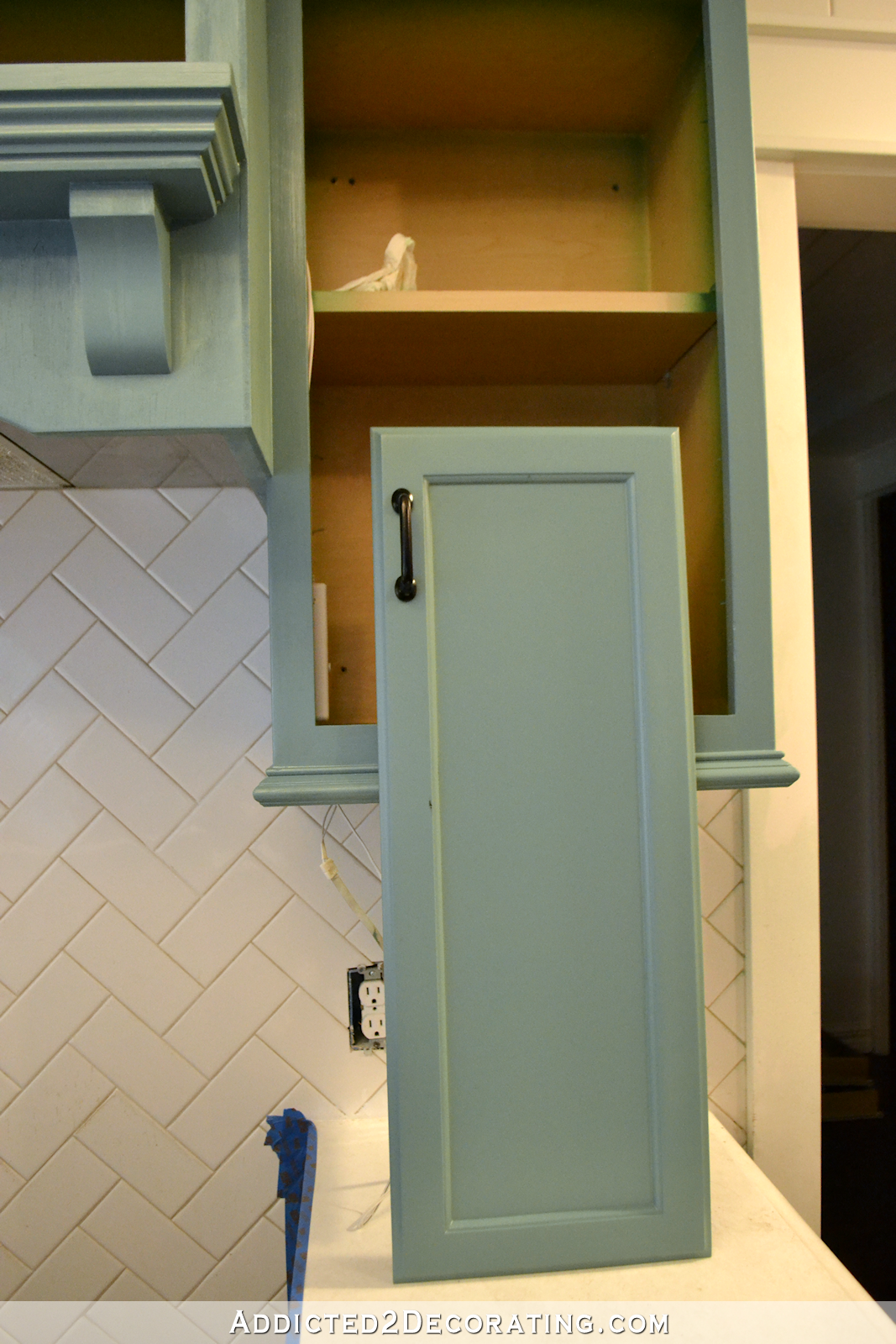 I couldn't find a matte finish in the spray paint I wanted to use for metal pulls. So if I go this route, I'll probably want to put a matte clear coat over them to knock out that shine.
(Side note: See the green overspray inside my cabinets? Yeah…and that's even after I spent hours and hours taping and draping my entire kitchen, including taping and covering the inside of every single cabinet. But nothing sticks to the inside of these cabinets, so the slightest bit of air pressure from the sprayer would blow the tape and plastic right off. Such a pain! Fortunately, that green paint will wipe off with a little bit of scrubbing. But after I painted them last time — after months and months of remodeling this kitchen — I was so done. I put the doors on, finished the rest of the kitchen, and walked away. But this time, I do plan on taking the time to clean all of that off before loading things back into my cabinets. 🙂 )
Anyway, I actually like the brass just a bit more than I had anticipated.
It's a softer look than the black, but I can't decide if that's a good thing or a bad thing.
So what are your thoughts? Stick with the brass? Or go with matte black?
EDIT: Those really are the only two choices I'll consider. I had brushed nickel on teal cabinets at the condo, and while it's beautiful, I don't want to repeat it. Plus, I'm not replacing this hardware. Hardware is expensive and adds up very quickly, and I already spent a lot of money on the hardware I have. The only color I'd consider painting it is black. So if it's not going to be black, then it's staying brass. 🙂
Addicted 2 Decorating is where I share my DIY and decorating journey as I remodel and decorate the 1948 fixer upper that my husband, Matt, and I bought in 2013. Matt has M.S. and is unable to do physical work, so I do the majority of the work on the house by myself. You can learn more about me here.