April Progress & May Goals
It's May, y'all! Can you believe it? April flew by for me!
I got quite a bit done in April. I didn't quite make it through my whole list of goals that I had for the month, but I managed to get quite a bit accomplished. The main accomplishment is obviously my kitchen cabinets. At the beginning of the month, I already had the doors painted and ready to go, but I still needed to paint all of the cabinets and drawer fronts.
So getting my kitchen cabinets finished was my main priority for the month. They're as finished as they can possibly be at this point.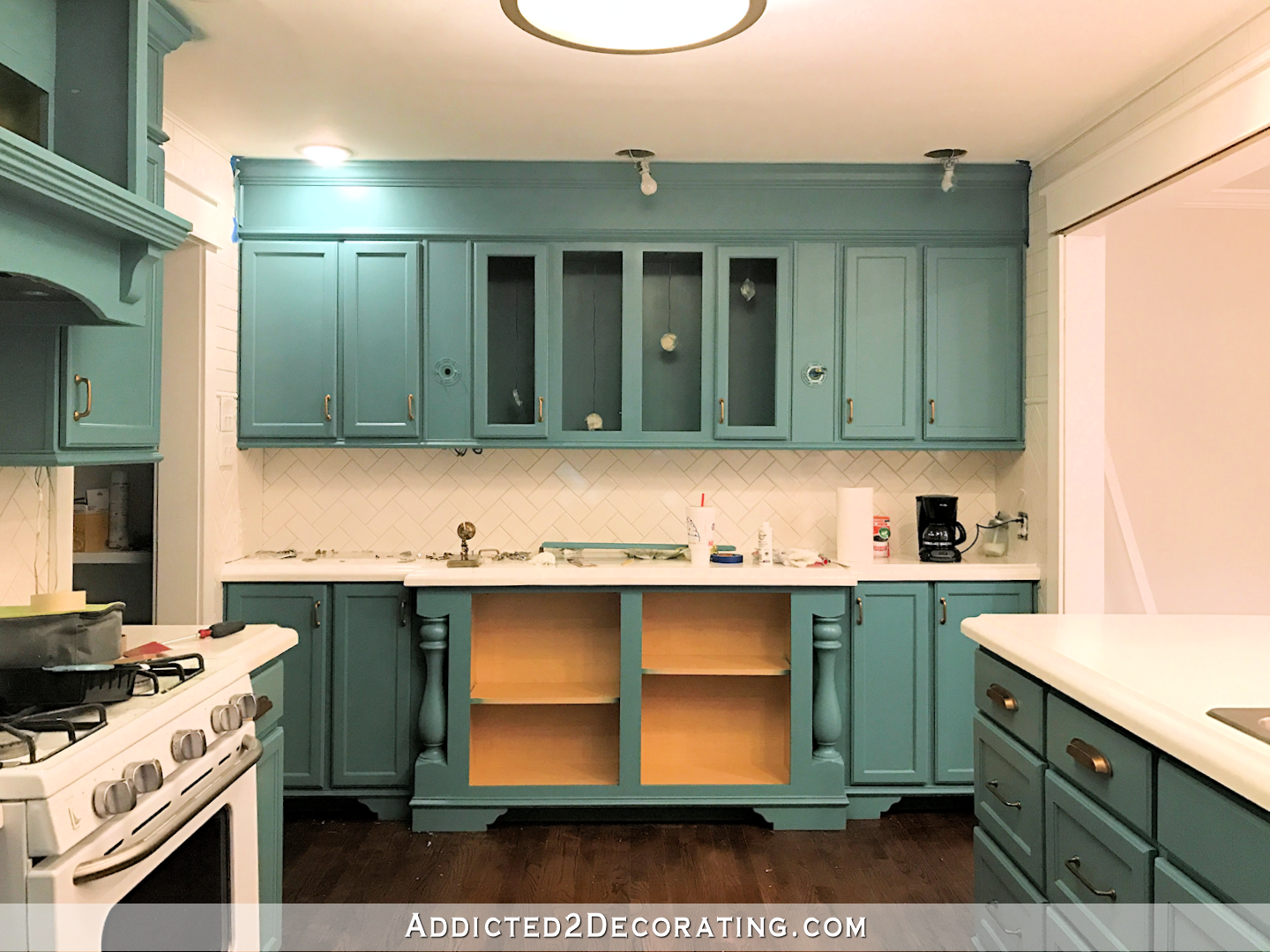 Another goal was to get my range hood cover built, and I got as far as I could on that as well. (You can click here to read about that project.)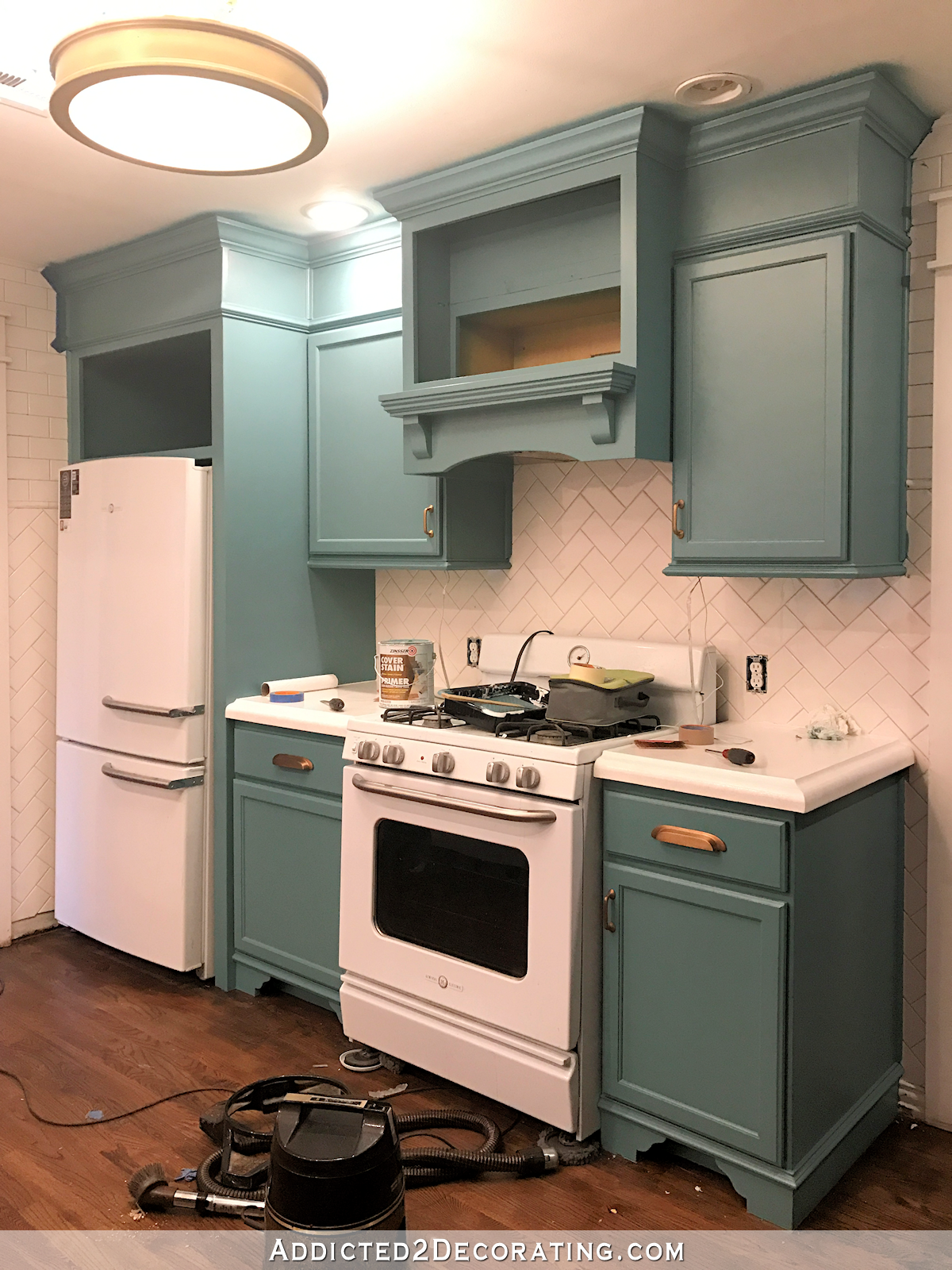 But after all of that work, my kitchen still feels unfinished because I'm still missing five cabinet doors — four for the lower middle part of the wall of cabinets, and the door to cover the middle of the range hood cover. I called Friday to check on my order, which I placed on April 5th, and it's still "pending," which means it hasn't even gone into production yet. That's frustrating. When I placed my order, I called to see what their current production time was, and she said three to four weeks. Well, we're two days shy of four weeks, and they haven't even started on my order. *Sigh* And this is why I DIY everything I possibly can. I hate waiting on other people to do their part.
Anyway, since those pictures above were taken (which was the morning after I finished painting my cabinets), I also got the ceiling painted and new LED recessed lights installed. And my brother has helped me with a very tedious job — painting the grout on my backsplashes/tiled walls. The original grout color was a taupe color to blend with the original concrete countertop. But now that I have new brighter white countertops, I really wanted to grout to be bright white. So with my brother's help, and a bottle of Grout Renew, the grout is slowly but surely being transformed to bright white.
I didn't bother to take new kitchen pictures yet, and probably won't until I get my new doors and get them painted and installed.
In the breakfast room, I finally did something with my Ritva curtains from IKEA. They originally looked like this…
And now they look like this…
You can click here to see how I customized my Ritva curtains.
I also got the buffet in the room, which was quite a feat in itself. It was buried under a mound of furniture that my brother and I had taken out into the garage and neatly stacked against the wall before I refinished my floors. So I dug it out of the pile and dragged it through the garage, up the steps, and into the breakfast room by myself. Without scratching my floors. 😀 And then I painted it purple. You can click here to see more of that project.
I had hoped to get the breakfast room completely decorated, but that didn't happen. I did manage to get the new rug down under the table and chairs, and this weekend I finally did something with my big concrete bowl that I got at the Magnolia warehouse sale in January. I planted a succulent garden. See the pretty purples I incorporated?
And the best thing? My cat won't eat this garden, and I won't be able to kill it, because it's totally fake. Those big, beautiful succulents came from Hobby Lobby. They weren't cheap ($4.99 each, but the purple ones were perfect, and real ones would have cost just as much if not more), and most of the small filler ones came from Joann Fabric. They came in packages of five, and the sale price was $4. The hurricane in the middle is from Michael's. I got it for about $10 with their 60% off coupon that was available this past Saturday.
I also got my tv hung on the wall yesterday, but this area still looks like a complete mess…
The outlets for the tv are directly behind the tv, so I just need wrangle the cords and tuck them behind the tv to hide them. But I can't do that just yet. Right now, the tv power cord is plugged directly into the outlet, which means that it sticks out from the outlet about 2 inches. I also bought a Fire TV Stick (this is the one I got, and so far, I love it!), and it has a USB cord that plugs into a USB adapter that plugs into the outlet. But it happens to be the biggest USB adapter I've ever seen, and with it all plugged in, it sticks out from the wall about 2.5-3 inches. So I had to install the tv using the spacers that came with the wall mount to leave room for those things sticking out of the outlet.
I decided that I wasn't happy with that, so I ordered a low profile 1-foot extension cord (this is the one I got), plus a low profile USB power adapter (this one). Those only stick out from the outlet a half inch, so the tv can sit closer to the wall. So once those things arrive, I can remove the spacers, plug the tv and Fire TV Stick into the low profile adapters, and wrangle my cords. Until then, it'll look just like this. 🙂 Fortunately Amazon has really fast delivery.
So those are my accomplishments for the month of April. I really did get quite a bit done. The kitchen cabinets by themselves were a huge project, and I'm so glad it's done, with the exception of the five missing doors, of course.
So what's in store for May?
Well, surely…surely…my cabinet doors will be here at some point this month, and I can get those painted and installed. I also need to finish the trim in the kitchen, and get the rest of the grout painted.
But the main project will be my pantry!! I'm finally going to start on the pantry and hopefully make a really big dent in this huge project!
This is a picture from a while back when I was working on the pantry doors. And while the pantry doors and door trim are now finished, the pantry hasn't changed any. The trim on the window has been installed, caulked and painted. The lights are installed. And the floor has been stained and sealed with all of the rest of the hardwood floors. Other than that, it's an empty box. A blank slate.
I still haven't figured out exactly how I want it configured. To be honest, I'm very nervous about this project. I'm so afraid I'm going to make a mistake, or get it finished and then think, "Ugh, why didn't I remember such-and-such? Or leave room for this? Or configure this differently? Or get this kind of freezer instead of that kind of freezer?" But if I wait for those nervous feelings to go away before starting, it'll never get done. I just need to come up with a plan, commit to it, jump in with both feet, and get it done.
And since this is going to be such a big job, I'm sure I'll need to take some breaks from the building projects to enjoy some fun, creative projects. So that's when I'll work on more decorating projects in the breakfast room. I still want to do something really colorful for the walls on either side of the pantry doors. I also want to do something around the tv on the buffet wall so that the tv doesn't stick out like a sore thumb. And then I have a few other decorative projects that I want to do before I'll call the breakfast room finished.
I have no idea how far I'll get on the pantry. Obviously, I'd love to think I can get it finished this month, but I think that's putting way too much pressure on myself. Especially considering that I'll still be doing some work in the breakfast room and kitchen, and I also need to get my garage cleaned out so that my studio project can get underway.
I don't know how far I'll get done, but I do know it's going to be a very busy month! 🙂
UPDATE:
I've actually decided that this month should be about finishing my kitchen and breakfast room, and then getting all of my plans in order for my pantry, but not actually starting on my pantry until next month.
The reason? Well, I tend to suffer from Wonder Woman Syndrome at times, thinking I can take on way more than is humanly possible. And this month, my #1 priority really does need to be getting my garage and storage room completely cleaned out so that work can begin on my studio next month. I can't procrastinate on the garage any longer. Adding the pantry into the mix this month just seems completely unreasonable and stressful. So I'll get my plans all in order for the pantry this month so that I'll be ready to go with that project (and hopefully completely finished with the breakfast room and kitchen) by June 1st.
If, by some miracle, I get the garage, breakfast room, and kitchen finished this month and still have time left over, I might tackle a few easy decorative projects in the entryway/living room. I'd love for those areas to see some kind of progress, even if only very minor, before July.
So this month:
finish breakfast room
finish kitchen
clean out garage and storage room
get plans in order for the pantry
if time allows, do small projects for entryway and living room
Next month:
---
---
Update:
My pantry is finished! Want to see the entire project from start to finish? You can find every single post about the pantry build right here…
Or you can skip to the end and see how it turned out. Here's a peek of the finished pantry…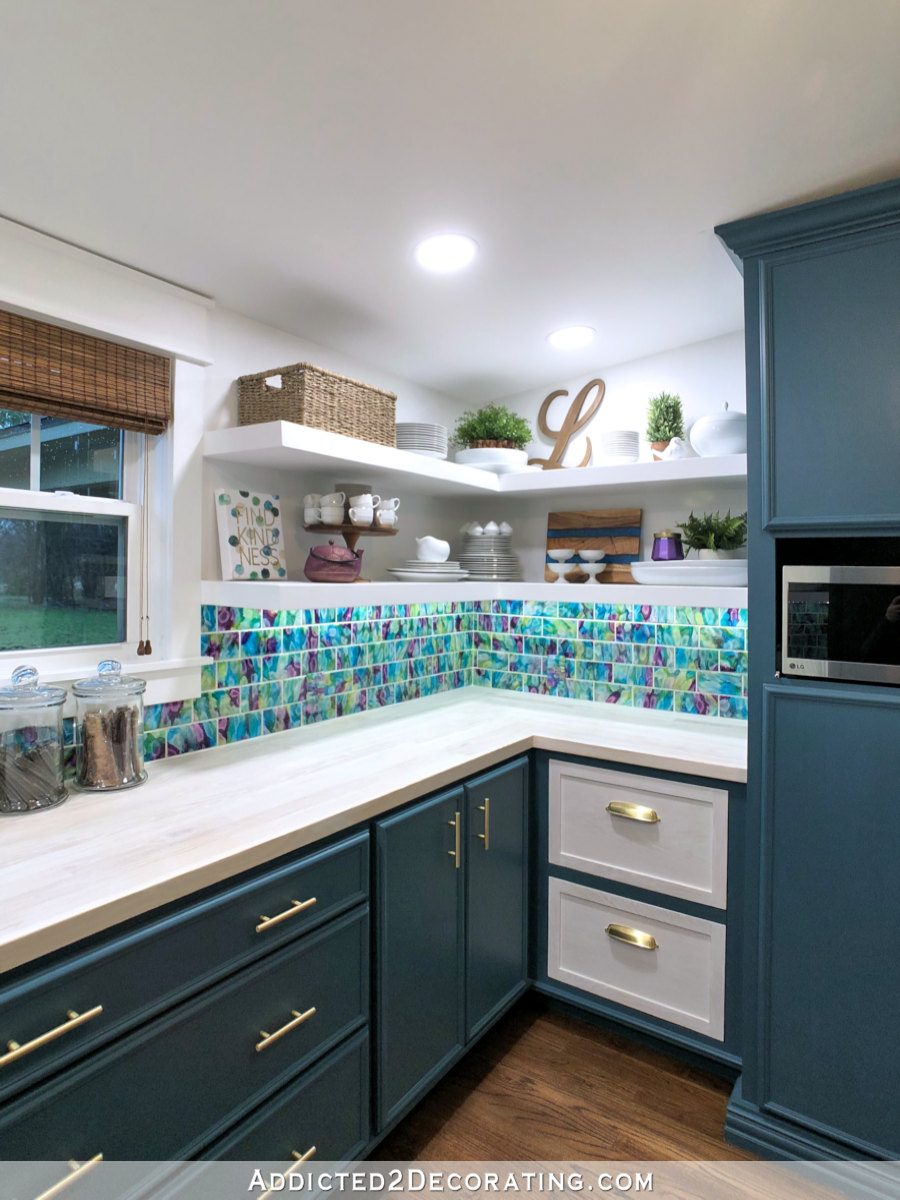 You can see more pictures on the before and after post right here…
Addicted 2 Decorating is where I share my DIY and decorating journey as I remodel and decorate the 1948 fixer upper that my husband, Matt, and I bought in 2013. Matt has M.S. and is unable to do physical work, so I do the majority of the work on the house by myself. You can learn more about me here.