Last Updated on December 2, 2016 by Kristi Linauer
I finally finished painting the wall of cabinets this weekend, so even though I still have a VERY long way to go before the entire kitchen is finished, I thought I'd share a sneak peek of the colors on that one wall.
Both colors are Benjamin Moore, and I'm using Advance paint in a satin finish, and I'm painting everything with a brush. I don't really know what the issue was last time I used this paint, but I can tell you this time I love it. I've always preferred painting with oil-based paint because it glides on so beautifully and the brush strokes practically disappear. Well, painting with Advance is as close as I've ever gotten to the performance of an oil-based paint in a latex. And no paint conditioner is required. It goes on beautifully straight out of the can, and dries very hard.
Anyway, here's a reminder of how the cabinets looked before the new colors…
And here are the new colors: Revere Pewter on the upper cabinets, and Gentleman's Gray (which is a very dark blue) on the lowers. You'll also notice that I removed the corbels, and I won't be putting them back. I think I'm just craving simpler, cleaner looks now.
That countertop color looks even more drab now, so you'll just have to imagine it with its new whiter and brighter finish on it. I also managed to break one of the glass door inserts, so that's why none of the doors have glass in them right now.
Obviously I have lots of details to finish up, but I'm really excited about these new colors. While I loved the green kitchen, it just demanded to be the center of attention and refused to play nicely with the neighboring rooms. These colors are beautiful but subdued, and will complement the neighboring rooms beautifully.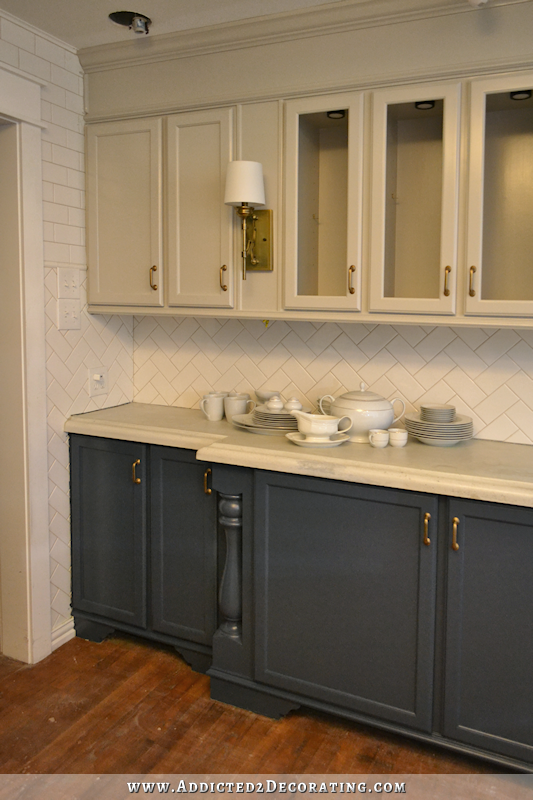 Now I'm even more anxious to get my countertops refinished. (Click here to read more on that, if you missed it.) That drab color is depressing.
Anyway, my goal is to get the rest of the cabinets painted by the end of this week. That might be a lofty goal since Thursday is Thanksgiving, but I'm gonna give it my best shot.
Addicted 2 Decorating is where I share my DIY and decorating journey as I remodel and decorate the 1948 fixer upper that my husband, Matt, and I bought in 2013. Matt has M.S. and is unable to do physical work, so I do the majority of the work on the house by myself. You can learn more about me here.
I hope you'll join me on my DIY and decorating journey! If you want to follow my projects and progress, you can subscribe below and have each new post delivered to your email inbox. That way you'll never miss a thing!