And The Winning Living Room Paint Color Is…
…Benjamin Moore Silver Gray!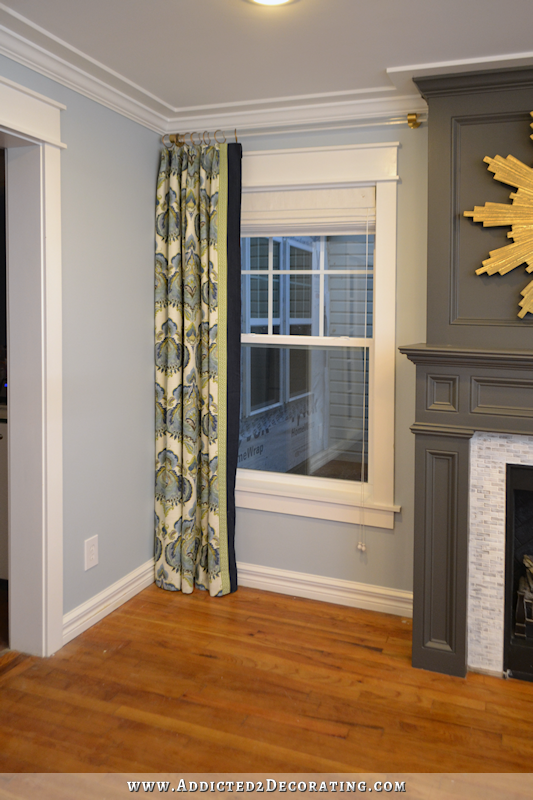 Are you surprised? I'm sure most of you expected me to use Iceberg. That was actually my plan until the last minute, and I had a change of heart. My reasoning was that if I do the birds and butterflies "wallpaper" in the breakfast room, I'll need a super light background color for that pattern, and Iceberg is the natural choice. But I didn't want Iceberg in two rooms.
So then the choice was between Smoke and Silver Gray. Smoke seemed to have just a touch of green in it, which really didn't look great with my Gentleman's Gray (dark blue) kitchen cabinets. But the Silver Gray looked awesome with the kitchen cabinets.
But can we also talk about the lack of rectangles everywhere? Doesn't it look so calm and peaceful compared to this…
…and this…
Yeah. This was definitely the wrong room for picture frame moulding. 🙂 I really like how the door and window trim can stand out now.
Oh, and I've decided to keep the sunburst over the fireplace. 🙂 Is it too big? Yep. But I've grown to really like it there. It's like a rebellious little sunburst, thumbing it's nose at rules and bursting outside of its prescribed borders. Maybe that speaks to me. Or maybe I just like big, shiny things. 😀
Anyway, you might be wondering why I always crop those corner pictures in such a way that you can't see into the kitchen and breakfast room through that doorway. Well, that's because those cabinets are still green, and that will totally skew your opinion of this paint color. Silver Gray and my green kitchen cabinets do NOT play well together.
But I did try to get a picture straight on so that you could see the wall color with the Revere Pewter and Gentleman's Gray on the back wall of the kitchen. We're all friends, right? So you won't judge me too harshly for my filthy, drywall dust-covered floor, or for the fact that half of my kitchen light bulbs are burned out because I'm slowly switching to all LEDs, and I keep forgetting to buy new bulbs each time I head to Home Depot. But you'll get the idea…
On my monitor, that picture above is actually the most accurate as far as the new wall color goes. And I'll make sure all of my bulbs are working when I take the final pictures of the finished rooms. 🙂
And once again, let's admire the calmness of the lack of rectangles…
One note on the kitchen…
I had been planning on using some of the blue grasscloth in the backs of those middle upper cabinets, which is why they're still empty and unfinished. Well, I'll have to come up with a Plan B, because I did go ahead and cancel that order. I didn't want to wait until February to see if they might possibly have it in stock again, or if I was going to have to wait even longer.
And the biggest change is, of course, the entryway. I know some of you are still mourning the loss of the mural…
But look at what a pretty backdrop I have to work with now…
I'll have to find something else to go in the entryway, like an actual entryway table, because the buffet is moving to the breakfast room as soon as the walls and floor in there are finished. It just makes more sense to have a buffet in the actual dining area, right?
One last thing…at the suggestion of a commenter on yesterday's post (thanks, Beverly!), I tried Benjamin Moore's Aura paint in a matte finish. Oh my! Y'all, it's truly the most awesome paint I've ever used. I did the entire living room and entryway with one coat, even on the areas where I did the cutting in with a brush. Those areas usually go on thin, since brushing applies less paint than rolling, so I always find myself having to do the cutting in twice just to get enough paint on those areas. But not with Aura! The brushed areas and the rolled areas looked exactly the same (other than the very slight texture difference). One coat covered everything, and when I was finished, I still had just under half a gallon left! I've never gotten such good coverage from paint before.
It's definitely more expensive than the Behr I generally use — more than twice the price. I think it was around $65 for a gallon. So you have to ask yourself if your time is worth the extra money. For me, the answer was yes. And the matte finished is gorgeous. This will definitely be my go-to wall paint from now on.
Addicted 2 Decorating is where I share my DIY and decorating journey as I remodel and decorate the 1948 fixer upper that my husband, Matt, and I bought in 2013. Matt has M.S. and is unable to do physical work, so I do the majority of the work on the house by myself. You can learn more about me here.