Last Updated on December 24, 2015 by Kristi Linauer
Today I'll end the suspense and tell you what big project I'll be redoing. 🙂 I didn't tell you yesterday because I know some people will love this idea, some will hate it.  Some will see my issues with the original project, and some won't see the problems at all and will think I've lost my mind for redoing such a big project.  And while that's perfectly fine and understandable, I wanted to kind of get myself to a point of no return before sharing because I don't want to be talked out of my new plan or swayed by opinions. So yesterday, I firmed up the plans in my mind, last night I headed to Home Depot to buy everything I'll need for this project, and this morning, immediately after I took the pictures that I'll show you below, I took a hammer to the original project and removed a big part of it.
I've reached the point of no return, so now I'll share.  🙂
Based on the info I gave you in yesterday's post, and by the process of elimination, I basically left you with three big projects that could have been redone — the piano (it's a keeper!), the sliding doors (not a chance!), and the pony walls and columns (ding! ding! ding!).
Yep, my issue is with the pony walls and columns, and particularly the right side and how it seems to fight the wall now that I've installed the picture frame moulding and chair rail on the walls.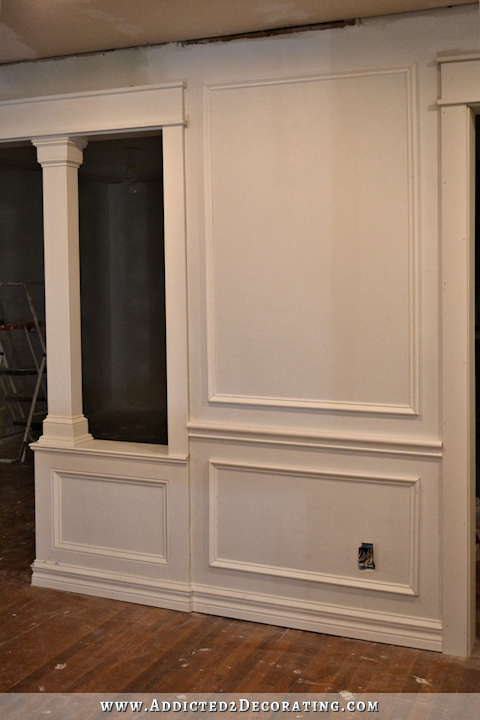 It's my painted kitchen floor all over again. Remember my painted stripe kitchen floor? I loved that floor, and I loved how it looked with my green cabinets…right up to the moment that I added the gold leaf to the cabinet doors. That gold leaf was a game changer, and the floor and gold leaf just didn't work together. So I had to ask myself which one I liked better, and as much as I loved that floor, the gold leaf won out.
This is the same situation. I love my pony walls and columns, and if I were to list my favorite projects (the ones that I'm the proudest of) in this house, it would rank in the top five.  BUT…the wall moulding (picture frame moulding and chair rail) was a game changer.
I can't stand the way that the recessed panel on the pony wall competes with the picture frame moulding on the wall.  And I hate…HATE…how the baseboard has to jog out 3/4-inch to wrap around the pony wall.
The other pony wall looks much better because it meets the wall at a 90-degree angle, so the transition from wall to pony wall looks much better.  But on this right pony wall, where the pony wall meets the wall on the same plane, it just looks like a jumbled mess.
I spent many days racking my brain to come up with a solution that would make the wall and pony wall more cohesive, and while I thought of a few things I could do, there was no fix that I could really get excited about. They all seemed like Bandaids when in reality, surgery was needed. So it came down to a decision.  What do I like better?  The picture frame moulding or the pony walls? In the end, for the overall look I'm going for in this room, the picture frame moulding wins out.
So the pony walls and columns are going, and that left me with three options.  (1) I could remove the pony walls and columns, and just frame that out as a big, plain cased opening. (2) I could build out some solid walls on each side to give definition to the music room, and then frame out that narrower cased opening. Or (3), I could come up with another way give separation to the two rooms while still letting in light and not visually closing off the rooms.
Option three is the clear winner, so my solution is to install stationary built-in French door panels on each side.
I am so excited about this solution! In fact, if I'm honest with myself, I actually like it better than the pony walls and columns.  And because there will be no pony walls to contend with, and it'll be just a framed opening with door casings that match all of the other door casings, that means that this jumbled mess…
…will be cleaned up to look just like a regular door casing with nothing competing with the wall moulding.
Aahhhh…so much better, right?  🙂
Addicted 2 Decorating is where I share my DIY and decorating journey as I remodel and decorate the 1948 fixer upper that my husband, Matt, and I bought in 2013. Matt has M.S. and is unable to do physical work, so I do the majority of the work on the house by myself. You can learn more about me here.
I hope you'll join me on my DIY and decorating journey! If you want to follow my projects and progress, you can subscribe below and have each new post delivered to your email inbox. That way you'll never miss a thing!