To Stage Or Not To Stage A Home For Sale?
Have you staged a home for sale recently?  And did you find that it was helpful in selling your home?  If so, I'd love to hear your thoughts on this topic!
With my mind focused on getting our condo ready to put on the market, I've been doing quite a bit of reading on staging homes for sale lately.  Is it really worth the extra time, money, and effort?  There seems to be quite a bit of conflicting information out there about just how much staging a home really helps.
In the last two days, I've read articles that suggest that staging a home can help bring in a higher sale price.  And then I've read other articles that say that staging has zero impact on a sale price.  But what the majority of experts do seem to agree on is that staging a home for sale will increase the buyer's view of the livability of the home, and will make a home sell faster than an unstaged home.  For that reason alone, staging seems like a good idea, because the less time a house sits on the market, the less you'll pay in continuing maintenance, mortgage payments, insurance payments, etc.
So I have decided to do a little bit of staging in the condo.  My main goal will be to show furniture arrangements that work with all of the built-ins that I've added.  After all, the extra storage in our little condo is potentially a huge bonus in comparison to the other condos in the building.  BUT…if a potential buyer walks in, sees the built-ins, and can't imagine how furniture will now fit into the rooms since I've taken up a few square feet of precious floor space in a already-small room with built-ins, then the very built-ins that I think added value could be a liability in the eyes of a potential buyer.  Know what I mean?
For example, if someone without a creative eye walks into the bedroom where I've just built the closets…
…they may not be able to envision how I planned the furniture layout of this room.  They may just see that one wall is taken up by built-in closets, another wall had a window,  third wall has the original closet, and the fourth wall has the door.  In the mind of someone who can't "see" my vision, they may think there's no room for a bed in this room.  So I'd like to be sure that they can "see" my vision by putting a bed in here and arranging it just as I had planned so that there's no confusion.
It would also be easy for a person to walk into the living room, see the huge wall of built-ins, and wonder how in the world furniture is supposed to fit in there now.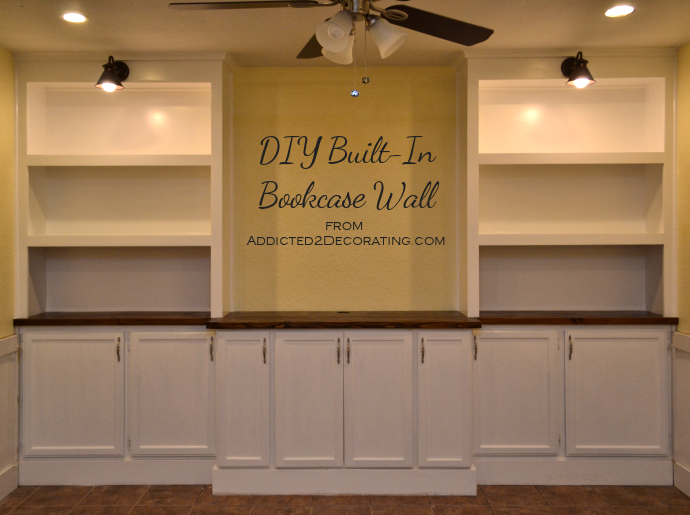 They might especially question it if they've seen my neighbor's condo first.  It's on the market right now, and this is how his living room photo from the listing looks…
That living room looks tiny and cramped.  If someone saw that first, they might not imagine that that room could hold a 12-foot wall of built-ins AND enough furniture to comfortably seat four or five people.
I want to stage the rooms and remove all doubt.  But of course, my problem is not knowing the line between staging and all-out decorating.  Just for my own personal satisfaction, I'd love to see these rooms completely decorated.  I didn't get a chance to finish the condo before we bought our house, and I regret not seeing these rooms completely finished as I had envisioned them in my mind.  But I also don't think that this is the time for complete decorating.  Just the basics will serve the purpose of staging for sale.
So here's my staging plan:
Remove all clutter and personal items.  We still have stuff at the condo that we never boxed up and brought to the house, so now is the time to get it all cleared out.
Keep the kitchen countertops clear and clean to maximize the counter space.  No decorative tchotchkes on the kitchen countertops.
Hang some simple curtains on all of the windows.  I won't go to a lot of trouble to make lined draperies or anything like that, but I do have quite a bit of fabric that I can use to make very simple curtains.  I'll hang them high and wide so that I won't block out any sunlight from the windows.
Add a simple furniture arrangement in the living room to show how the space can be used with the huge wall of built-ins.  I imagine two identical loveseats placed opposite each other, with a small coffee table in between.  Hopefully I can find something at a consignment store for a reasonable price.
Add items to the bookcases.  I don't want to fill them up completely from one end to the other with random junk, but just a few sets of books with bookends, and maybe a decorative basket and a few colorful items will make the bookcases not look quite so empty.
Add beds with simple bedding to the bedrooms.  Each bedroom already has a headboard, and I have no use for them at the house, so they can stay.  I also happen to have two mattress sets that we aren't using — a queen size set and a full size set.  So that takes care of the items that would have potentially been quite costly for the bedrooms.  And if I choose simple and mostly neutral bedding, we will always have a use for those.
There may be some other small things I find that I'd like to add along the way, but again my biggest challenge will be to keep it simple.  I certainly don't want to spend a lot of money on decorating.  My main goals will be to show potential buyers just how livable this small condo really is.  And my second goal is to make the pictures on our listing stand out among the other condo listings in the area.
So if you have any first hand knowledge about the staging tactics that work, I'd love to hear them!  Of course, the first thing that people always say is "neutralize everything".  That's the one thing that won't happen in this condo.  I'll just hope and pray for a buyer who loves my color choices.  🙂
Addicted 2 Decorating is where I share my DIY and decorating journey as I remodel and decorate the 1948 fixer upper that my husband, Matt, and I bought in 2013. Matt has M.S. and is unable to do physical work, so I do the majority of the work on the house by myself. You can learn more about me here.