It was almost unanimous.  Almost.  According to the overwhelming majority of you, staging is very important in selling a home.  So with that in mind, I'm starting to put things together for the bedroom.  I brought the mattress set and bed frame in and set them up between the closets, and then brought the headboard back in.
Ugh.  That headboard.  It was so pretty when I made it.
But after four years of use, leaning against it every night and every morning while working on my laptop, very often with wet hair after a shower, the headboard was looking pretty dingy.  (Only vinyl, leather, or wood headboards for us from now on.)  So I decided to clean the whole thing with a baking soda/water/vinegar solution.  I scrubbed and scrubbed the whole thing, but the fabric turned out looking even worse — very streaky and dull with discolored areas.  It definitely wasn't what I was hoping for after a good cleaning.
So I moved on to Plan B — new fabric.  I wasn't about to take the time and effort to remove all of those nailheads (those are individual nail heads that I nailed in one by one– I don't like and don't use those nail head strips), so instead I just reupholstered right over this fabric.
I used two yards of this fabric that I found at Hancock Fabrics for 50% off…
…and then I got an additional 10% off because the whole roll of fabric had defects on the back.  Fortunately they don't show through to the front.  Then I used a package of hi-loft batting (crib size, I think it was) with a 60% off coupon from JoAnn Fabrics.  So for just under $25, and about 45 minutes of wrapping and stapling, my headboard has a brand new look.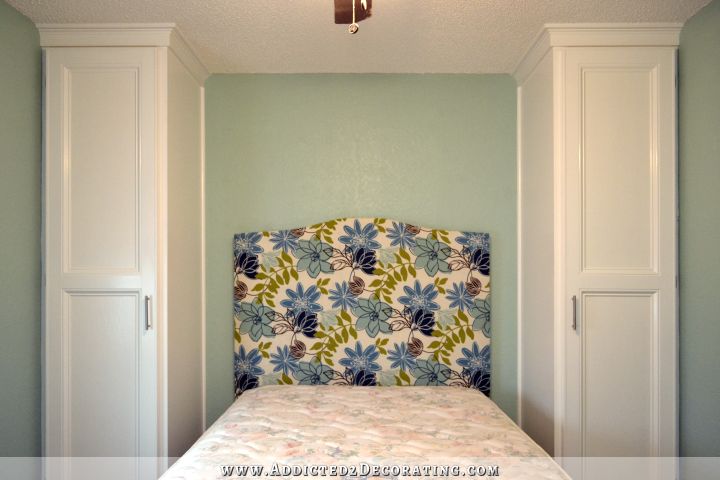 Upholstered headboards are so incredibly easy to make.  I didn't take pictures of the process because there are approximately 1,452,746 tutorials online on how to make a wrap-and-staple upholstered headboard.  If you need instructions, this is a good tutorial from Better Homes & Gardens.  But the very abbreviated version is that I smoothed the batting out on the front of the headboard, wrapped the edges around to the back of the headboard, and stapled it on.  Then I did the very same thing with the fabric.  I used my staple gun that came with my air compressor to do the stapling, but you can use an electric staple gun, or even a manual staple gun to do a project like this.
I love the color and pattern that it added to the room.  I don't want to go overboard with crazy patterns and colors, but this fun fabric seemed just right for my colorful condo.
I always hang my upholstered headboards on the wall when I can, and I use Ook Hangman French cleats to hang them.
I'll keep the bedding a bit more neutral, with maybe a colorful throw at the end of the bed.  And last night, I also started making some very easy and very inexpensive curtain panels for this room.
I'll share those as soon as I get them finished and hung.
I have to admit, I'm having fun with this.  The decorating projects that I'm doing at the house are more involved and time-consuming, as they should be since it's our forever home and I want things in our house that are higher quality.  But it's been fun to take on some quick, easy, really inexpensive projects that can be started and finished the same day.  It feeds my need for immediate gratification that doesn't get fed very often with my projects at the house.  And sometimes a DIYer just needs some immediate gratification.  🙂
---
---