Last Updated on October 8, 2017 by Kristi Linauer
I've been thinking a lot lately about just how far I've come as a DIYer in the last six or seven years. I have to admit, seven years ago, I never thought I'd be where I am today.
People ask me on a fairly regular basis how I learned to DIY. I always tell them that I'm  pretty much self-taught, but it has been a slow and steady progression for me. I didn't start out knocking down walls. Not many of us decide that for our very first DIY project ever, we're going to cut the roof off of our house and add a second floor.
Okay, well…my dad did that when I was a baby. He had never even so much as built a birdhouse or a doghouse before, but after reading a series of Time Life books on "how to build a house" that he checked out from the library, he was convinced that he could do it. So he did it.
But most of us don't jump in with both feet like that. For most of us, we start somewhere small, and then gradually build upon that knowledge. And on my journey, I've also had to tackle quite a bit of fear. Fear of the unknown is a powerful force that can keep us from accomplishing our goals. Facing that fear is empowering.
I was trying to remember some of my very first real DIY projects in the condo, beyond painting and such. The one that sticks out in my mind the most is tiling the backsplash in the kitchen. That was my first time ever tiling, and I was very nervous. But I had watched some videos and it didn't look difficult, so I was pretty confident I could do it. I bought myself a tile saw — the cheapest wet saw they had at Home Depot at the time — and got to work.
It wasn't perfect, but it was a learning experience. And on the whole, I was very proud of how it turned out.
By the time we sold that condo, I had built a banquette and added more cabinets and storage in the little breakfast area…
I had built an entire wall of built-ins in the living room…
I had added more storage to the bedroom with built-in bedside closets…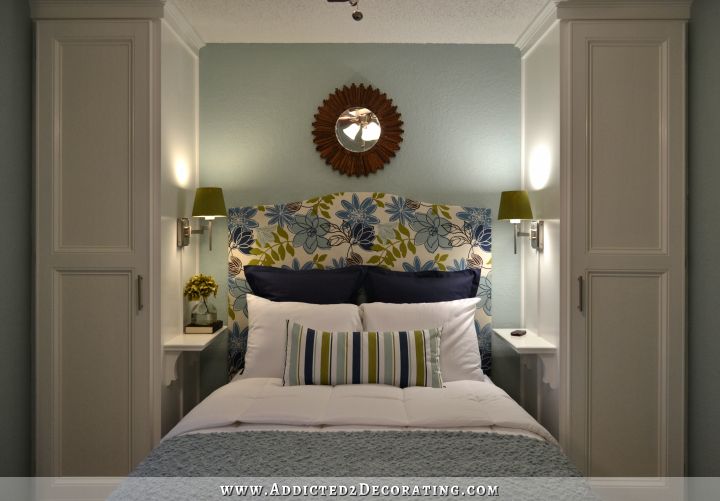 And so much more. But all of that was a progression. I certainly didn't walk in to that condo right after we bought it and think that I would be installing walls of built-ins. It took time for me to get there, not only with dreaming up the bigger and bigger projects and goals, but with my knowledge of how to get them done.
And while that was all good, and that skill and knowledge certainly has helped me a great deal in this house, the house brought with it a whole different set of challenges for me. The condo was mostly about surface finishes and a few building projects. The house…well…it has brought a whole heck of a lot more. And it has required me to face my fears much more than the condo ever did.
Do y'all remember when my kitchen looked like this?
The drywall on the ceiling was literally crumbling in places, and that wall…well…that was was in sad shape.
But I tried my hardest to salvage that drywall. "It's bad for landfills," I would tell myself, "so I need to salvage as much as I can." No, the reason I tried to salvage it is because the idea of ripping down that drywall and exposing whatever was behind it scared the crap out of me. I can't really explain it. It was just one of those irrational fears, but it was a very real, very powerful fear for me. It was the fear of the unknown. Is that drywall holding back all of the cockroackes, black windows, and brown recluses? If I tear that drywall down, are they all going to pour into my kitchen? And is that drywall on the ceiling shielding us from all of the rats and rabid squirrels in the attic?
I mean, I was literally scared to take it down. But it became evident that trying to salvage that brittle old drywall was a ridiculous idea, so it came down. And I survived.
Of course, it helped that my sister and brother-in-law were here at the time helping me. Facing those big, scary challenges is always a bit easier with someone else by your side.
But one time didn't really make all of the fear and dread go away. I had that same sinking feeling in my stomach when it came to the ceilings in the bathroom, and the dining room, and the music room. Thankfully my father-in-law was here for when the ceilings in the music room and dining room came down, so it didn't feel as scary and daunting. And it helped me get used to having the attic exposed for a while.
And once again, I survived. No rats or rabid squirrels in sight.
And all of that has worked together to help me gain the experience and the knowledge I needed to tackle those things on my own. When it came time to tear down the drywall (or plywood, as the case was) from the breakfast room and pantry ceiling, I did it by myself. It wasn't a pleasant task by any means, but I wasn't afraid of it anymore.
This house has also presented new challenges in that I've had to learn quite a bit about construction. In the condo, dealing with surface treatments and built-ins, I never had to know what a load-bearing header was. If you had asked me four years ago what a king stud and a jack stud are, I probably would have guessed they were terms used by horse breeders.
But in order to turn this old house into what I envision, I had to learn that stuff. Surface treatments and built-ins wouldn't cut it any longer. I had to learn to change the structure, remove load-bearing walls, create new openings, etc.
I'm not gonna lie, the very first one was scary. But again, I had someone with me, which made it easier. That time my brother came over to help, and we got the wall in the kitchen removed and created the opening where the peninsula is now.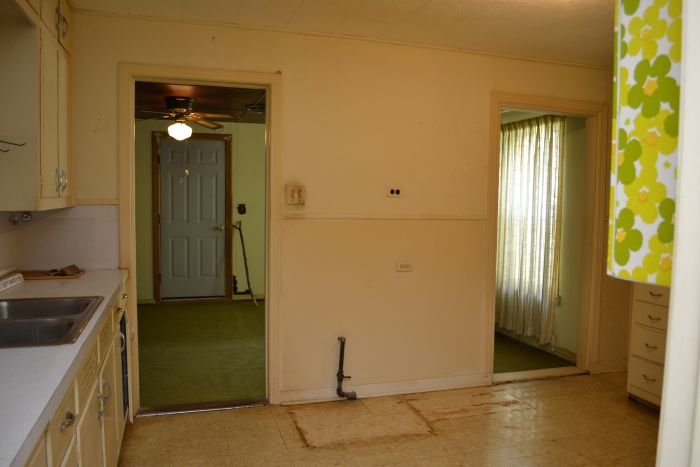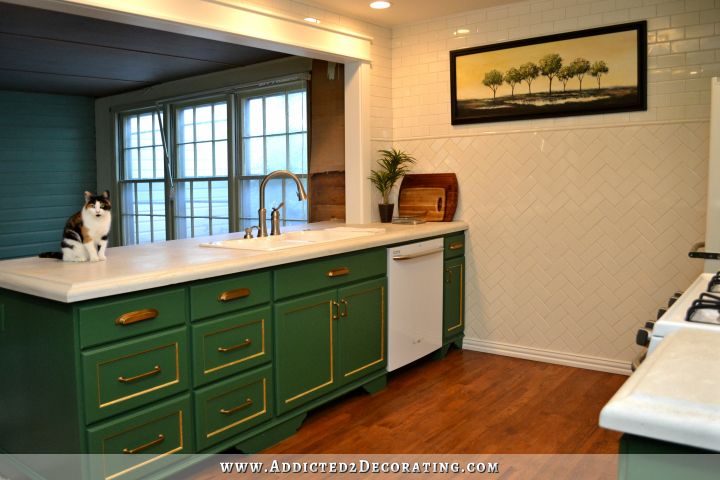 But we didn't just muddle through that project. When it comes to something as serious as opening up a wall, research is a must. You have to understand exactly what you're doing and why you're doing it. So I did a ton of reading, watched as many videos by pros as I could find (e.g., This Old House and the like on YouTube), and even had a licensed contractor come over and give me some pointers.
That first one was scary, but getting it done was so empowering. So much so that when I decided to do another one and put an opening between the kitchen and the dining room, I felt confident, and I think I even did it on my own. Matt's dad was here at the time, but I'm pretty sure he was working on other projects while I was doing this.
So when it came time to do the reframing of the back wall in the pantry two days ago, I felt very confident. I knew exactly what needed to be done, and why it needed to be done that way. That's the only way I could have seen this…
…without being completely freaked out and overwhelmed. I felt confident, knowledgeable, and had even rehearsed the steps in my mind over and over again in the day or two leading up to the moment that we started tearing into that wall. (I do that when it comes to big projects — I literally rehearse the steps in my mind over and over to be sure I know what I'm doing and not leaving anything out.)
So why am I telling you all of this? Well, I'm hoping it's an encouragement to those of you who read blogs like mine where people are literally tearing into walls, and thinking to yourselves, "I could never do that."
You can do it. Maybe not now, or even next week. For now, you might just need to pick up a circular saw and practice using it. Get used to the feel in your hand, and what it feels like to rip through a piece of plywood with it. You might need to pick up a framing nail gun and get over the initial fear of the immense power that it has. Or maybe you could start like I did with a relatively easy project like tiling your kitchen backsplash.
You don't have to jump in with both feet like my dad did and cut the roof off of your house. Heck, you don't even have to start with ripping down drywall and cutting openings in load-bearing walls (or non-load-bearing walls, for that matter).
But just start somewhere. Start with something easy. As you work, you'll learn, just as I have, that there's a negative correlation between fear and knowledge. As your knowledge increases, your fear will decrease. And let me tell you, ladies, there are few things more empowering than knowing you have the knowledge and skill to transform an old house into exactly what you want with your know-how, your tools, and your own two hands.
But that journey may start with tiling your backsplash. So go. Do. And don't let fear hold you back.
Addicted 2 Decorating is where I share my DIY and decorating journey as I remodel and decorate the 1948 fixer upper that my husband, Matt, and I bought in 2013. Matt has M.S. and is unable to do physical work, so I do the majority of the work on the house by myself. You can learn more about me here.
I hope you'll join me on my DIY and decorating journey! If you want to follow my projects and progress, you can subscribe below and have each new post delivered to your email inbox. That way you'll never miss a thing!