Well, hey there! Last week was pretty sparse as far as posts and pantry progress went, but y'all! There are only five more weeks in this year! And I woke up this morning feeling energized, excited and ready to sprint to the finish line and see just how much I can get done before we say goodbye to 2018.
I spent the weekend doing more work on the pantry. Ugh…that stupid pantry. I'm so over it and ready to move on to something else, but I'm going to make myself finish before I move on. I promise.
So in the last two days, I got the open shelves caulked where they meet the walls and cabinets, I got the ceiling painted around the edges where it meets the walls, I got the second coat of paint on the base cabinets (although the two tall side cabinets still need a second coat), and I got all four side drawers completely finished.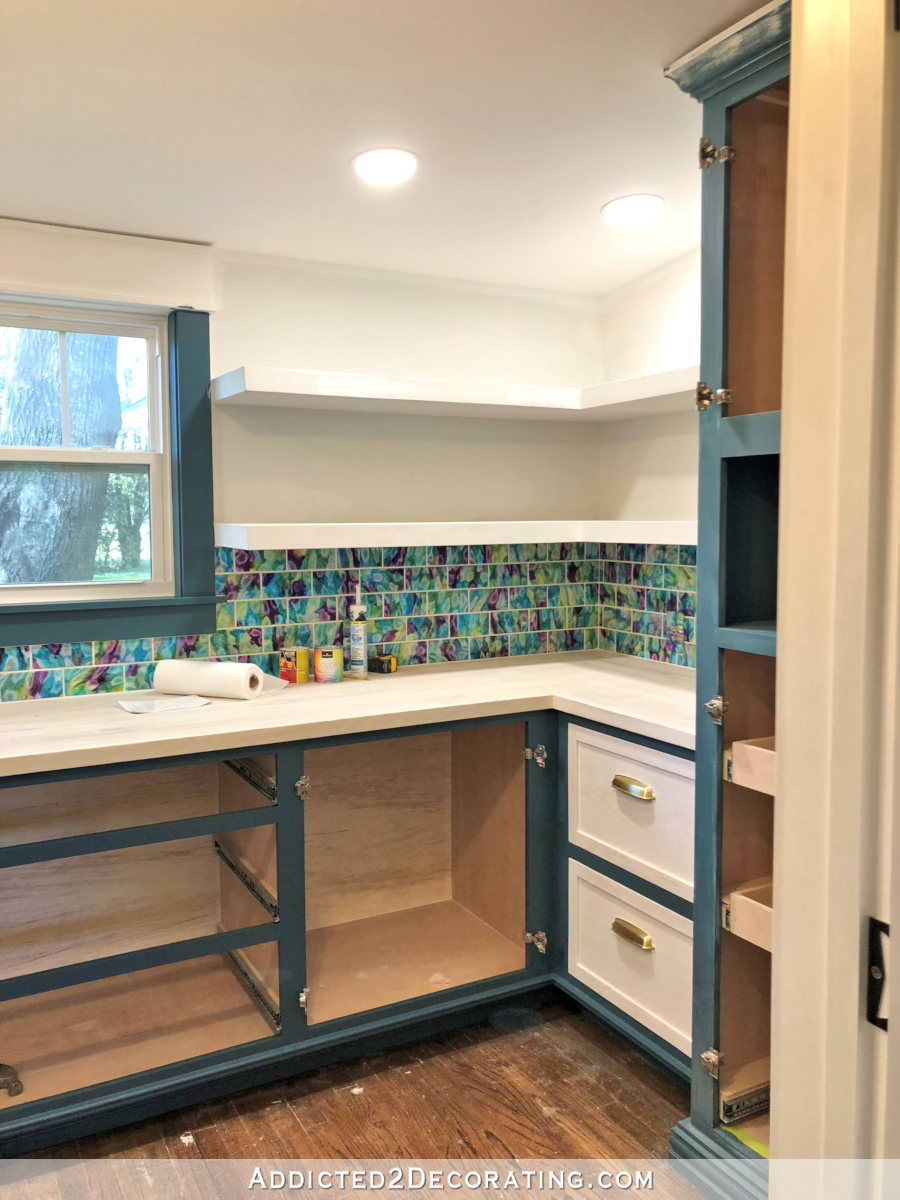 I also tested out the idea of painting the window casing a color other than white. I tried both green and teal, but I didn't like either one, so white it is. That added a bit of extra work, but it was just one of those things I had to try out before I could be fully satisfied with the white.
Anyway, I'm at that point where I've completely lost interest in the pantry, and it's taking all of my willpower and self-control to stick with it and not get sidetracked with a new project. That's actually the motivation I'm using to keep myself focused — the promise of a new, exciting project as soon as I'm done with this one. It's like a carrot dangling in front of my face all day every day that keeps me going.
So what is that next project? I honestly have no idea. I still have two front porch projects that are very close to finished, and I'd love to get those done by the end of the year. Remember the stone skirting I started adding to the concrete on the front porch?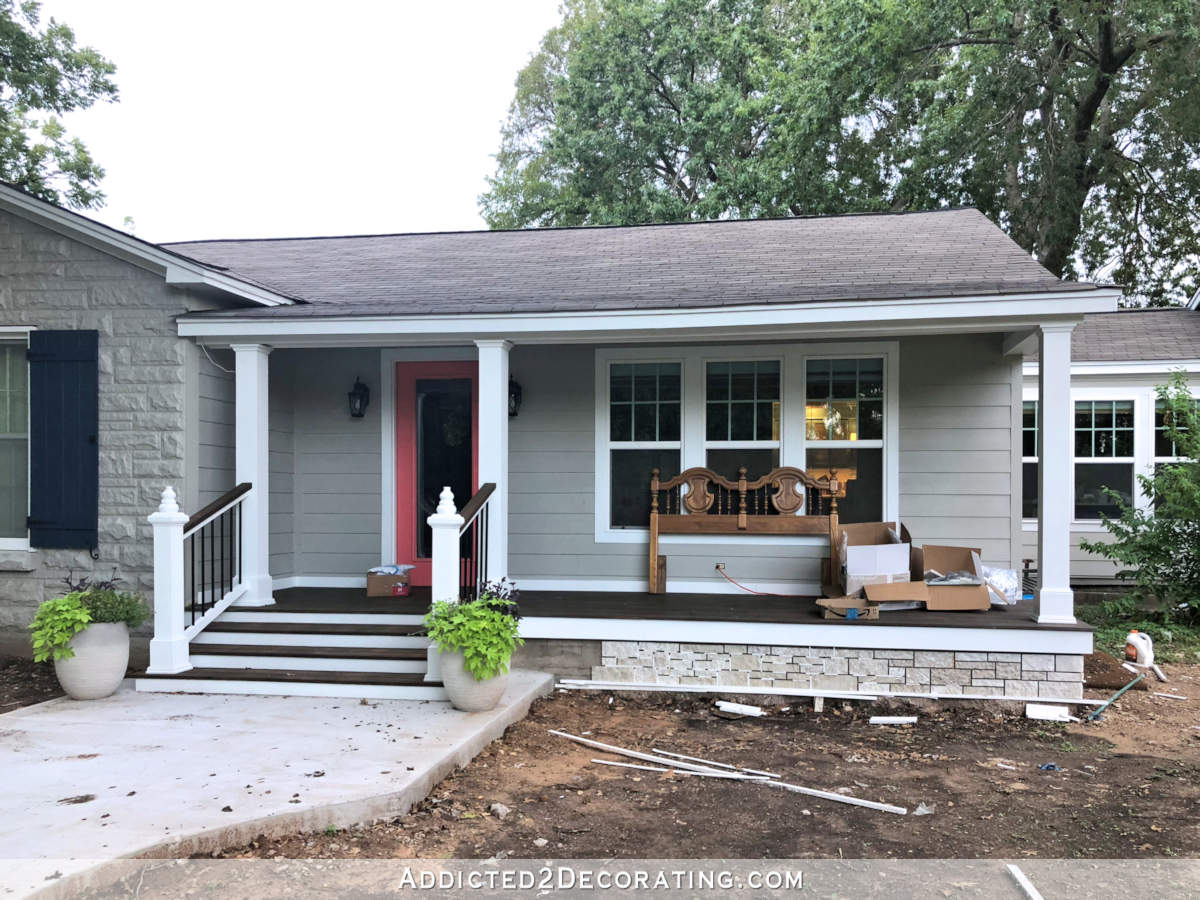 Yep, my front porch still looks pretty much exactly like that, headboard and all. Except that now, my sweet potato vine is dead. (FYI, in case you missed it, that headboard belonged to my grandmother, and I'm considering turning it into a bench or a one-person swing for the front porch.) That's a project I could finish up fairly quickly.
The second porch project is the rope lighting that I want to install along the front of the porch roof, hidden just behind the fascia board. The wiring is already there, so that would be quick and easy as well.
I'm also feeling pretty motivated to get things moving on my studio.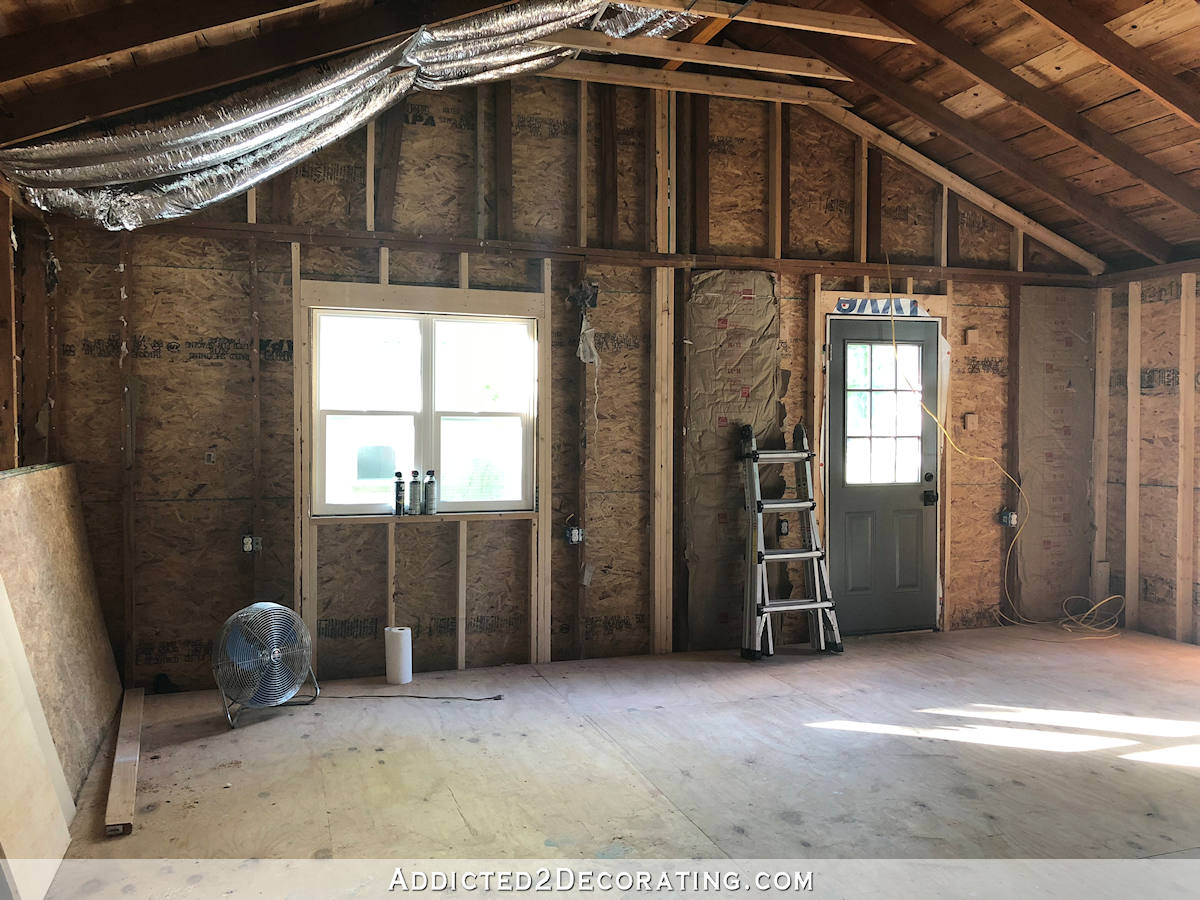 The guys I always hire for drywall texted me yesterday and asked if I was about ready to get the studio drywalled. This is usually a slow time of year for them since people are more focused on the holidays and not on home improvement, so it would be a perfect time to get the studio drywall going. I really want to get it insulated and drywalled before our winter weather gets here. So when I saw that text from him, I wished so badly that I could say, "Yes! Come on over tomorrow!"
But…ugh. I'm just not there yet. I still have electrical wiring that needs to be run before I can even think about insulation and drywall. I also need to re-run the HVAC ductwork now that I have a much more efficient way to do it since the new carport roof was added.
So really, those four things — front porch stone, front porch rope lighting, studio electrical work, and studio duct work — will probably be my main goals for the rest of the year. On my 2018 home goals list, I realized that the studio (with attached half bath and storage closet) were the only rooms where I have accomplished absolutely nothing during 2018. I'd like to change that before the end of the year. It would be so nice to begin 2019 with an insulated and drywalled studio that's ready for flooring, cabinets and trim.
In the meantime, Matt told me yesterday that he's ready to start on the big addition on the back of the house. As in, the big addition that will require tearing down the existing master bathroom (it's hard for me to call it that with a straight face) and sunroom…
…and then turn the existing master bedroom into a master bathroom, while adding on a brand new master bedroom, laundry/utility room and family room on the back of the house.
Yep. That one. Right now. He's ready to start.
I was like, "What the….?? Right now? As we approach the last month of the year? Before I've even finished the pantry? Before I've even started on the studio? Before the carport is even finished?"
Yep. Now. 😀 I think we still need to do some negotiating on that. The idea of starting that right now, or even spending any time or energy focused on that huge project right now, stresses me out. Of course, it's not like we'd hire a contractor today, and they'd start tearing down the sunroom tomorrow. By the time we get plans finalized and submitted, permits pulled, all preliminary work done (like removing a chain link fence, brick planters, and outdoor fireplace that are all currently in the way), the work probably wouldn't actually start until spring.
He still shocked the heck out of me by even bringing it up right now and announcing that he's ready to get started on it. I'm excited to know that he's thinking it will happen very soon and not two years from now, so 2019 is looking to be a very busy year already.
But for now, the pantry. Ugh…that stupid pantry. I might need to reward myself with a full week of playing with resin and acrylic paint after this pantry is finished.
Addicted 2 Decorating is where I share my DIY and decorating journey as I remodel and decorate the 1948 fixer upper that my husband, Matt, and I bought in 2013. Matt has M.S. and is unable to do physical work, so I do the majority of the work on the house by myself. You can learn more about me here.
I hope you'll join me on my DIY and decorating journey! If you want to follow my projects and progress, you can subscribe below and have each new post delivered to your email inbox. That way you'll never miss a thing!