Well, this is the weekend I had hoped to have my kitchen remodel completely finished.  I'll be honest.  I don't think I'll make it.  I'm not being a pessimist, just a realist.  My "to do" list is still quite long, and it seems like I keep finding little things that need to be added to the list.  And all of those little finishing details take quite a bit of time.
But even still, I'm going to give it my absolute best try and see just how close I can come.  Even if I have a few unfinished items on my list come Monday, I can assure you there won't be many.
My big project yesterday was the kitchen floor.  I've been procrastinating on this one, especially the areas around the furniture feet on the two finished walls of cabinets.  But I finally did it, and it wasn't really that bad!  I did the toekick on the peninsula first just to get a feel for what would be needed.
I used Klean Strip paint stripper, brushed on with a paint brush, and left it on for about 10 minutes.  Then scraped off the majority of the poyurethane and paint.  Then I added one more coat of stripper, and this time instead of scraping, I used small a wire (brass) brush to really get down into the grain of the wood.  Then I wiped that up with a paper towel soaked with Klean Strip Paint Stripper After Wash.  This stuff was a real time saver.  It really cut right through the remaining stripper and paint sludge.
I do have a couple of areas on the cabinets that will require some touch ups where I accidentally touched it with my chemical-covered glove or scraper, but those won't be a problem.  I'll also still need to do some detail sanding under the toekick, which I'll probably do with my Dremel MultiMax since I'm pretty sure that's the only thing I have that will fit under there.  If it doesn't fit, then I'll just have to sand by hand.  But you can see on this next picture that the area just under the toekick is still a bit lighter in color than the rest of the floor.  You can see the darker shadow line, and then just a couple of inches beyond that, it gets lighter again.  That's a very thin film of paint that I couldn't get off with the chemicals.  Sanding is the only way to get that off.
The small area in the doorway is one of only two areas remaining that I still need to sand.  And don't worry about the floor in the music room.  It'll clean up just fine.  And in the event that there are scratches that need fixing, remember that the ease of repair is why I chose to use Waterlox on my floor.  🙂
The other area that still needs to be sanded is the refrigerator cabinet.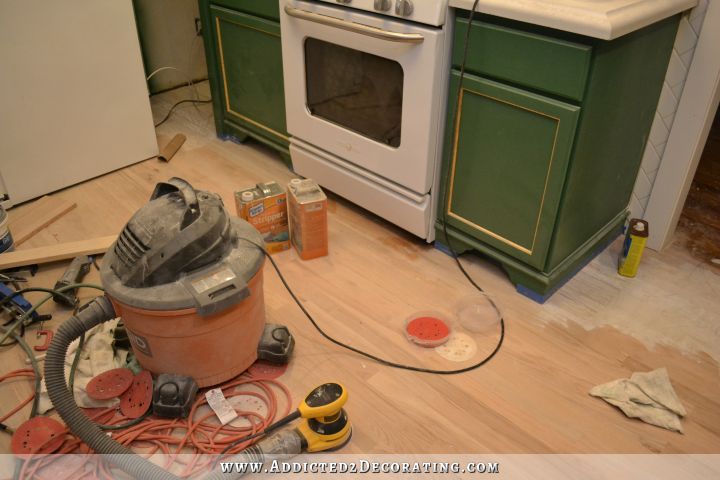 So tonight, I should be ready to put the first coat of Waterlox on before I go to bed.  If I do one coat tonight, one tomorrow night, and one on Sunday night, the floor will be finished by Monday.
So here's a look at my "to do" list as I head into what I had hoped to be my final weekend of work on my kitchen.
Wall of tile:
Install the rest of the tiles around the perimeter
Clean the grout lines and grout the wall
Caulk around the edges
Install trim at the top of the wall
Install baseboard
Clean film off of tiles
Refrigerator wall:
Grout tile around the doorway
Caulk around the tiles
Install the stove
Replace the trim on the cabinets that had to be removed to tile  🙁
Switch the door swing on the refrigerator
Touch up the ceiling paint along the crown moulding
Install and paint the trim around the door
Install trim at the top of the tiled wall
Install baseboards
Install undercabinet lighting
Wire vent hood with a plug (currently has no plug and has to be hardwired)
Clean overspray from inside of cabinets
Make and install corbels on upper cabinets
Outlet and switch covers
Wall of cabinets:
Order shelf pins and install glass shelves
Clean overspray from inside of cabinets
Touch up ceiling paint along crown moulding
Install undercabinet lighting
Make and install corbels on upper cabinets
Peninsula and surrounding partial walls:
Install tile on the wall
Grout the tile
Caulk around the edges of the tile
Install trim at the top of the wall
Install trim around the doorway/opening
Remake four large drawer fronts (in progress!)
Make and install the furniture feet on the cabinets
Install trim on the cabinets
Prime, paint and polyurethane the cabinets
Gold leaf the large drawers and cabinet doors
Install baseboard on left wall
Caulk around sink
Outlet and switch covers
Other:
Sand and Waterlox the floor (in progress!)
Seal grout
I'm going to try as hard as I can, but I'm pretty sure the only way I'd get that done in three days is if I had a couple of other people helping me through the weekend.  So many of those things are very simple, but even the very simple tasks add up to hours and hours of work.  So we'll see how close I get on Monday!  🙂
---
---