Last Updated on October 3, 2017 by Kristi Linauer
I'm just gonna go ahead and issue a trigger warning for this post. If you're one of those people who gets irritated with my indecisiveness, you've been warned. You might just want to click away and come back when I share my progress on the breakfast room. If you get frustrated with my doing projects over and over again until I get them just like I want them, you've been warned. Turn away now.
For the rest of you who are just along for the ride and are completely unaffected by my indecisiveness and couldn't care less how many times I redo my projects, welcome to my madness.
I'm working in my breakfast room right now, and I'm determined to get as much done on my list for this month as I possibly can. I'm not getting sidetracked with unrelated projects. I promise.
But my breakfast room is right next to my kitchen, and I've been obsessing over my kitchen for about two weeks now.
Let's recap. When I remodeled my kitchen in 2014, I painted the cabinets Sherwin Williams Derbyshire.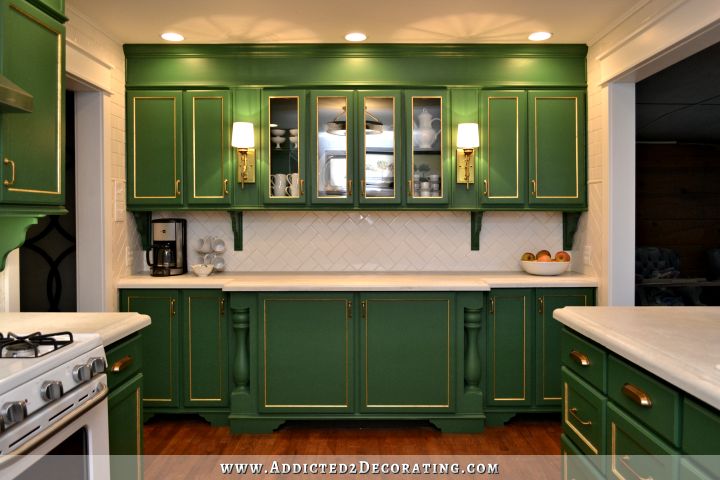 I loved the green, and still do, but it's such an intense color that it was like decorating with primary green. I found it an impossible task.
So then I had a whole awakening moment where I realized that all of the bright colors I was trying to force into my house just weren't me. I'm a green, blue and teal person. So I completely changed gears and did a dark blue (Benjamin Moore Gentleman's Gray) on the bottom, and a light gray (Benjamin Moore Revere Pewter) on the top.
I thought it was fine for a while, and then the Revere Pewter just started looking dull and dingy to me. So I asked all of you, and the overwhelming majority of you agreed with me. (Interestingly, the sample of Revere Pewter on my breakfast room wall right just to the right of these cabinets looks about twice as dark as it does on my cabinets, and the breakfast room gets more sunlight than the kitchen does. Go figure!)
Your three main suggestions were: (1) go a bit darker gray on the top so that it contrasts with the white tile better, (2) go white on the top, and (3) paint all of the cabinets one color (i.e., dark blue).
Well, let's just say that since that post, I've gone a little crazy. I've been like a mad scientist in my kitchen, mixing up color after color after color, trying each of them on my cabinets as I go. I've probably mixed and tested no less than 50 colors on those cabinets, and I don't know that I'm any closer to making a decision.
Here's what I do know for sure.
 The dark blue is way too dark to use on all of the cabinets. I tested it, and I may as well have been painting my cabinets pure black. My kitchen is too small for that.
I do not want white cabinets. I entertained the thought briefly, but I'm just not a white cabinet kind of person, especially when the walls/backsplash and the countertop are all going to be white. I just can't do that much white.
I've concluded that my kitchen is too small to use two colors, so I need one color that I can use on both the lowers and the uppers.
So now that I've told you about my madness, let me just show you. (Sorry for the messy countertop. Like I said…I've been in mad scientist mode.)
First, I thought I might try out a light blue-green-gray color, inspired by this kitchen.
So I mixed up various ratios of blues and green in different shades (you can also see the Gentleman's Gray on the right).
Those are all very pretty, but I don't think they're me. They're a little too blue for my taste. I prefer my blue-greens to have a bit more green in them. And then I remembered this amazing kitchen…
via HGTV
So I played around with some blue-greens with more green in them. The color on the left in the photo below is very similar to the kitchen above during the day when my kitchen is filled with sunlight. It's very pretty.
And then I decided to go even a little more green.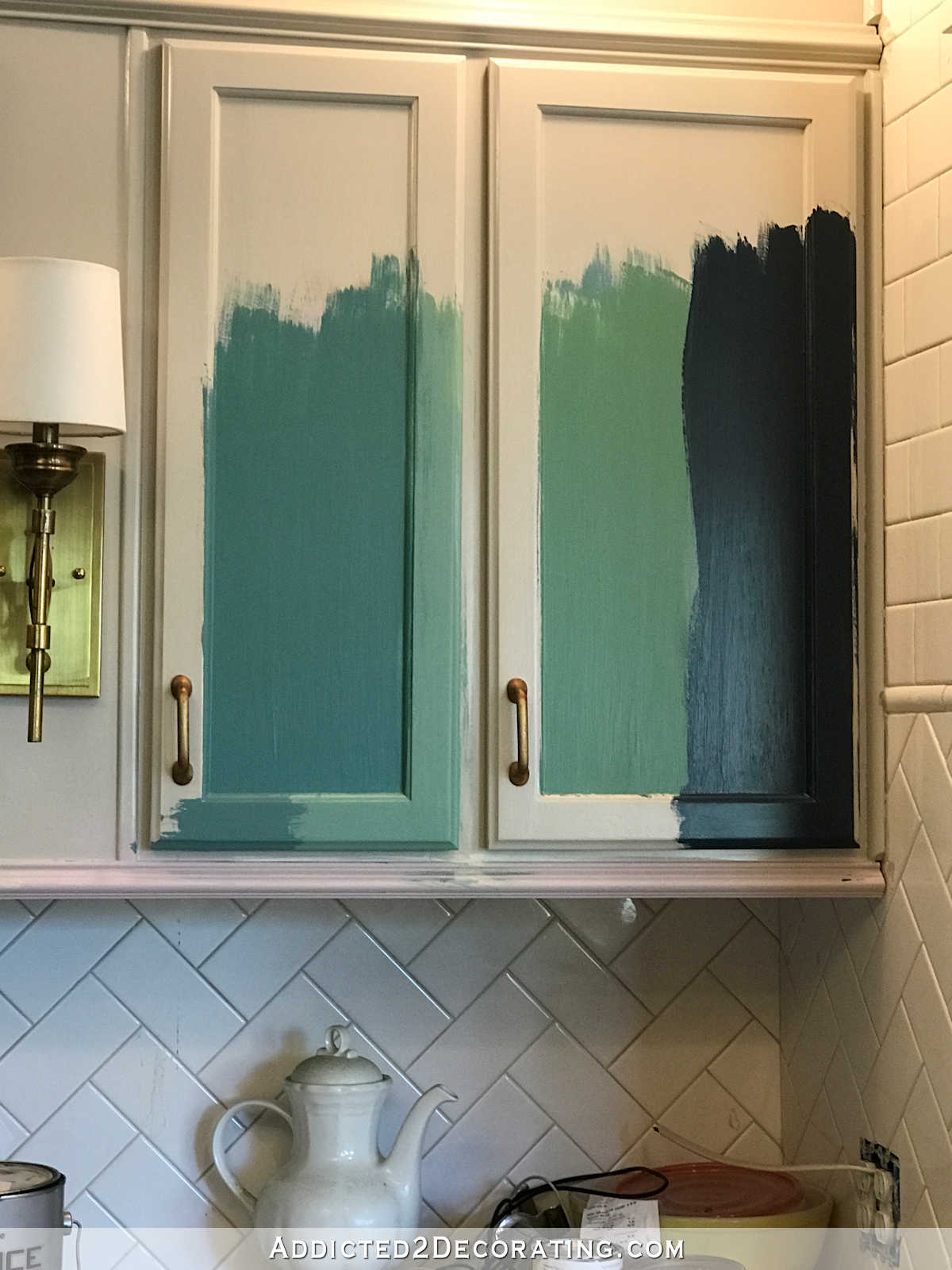 And then finally, I came full circle back to green. This isn't the Derbyshire that I used before. This is Benjamin Moore Crete Countryside.
This is what their picture of it looks like…
Strangely, they only have that color in their Grand Entrance paint (for front doors and such), so I'd have to have it color matched to use in another type of paint. Anyway, that green isn't quite as intense and in-your-face as the Derbyshire, so it would be easier to decorate around (or at least that's what I've convinced myself).
Anyway, last night, I had just about come to the end of my rope with this kitchen cabinet paint color nonsense (I can assure you, I get way more frustrated with myself than any of you could ever get at me), so I told myself that I needed to just suck it up, use the dark blue on the bottom, and use a darker gray on the top. I painted two samples on the right door — Chelsea Gray on the left and Galveston Gray on the right. Galveston Gray is too dark, but when I saw the Chelseal Gray, I thought, "Wow! I might actually like that!"
But then I came back to the kitchen about an hour later, and my initial thought was, "Ugh! There's no way I could live with either one of those."

:-/
So then I proceeded to mix two other colors. I had purchased a sample of the blue-green color on the left door in this picture…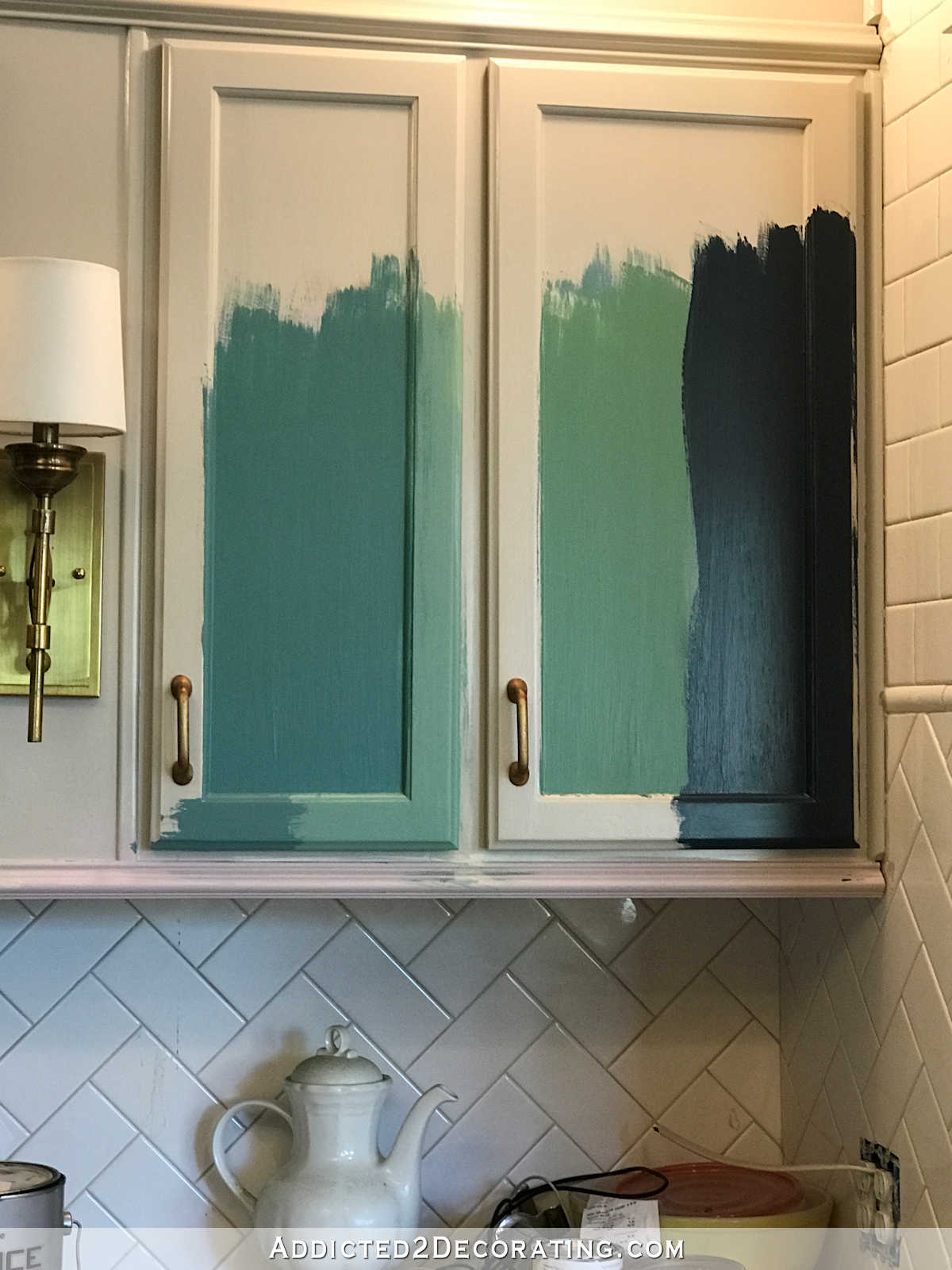 …so I mixed 1 part of that color with 1 part of the Gentleman's Gray (the dark blue on my lower cabinets), and I ended up with the color  on the left side of the door on the left…
It was still too dark, so I added one more part of the teal green color, and ended up with the color on the right side of the left door above. Again, it's pretty, but still too dark.
So I really have no point to this post other than to share with you the madness going on inside my mind. I'm driving myself crazy. If I don't have a color picked out by the end of this month, I'm going put my top five samples into a hat, draw one out, and just go with it. Sounds like a reasonable way to make the biggest color decision in my house, right?
Fortunately, I'm keeping busy in my breakfast room. It's not like progress is being held up until I make up my mind. Most of the projects I'm working on this month in the breakfast room are completely unaffected by my kitchen cabinets color. But since it's just right there in the next room, staring me in the face every day, mocking me, taunting me, and throwing my indecisiveness in my face, I thought I'd share it with you as well.
*Sigh* My brain hurts. I'm gonna go finish up the trim in the breakfast room. 🙂
Addicted 2 Decorating is where I share my DIY and decorating journey as I remodel and decorate the 1948 fixer upper that my husband, Matt, and I bought in 2013. Matt has M.S. and is unable to do physical work, so I do the majority of the work on the house by myself. You can learn more about me here.
I hope you'll join me on my DIY and decorating journey! If you want to follow my projects and progress, you can subscribe below and have each new post delivered to your email inbox. That way you'll never miss a thing!