Testing Whitewash Finishes On Red Oak Hardwood Flooring
Well, y'all have spoken, and the overwhelming majority of you believe that I should whitewash my red oak hardwood flooring in the studio and adjoining areas (half bath, back entry and storage closet). For some reason, I expected it to be a closer race between the two options, but whitewash ran away with the vote. So last night before I went to bed, I tested out some whitewash options.
I've been researching how to whitewash hardwood floors for a few weeks now, and let me tell you, the info you find online is all over the place. Some people say just used watered down paint. Others say don't EVER use paint. Some people swear by Bona products, like their white stain, or their NordicSeal. But after reading reviews and seeing pictures, I wasn't convinced that it was the answer.
So I decided to try out some good ole Varathane water-based white stain, right off the shelf of Home Depot.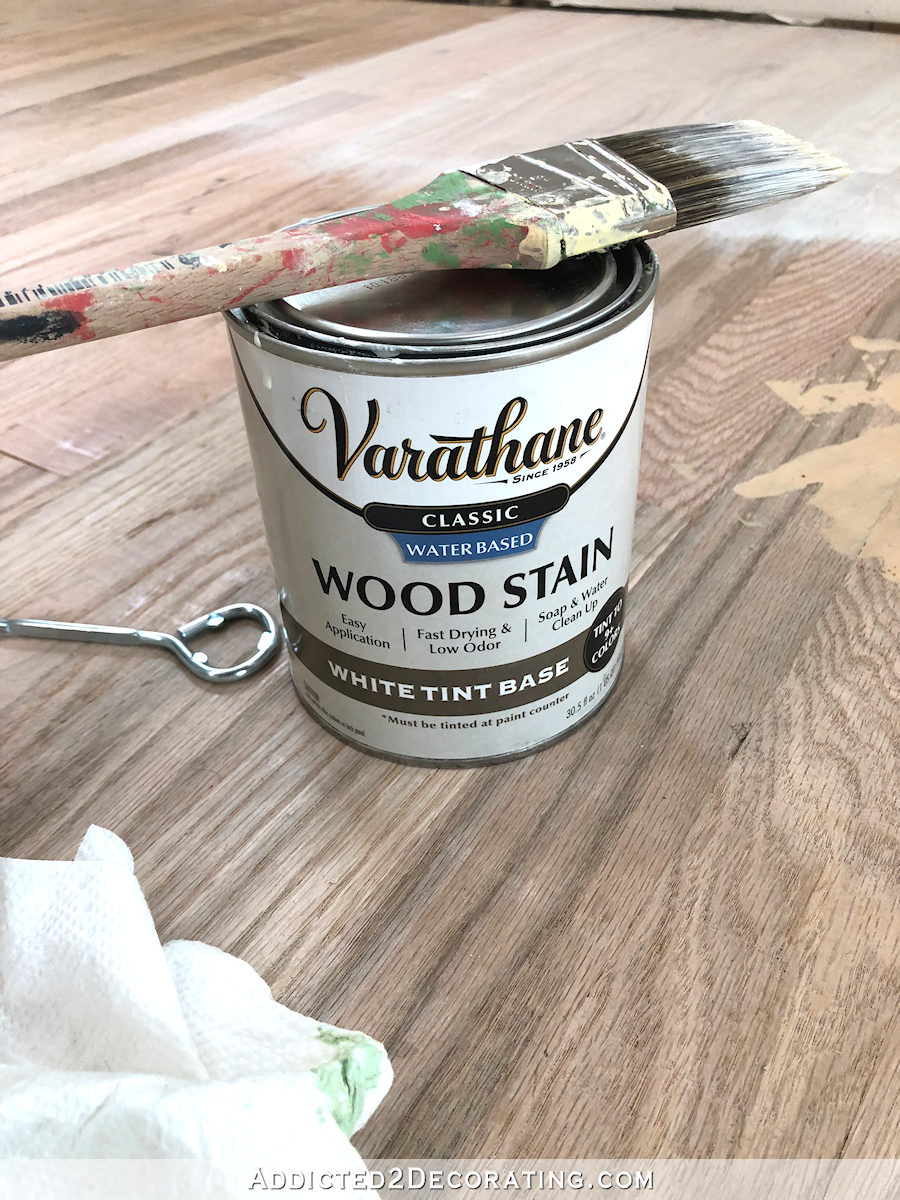 To be clear, the can says it's not recommended for floors. But things like that generally don't stop me from trying. 🙂 I figure that the topcoat will be the most important part of this equation anyway, so as long as I get that right, the "not-intended-for-floors" stain will be just fine.
Anyway, I did three test patches last night before I went to bed. Keep in mind that these tests are done on wood that hasn't been sanded yet, so it's pretty rough and soaks up the stain differently than sanded wood will. But it's still a good start for getting an idea of where I'm heading. Here are the samples…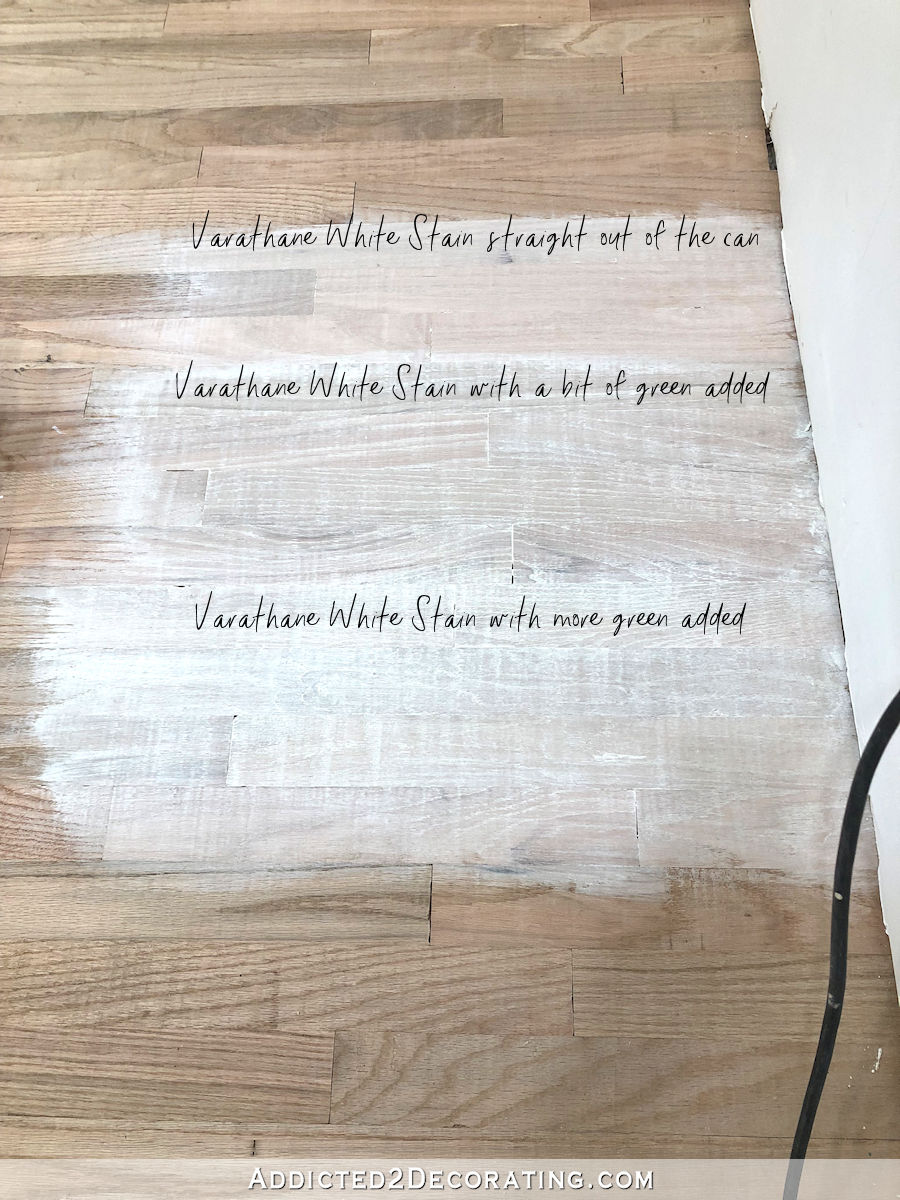 The top one is the white stain straight from the can. To be clear, I knew from the start that that option was NOT going to work. Putting white stain over red oak will just turn my floors pink, and not in a good way. But I still wanted to see what it looked like just to have a baseline from which to make some changes by tweaking the color. It also looked like the actual stain in the can had just a tiny bit of a red undertone to it, so red undertone stain on top of red oak isn't really a good combo. Unless, of course, you like pink wood floors.
So for the second sample, I added just a bit of green tint to the stain to try to cut the red undertones of both the stain and the floor. It did tame some of the red, but not quite enough for me.
So I added a bit more green and tried again. The third sample (on the bottom in the above picture) is definitely more to my liking. But I was looking at it under bright white LED lights at night, so I wanted to wait and see what it looked like this morning in the light. The natural sunlight made it look not quite so white and bright.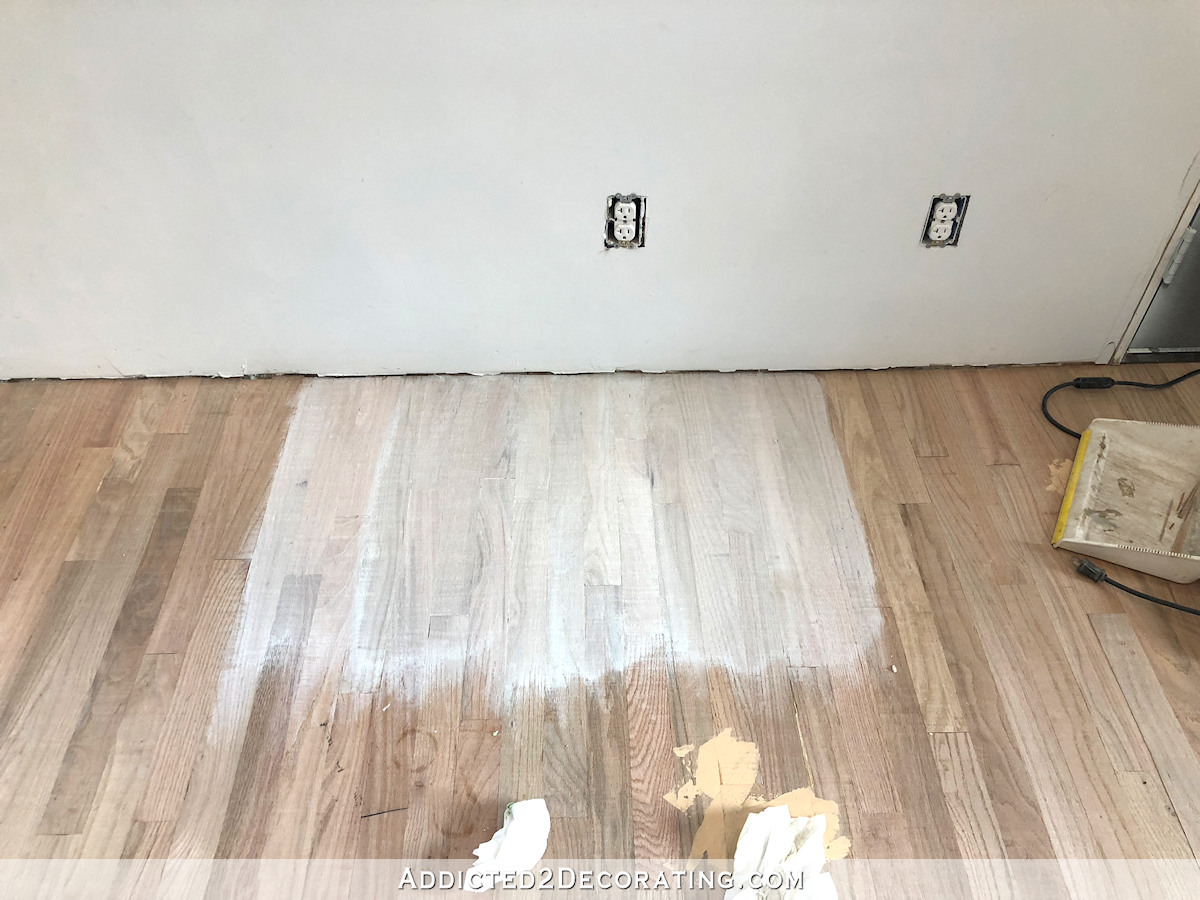 That was a little shocking to me, because that sample on the right looked SO much whiter at night. So I decided to try a second coat on that last sample. Here's how that looked in the daylight…
It's hard to know exactly what any of those will look like on 540 square feet of flooring as opposed to these small samples, so I think I'll just have to take it one step at a time. At least I do know for sure that adding green tint will cut the pink undertones. That was my main concern. But whether or not I end up with one coat or two will have to be decided once I actually get one coat of stain on the whole floor.
Right now, I am really liking the two coats on the sample, though. I really like how light and bright it is.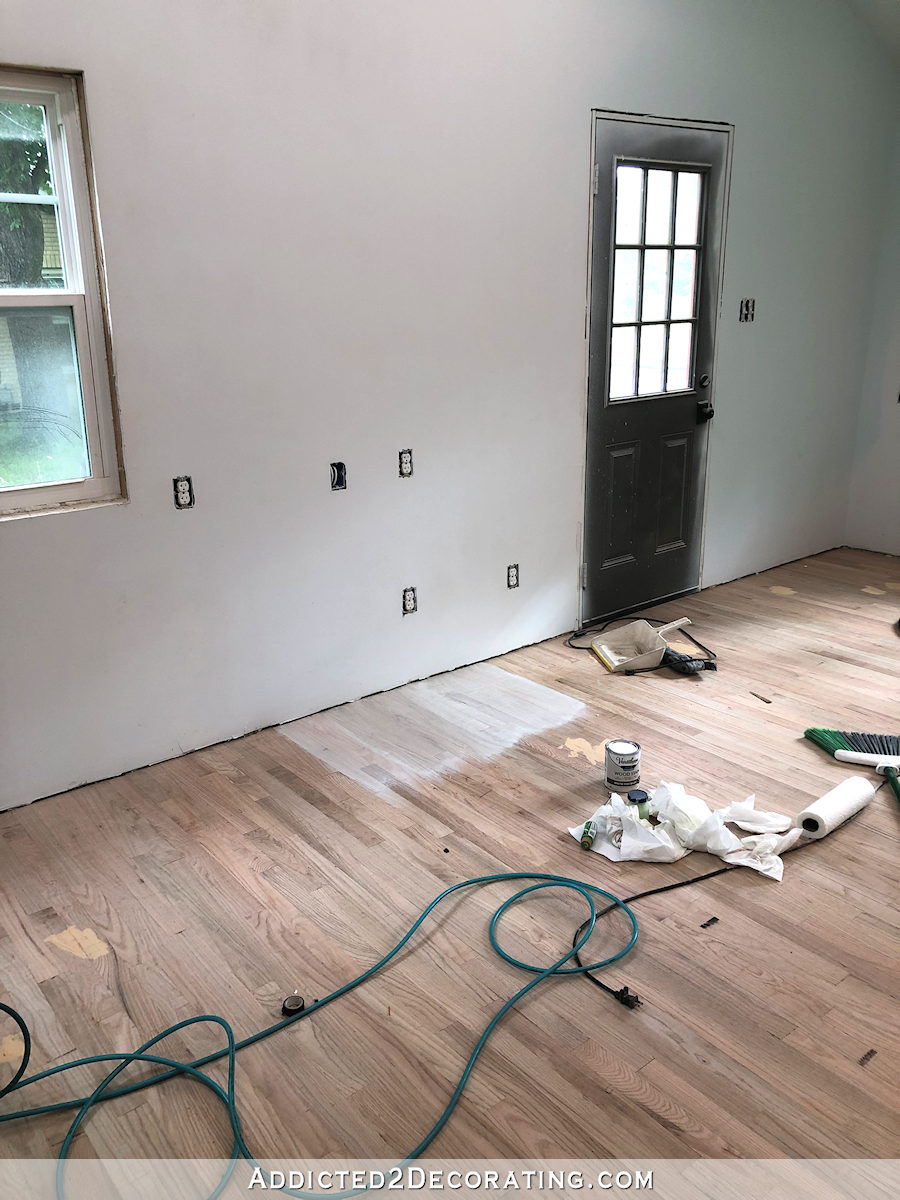 But again, after seeing one coat on the entire floor, I may decide that that's enough.
Choosing a flooring color like this is just about as effective as choosing a wall color from a tiny swatch. Sometimes the end result is a complete surprise, even though you had that swatch in hand.
And it also doesn't help that it looks slightly different from every angle, and at different times of the day.
But at least I'm on the right track. And I'm very relieved that I won't have to live with pink floors. I'm excited to get the floors sanded and get on with the staining!
By the way, if you're wondering what I used to tint the stain, let me show you…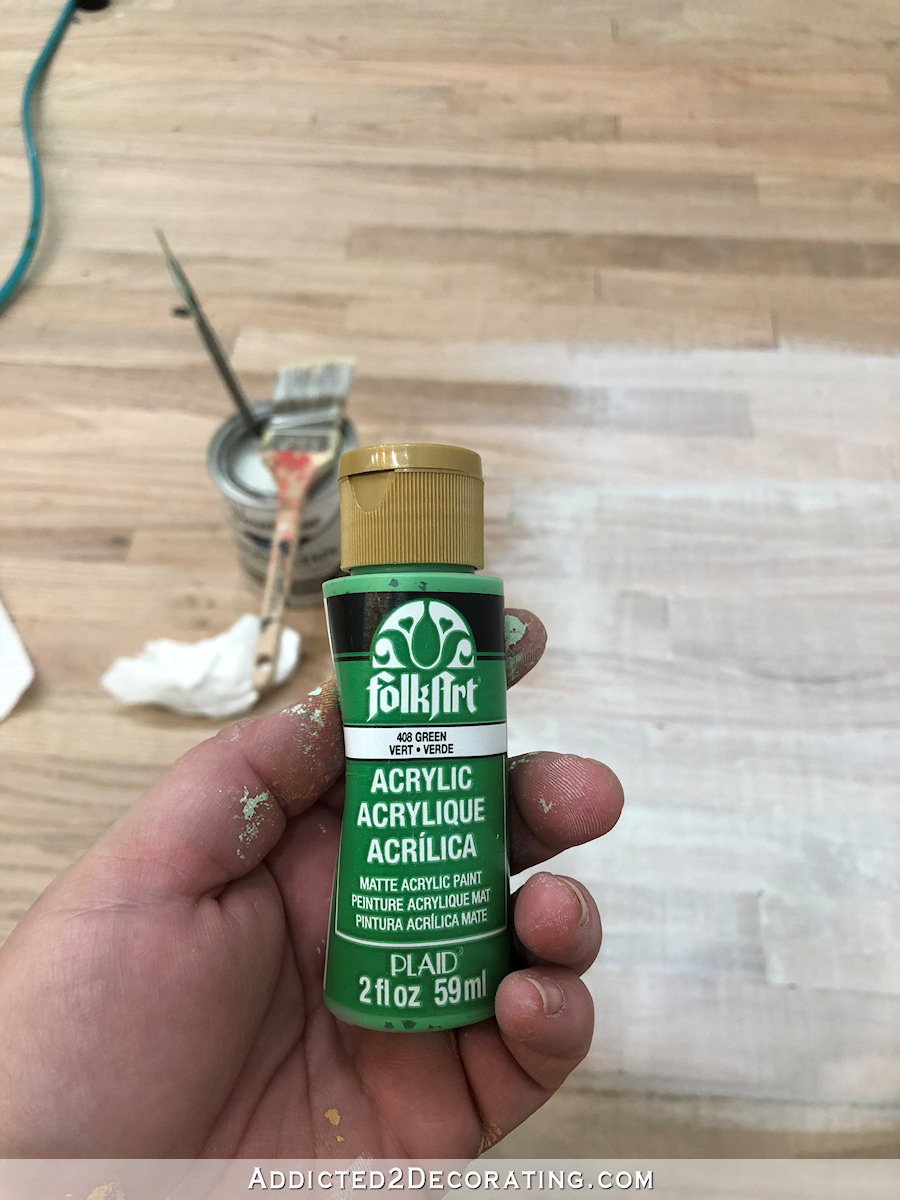 Yes, that's craft paint. 😀 I'm using water-based stain, so it can be tinted with acrylic paint, and I just happened to have this on hand. It took more than I thought it would to get the desired effect, but again I think that's because not only did my floor have red undertones, but the white stain appeared to as well. If I had to guesstimate, I'd say that I used about a tablespoon of green acrylic paint in the quart of stain for it to have the desired effect on my floor.
Anyway, I'm planning for a very productive weekend! Let's hope that I have some real progress to show come Monday!
Addicted 2 Decorating is where I share my DIY and decorating journey as I remodel and decorate the 1948 fixer upper that my husband, Matt, and I bought in 2013. Matt has M.S. and is unable to do physical work, so I do the majority of the work on the house by myself. You can learn more about me here.