Last Updated on May 27, 2019 by Kristi Linauer
I finished installing the unfinished red oak hardwood flooring in the studio! Those last few rows that have to be nailed down with a regular nail gun are always so challenging for me, and I can never get them to look as good as the rest of the flooring where I use the mallet and the flooring nailer, but at least there's hardwood flooring all the way to the wall. Thank goodness for wood filler. 😀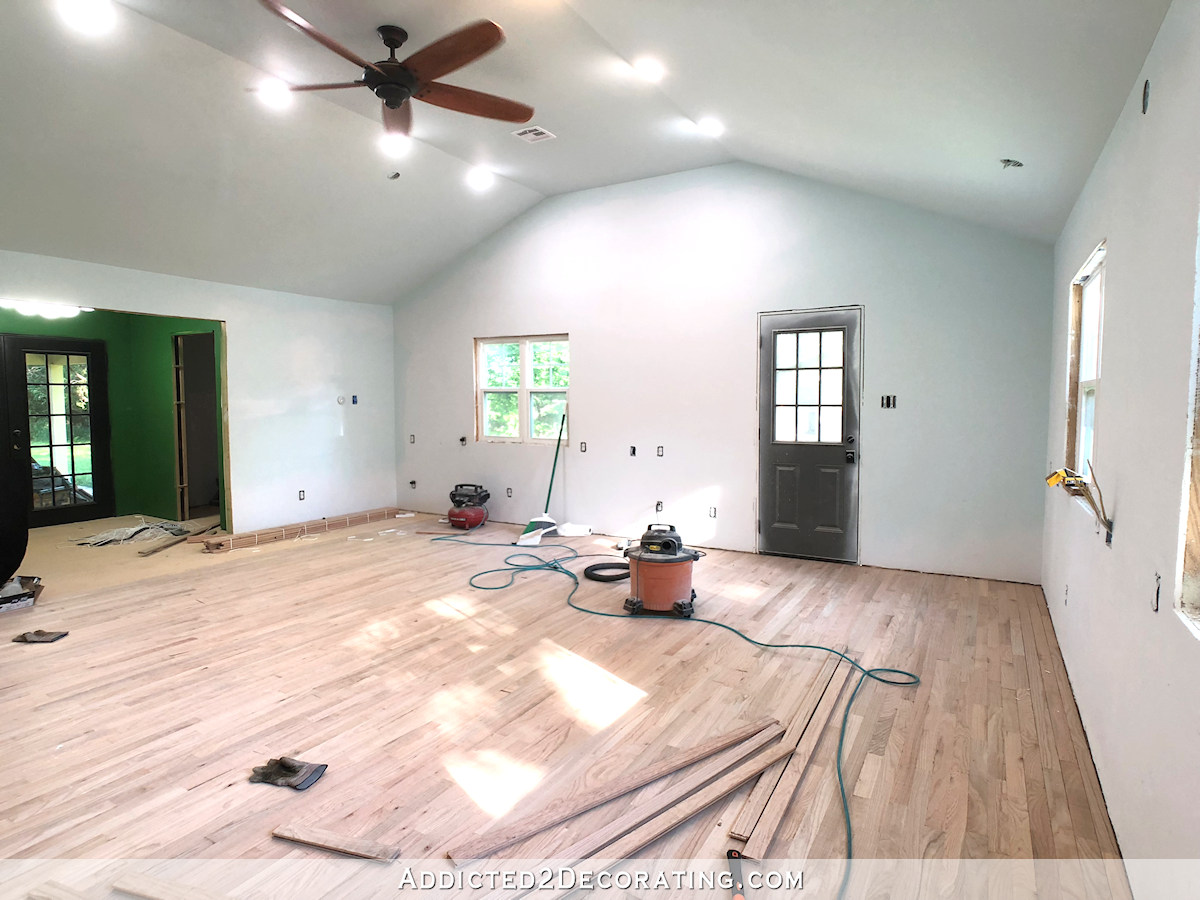 If all goes as planned, I'll do the wood filler on the rest of the floor today so that it's dry by tomorrow, when I plan to rent the big sander. I'm hoping the sanding will be a one-day job, but if not, I'll finish it up on Saturday. And then Sunday, I can start the staining process.
So naturally, this is the point where I start to question my decision. 😀 I mean, this is a big job — about 540 square feet of flooring. And while I know that I'm known as the person who doesn't mind redoing projects if they don't turn out just like I want them, and I'm generally okay with approaching things with that mindset, I really don't want to have to re-sand and re-finish this much flooring. I want to make sure I get it right the first go around.
My plan has been to whitewash the floors in this whole area — studio, back entry, half bath and storage closet. I envision something like this…
Or like this, but perhaps not quite so rustic. Also, I think this is a wide wood-look tile, and mine is narrow hardwood. But the color is pretty much what I have in mind…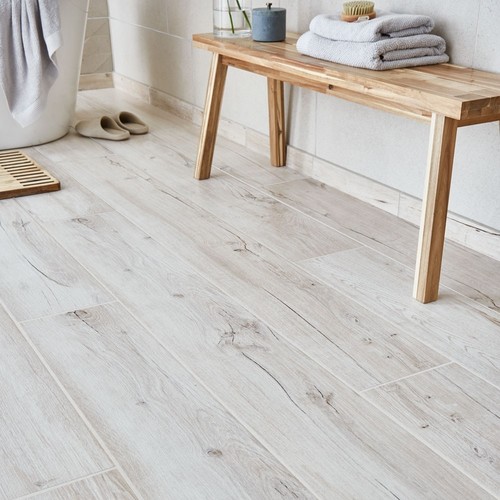 My thinking is that it would keep the studio, back entry and bathroom light and bright, and would look good with all of the color going into these areas. The bathroom is very colorful, the back entry is a very saturated green, and the studio will have a bold wallpaper on the front wall.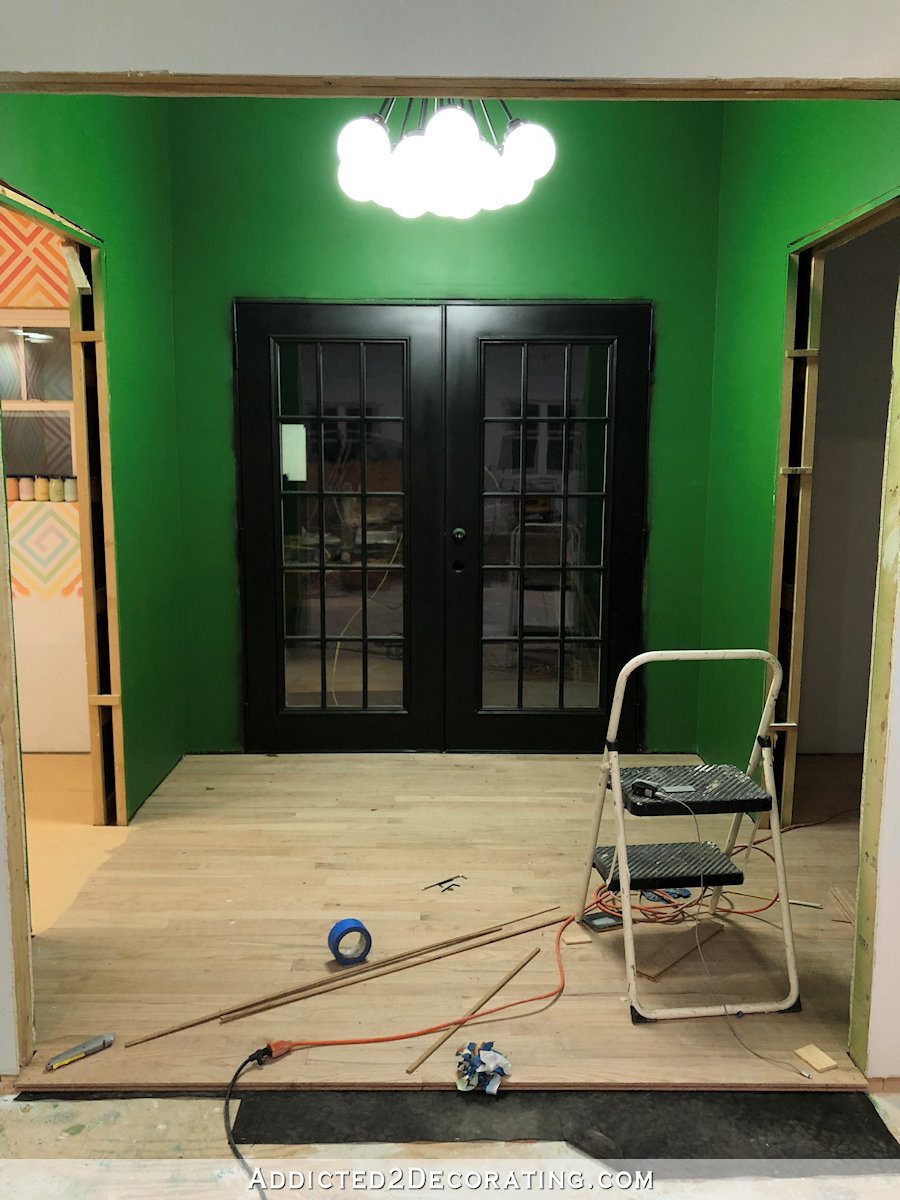 So in my mind, a light and bright floor will look good with all of that color.
But I've had a few people lately urge me to reconsider, and to stain the floor to match the rest of the house. Here are the pictures I took of the floors in the other rooms right after I refinished them…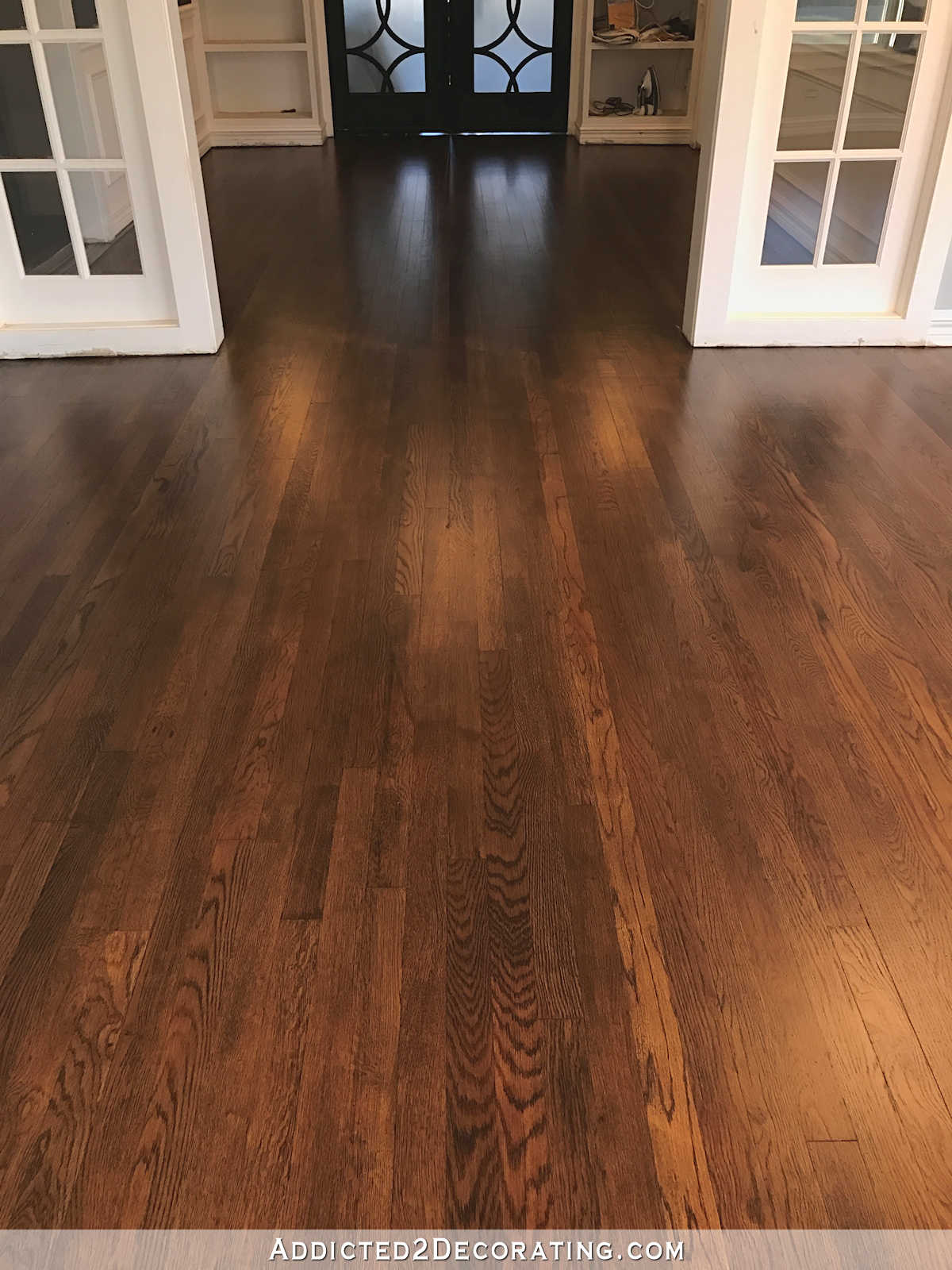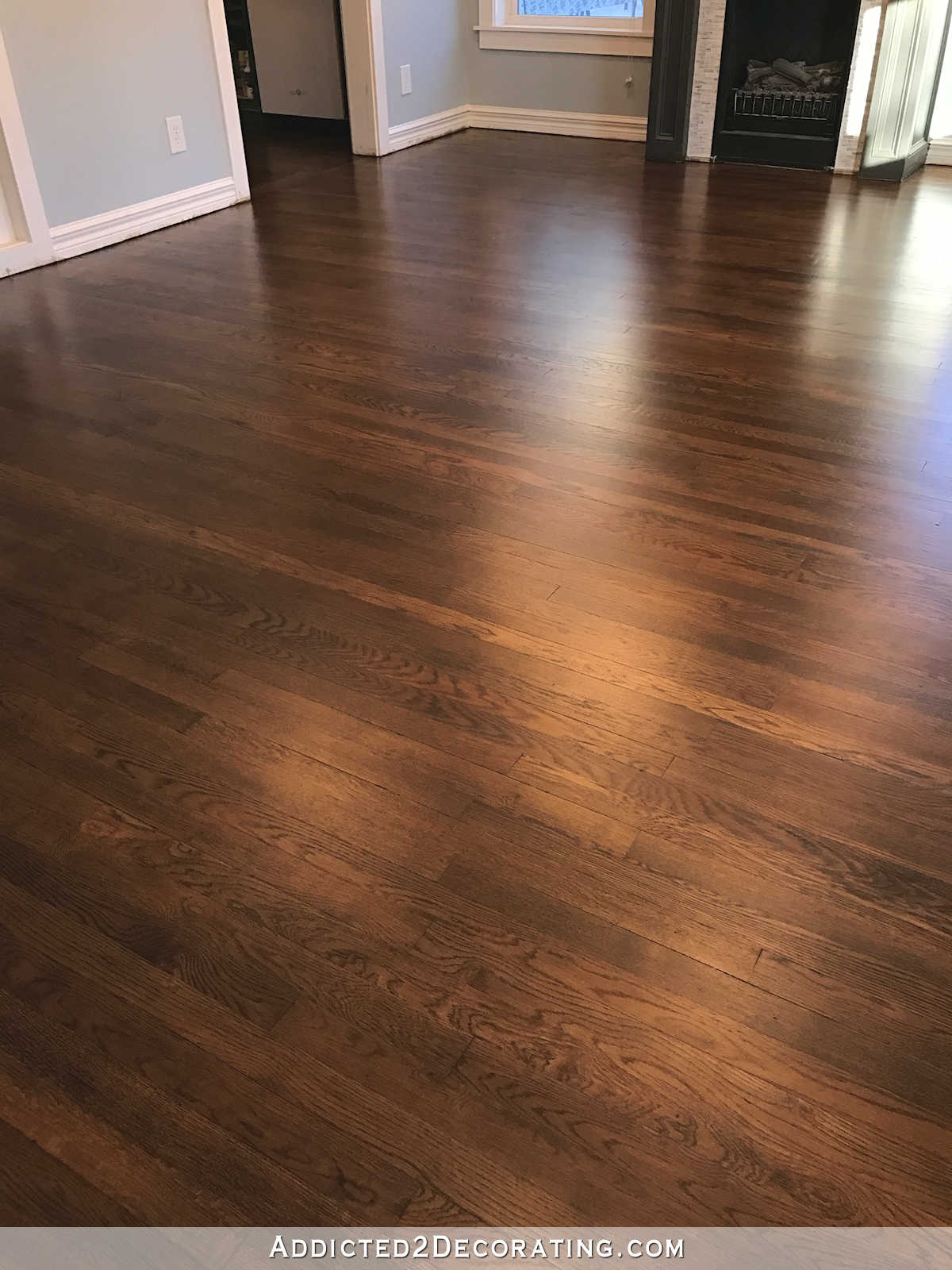 I'm still so pleased with how those floors look, and I really love the warmth that the dark color adds to the living areas of the house. And while I do love the idea of having one continuous flooring throughout the entire house (with the current exception of the hallway bathroom, and the future exceptions of the laundry room and master bathroom), I just can't imagine a room so large and bright having such a dark floor, especially when I have no plans for area rugs to brighten things up in the studio. I want those areas to be rug-free.
If we were turning it into a huge family room where I'd be curling up on the sofa and watching TV, then it would be a no-brainer. I'd go with the dark stain to match the rest of the house, because I'd want the room to be cozy. But I just don't know that "cozy" is a word that I'd want to describe the studio.
Plus, I imagine that a dark floor would be much harder to keep clean than a lighter floor. While this won't be a room where I'll be using saws and sanders and creating dust (I'll use the carport for that stuff for now until I can build a workshop in the back), I will still be creating messes and working with fabric, so I'll have lint and glitter and all the crafty stuff to contend with in here.
Anyway, if things go as planned, I have until Sunday to be sure about my decision. I really don't want to regret my decision once I get started. As of this moment, I'm sticking with my whitewashed floor decision unless someone can convince me otherwise. 🙂 If you think I'm making a huge mistake with that decision, let me hear your thoughts.
UPDATE:
As per the suggestion from a few of you, I did two mock ups showing the different floor colors in the studio. I took less than five minutes to do these, and they're probably the worst mock ups I've ever done. 😀 But I still think we can get an idea of what each color would look like. The dark floor is actually a cut and paste from my living room picture, which is why the boards are going in the wrong direction. But we're only looking at the color here.
Addicted 2 Decorating is where I share my DIY and decorating journey as I remodel and decorate the 1948 fixer upper that my husband, Matt, and I bought in 2013. Matt has M.S. and is unable to do physical work, so I do the majority of the work on the house by myself. You can learn more about me here.
I hope you'll join me on my DIY and decorating journey! If you want to follow my projects and progress, you can subscribe below and have each new post delivered to your email inbox. That way you'll never miss a thing!