Y'all know that I'm rather particular about window treatments, right?  🙂 (At least I am about the ones that will be hung in my own home).  I like them made properly, completely lined, and hung properly.  I do have a bit of an advantage in that I know how to sew, and over a decade ago I went through a "drapery workroom professional" certification course to learn the proper way to make things like pinch pleated lined drapery panels, pleated valances, relaxed Roman shades, bedskirts, and all other types of soft furnishings.
But sometimes a simple curtain panel is needed.  I certainly wasn't going to go to the trouble (or spend the extra money) to make professional quality, lined drapery panels for the quick makeover I did in the condo bedroom.  And I know that many of you probably don't want to go to the trouble of making lined draperies either.  (I'll admit, the process can seem a bit intimidating if you don't have a lot of sewing experience.)
But if you can sew just a simple straight stitch on a sewing machine, then there's no need to ever buy ready-made curtain panels from a place like Bed, Bath & Beyond, or (my absolute least favorite option) to make no-sew curtain panels with iron-on hem tape.  Just…please…put away the iron-on hem tape.  🙂  I'll show you how easy it is to make a simple curtain panel that you can easily make in an hour or less.
I find that the easiest fabric to work with is a 100% cotton decorator fabric.  Just make sure it's an actual decorator fabric, as opposed to an apparel fabric or quilting fabric.  If you plan to wash and dry your curtains in the future, then you'll want to pre-wash and dry your fabric before making the curtain panels.  If you prefer to dry clean your curtains, then you can skip that step.
For each curtain panel, you'll need a length of fabric that is your finished length plus about 18 inches.  For eight-foot ceilings, I like my curtain panels to be about 90 inches long, so I cut my lengths of fabric to around 108 inches long (3 yards).
Step 1: Cut off the selvage from the fabric.
The selvage often pulls and puckers, and can make the edges of your curtains hang unevenly.  It's best to just cut it off to avoid the hassle later when you're trying to hang the curtains.
Before you cut the selvage completely off, note which direction is "up" on the fabric.  On some prints, like this paisley that I was working with, it's difficult to tell just by looking at the fabric which direction is up.  So make note of it, and mark each length of fabric (I generally place several pins along the top) so that you'll know for sure which end is up, and so that all of your drapery panels will be the same.
Step 2:  Fold , iron, and sew in the side hems.
On lined drapery panels, the first thing you do is the bottom hem.  But when I make unlined curtains, I start first on the sides.  I generally fold the fabric over about 1.25 or 1.5 inches, pin the fabric in place, and then iron in the fold.
Then I fold it over again the same amount, pin, and iron in place.  This ensures that the cut edge of the fabric is folded into the hem.
Then stitch right along the inside edge of the fold, all the way down the length of the panel.
Repeat all of that on the other side of the panel so that both sides are hemmed.
Step 3:  Hem the bottom of the curtain panel.
On lined draperies, the proper bottom hem is four inches, but for some reason when I make unlined curtains, I always do a three-inch hem.  I have no idea why I do that.  So you can do either three or four inches, but I wouldn't go less than three inches.
This is done just like the side hems.  Turn the fabric up three (or four) inches, pin in place, and iron in the fold.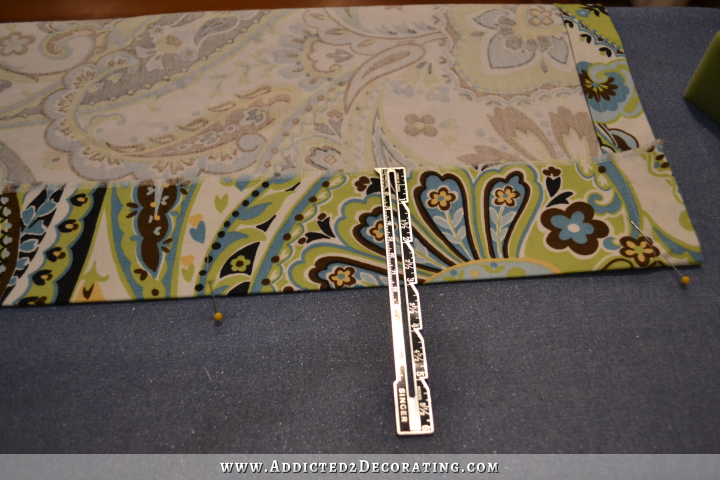 Then turn it up again three (or four) inches, pin, iron, and then sew the hem in place.  And since we're doing this the super easy way, just stitch right through all of the layers with a very simple stitch all the way across.   Don't even worry about stitching by hand, or using a blind hem stitch (unless you're experienced and know how to do those things, in which case this tutorial is probably completely unnecessary for you anyway. 😀 )
So at this point, you have the sides hemmed, and the bottom hemmed.  Now we just need to finish the top edge.
Step 4:  Sew in the header
Now place the curtain panel on the floor, and make sure it's lying completely flat with no wrinkles.  It's easier if you do this with the right side of the fabric facing up.  Using a tape measure, measure from the bottom of the panel and place a pin to mark your finished length.  Repeat this every few inches until you've worked your way across the whole panel and have a line of pins marking the finished length.
Then fold the fabric over along the pinned line, re-pin the fold, and iron in the fold.  This is what mine looked like after I pinned and ironed the fold at the top.
Then unpin and unfold the fabric.  Place a strip of buckram right along the ironed-in crease.  (I buy this at Joann Fabric, and I think they call it something like "4-inch non-woven drapery tape".)
Then fold the fabric over the buckram along the ironed-in crease, and tuck the extra fabric under the buckram and pin in place.  Then you can stitch that in place along the inside fold just like you did on the other three sides of the curtain panel.  Just sew right through the layers of fabric and the buckram.
And that's it!  You're done, unless you want to sew in some sort of fancy header, like pinch pleats or Parisian pleats.  (If you want to do pinch pleats, you can see how to do that here.)
Note that if you want to do a shirred (rod pocket) header, then you'll need to leave out the buckram.  For just about every other type of header, I highly suggest using the buckram.  A droopy header will make your curtains look cheap.
I almost always prefer pinch-pleated or Parisian pleated draperies hung with drapery pins, but in the condo, I used clip rings.  And since I didn't take the time to sew any kind of fancy header into these curtains, I simply folded the fabric every few inches, and used the clip rings to hold the folds.  This gives the illusion of pleats.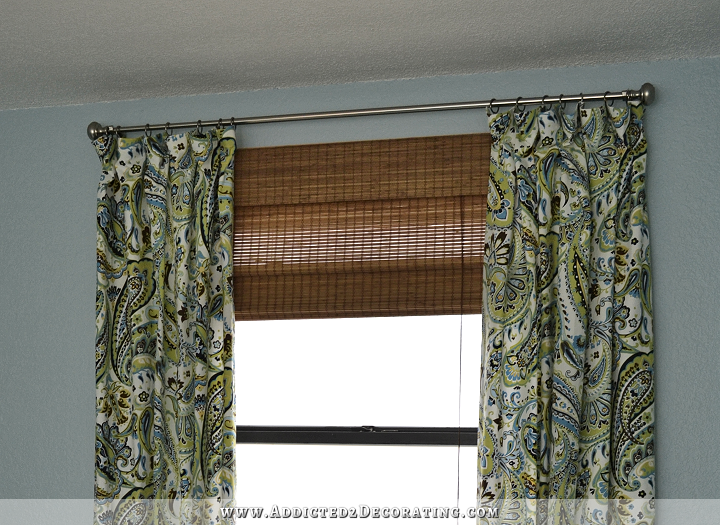 I did the same thing in the other bedroom at the condo.  You can see how the clips are actually holding in the folds of the fabric.
And whether I'm hanging lined, pleated draperies with drapery pins, or cheap $20 curtains using clip rings, I always hang them with a return on the outside.  It makes all the difference in the world.  I explained those details here.
And there you have it!  In about two hours or less, you can have a pair of very simple (yet very pretty) curtain panels…and not a bit of iron-on hem tape in sight.  🙂
Addicted 2 Decorating is where I share my DIY and decorating journey as I remodel and decorate the 1948 fixer upper that my husband, Matt, and I bought in 2013. Matt has M.S. and is unable to do physical work, so I do the majority of the work on the house by myself. You can learn more about me here.
I hope you'll join me on my DIY and decorating journey! If you want to follow my projects and progress, you can subscribe below and have each new post delivered to your email inbox. That way you'll never miss a thing!