Last Updated on December 24, 2015 by Kristi Linauer
Do you remember the floral fabric I finally decided on for my dining room?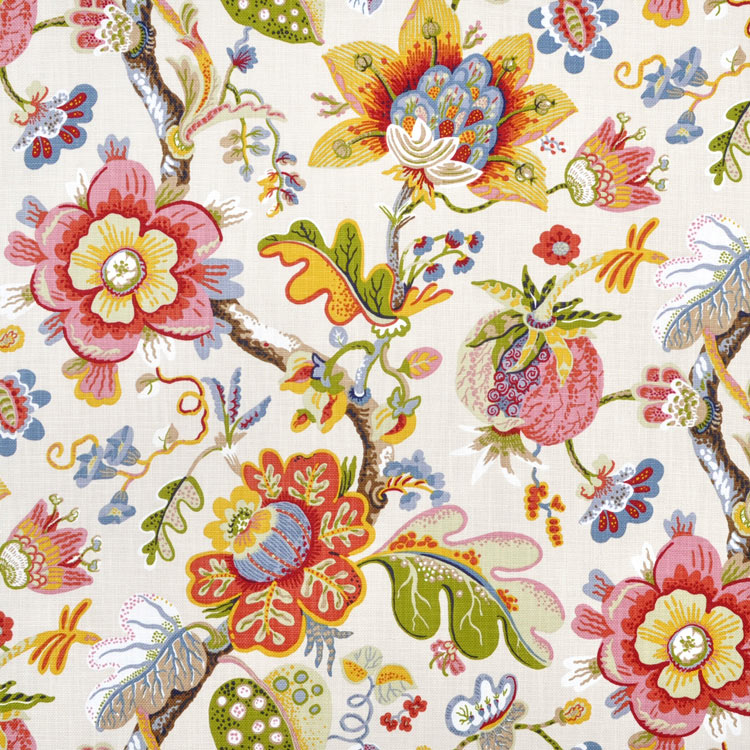 Braemore Wonderland Pearl fabric
Well, I ordered a yard of it just so I could see it in person, and make a decision on how I actually wanted to use it. Reupholster chairs? Draperies? I wasn't sure.
But I'm so glad I ordered the one yard first, because to be honest, I really don't like the fabric. I love the pattern, and most of the colors are great, but there's just something about the fabric that I don't like, and I can't quite put my finger on it.  So when it arrived, I tacked the yard of fabric to the wall in my entryway where I would see it often to see if it would grow on me.  It's been up there about two weeks now, and while the fabric itself hasn't grown on me any, it has kind of sparked an idea.
Do any of you remember when Danika at Gorgeous Shiny Things took a swatch of Shumacher's Chiang Mia Dragon fabric and re-created the design really big using paint on a wall behind a banquette for one of her clients?  It was one of my favorite projects that she ever did.  I've searched and searched for pictures of that project on her blog, but I can't find them anywhere.  I'm wondering if she was asked to remove them since it's a very well known copyrighted design (that's pure speculation, but I can't imagine why else one of her best ever projects would be missing), but you can still see it on Pinterest.
So that got me to thinking.  Could I re-create this pattern really big on my entryway wall?  I did some calculations to see just how big that would make things if I blew up one repeat of the fabric design to fit the entryway wall.  It turns out that each flower would be about 36-40 inches wide.  That might be a bit overpowering.  🙂
But I wasn't quite ready to give up on the idea of adding color and pattern to the entryway wall, so I started looking at other ideas, and that sent me down the rabbit hole of wall murals and wallpaper panels used as accents.
This one is bright and colorful, but I don't know that it's quite what I'm looking for.  I like bright and colorful, but I don't want it to cross over that line into juvenile.
Eclectic Family Room by New York Photographers Rikki Snyder
Most of the designs that I found are trees and birds. Y'all know I love trees and birds, but I had something similar in my condo kitchen, so I'm hesitant to repeat that idea in the house.
Bedroom by Scotland Interior Designers & Decorators Jessica Buckley Interiors
Traditional Powder Room by Solon Interior Designers & Decorators House of L Interior Design
Traditional Entry by Easton Interior Designers & Decorators Donna Benedetto Designs LLC.
Eclectic Powder Room by Austin Interior Designers & Decorators Cravotta Interiors
While I love the idea of a full wall mural on my entryway wall, almost all of the examples I came across use really muted colors.  I want mine to be bright and colorful, so it's hard to get an idea of what that would actually look like on a whole wall.  I'm thinking it might be too busy and overpowering.
I really like the idea of panels, like wallpaper panels framed in decorative moulding with the surrounding areas of wall painted either white or a light neutral color.
Traditional Home Office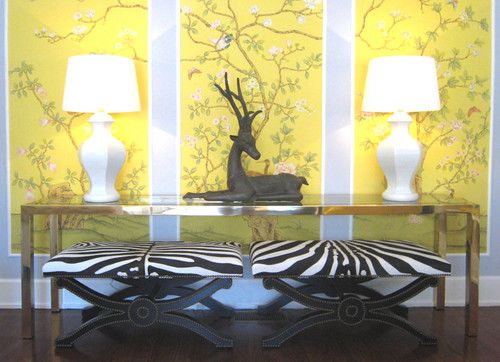 Eclectic Spaces by Los Angeles Interior Designers & Decorators maison21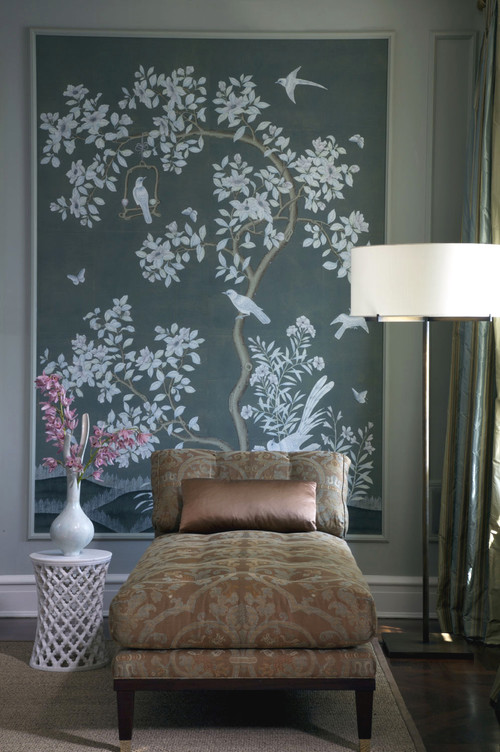 Spaces
But the more I think about it, the idea I like the best for my entryway wall is using some sort of design on the top of the wall, and wainscoting on the bottom.
Traditional Entry by Clemson Architects & Building Designers Studio 511
Contemporary Dining Room by New York Architects & Building Designers Dufner Heighes Inc
And I can't find the pictures now (I forgot to save the links), but I also came across a couple of rooms that had wainscoting on the bottom part of the wall with wallpaper panels on the top part of the wall. I wish I could find that, because I think it might be my favorite of all of the designs.
So I'm still formulating the idea in my mind, and I have no idea where I'll end up with this. I could end up scrapping the whole thing, but I don't think so. I have this vision in my mind of my entryway wall having a chair rail with wainscoting below. The wainscoting would be just like what I have in my bathroom, minus the tile (for continuity of design…I don't want lots of different styles of wainscoting in my house).
I want the wainscoting painted the same white as all of the other trim in my house, and then I want my buffet sitting in front of it, painted in a bold color. I'm thinking orange or a dark raspberry color. I love high contrast, and I think a bold color like that sitting in front of white wainscoting would be gorgeous. And then above the chair rail on the wall, I'd have panels to match the wainscoting below (i.e., the same panel width above and below the chair rail), and inside the panels above the chair rail would be a colorful design. It could be wallpaper, or it could be fabric (although it would have to be a different fabric, since I don't like the fabric I had hoped to use), or it could be a hand painted design.
That's what I've got so far. 🙂 Like I said, I'm still formulating this idea in my head, but I think something like that on my entryway wall would really set that wall apart from the dining room, but it would also balance out the opposite wall, which will have the fireplace (and an overmantel, which I'll be building at some point) flanked by two windows with colorful draperies on them.
I can envision it in my mind, and I think I really like it. 🙂
Addicted 2 Decorating is where I share my DIY and decorating journey as I remodel and decorate the 1948 fixer upper that my husband, Matt, and I bought in 2013. Matt has M.S. and is unable to do physical work, so I do the majority of the work on the house by myself. You can learn more about me here.
I hope you'll join me on my DIY and decorating journey! If you want to follow my projects and progress, you can subscribe below and have each new post delivered to your email inbox. That way you'll never miss a thing!