Last Updated on April 7, 2021 by Kristi Linauer
I was going to wait until the floor was finished before I shared more pictures with you (probably tomorrow), but quite honestly, I was way too excited about my progress yesterday that I couldn't wait.
If you missed the first part of this floor refinishing project, you can click here to read about it…
And you can click here for the products and process I used…
So yesterday morning, I finished staining the floor in the breakfast room and pantry. And then I had to wait a minimum of eight hours for that stain to dry before I polyurethaned the floors. While I waited, I read comments on yesterday's post, and some of you noticed (as I had) that the stain was uneven in places, like under the windows in the living room.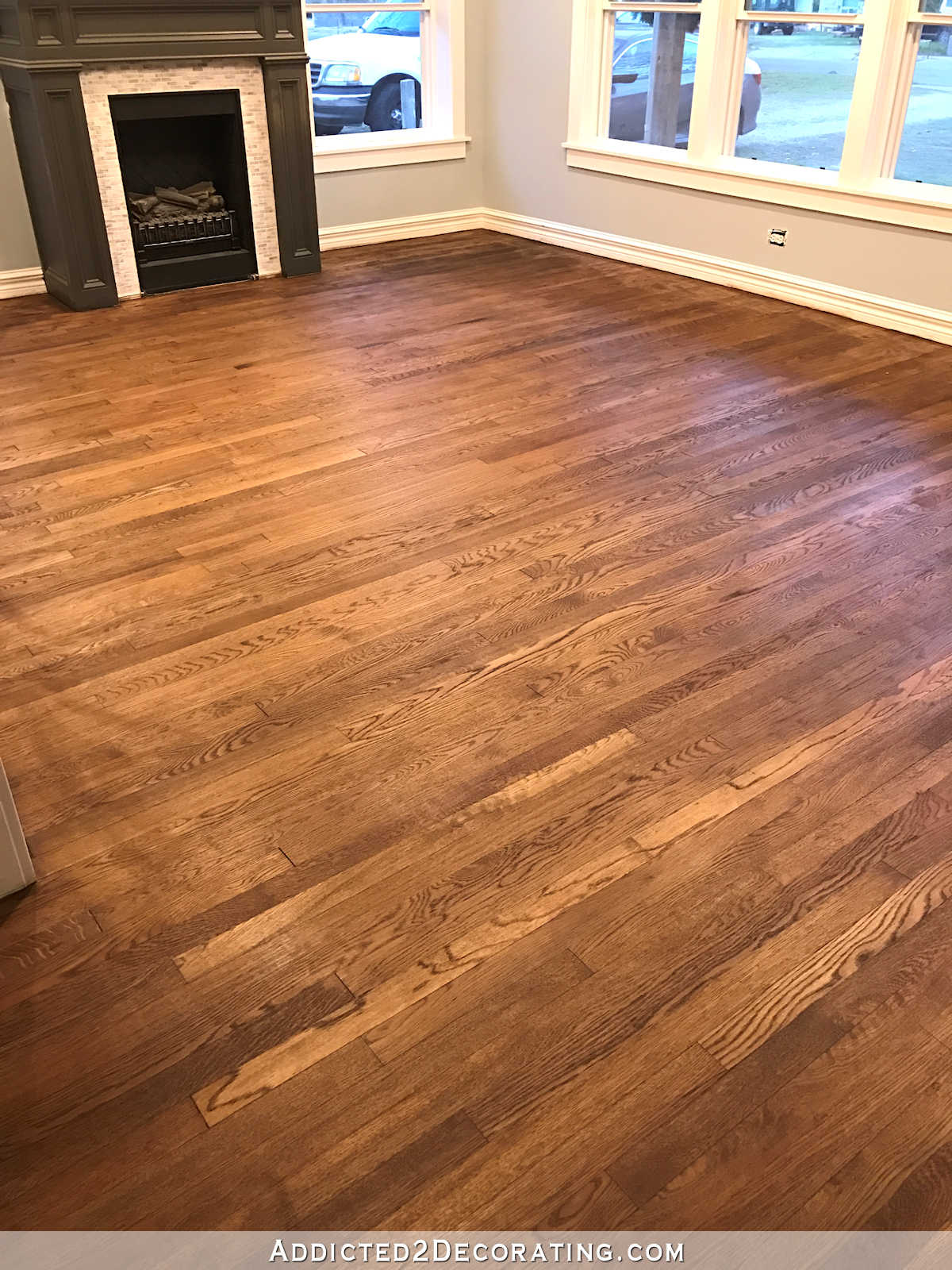 I think that's due to the differences left by the edge sander vs. the drum sander which cause the wood to soak up the stain differently. But in addition to that, the overall finish just wasn't quite as dark/rich as I had hoped. Now I know that just adding polyurethane will add some depth/richness to the color, but I wanted the color evened out all over just a bit, and plain polyurethane won't do that.
So I started thinking, googling, reading, researching. Should I add another coat of stain? I really did NOT want to do that.
The more I thought about it, the more it made sense to me that the way to even out the color was to add some sort of colorant to the polyurethane. Was that even possible? And what would I use? I researched dyes, but the options mentioned weren't locally available. Then I remembered that with Waterlox, you can actually mix stain in with the first coat of Waterlox, and then follow up with one or two coats of clear Waterlox. If you can do that with Waterlox, why can't you do that with polyurethane as long as you're adding oil-based stain to oil-based poly?
I researched it, and I did find several people who said, "No! You can't do that," but it seemed like they were just guessing and had never really tried it. Then I came across the last comment here by a man who says he's been adding stain to poly for years with no problem, specifically in repairing/restoring trim in historic homes. And then I came across this picture showing floors that were sealed with a 50/50 mix of Early American stain and polyurethane.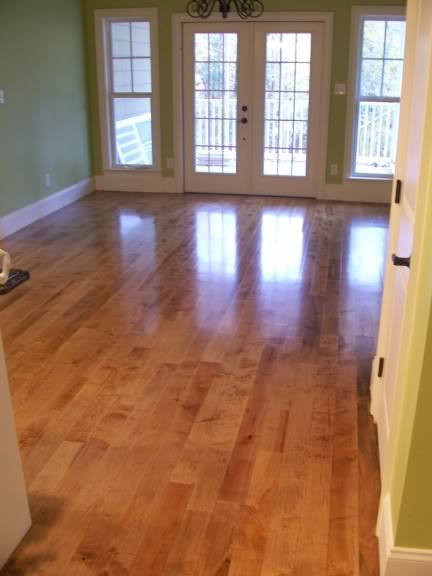 So I decided to give it a try! (Note: This is definitely off-label usage of these products. Try at your own risk!) I tested out two different ratios, and finally landed on an 8:1 ratio of polyurethane to stain. (I just used the same stain I previously used — 50/50 Dark Walnut and Special Walnut.) I poured an entire gallon of polyurethane (Mixwax Super Fast Drying Polyurethane for Floors) into my plastic bucket, added two cups of stain, mixed it together well, and was on my way.
I applied the stain initially with an applicator pad with a long handle, applying about an 18-inch strip at a time, and then followed up with a paint brush (taped to the end of an extension pole so I wouldn't have to do any work on my knees) to smooth and even out the poly. The results were fantastic! You can see in the photo below of the music room floor the difference it made in the color. Of course, it did darken it, which was fine with me. But it also added a beautiful richness while evening out the color variations in the wood just a bit.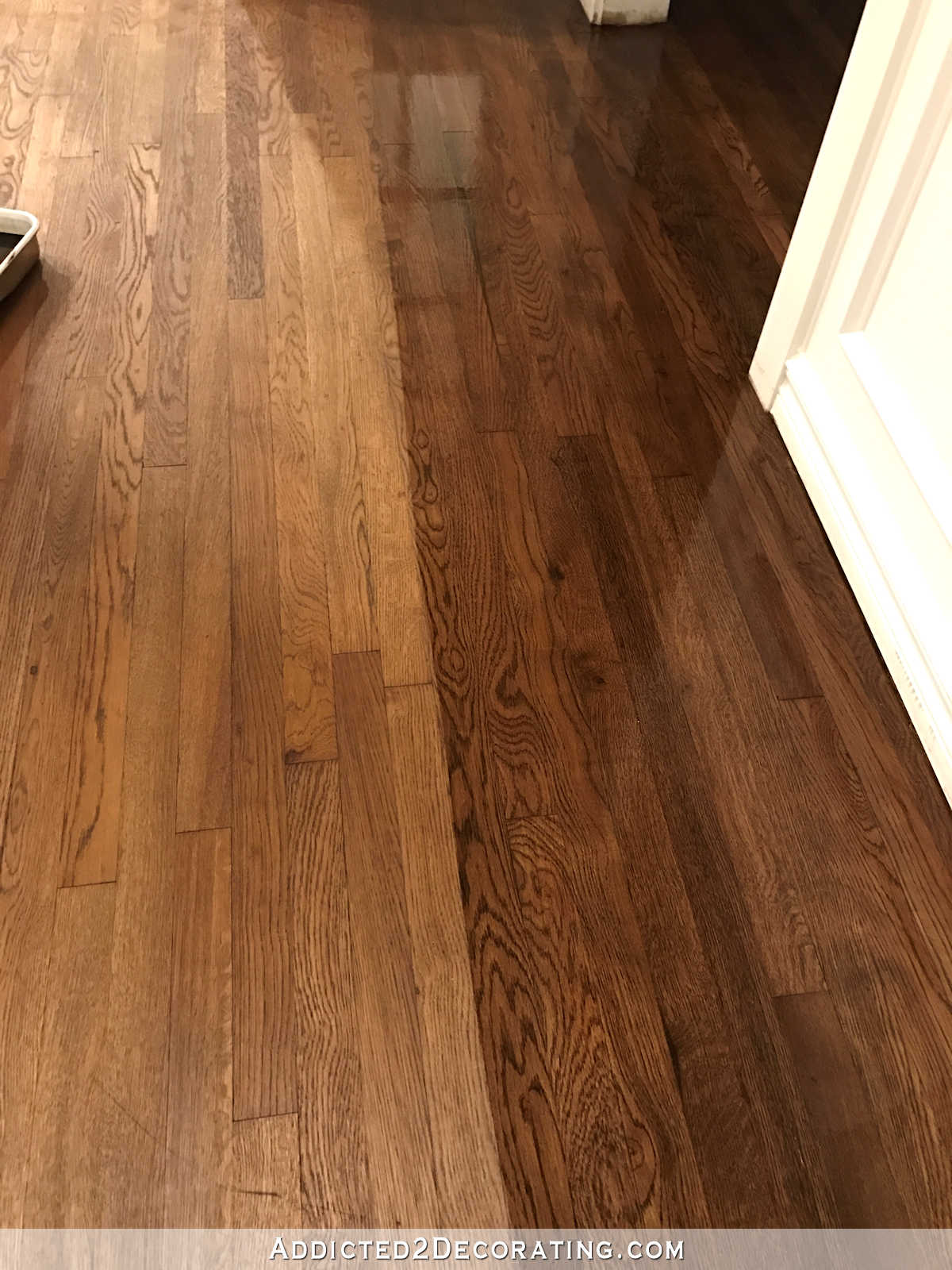 The color difference was less noticeable in the entryway and living room where there's much more light.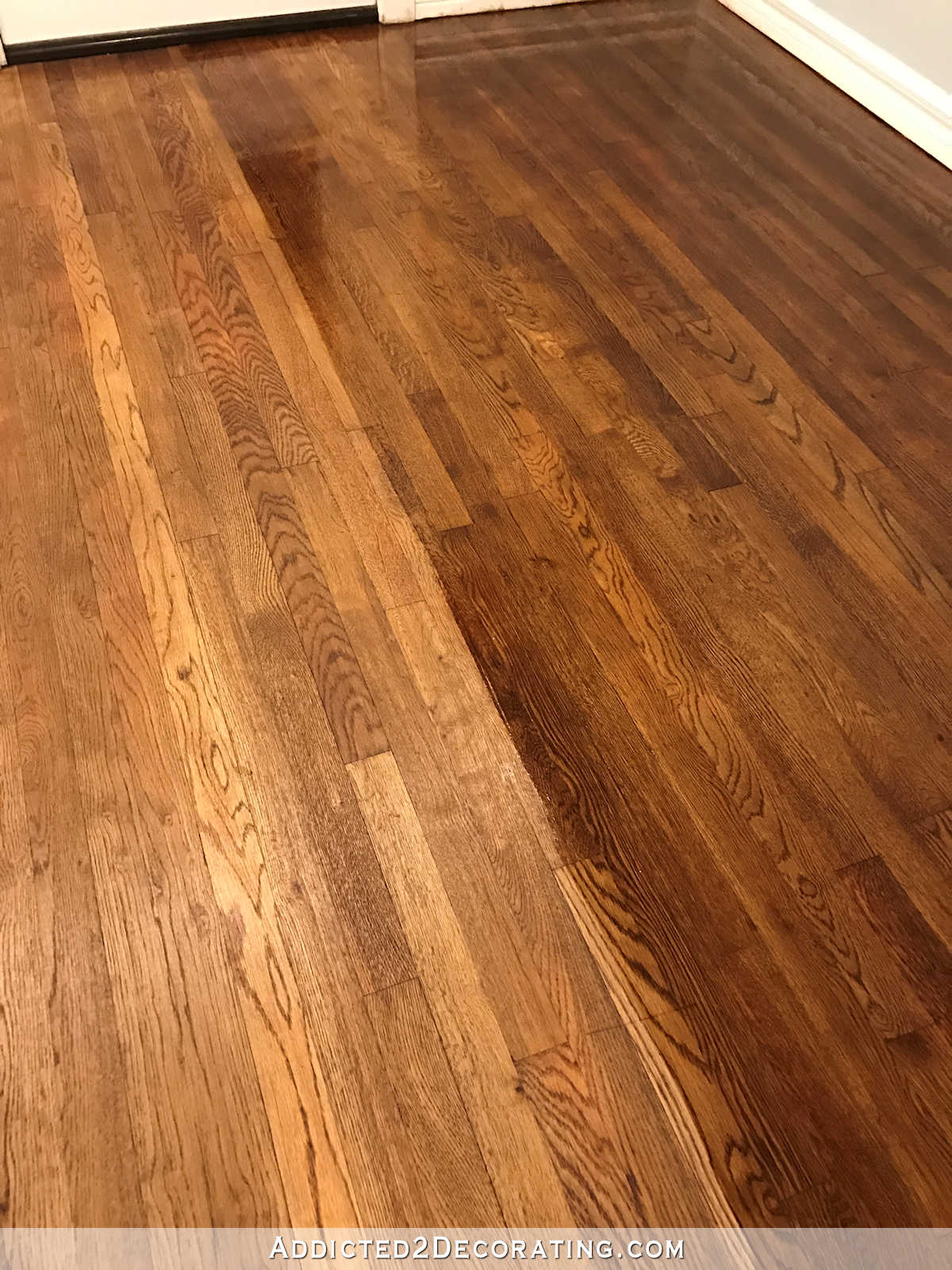 And here is the living room and entryway with the entire floor coated in one coat of the poly/stain mixture. I took this photo this morning after it had all night to dry, so the sheen you see here is how the satin finish looks when dry. I do still have at least one more coat of polyurethane to add (just poly — no stain), so it should even out any differences in sheen that are still visible.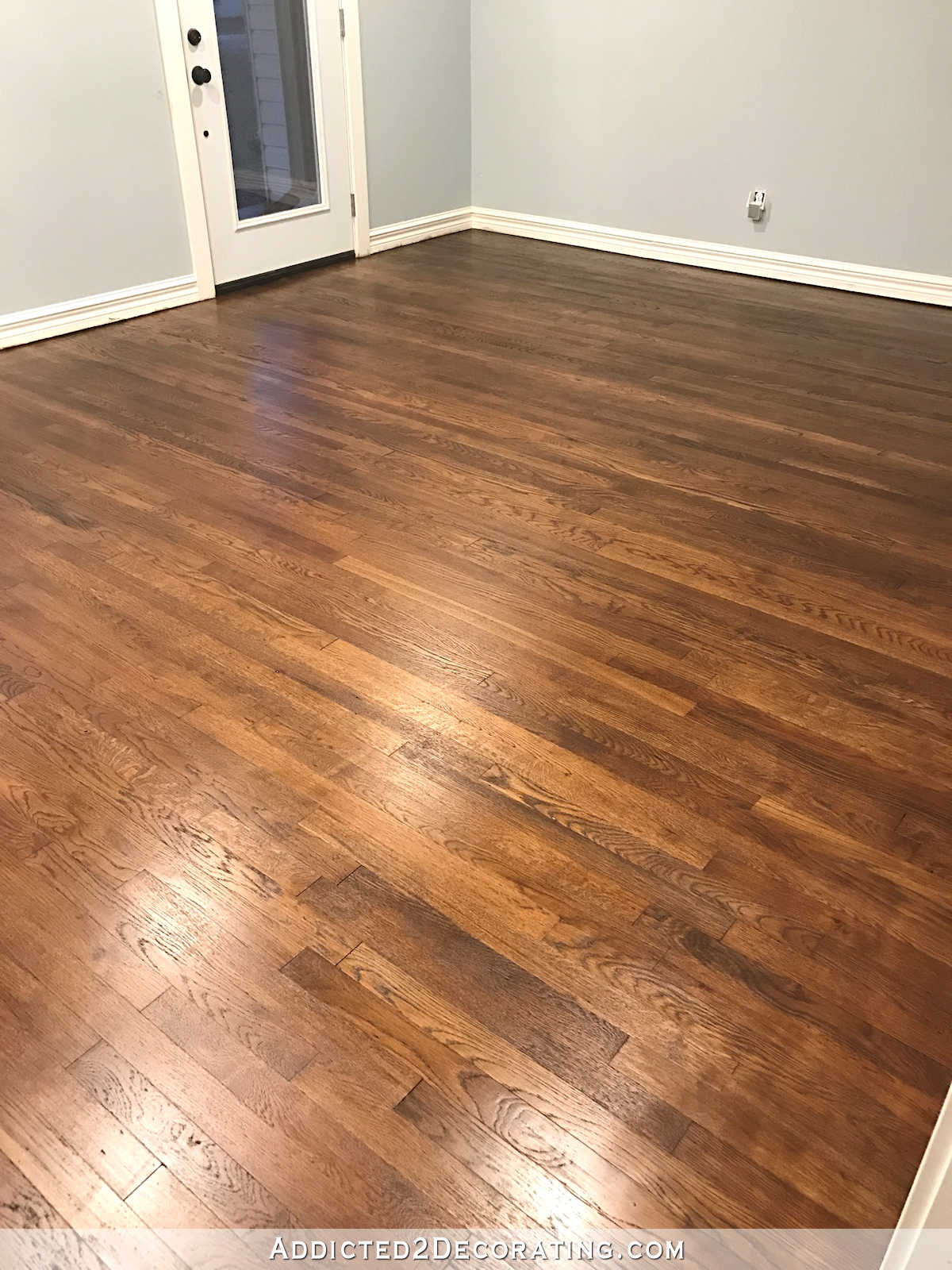 The areas around the windows still aren't perfect, but they're much better. And heck, these floors ARE almost 70 years old, so I can't expect perfection, right? 🙂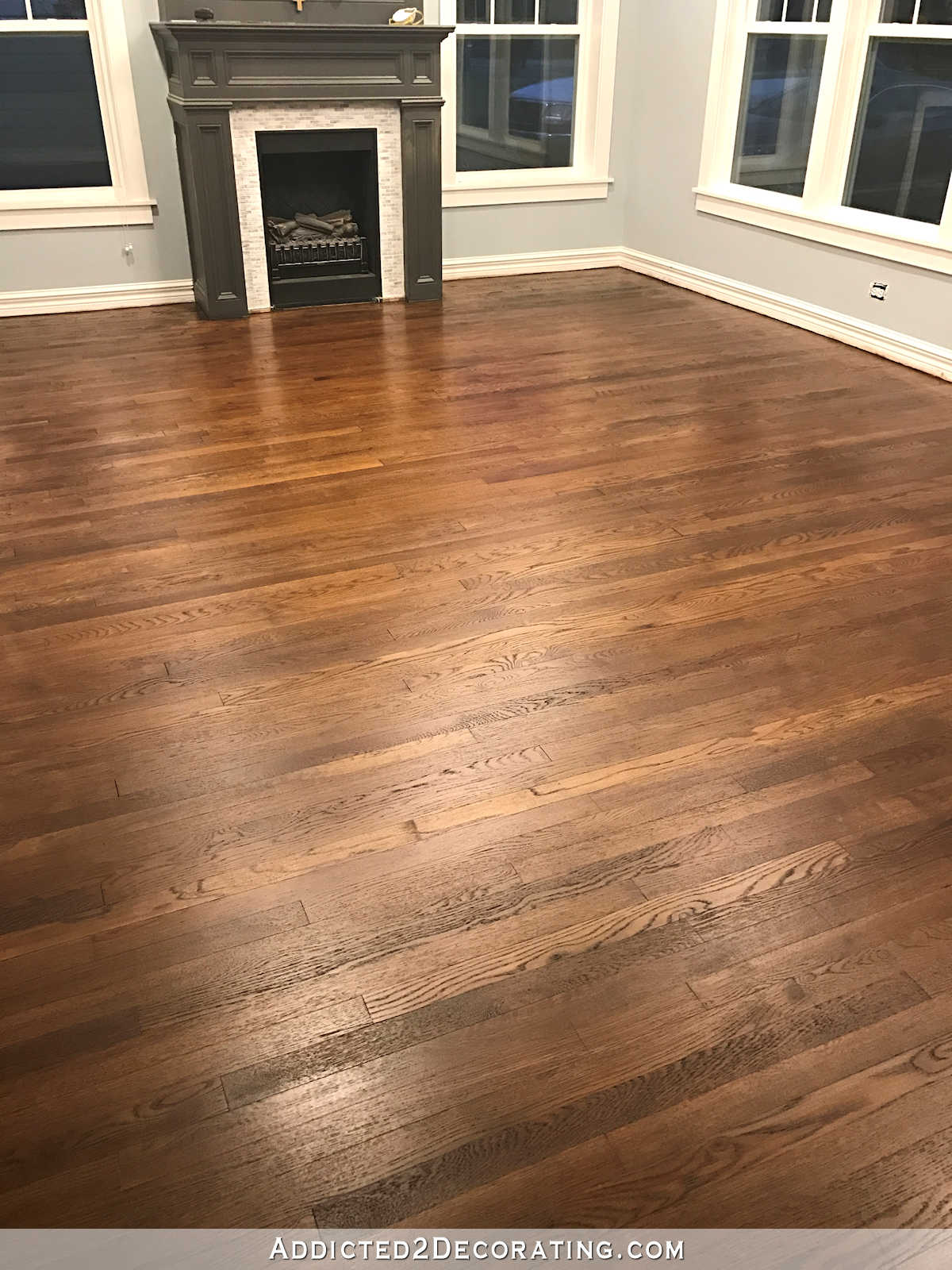 Sorry for this dark picture. My music room light isn't very bright, and you can see I took these this morning before the sun came up. 🙂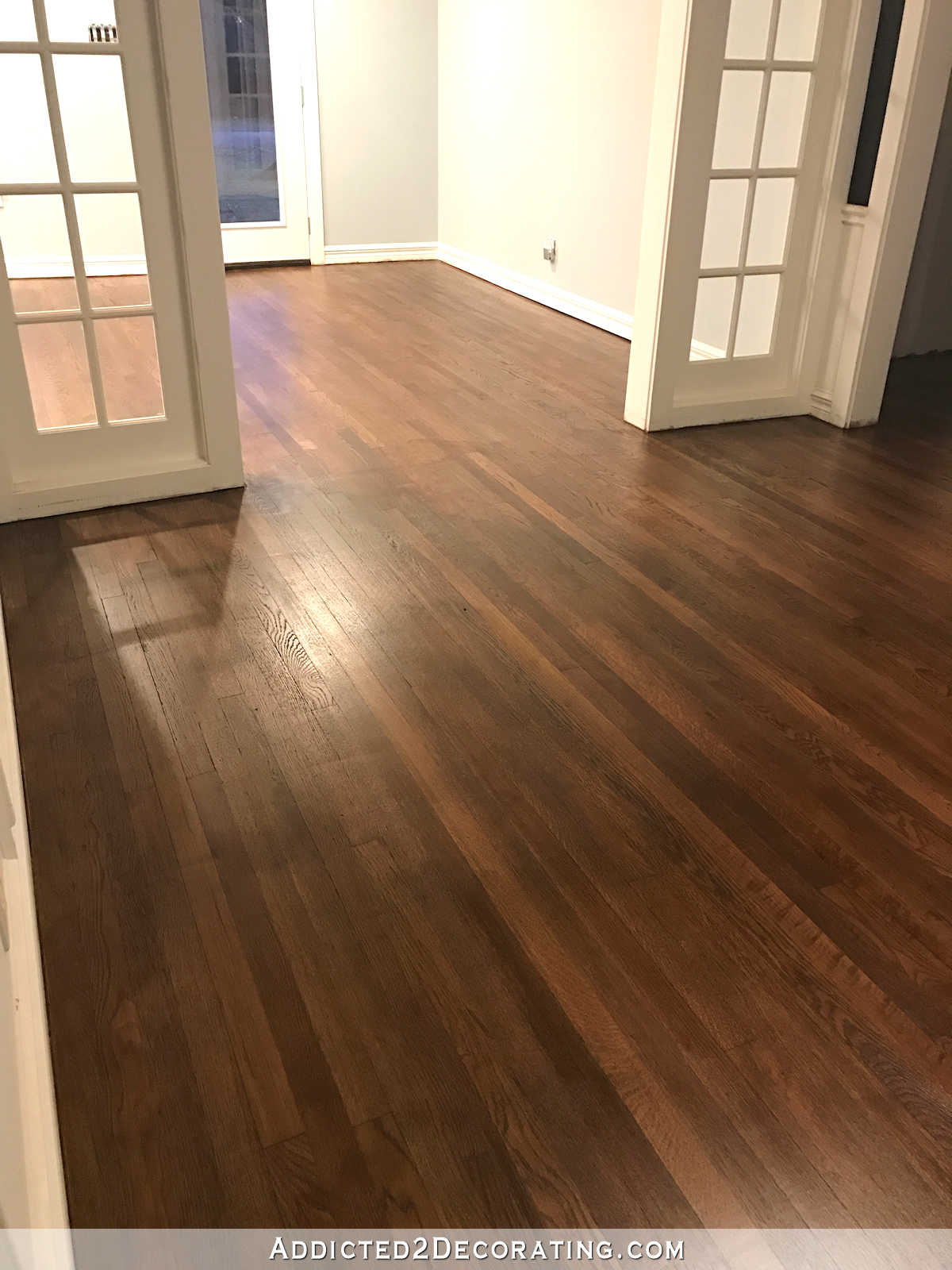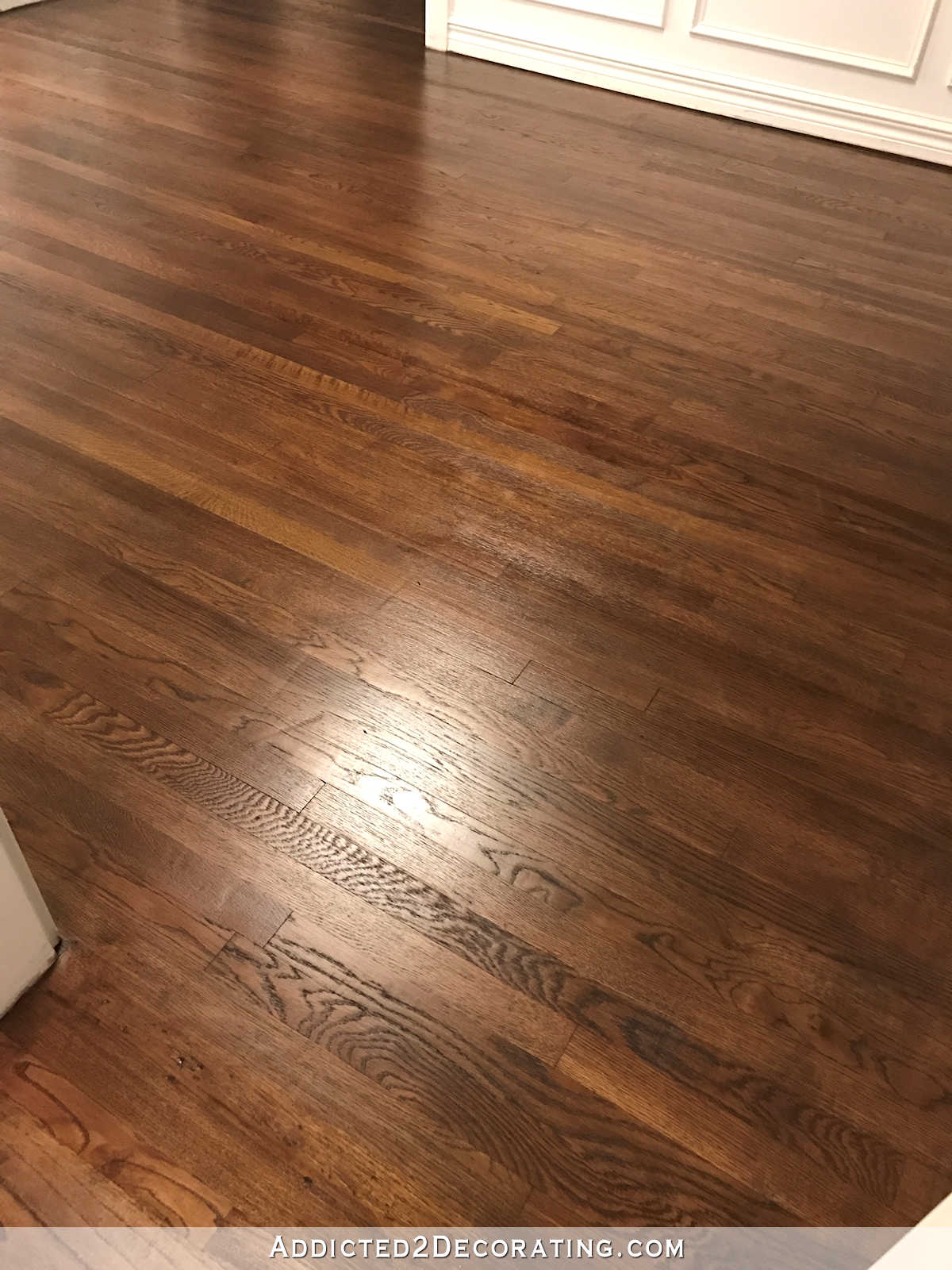 I'm so excited about how these floors are turning out! But now I have to get busy and get another coat of poly on these floors ASAP. I started applying the polyurethane at 10:00 last night (finished at midnight), and there's a 12-hour window in which you can add a second coat without having to sand first. If you wait longer than 12 hours, the first coat of poly has to be sanded before adding the second coat. And I DO NOT want to have to sand these floors. 🙂
UPDATE:
My floors are finished! Click here to see my newly refinished hardwood floors…
Addicted 2 Decorating is where I share my DIY and decorating journey as I remodel and decorate the 1948 fixer upper that my husband, Matt, and I bought in 2013. Matt has M.S. and is unable to do physical work, so I do the majority of the work on the house by myself. You can learn more about me here.
I hope you'll join me on my DIY and decorating journey! If you want to follow my projects and progress, you can subscribe below and have each new post delivered to your email inbox. That way you'll never miss a thing!