Last Updated on April 7, 2021 by Kristi Linauer
I was so hoping that I'd have my floors completely stained by last night so that I'd be ready to seal them today, but it didn't quite work out. I just have one more room to go, though, and so far I'm very pleased with how they're turning out!
And by the way, if you missed the first part of this floor refinishing project, you can click here to read about it…
Before I got started, I did a lot of reading and watched a few videos on the process of staining hardwood floors. Lots of people recommended "water popping," which is basically wetting down the wood to open up the pores more for the stain. Others warned that water popping was best left in the hands of pros because if you use the water unevenly, the stain will be splotchy. Well, I didn't want to take that chance, and I've had really good success with wood conditioner in the past (on much smaller projects, of course), so I decided to stick with what's tried and true for me. So I used my go-to Minwax Wood Conditioner.
The trick with using this product, though, is that you only have a two-hour window between applying the conditioner and applying the stain. So I decided to work on one area at a time, starting in the hallway and working my way towards the breakfast room. So I applied the wood conditioner to the hallway floor…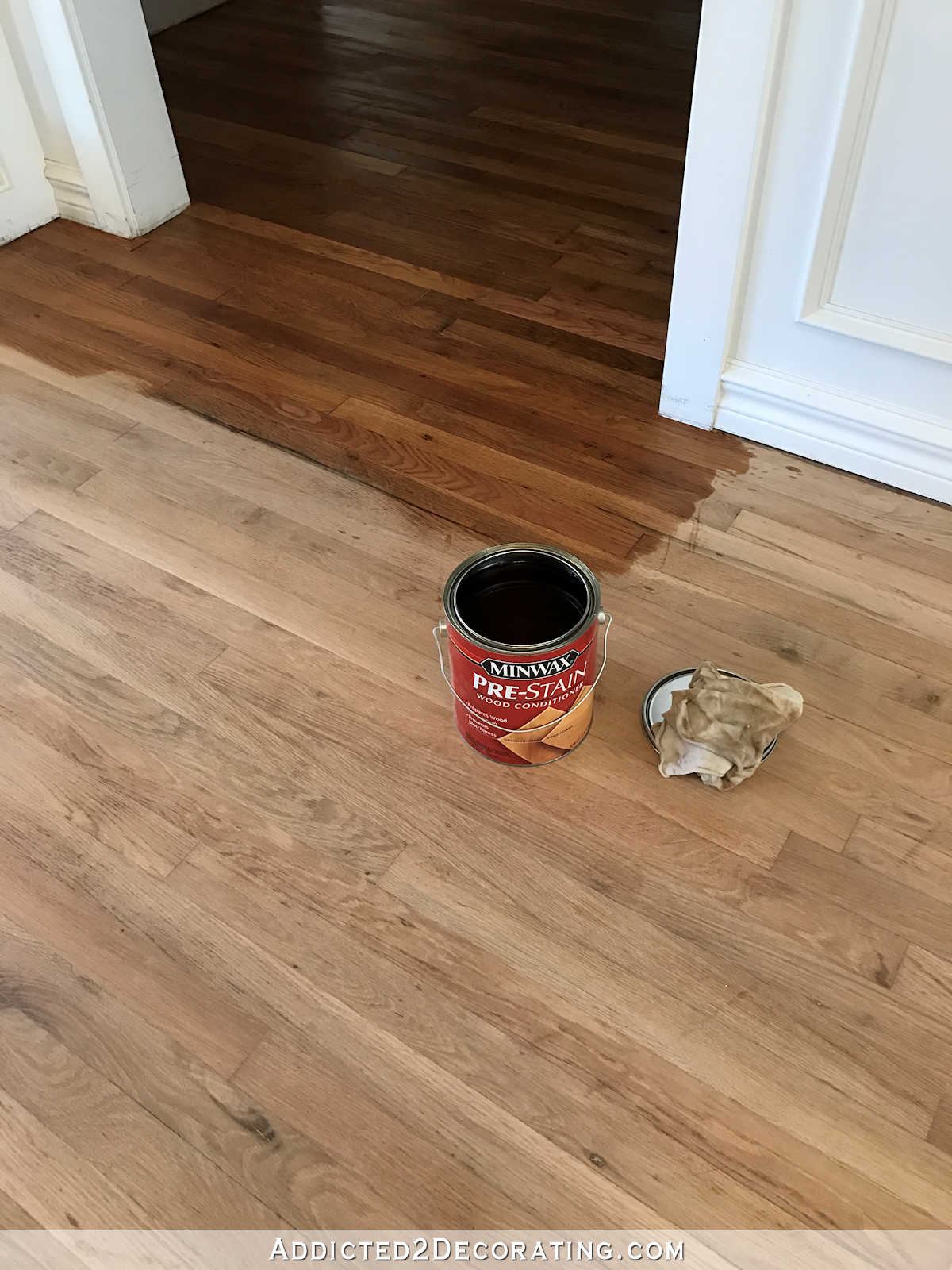 …and then waited the requisite 15 minutes or so. (It was probably more like 30 minutes, at least.) Then I wiped up any excess with a rag, taped off a stopping point with painters tape, and applied the stain. I bought a huge bag of rags at Sherwin Williams called The Brick to use for both the conditioner and the stain. I highly recommend it. The rags are t-shirt material so they don't leave white fuzz behind.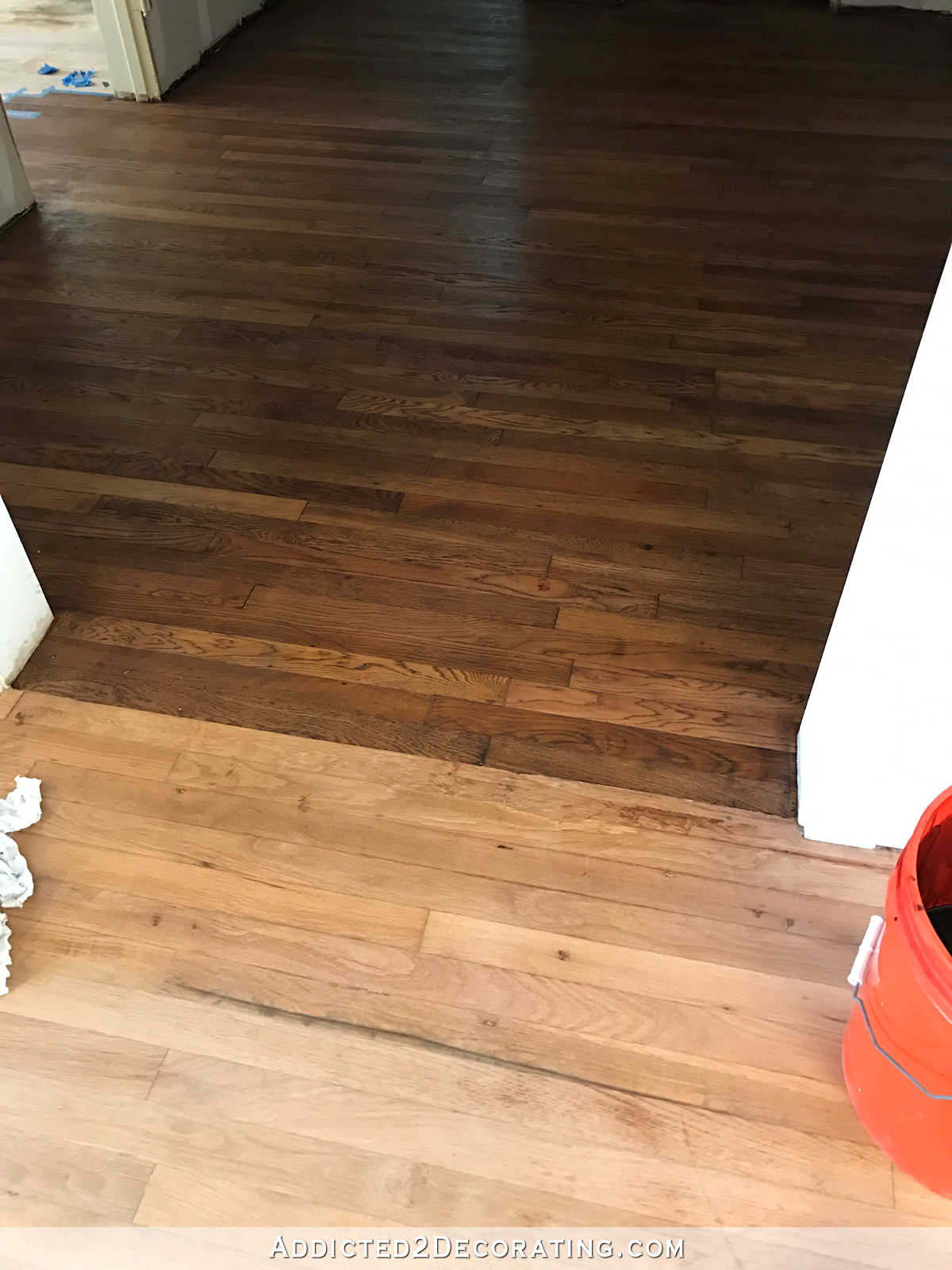 I watched a few videos on how to actually apply the stain. Some people just get on their hands and knees to do the whole thing, applying the stain with one rag, and wiping off the excess with another. Others like to apply the stain with an applicator pad while standing, but either way you have to get on your knees to wipe up the excess. I decided to just do the whole thing on my hands and knees since I felt like I had more control over the amount of stain that was being applied. It seems to me like applicator pads put down a lot more stain, which ends up being wasted. But again, that was just my personal preference. It's perfectly fine to apply it with an applicator pad attached to an extension pole, like the ones you use with paint rollers to get high areas and ceilings, and then wipe up the excess with rags.
The next section I did was the area in front of and behind the sidelite between the entryway and music room. I stopped there because any long runs of wood, like the flooring that goes all the way from the front door to the sliding doors in the music room, needed to be done as one since you apply stain going with the grain of the wood.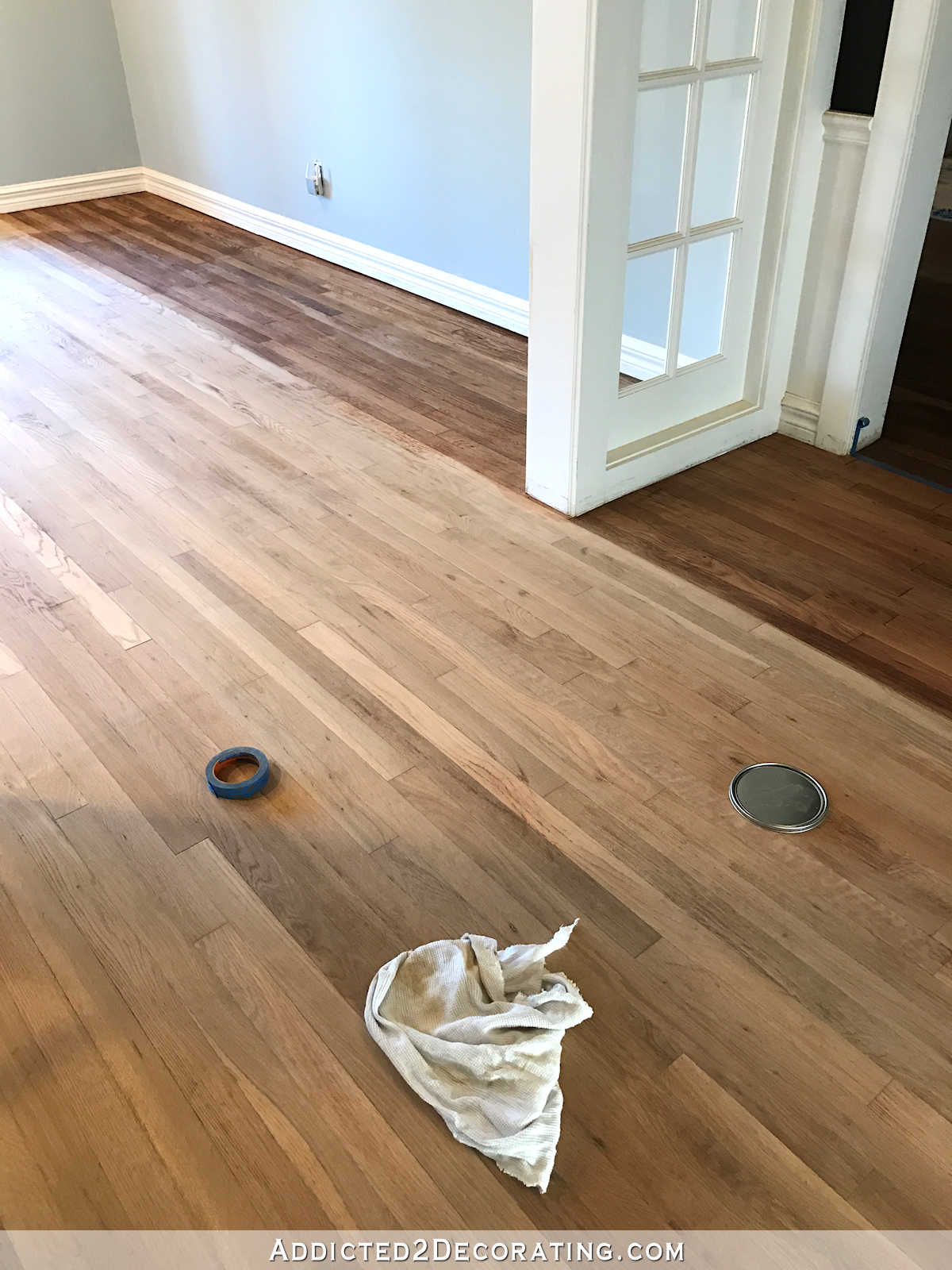 But at the same time, I also did the floor in the living room, stopping at the kitchen doorway. I applied the conditioner to these areas, waited, wiped up the excess, and then taped off these sections.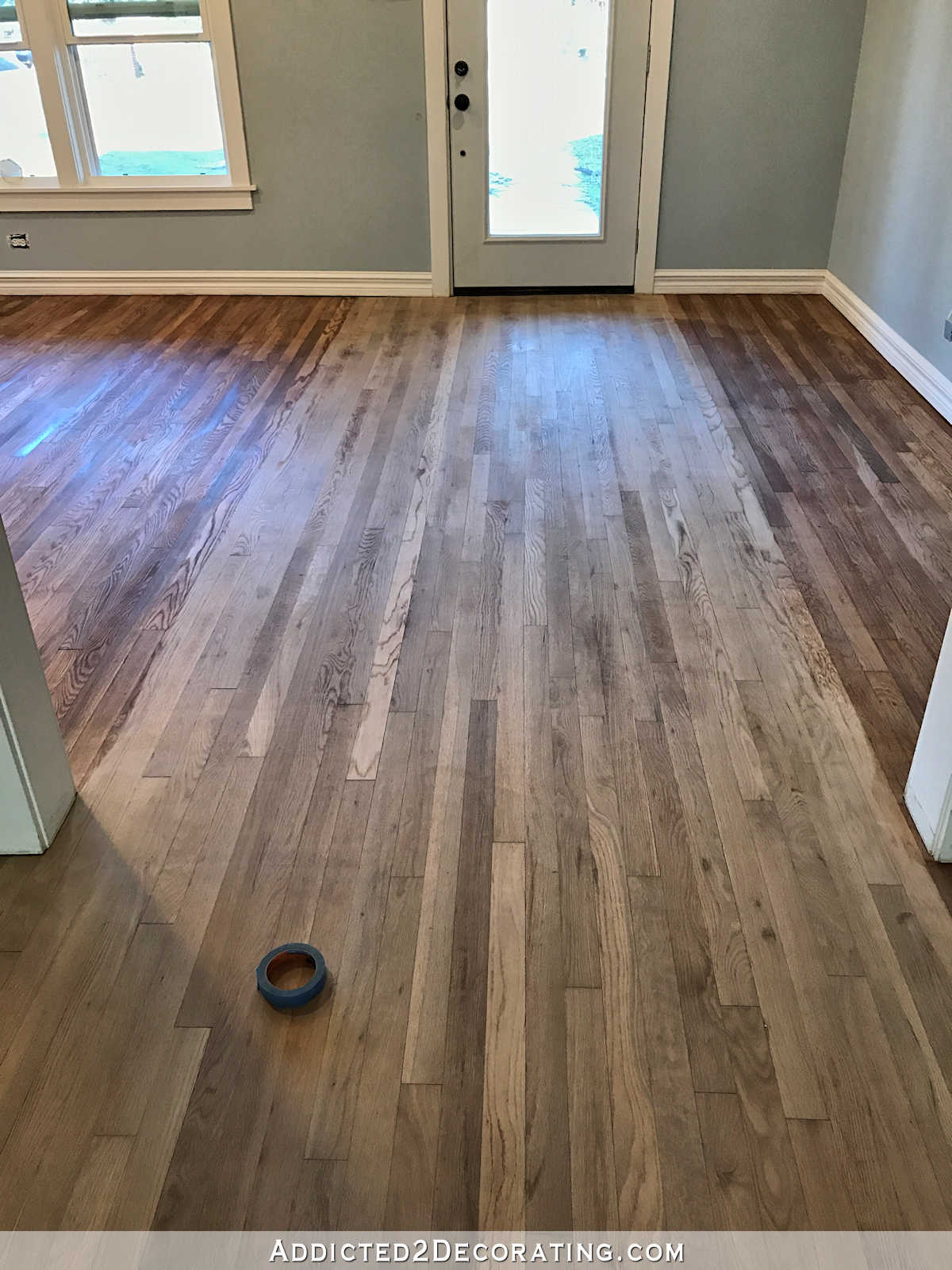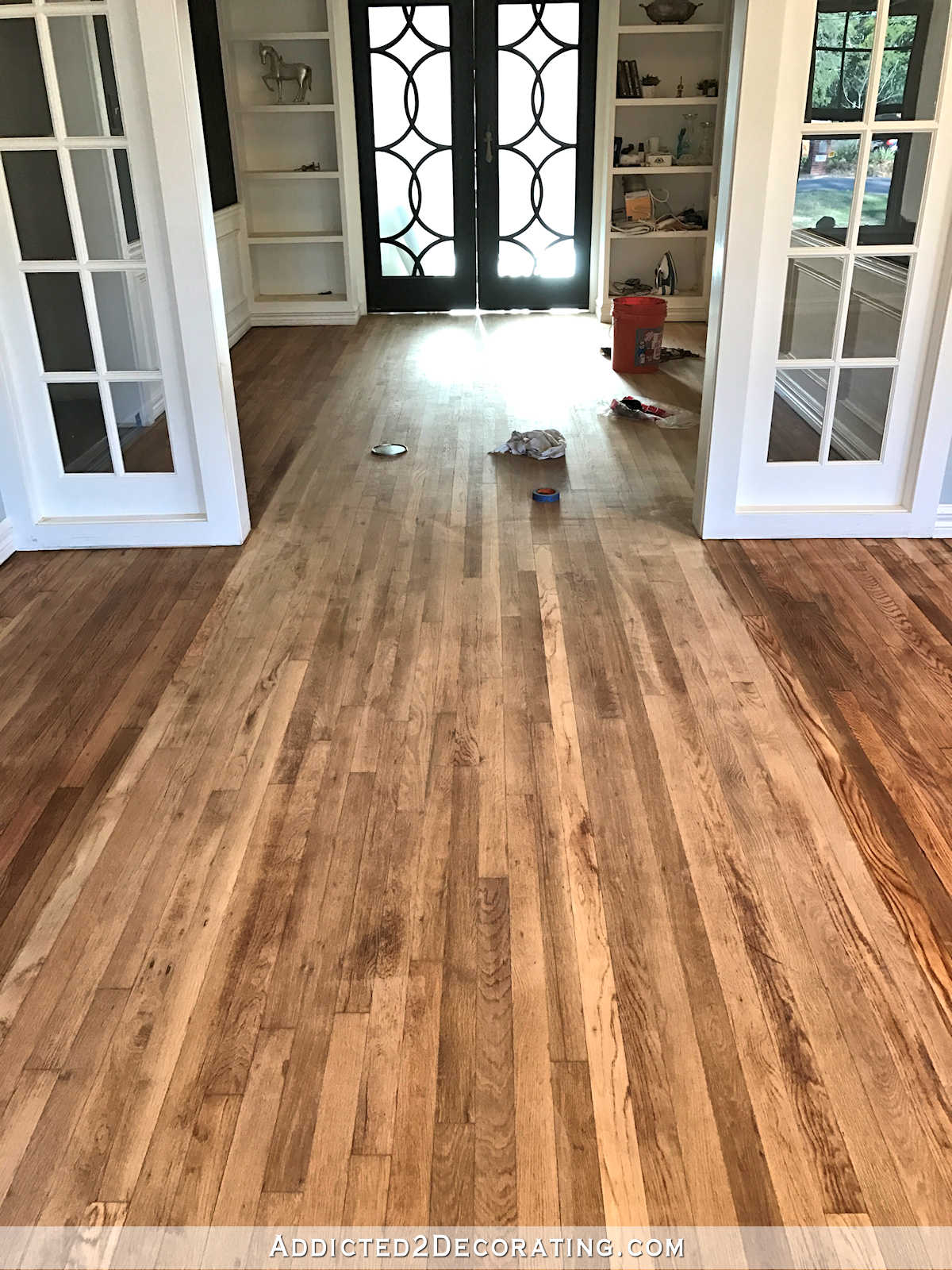 And then I stained them.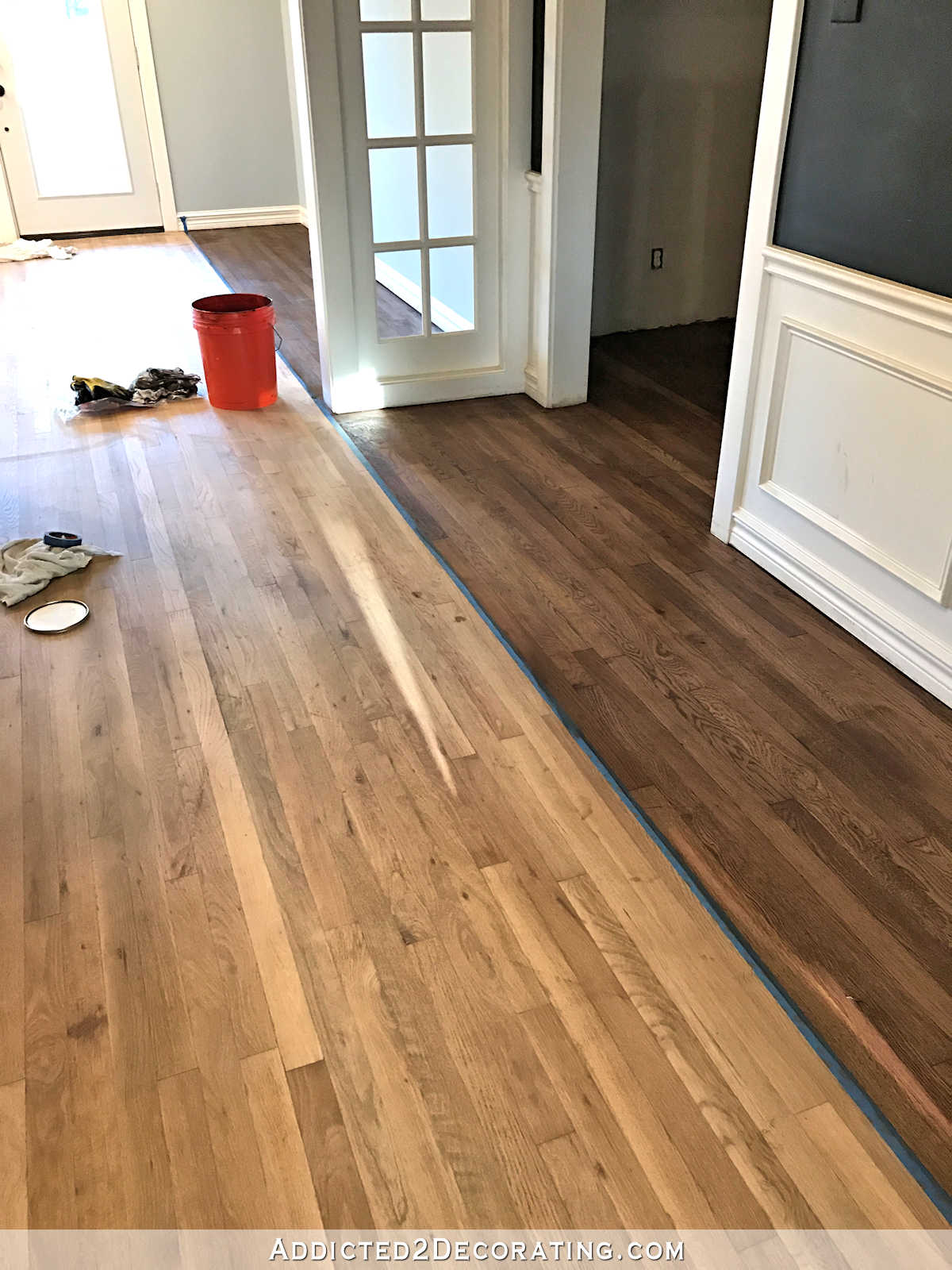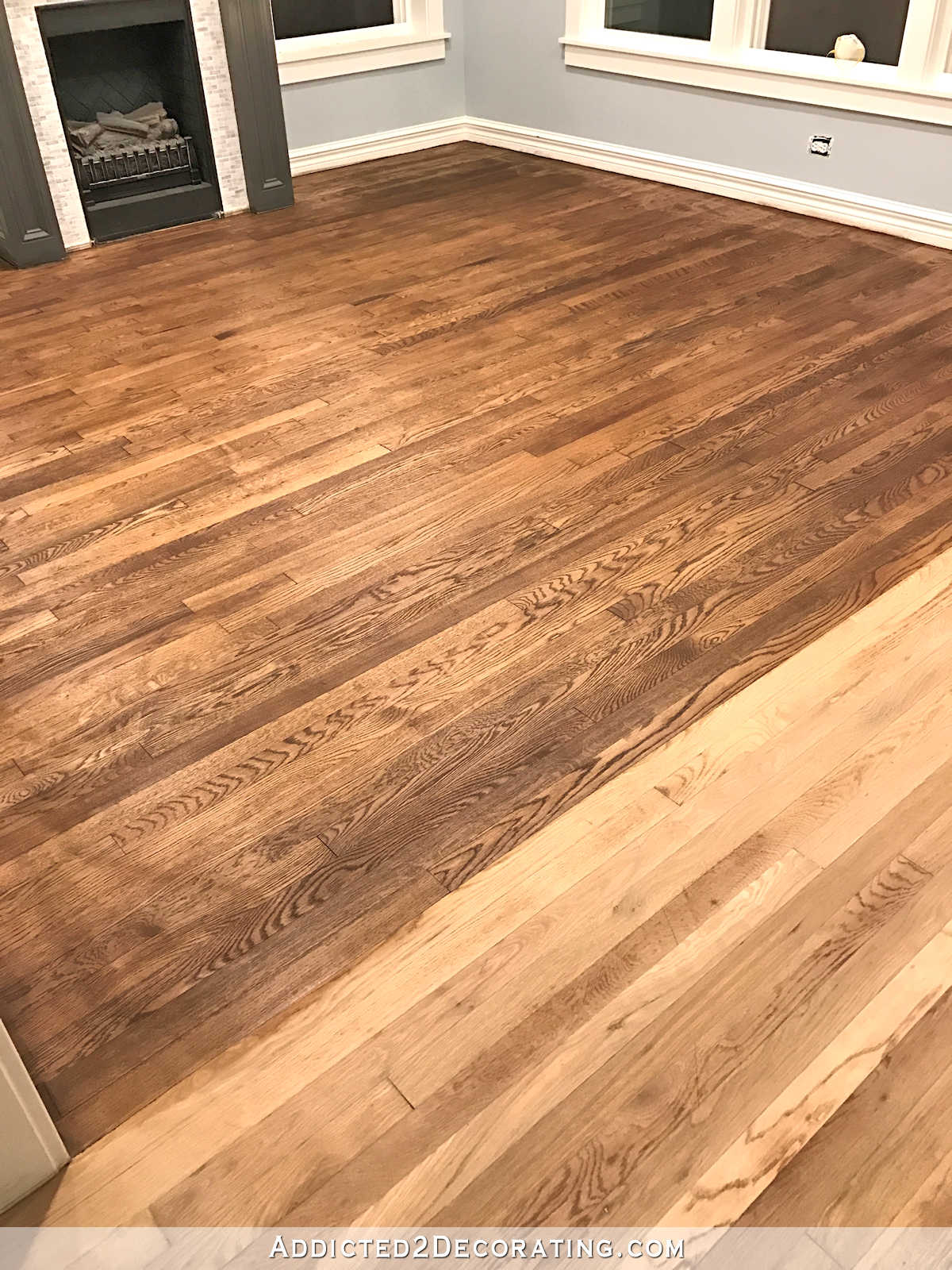 That's actually all of the staining I got done on the first day (Saturday) since I spent the first half of the day cleaning up dust from the sanding process and making sure the floors were super clean.
So yesterday, I picked up where I left off. I taped off the previously stained sections, and then conditioned and stained the remainder of the floor in the entryway and the music room up to the kitchen doorway.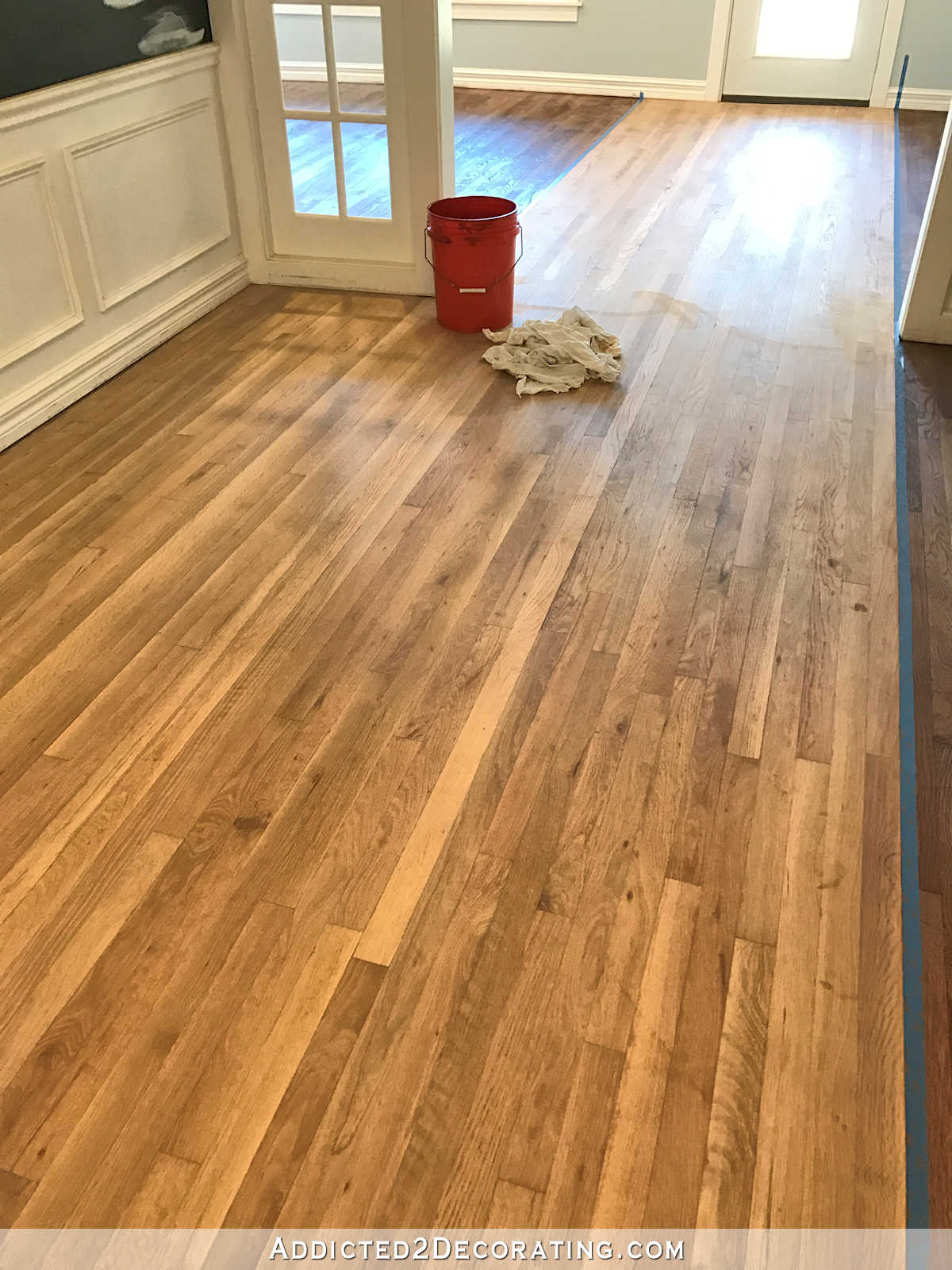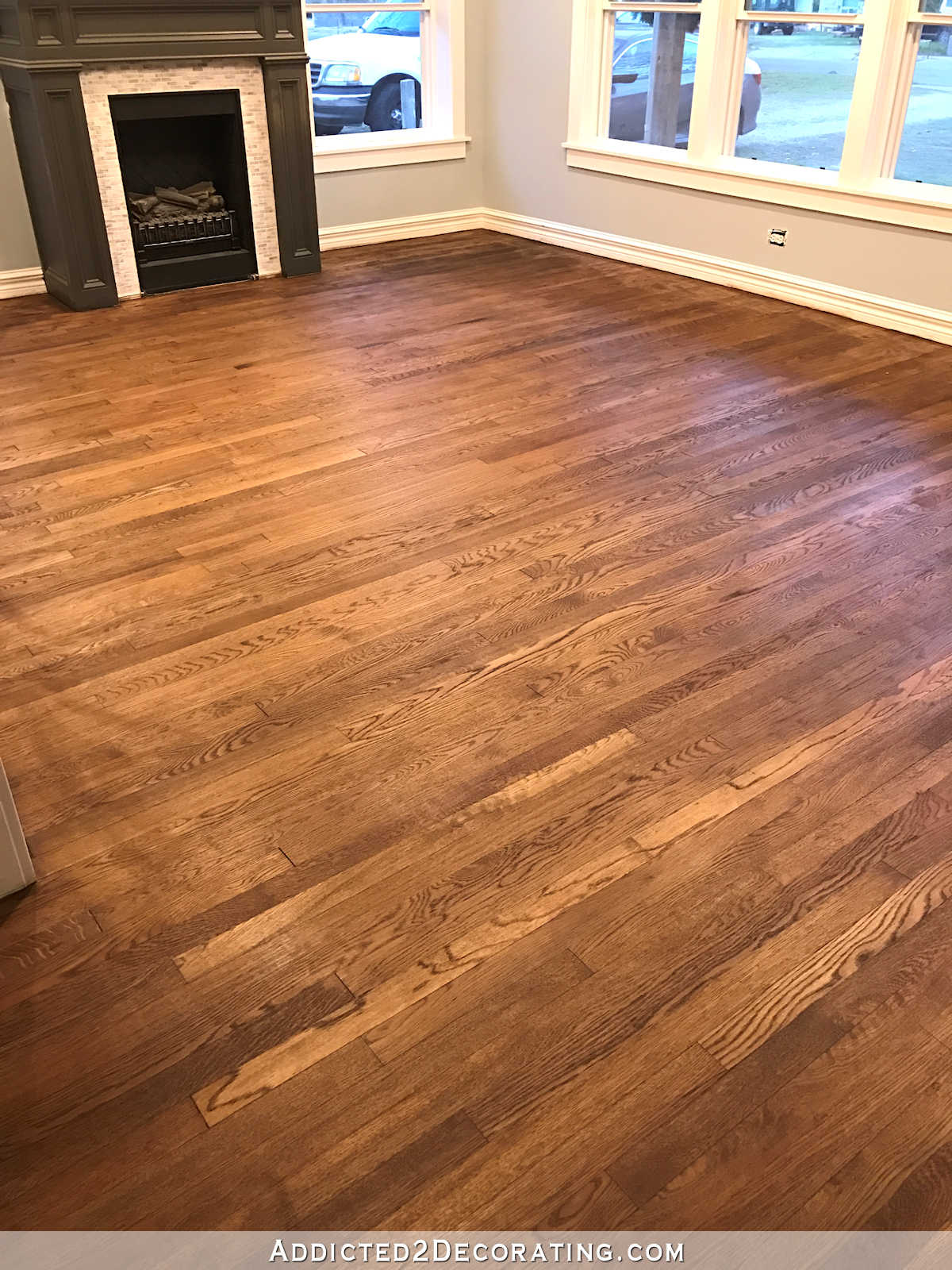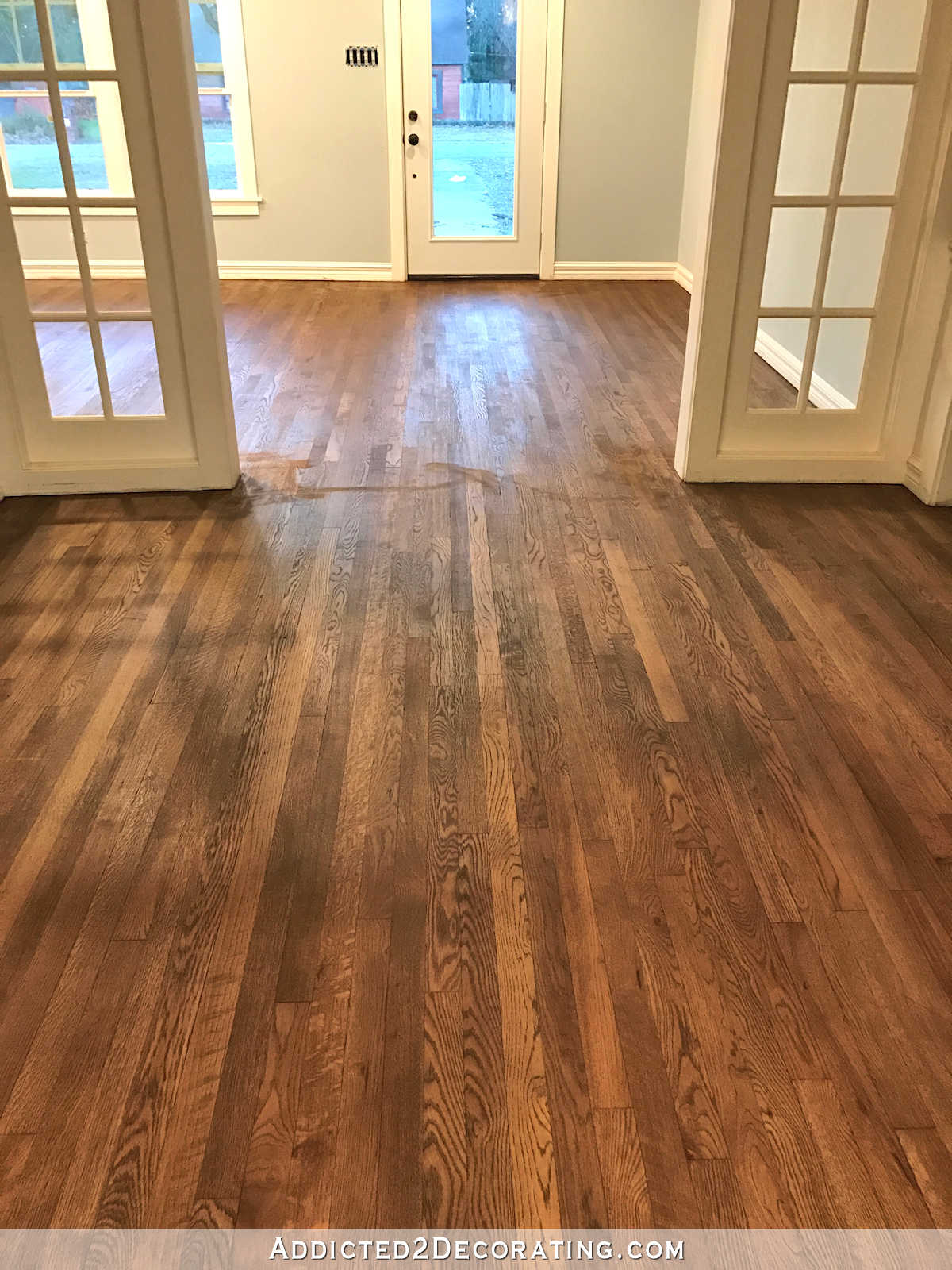 The next section I worked on was the kitchen floor behind the stove and refrigerator. I pulled those out, taped off a section, and conditioned and stained that area.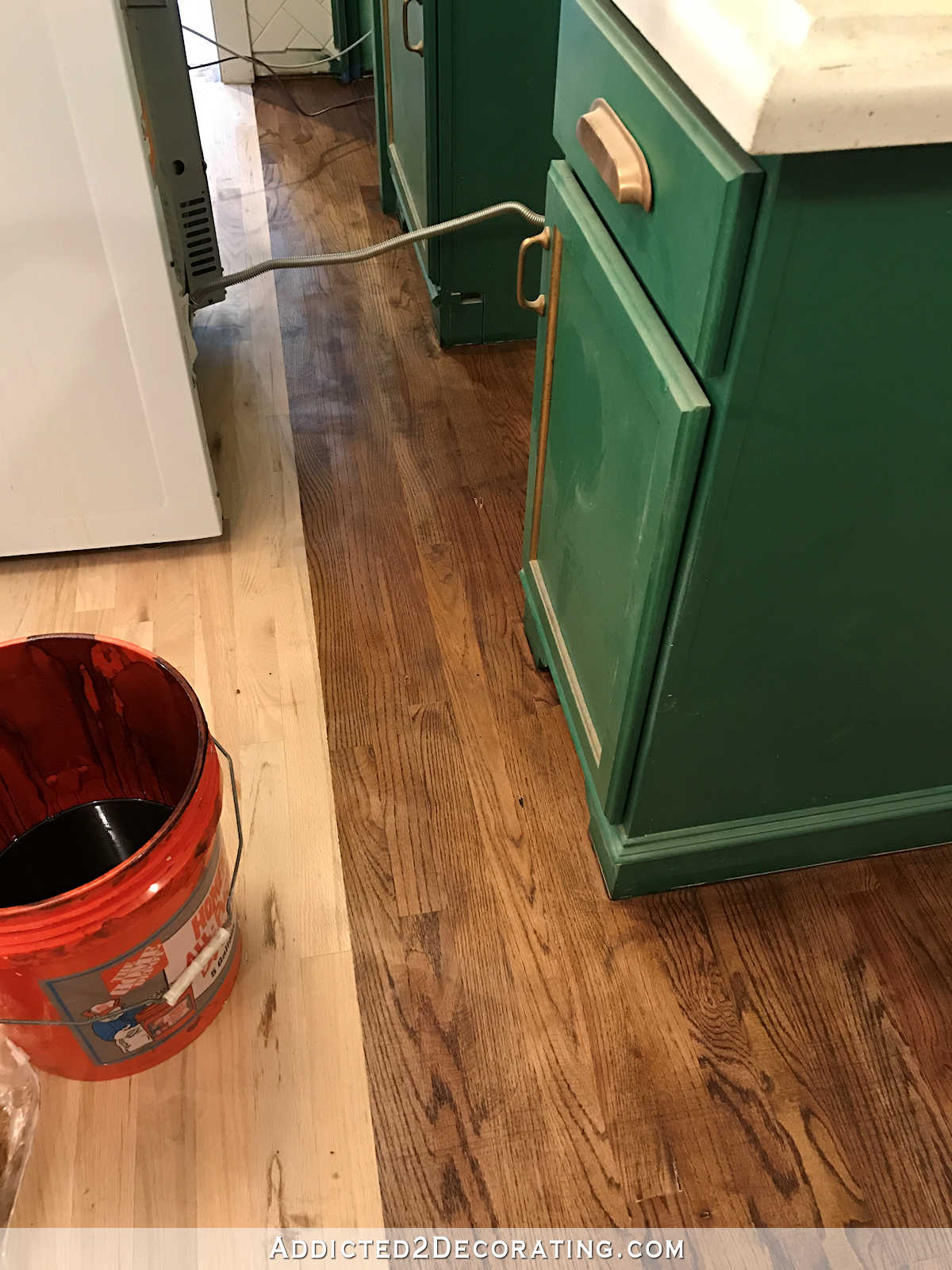 While it was drying, I worked on the left and right sections of the pantry.
And then I moved the stove and refrigerator back into place, taped off the rest of the kitchen floor, and conditioned and stained the rest of the kitchen. I forgot to get a picture of the stained kitchen floor, but you can see where I stopped on the left side of the picture below.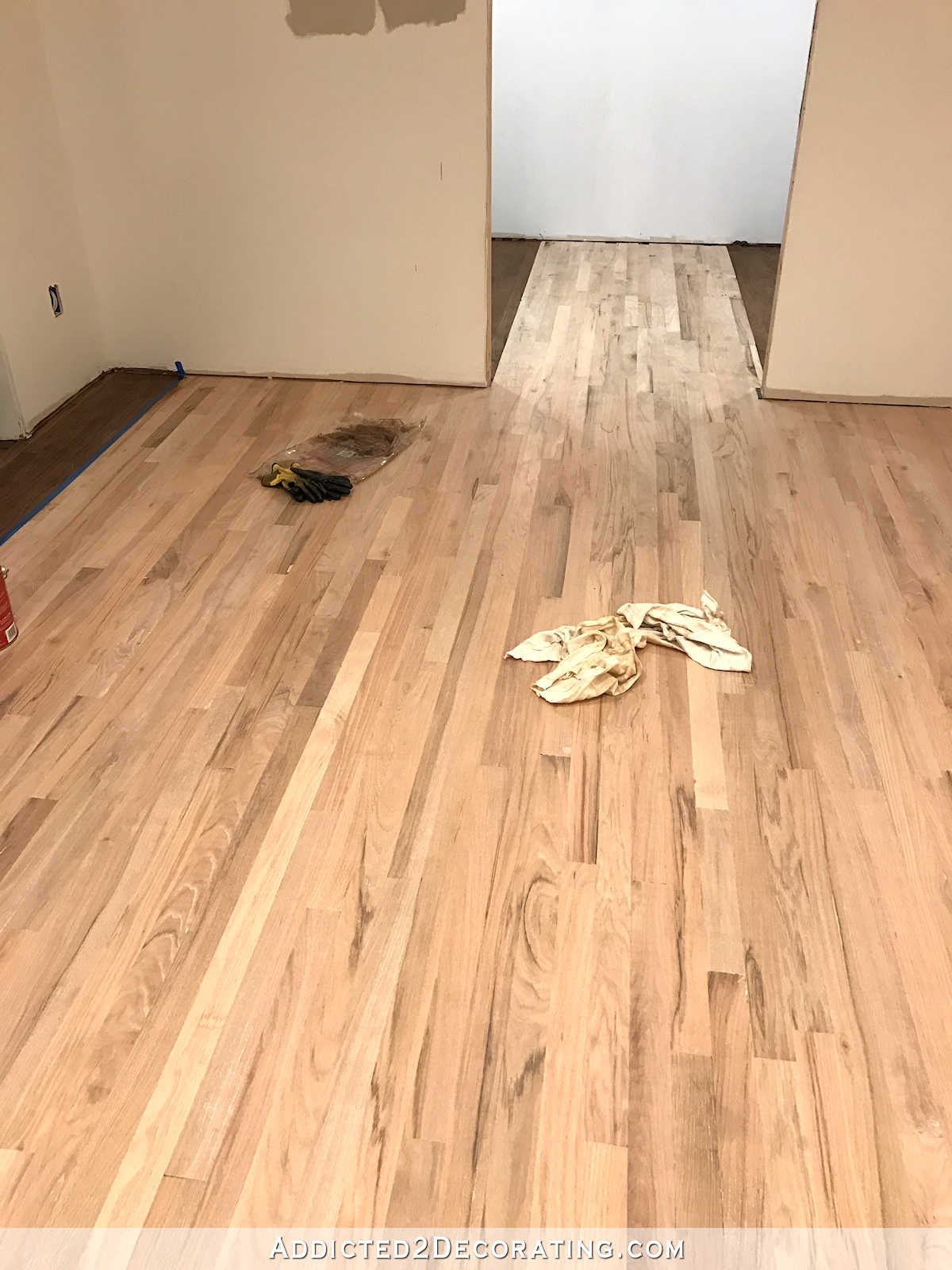 So today, I'll finish up the staining, and I just have that one section of the pantry and the breakfast room to go, which can all be done at once.
So if you're wondering why I bothered with painters tape, let me explain. First, I wanted very definitive stopping and starting points. That way, I could take breaks, stop for dinner, or stop for the night, and have a very clean and definitive stopping and starting point when I resumed working on the floor.
But the main reason is that in my experience with stain, I've found it to be quite finicky. If you stain a piece of wood, and then go over it again too soon with more stain, it can actually remove the stain that you previously applied, leaving a blotchy finish with light spots. If you stain a piece of wood, and then wait a long time (i.e., several hours, as in, if you stop for the night and then resume staining the next day and accidentally go over the same spot twice), then that area will soak up more stain and get darker, again causing a blotchy finish with dark spots that are double stained. So to avoid either of those scenarios, I used painters tape to tape off definitive stopping and starting points so that I wouldn't accidentally go over any areas twice with stain.
The stain I used is a 50/50 mix of Minwax Dark Walnut and Minwax Special Walnut. It turned out to be a really beautiful color. It's a rich color to give the house some warmth, but I don't think it's so dark that keeping it clean will be a nightmare.
As far as topcoats go, I honestly still haven't decided. Crazy, I know. I have ruled out Waterlox, though. Benjamin Moore has a really good water-based flat finish polyurethane, but it requires sanding between coats. Ugh. No thanks. So I just don't know, but I need to make a decision soon! I should be ready for the clear coat tomorrow, or possibly even this evening for the first coat. So we'll see.
UPDATE:
Click here for my tips on getting a gorgeous finish…
And click here to see my newly refinished hardwood floors — completely finished!
Addicted 2 Decorating is where I share my DIY and decorating journey as I remodel and decorate the 1948 fixer upper that my husband, Matt, and I bought in 2013. Matt has M.S. and is unable to do physical work, so I do the majority of the work on the house by myself. You can learn more about me here.
I hope you'll join me on my DIY and decorating journey! If you want to follow my projects and progress, you can subscribe below and have each new post delivered to your email inbox. That way you'll never miss a thing!