Refinishing My Hardwood Floors – Sanding Progress
Hey there! I've haven't had much to share this week…until today. We finally have progress!
The sanding of the hardwood floors was delayed by a couple of days, which was actually really good. It gave me extra time (with the help of my mom and brother) to clear out rooms, sort, organize, and get rid of stuff that had accumulated. It was like an unplanned spring cleaning, which was desperately needed.
Anyway, here's the progress…
The breakfast room doesn't look much different than it did before since it and the pantry had brand new red oak hardwood flooring (installed about three months ago) that had never been finished. But it's a lot smoother now!
And the pantry…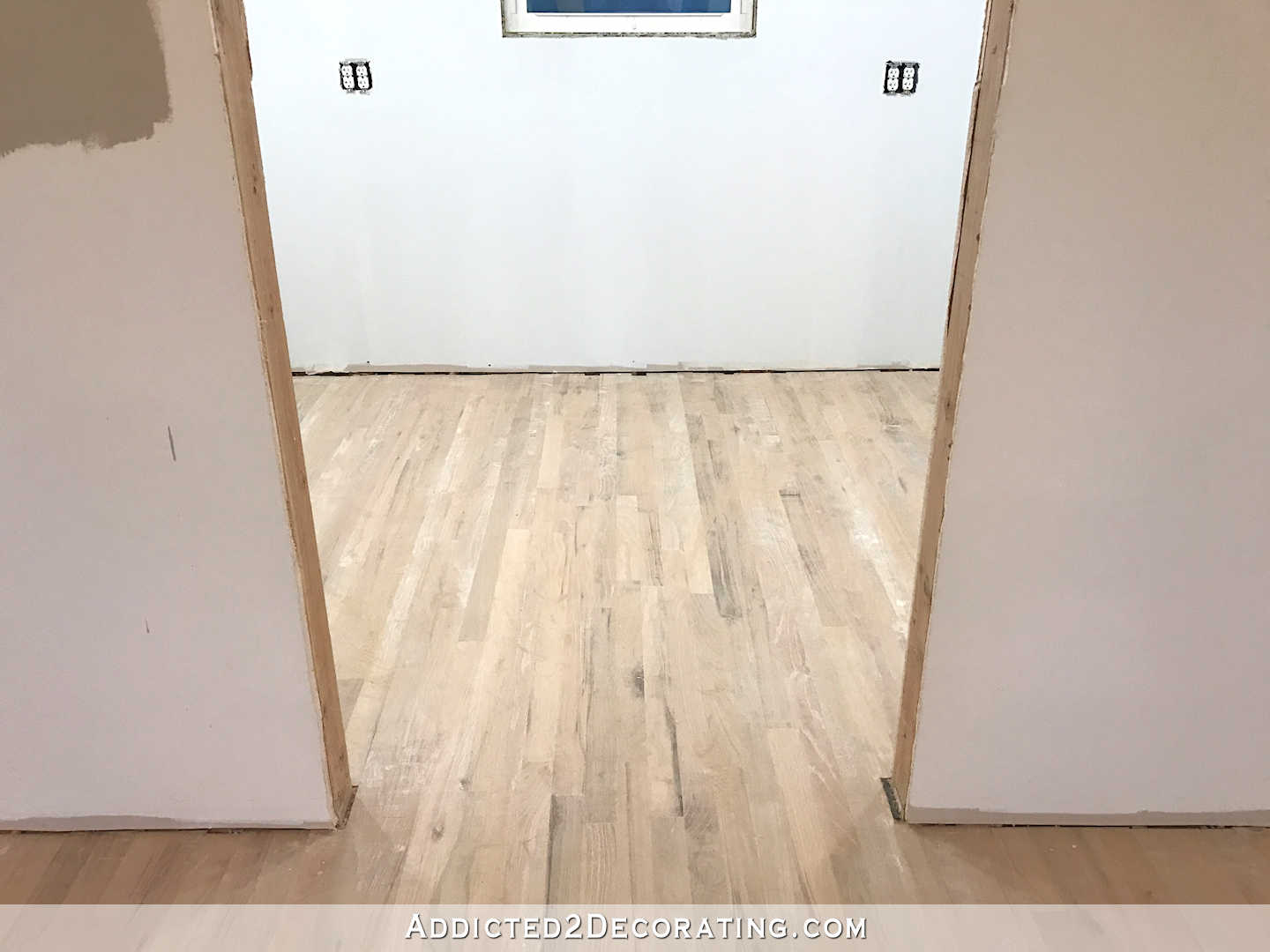 One of my main concerns has been the transitions between rooms. I didn't expect much difference between the kitchen and the breakfast room since the kitchen floor was only installed about two years ago, but there is actually a slight difference. That one really light board is deceiving. It's just a random light board. But the flooring on either side of that light board still looks slightly different. I'm hoping it's not so much that it'll be noticeable after it's stained.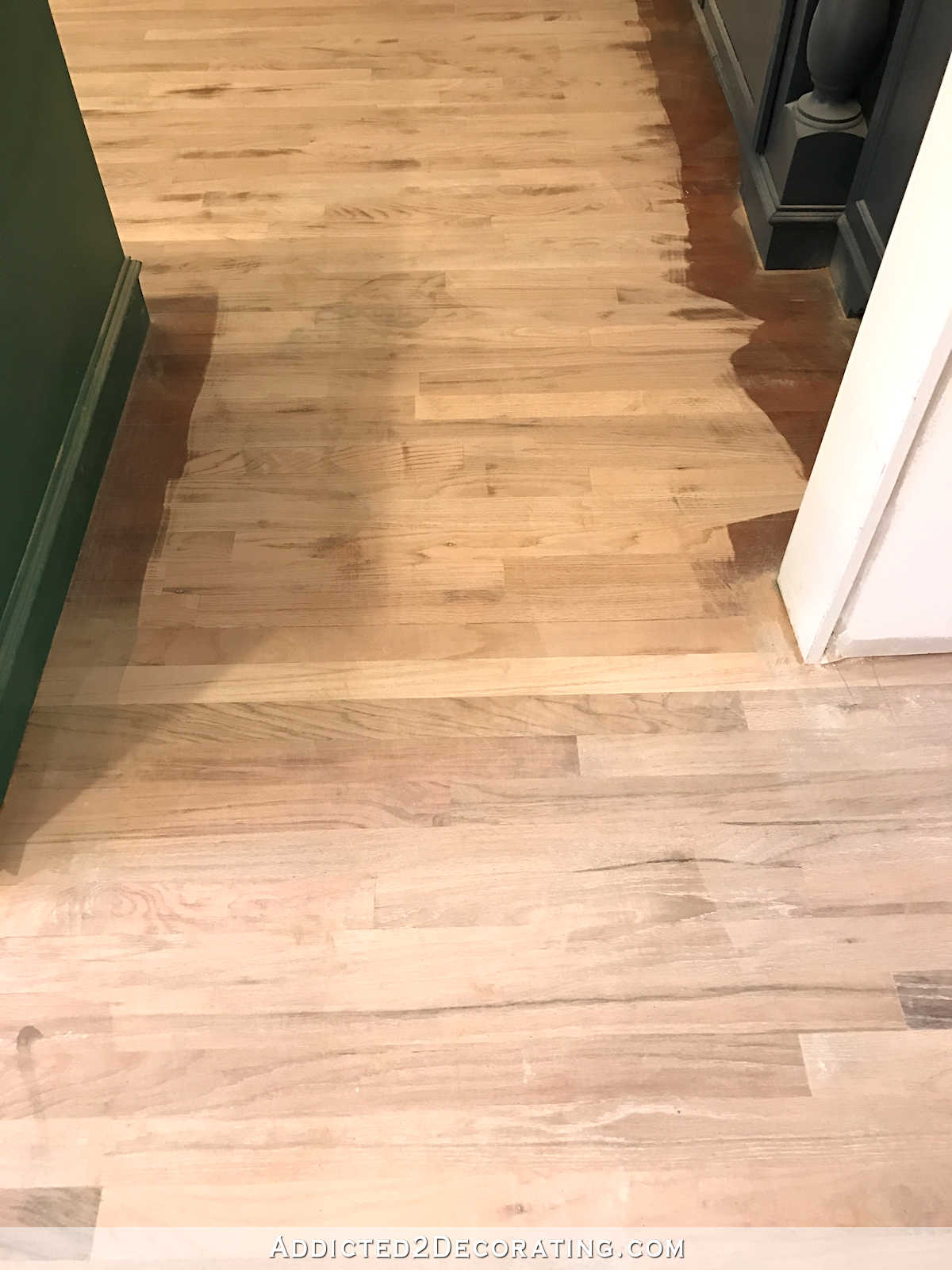 They did the kitchen floor last, and just did one initial pass over the floor, so it still needs quite a bit of work.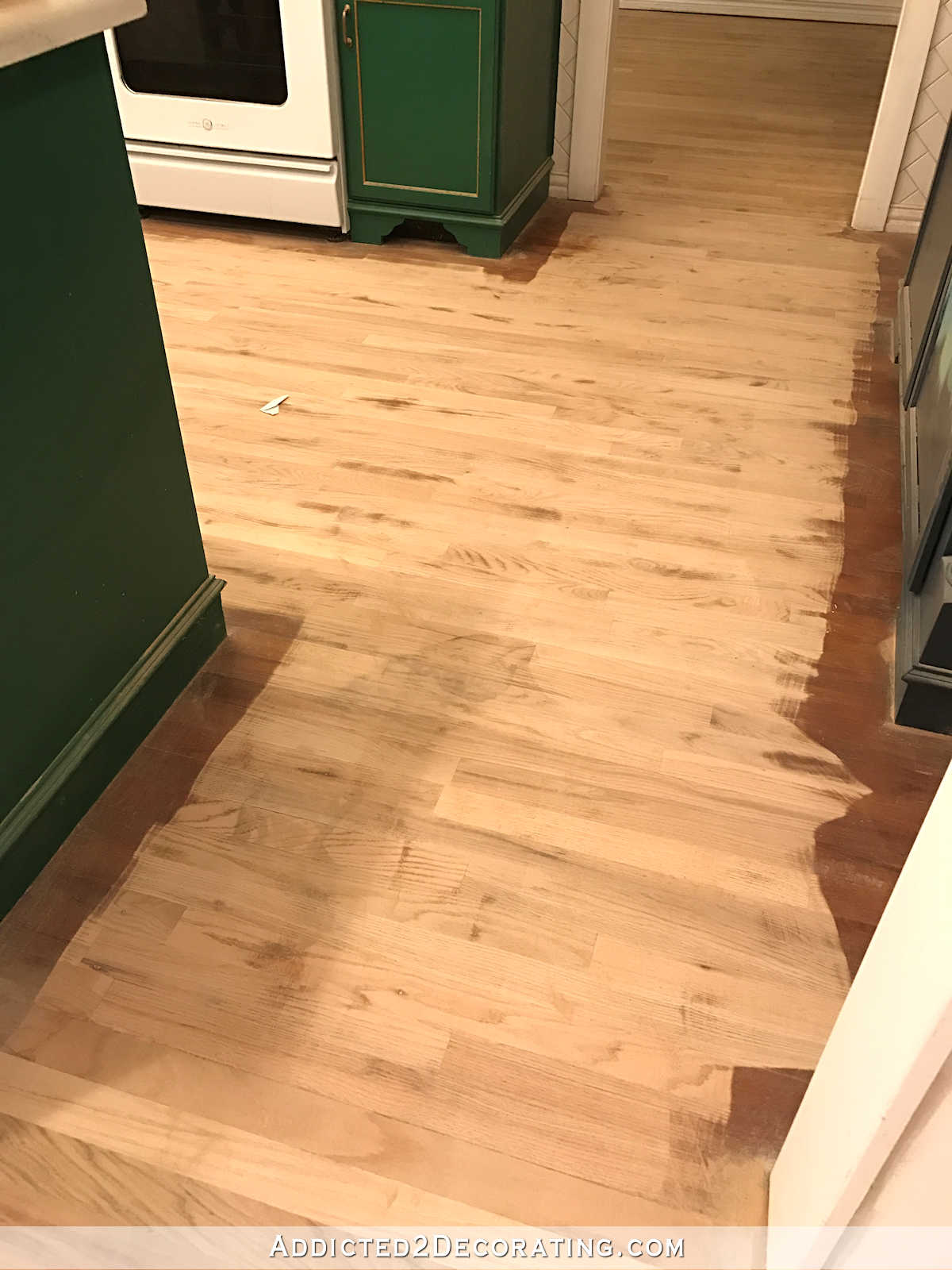 There's lots of old finish that still needs to be sanded away, and the areas around the cabinets are going to be a real headache. I'm so glad I hired this out!
Interestingly, the transition from the kitchen to the living room was one of the worst with the previous finishes on those floors. The kitchen was very red, and the living room was very orange. But now that it's been sanded, I can't really tell a difference. In this picture, the kitchen is at the bottom of the picture, and the living room is at the top…
Here's a picture taken looking the other direction, with the living room at the bottom, and the kitchen at the top. I still can't tell much (if any) difference.
So I'm hoping that those will stain evenly.
And here's the living room taken from the entryway wall…
And from that same position, looking into the music room…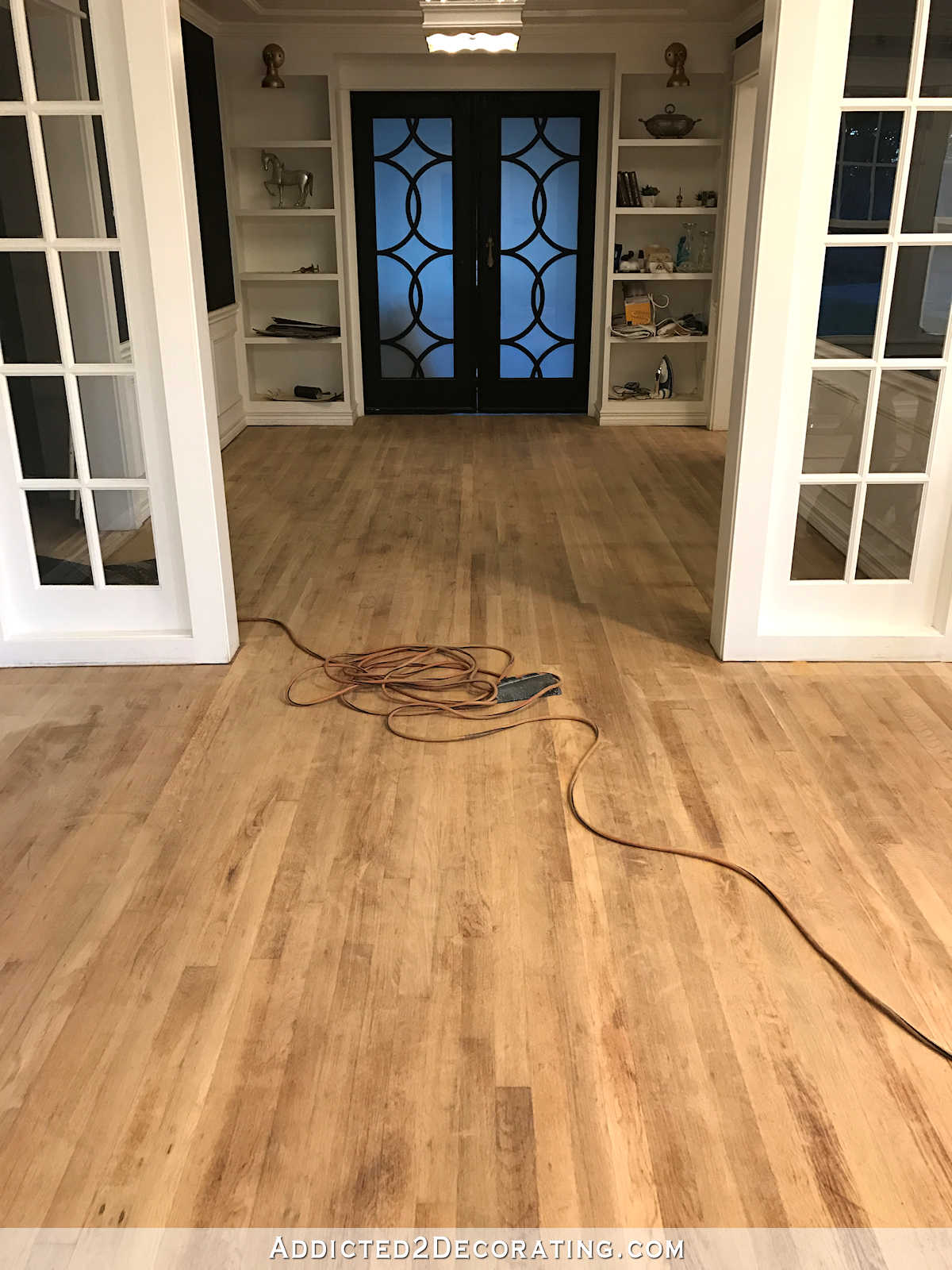 The transition from the music room to the kitchen wasn't really bad before with the finish. Even though the kitchen was so much redder and the music room was so much more orange, the difference never really showed up much in this doorway. But now with it sanded, I can see more of a difference.
I'm just really hoping that the stain will cover all of those differences. I don't want to have to do a custom mix of stain for the kitchen and breakfast room/pantry!!
I've been anxious to see the hallway floor sanded. If you remember, I had to do quite a bit of floor patching just out side the bathroom door when I moved the door over and widened it. They didn't sand the area right up to the tile yet, but I think it's going to look just fine when it's stained and sealed…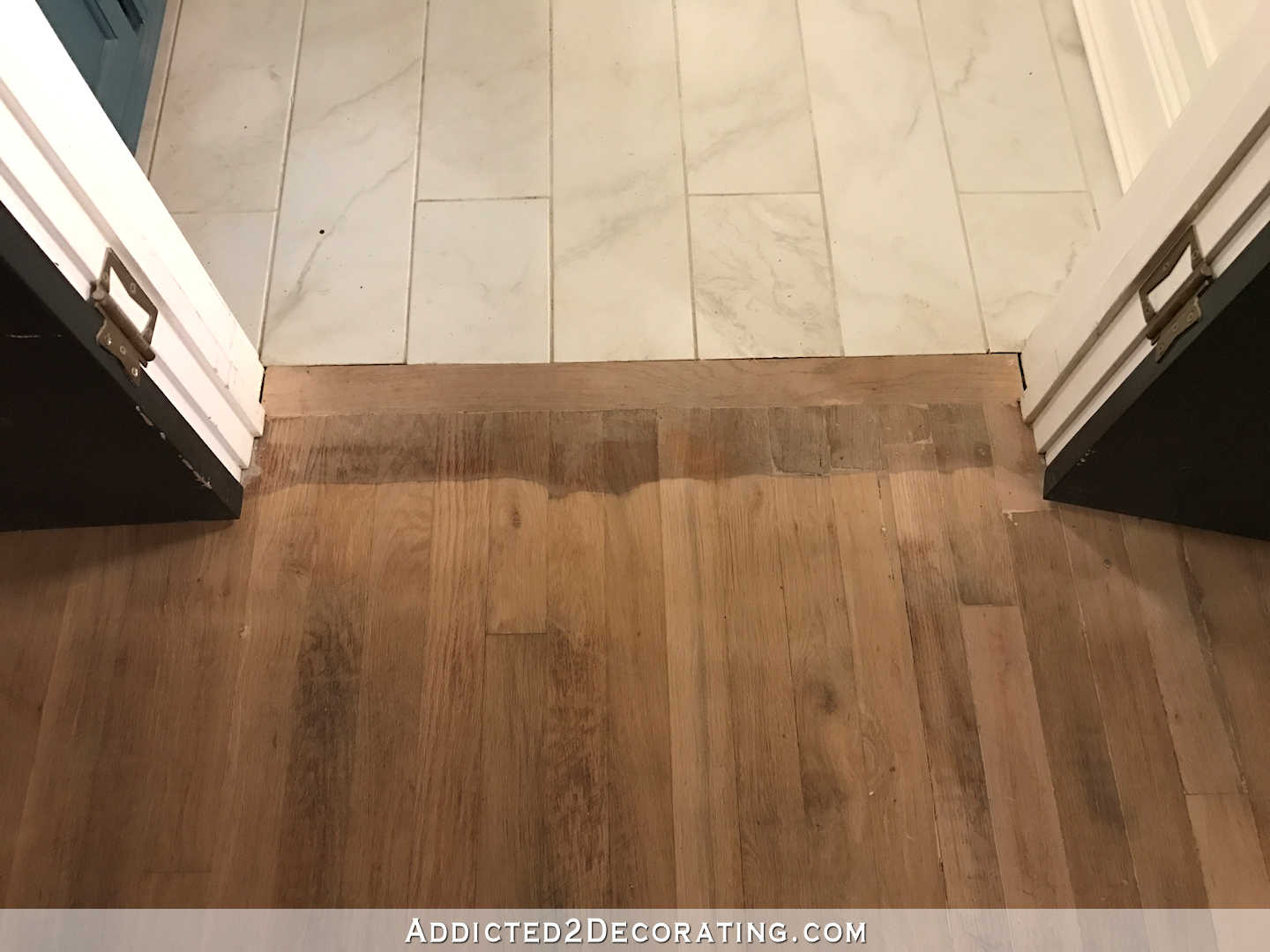 I also had to do quite a bit of floor patching in the opening between the music room and the hallway where I widened that opening, but it looks like it'll all be pretty well disguised once it's finished. Please excuse the litter box. 🙂 Boo, Peeve, Matt and I have been holed up in the bedroom while they're sanding, and we keep everything we all need in the room with us. But we have to put the animals out of the room at night, so I just shoved their stuff out into the hallway before we went to bed. 😀
I hadn't originally planned on having them do my office floor. I didn't think I could get the room cleared out in time, and this room isn't really on my radar for this year. But I had some extra time on my hands on Tuesday, so I decided to clear it out and have them sand in there as well.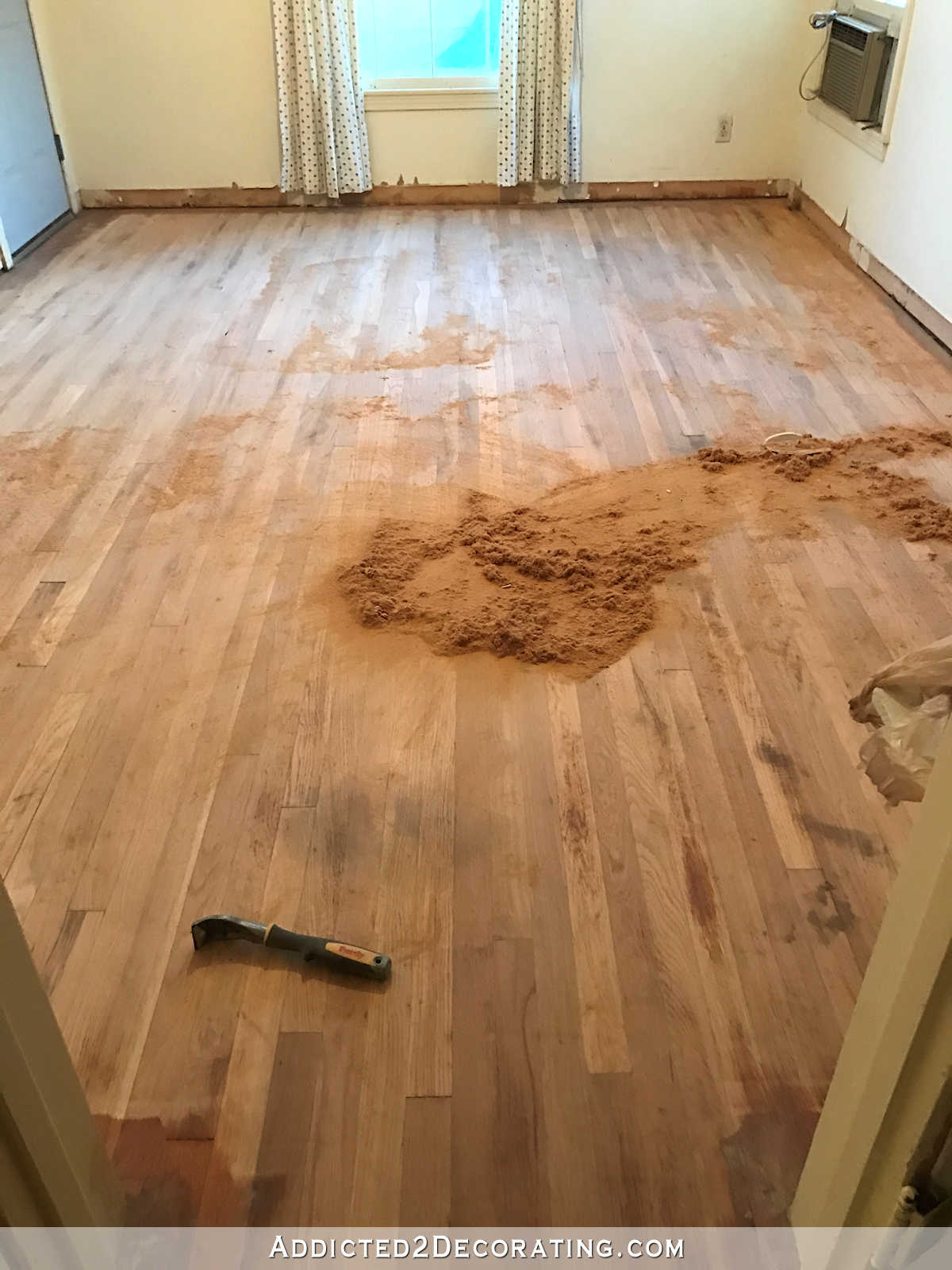 So it's getting there! I'm just so anxious to get the stain down. I can't wait to see what that will look like! No more orange floors. 🙂
In other news, did I ever show y'all my new breakfast room door?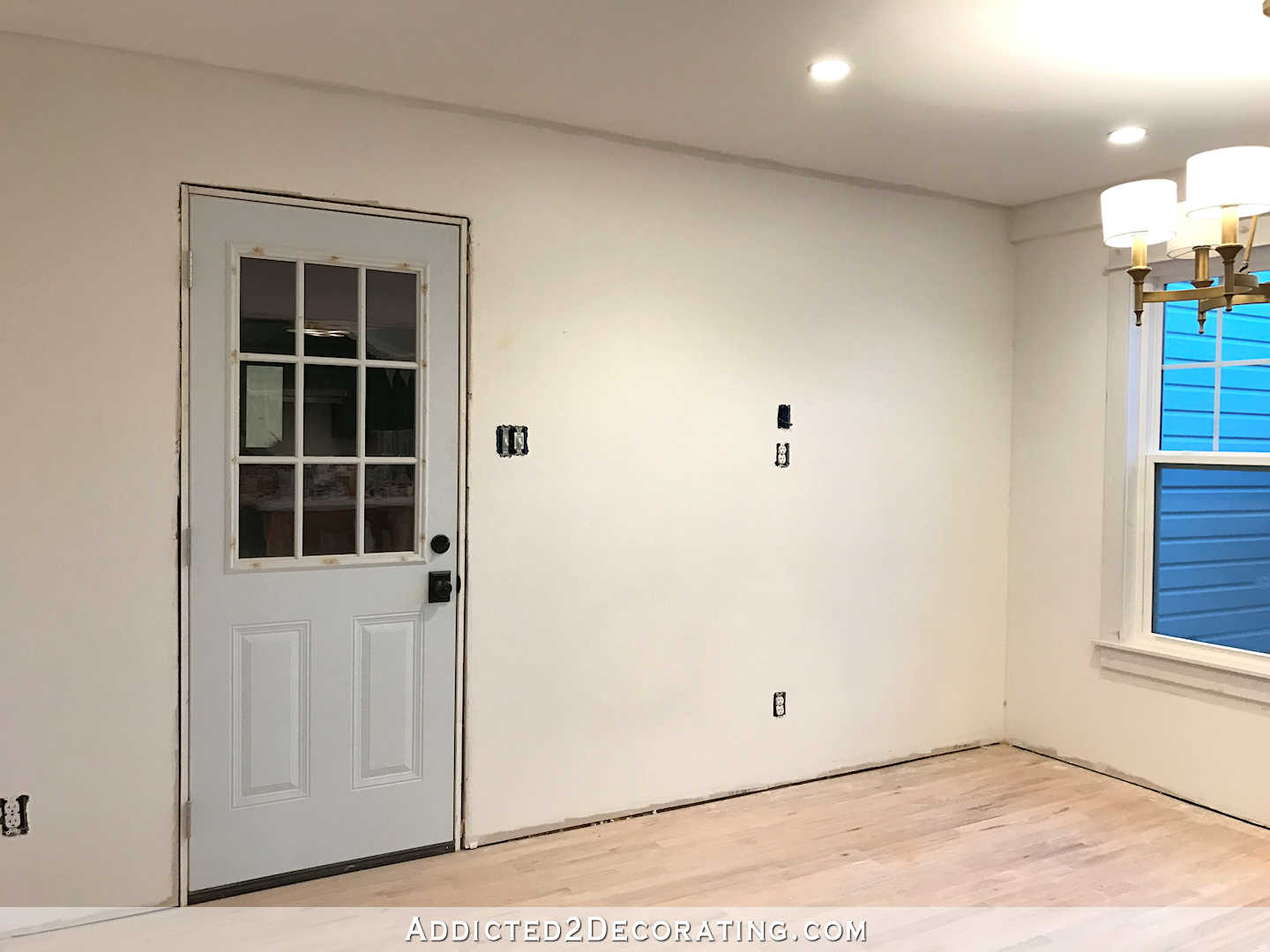 I got one with glass because I'm going to eventually install windows in my garage, and I'll take natural light into my house anywhere I can get it. 🙂 Plus, I thought it would be nice for Matt to be able to glance out and see if I'm in the garage without having to open the door.
I had the same style door installed in our bedroom, along with a screen door. And let me tell you, it's the best decision I've ever made! It's not only convenient, but it's absolutely glorious being able to sit in bed with my laptop next to that open door with the screen door on a beautiful day with the sun shining brightly and the breeze blowing through. I mean…BEST.DECISION.EVER. Matt and I both have thoroughly enjoyed it, and both of us have agreed that we should have had that door installed a long time ago.
UPDATE:
The floors are finished! Click here to see the products and process I used on my floors…
Click here for my tips on getting a gorgeous finish…
And click here to see my newly refinished hardwood floors — completely finished!
Addicted 2 Decorating is where I share my DIY and decorating journey as I remodel and decorate the 1948 fixer upper that my husband, Matt, and I bought in 2013. Matt has M.S. and is unable to do physical work, so I do the majority of the work on the house by myself. You can learn more about me here.