Let's Talk About Glass Front Doors!
I've kind of been obsessing over glass front doors today. Here's why!
I've been mulling over the idea of a getting a new front door for a while now, but I didn't really feel a sense of urgency. For some reason, that changed last night. My living room and entryway have come a long way in the last few days, and I'm feeling so encouraged and energized by the forward momentum. I also know that my front room won't feel complete until I get a new door. So the time is now. And fortunately, I texted my people to see if they had time in their schedule to install it before Christmas, and it looks like they do!
I'm not going with anything fancy. I'm going to choose from one of the in-stock steel doors at Home Depot, and I'm just gonna get it done. I don't need anything fancy, and I don't need anything expensive or custom made. Remember that door I had on my wish list with the window in it that opened on side hinges? Well, a much as I'd love to have that door, I just don't need it. My door is in a room filled with windows, so if I want fresh air in that room, I can just open the windows.
Are Glass Front Doors Safe?
So my options are somewhat limited. I actually know exactly what I want. The problem is that Matt isn't quite sure about it, because it's almost all glass.
I've always heard that glass in front doors isn't really a good idea. It's not safe. And yet, I see them all over Pinterest, Houzz, HGTV, etc. And of course, we all live in houses filled with windows. The last time I checked, those were glass also. I also have a glass sliding door in the sunroom. That's definitely not the most secure type of door. So if someone was determined to get into my house, they have plenty of entry options, so a glass front door doesn't really seem to take my house from "perfectly secure" to "extremely dangerous."
Oh, and plus, we just got a Ring doorbell, which I love!! I LOVE IT! I absolutely love that thing. Y'all, if you don't have a Ring doorbell, you need one. As in, you need it today. As in, everyone should have one of these. It's amazing being notified any time there's motion at my front door and being able to answer the doorbell no matter where I am.
The other day I was in my car halfway to Home Depot when my doorbell rang. I was able to pull over, pick up my phone, and see who was at my front door. (Spoiler alert: It was UPS.) You can speak to the person at the door using your phone, and it also records video each time there's motion at the door. I really can't say enough about it. This is the one I got…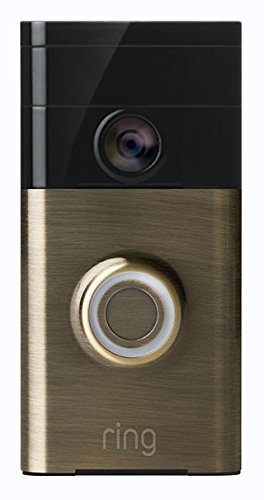 But they have several different colors to choose from. And if you already have doorbell wiring, you can get the Ring Pro, which is sleeker looking and offers a few additional features.
Anyway, I could gush about my Ring doorbell for an hour. It has been an awesome purchase! All of that to say that I'm already feeling like my front porch area is a little more secure, and we plan to add additional security cameras around our house, and probably even a security system of some sort with the glass break detection.
Back To The Topic Of Exterior Doors With Glass
So now that I've already been completely long-winded, let's get to the door options. This is my favorite…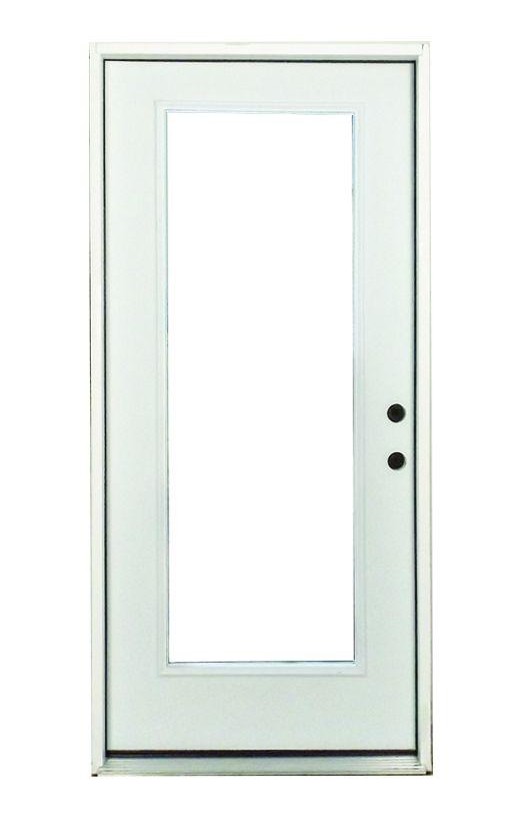 I think a single pane of glass would not only let in so much light, but I love the clean look of it without a bunch of little rectangles.
Photo by Raymond Design LP – Search contemporary entryway design ideas
I love the look of frosted glass in the door also. That gives a little privacy but still allows the light.
I'm not worried about privacy at night. I already have a couple of ideas on that front.
Photo by Galko Homes – Browse contemporary hallway photos
So that's my absolute favorite, but the fact that it's almost completely glass gives me pause. But again, I'm not sure why that is. It's a mental thing, I suppose, because there are five windows in this same room, windows all around the house, and a sliding glass door in the back.
My second favorite is a 15-lite door.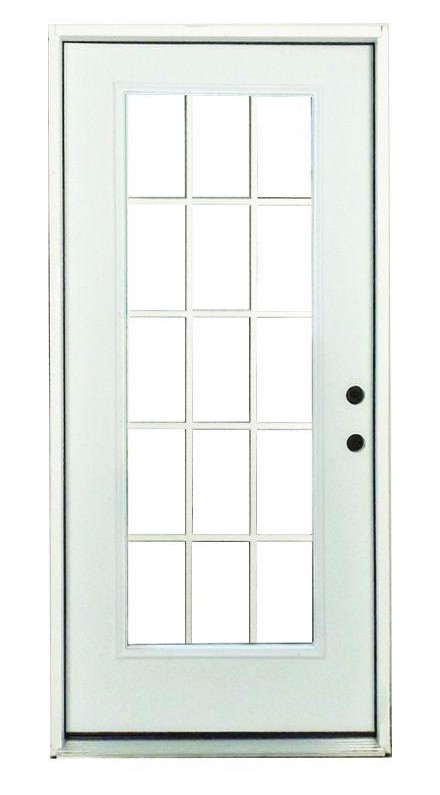 Of course, this offers 0% added security over a full-lite front door, right? It's still glass! But as far as the look of it, while I think it's beautiful, I am concerned that all of those added rectangles would be very busy in a room filled with windows with those same small rectangles. It's rectangle overload, and I just got rid of that in the front room. But they really are very pretty doors.
Exterior Doors With sidelights
These next two doors are really nice, too. But again… all those rectangles would just be too much.
Photo by Adrienne DeRosa – Search farmhouse entryway design ideas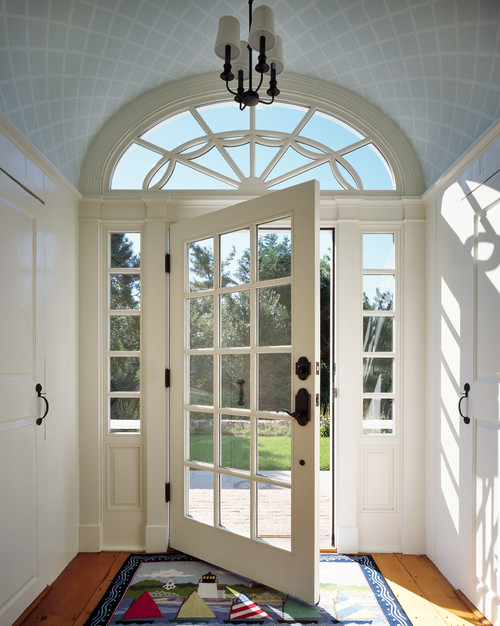 Photo by Polhemus Savery DaSilva – Search Victorian entryway design ideas
Another option is a 9-lite door with the glass just on the upper half.
I think somehow that seems more secure, and yet, in reality, this door also offers 0% additional security over the full-lite glass front doors. I mean, if someone can break glass in a full-lite door, they can break glass in this one. And if they break the lower right pane, the door lock is well within reach. Plus…more rectangles.
Photo by Dewson Construction Company – Browse Victorian exterior ideas
Photo by Henderson Design Group – More eclectic entryway photos
Photo by Rasmussen Construction – Search traditional entryway pictures
My final option is Craftsman style front doors. They have glass but offer a bit more safety in that, even if someone broke out the glass, the door lock is very hard (if not impossible) to reach from the glass.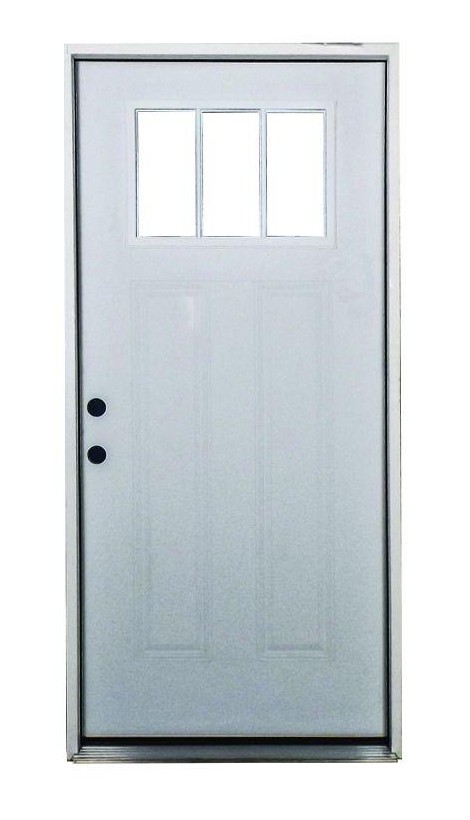 This is definitely my least favorite of all of the glass front doors, simply because my house isn't Craftsman style, and it lets in the least amount of light. It's a very pretty door, but it's far from my top choice. It would be my "safe" choice, though. (Safe, as in, if the glass is going to be an issue.)
So What Do Y'all Think?
I don't really need input as far as style. The first one is my favorite, and all other things equal, it would be my first choice, hands down.
What I really need is to hear from those of you who actually have glass front doors, and especially those who have glass that's near the door handle/locks. Does it make you feel any less secure? Have you had issues at all? Are you glad you chose it? If you could have a do-over, would you choose it again?
I told the guys that I'd buy the door today and have it at the house so that it's ready to go whenever they have a break in their schedule and can fit it in. So I'm anxious to hear what y'all have to say.
Addicted 2 Decorating is where I share my DIY and decorating journey as I remodel and decorate the 1948 fixer upper that my husband, Matt, and I bought in 2013. Matt has M.S. and is unable to do physical work, so I do the majority of the work on the house by myself. You can learn more about me here.