How To Refinish Pine Wood Countertops
I've spent the last couple of days working on my hallway bathroom makeover. And y'all, I'm pretty excited because after years and years of struggling with staining pine, I think I've finally found the magic method for getting rid of those hideous (to me) orange and yellow undertones that come through when you put stain on pine. I have finally figured out how to refinish pine wood countertops!
I've had a love/hate relationship with pine for well over a decade now. I love it because it's cheap and abundantly available. But every time I've tried to refinish pine wood countertops, I end up accentuating the orange and yellow grain, when I'd actually like to make it disappear completely.
But my pine-staining woes may be a thing of the past!
The pine wood countertop in this bathroom is one that I built from 2″ x 3″ pine lumber four years ago when I remodeled this hallway bathroom. I had such a hard time getting the finish right and getting rid of all of those orange and yellow undertones in the wood that I ended up with a really dark, almost opaque finish on the countertop.
It definitely wasn't what I had envisioned when I decided to do a wood countertop, but I ended up living with it for four years.
But in the last four years, I've learned quite a bit more about working with pine and staining wood, so I wanted to give it another go and see if I could create a finish that wasn't quite so dark, that wasn't so opaque, and that still allowed the wood grain to show through without turning orange and yellow.
And y'all, I did it! I finally found the magic formula! From now on, when working with pine, this will be my go-to process for getting a pretty stained finish.
How I refinished my pine wood countertop:
Step 1: Sand off old finish.
My first step was to sand off the old finish. I used 60-grit sanding discs to cut through that old thick finish. (And yes, I made a mess of my bathroom. I apologize up front to those of you who get anxious about my messy processes. 😀 )
Step 2: Use wood bleach to reduce yellow and orange undertones in pine wood
After sanding down to bare wood, I used the same wood bleach that I used on my pantry countertop. This is a picture of it sitting on my red oak pantry countertop, not the pine bathroom countertop.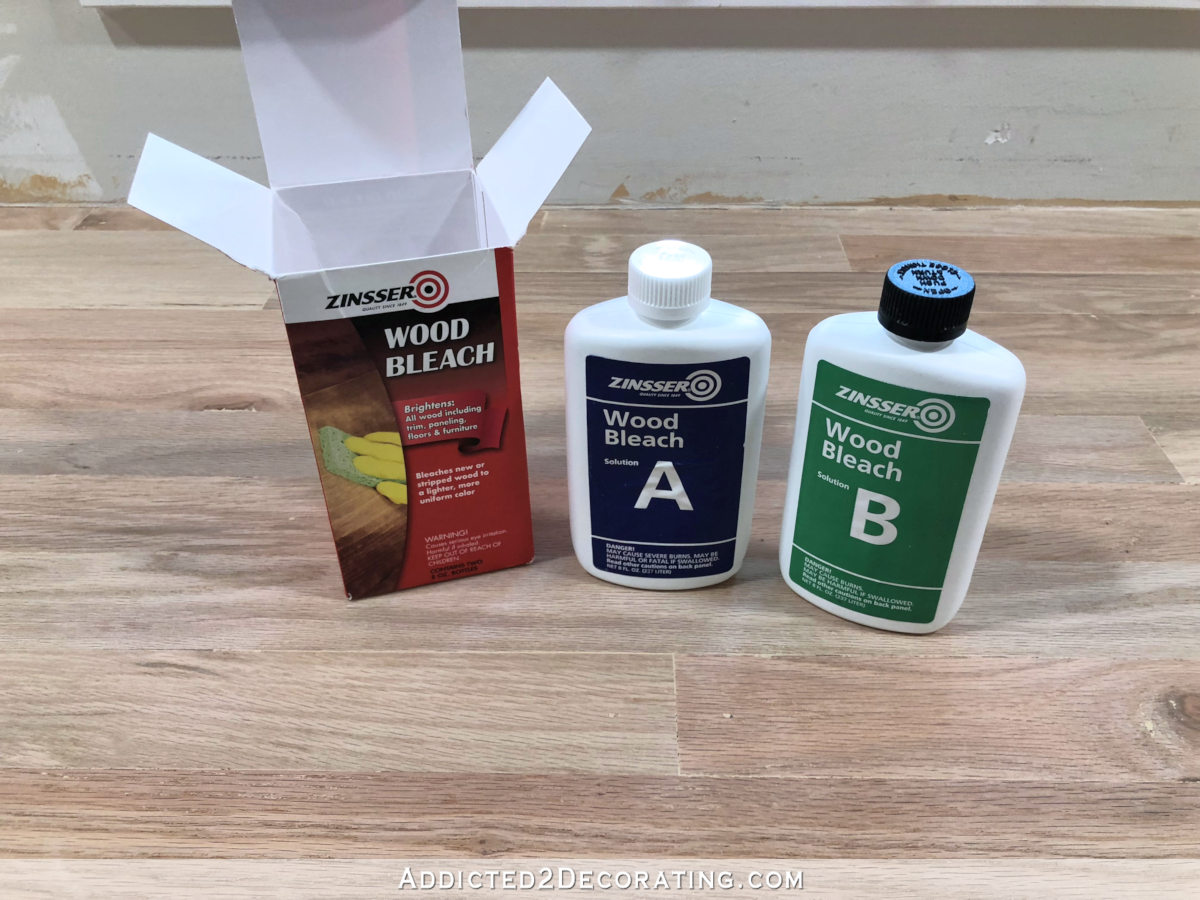 So here's what the bathroom countertop looked like after I sanded and bleached it…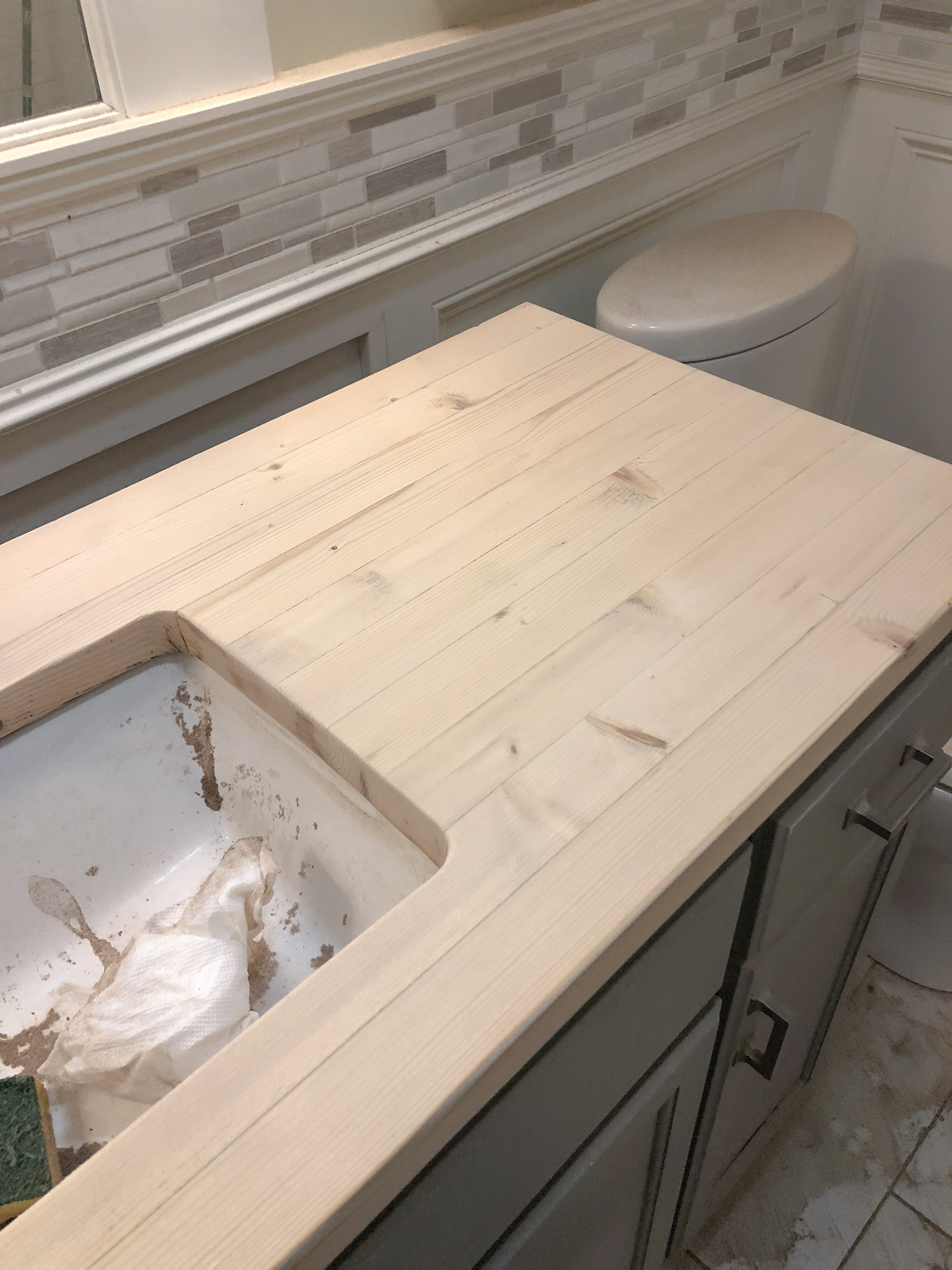 Step 3: Use a wiping stain (not a penetrating stain).
Next I wiped on a coat of Old Master's Wiping Stain in dark walnut.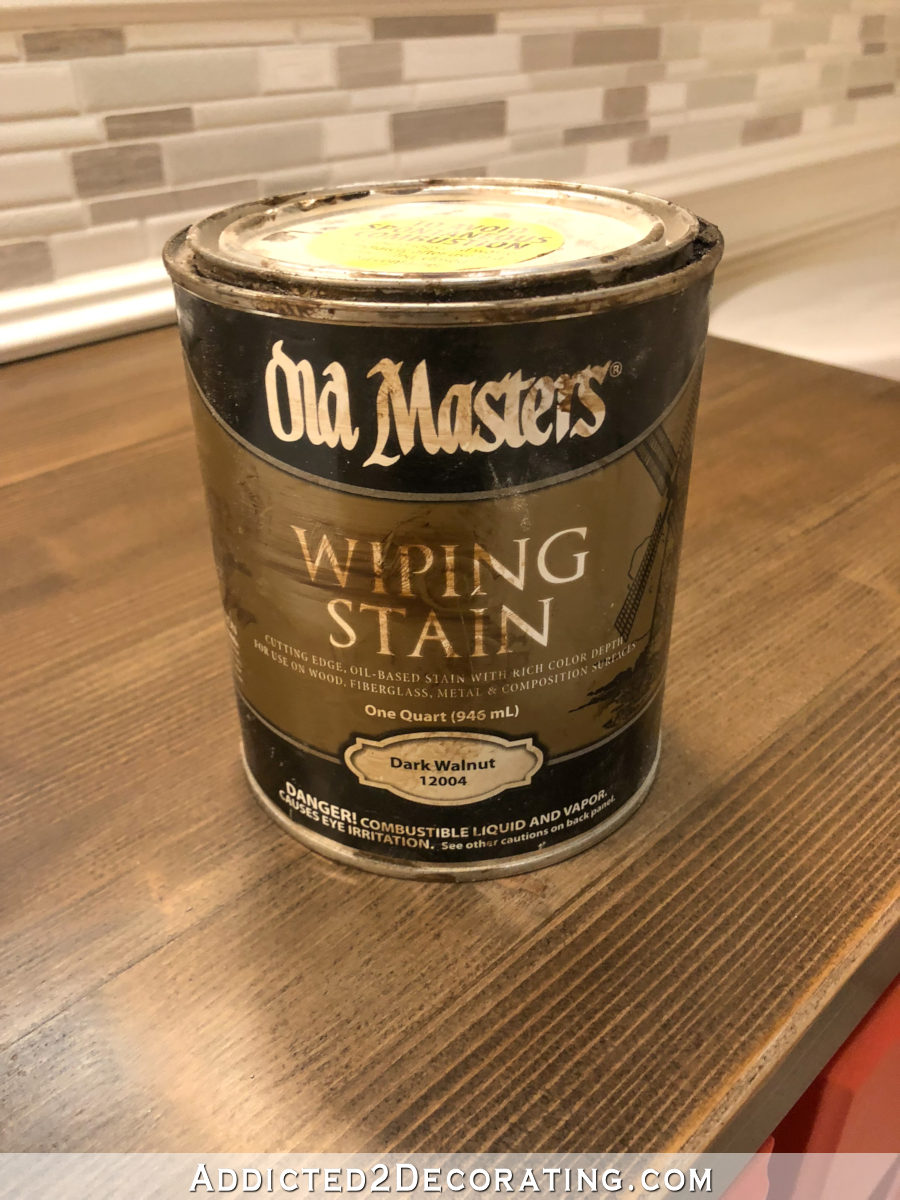 And then it looked like this…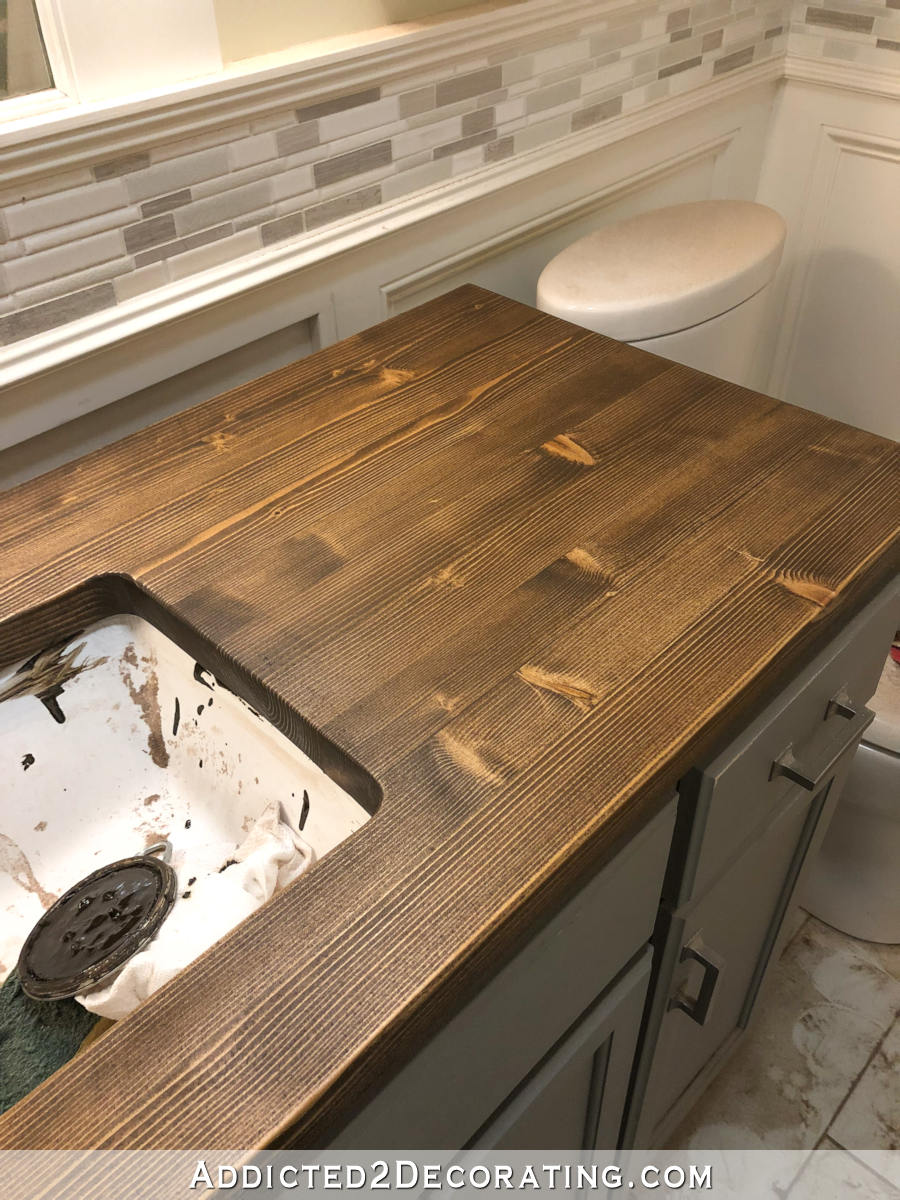 Needless to say, I wasn't pleased. The bleach did a great job at minimizing the orange and yellow undertones, but those knots! They practically glowed! If I had to do this project all over again from the beginning, I'd definitely pay a bit more for clearer, knot-free wood. I mean, those knots just stuck out like sore thumbs.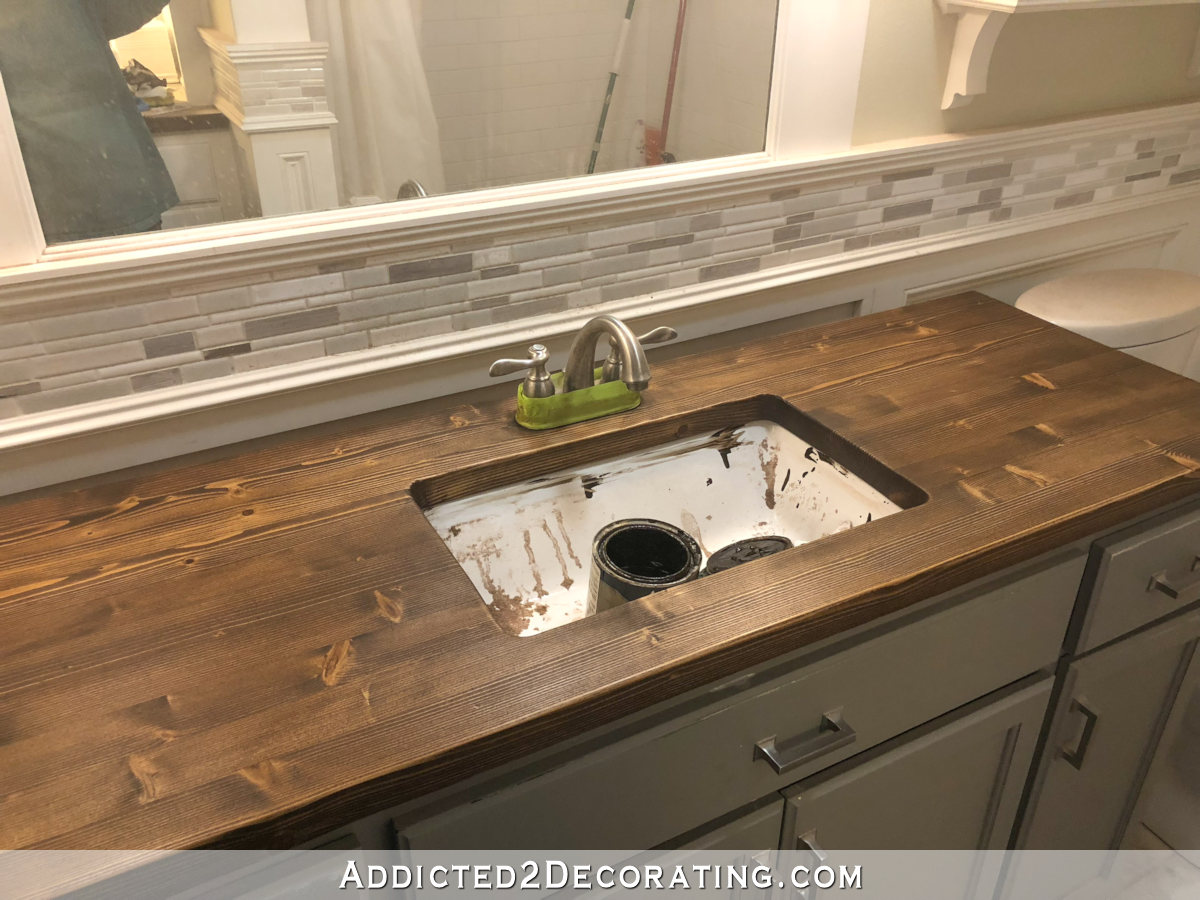 Step 4: Use a whitewashing/pickling stain.
After rummaging through my stash of stains and paints, I decided to give this white wash pickling stain a try over the dark walnut to see if it would even out the colors.
This stuff looks a little scary going on…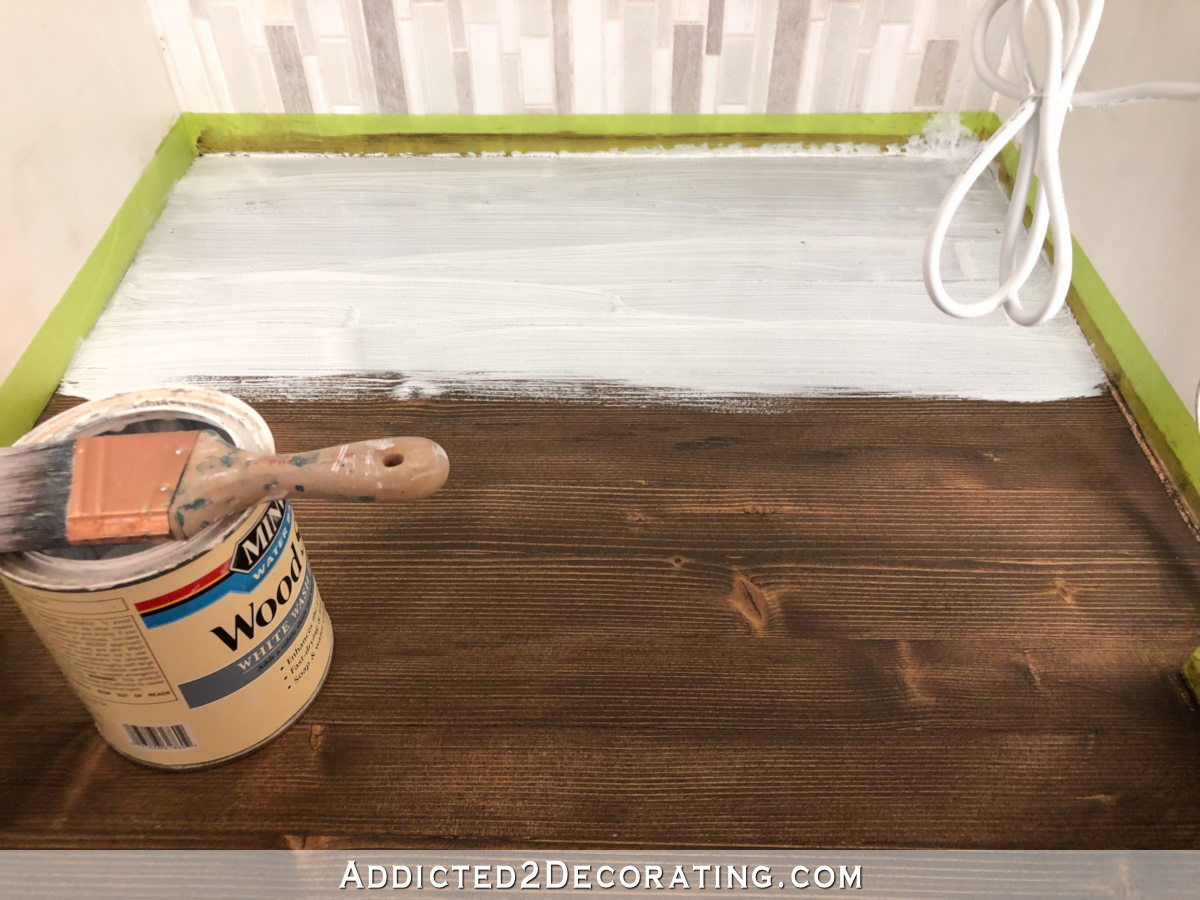 But once you wipe away all of the excess, it looks more like a light whitewash. I did have to use some 220-grit sandpaper strategically in some areas to even out the finish. It's a water-based stain, and those are always more difficult to get an even finish with than oil-based stains are since they dry so quickly.
Step 5: Apply another coat of wiping stain.
After that whitewash stain was really good and dry (I gave it several hours), I pulled out the Old Masters Wiping Stain again…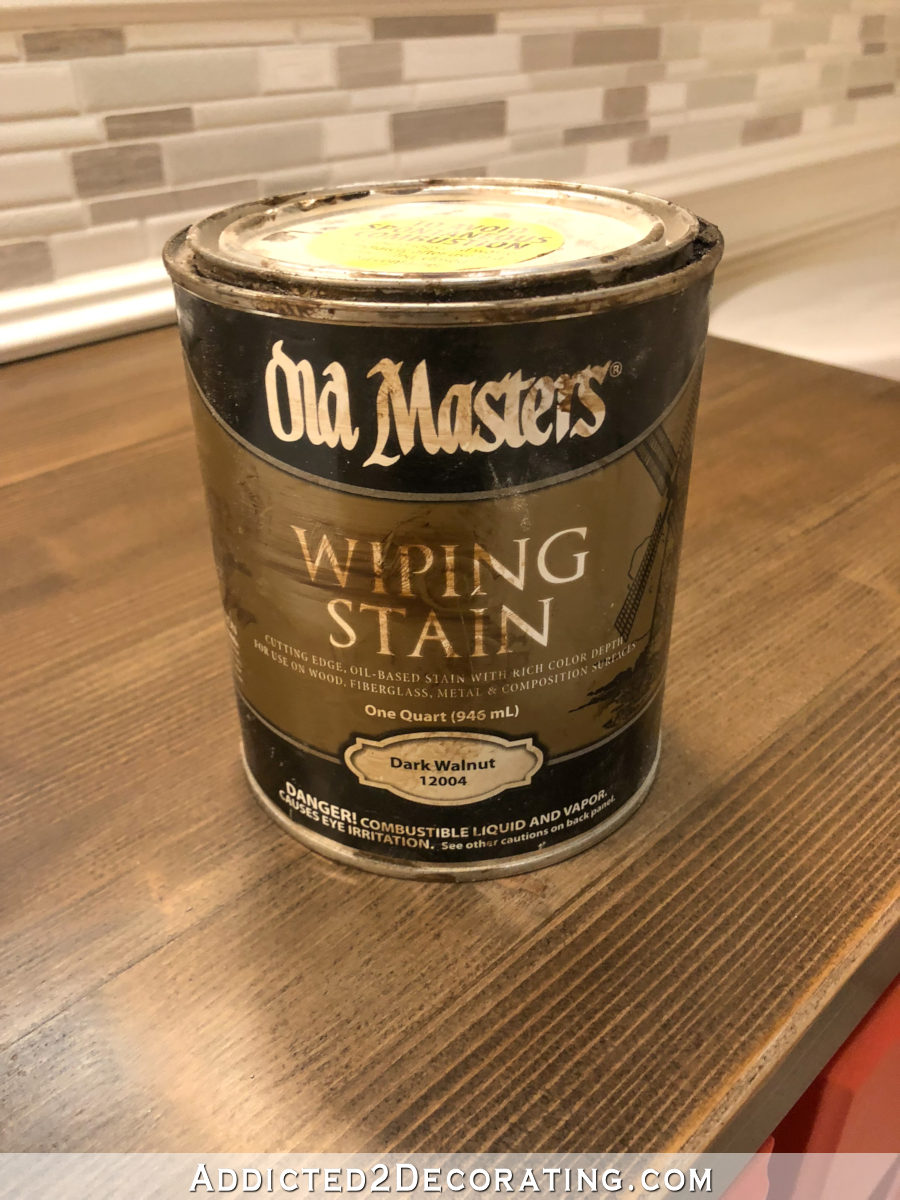 And gave the countertop three more coats over the span of about 24 hours, letting each coat dry thoroughly before adding the next.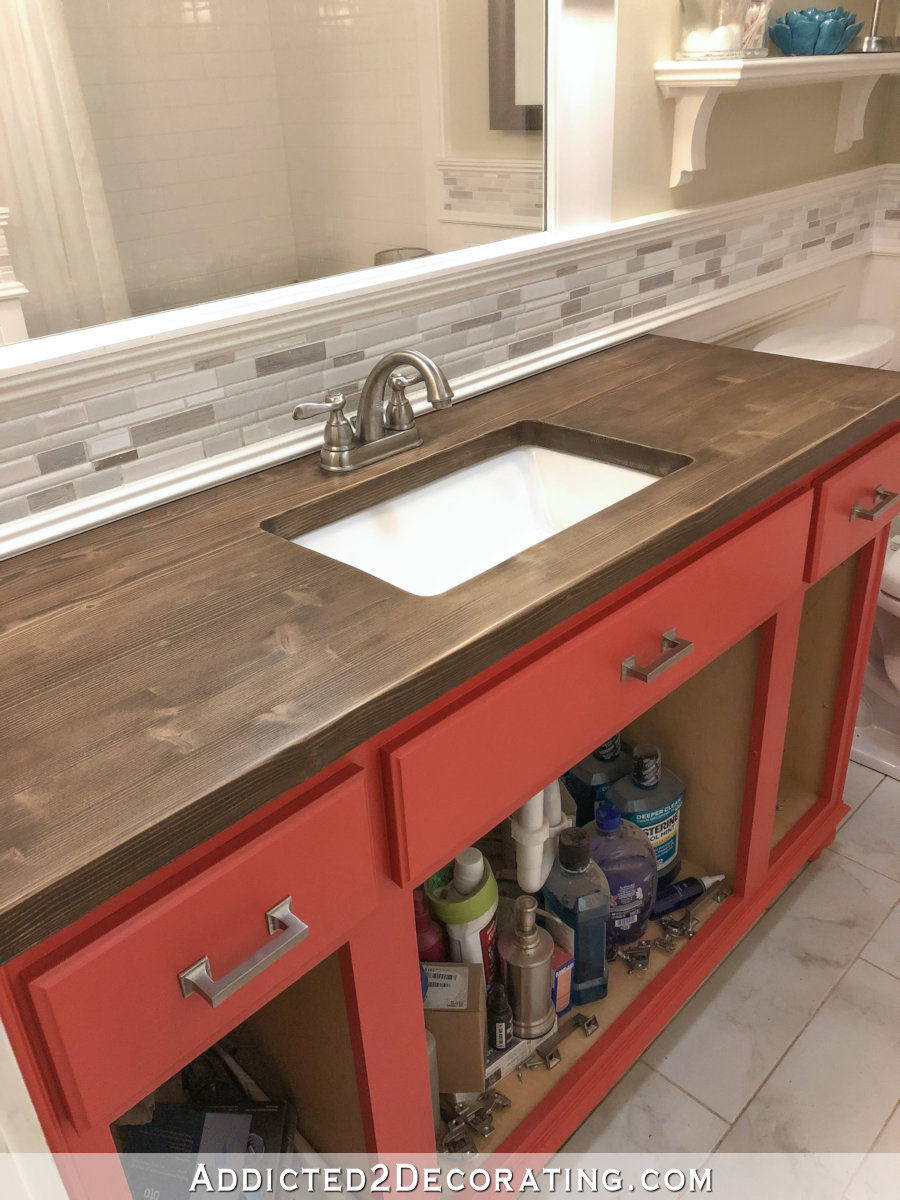 Step 6: Apply a clear coat sealer.
After the stain was completely dry, I gave the countertop two coats of General Finishes High Performance Top coat in a matte finish, sanding lightly with 220-grit sandpaper between coats.
And what I ended up with is as close to perfect as I'm ever going to get with pine. Yes, you can still see the knots, but at least they're not glowing. The water-based whitewash stain seems to have sealed the wood along with lightening it considerably, allowing the subsequent layers of wiping stain to give it a more even coloring.
It's not as pretty as walnut, but for pine, I'm pretty thrilled with how this finish turned out.
So from now on, here's my plan when I use pine…
My new go-to process for finishing or refinishing pine wood countertops and avoiding ugly orange and yellow undertones:
Sand the pine down to bare wood (if it isn't already),
Use Zinsser wood bleach to minimize the yellow color,
Give the whole thing a coat of water-based white wash pickling stain,
Follow up with as many coats of oil-based wiping stain (not penetrating stain) as needed to achieve the color I want,
Allow the stain to completely dry, and follow up with two or three coats of General Finishes Top Coat (I prefer the matte finish).
You'll notice that the steps I listed just above are a bit different than what I actually did on my countertops. That's because I was trying things and making it up as I went along as I worked on my countertop. But really, you shouldn't put a water-based product over an oil-based product (note: the topcoat is fine as long as you let the stain completely dry first as noted in the directions), and I'm pretty sure the result would be the same if I left out that very first coat of wiping stain and just started with the water-based white wash pickling stain.
It's taken me well over ten years to figure out how to refinish pine wood countertops, but I think I finally found a formula that will actually work consistently.
So hopefully I can get this bathroom finished up this weekend. Now that the countertops are done and the cabinet is almost painted (I used Behr Tandoori on the cabinet), I just need to paint the walls white and make a new shower curtain.
---
Helpful sources and products:
Want to see how I built this wood countertop that accommodates an undermount sink? You can see that here…
And if you missed the original before and after on this bathroom remodel (where I took the whole room down to studs, floor joists, and ceiling joists, and then rebuilt the whole thing), you can see it here…
Minwax White Wash Pickling Stain – This is what I used to seal and lighten the countertop. It's what I had on hand, but I would imagine any water-based white wash pickling stain would do.
Old Masters Wiping Stain in Dark Walnut – This stain is amazing for any project where you need to even out a stain color or get consistent colors on different types of wood. This is what I used to refinish my piano, which had at least two, if not three, different types of wood that all needed to appear the same color. It did an amazing job. In cases like that, just be sure you get the wiping stain and not the penetrating stain.
General Finishes High Performance Topcoat – This is, hands down, my favorite clear topcoat. It's water-based, but it is so durable. This is what I used over my painted kitchen cabinets, and y'all know that I'm very hard on surfaces. But I don't have a single scratch or chip in my painted cabinets, and my cabinets are so easy to clean. I always use the matte finish, which has just a slight sheen to it.
---
---
Update:
My bathroom makeover is finished! Want to see the entire project from start to finish? You can find every single post about the bathroom makeover right here…
Or you can skip to the end and see how it turned out. Here's a peek of the finished bathroom…
You can see more pictures on the before and after post right here…
*This post contains affiliate links.
Addicted 2 Decorating is where I share my DIY and decorating journey as I remodel and decorate the 1948 fixer upper that my husband, Matt, and I bought in 2013. Matt has M.S. and is unable to do physical work, so I do the majority of the work on the house by myself. You can learn more about me here.