Y'all, I'm pretty excited because I have finally decided on the layout of the master bathroom! It came to me in a dream. Okay, not really. 😀 It actually came to me in an Instagram house tour video by Coastal Hampton Style that was posted just a couple of days ago. You can see it below (or see it here), and if you just want to see the master bathroom layout, you can forward to the 7:45 point in the video.
Let me remind you of where our master bathroom will be located in our house. It's currently the master bedroom, but will be converted into a bathroom, and then we'll add on a new master bedroom.
So everything in pink is what will be added on in the future. The white areas are currently part of the house, and this is how they they will be arranged after the next phase of our remodel (and after some walls are moved, some are removed, and some closets are removed).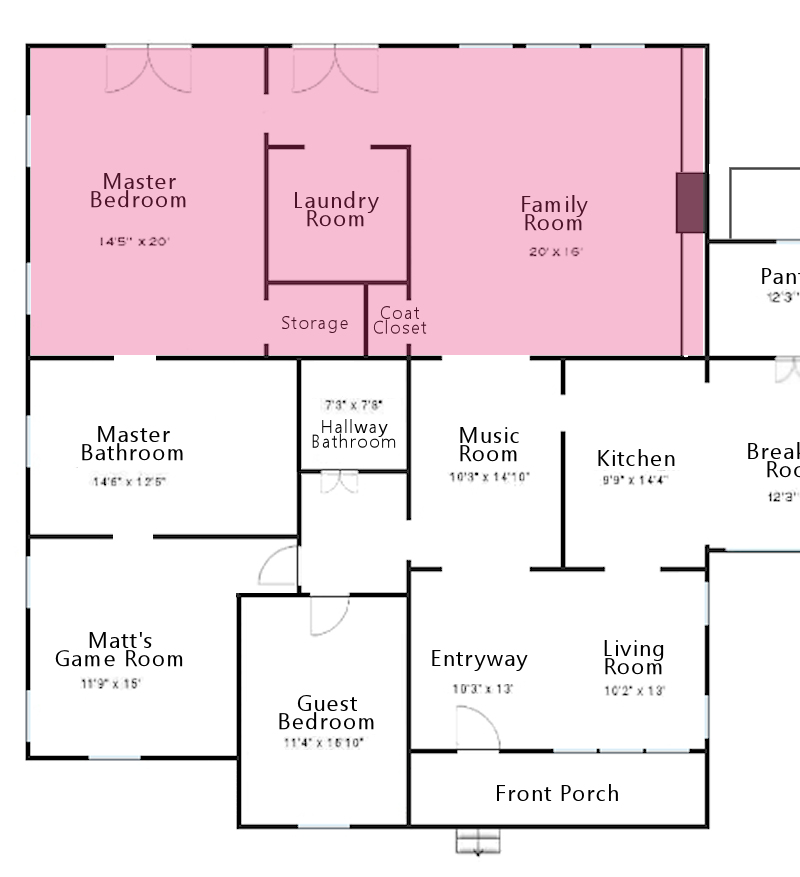 The master bathroom will be 18.5 feet by 12.5 feet once the current master closet is removed and the room is squared up, which will make the hallway smaller.
So based on the Coastal Hampton Style video as inspiration, I attempted the fit that exact layout into our square footage and came up with this…
That is the way the layout would appear if it were pasted onto the house floor plan, but I find it easier to look at if I flip it this way…
Based on the bathroom in the house tour, the tub was right in front of the window, the double vanity was sitting in front of a floating wall, and the area behind the wall was divided into the W/C (i.e., toilet, not walk-in closet 🙂 ) on one side and the shower on the other.
That was a fantastic starting point, and definitely got me on the right track. Before seeing that video, I had been trying to fit the bathtub and shower on the window wall, and no matter what I did, I just couldn't make everything work. So it was amazing to finally be out of that rut I had been stuck in and see things completely differently.
But there was one problem. Because our room is only 12.5 feet wide, and there needs to be room for two 36-inch-wide doors in that wall behind the vanity. That means that the double vanity can only be 6.5 feet wide. In most bathrooms, that would be fine. But remember that we're designing an accessible bathroom here, and in addition, dealing with my obsessive need for symmetry.
That means that I want both sides of the double vanity to look the same. My brain couldn't handle it if they didn't match. And since Matt's needs to be wheelchair accessible, that means that it needs to be open below the sink area. And that means that mine will be that way also. Well, if you have 60 inches of open space below the sinks, and the vanity is only 6.5 feet wide, that only leaves an 18-inch-wide area for storage. In reality, it would probably be a bit less than that.
Also, do I really want the bathtub in front of the window? My neighbor's big metal workshop building where he works on cars is about 20 feet from that window, and there are always people over there. Even with the most frosted of windows, I think I'd still feel self-conscious with the tub in front of that window.
So I decided to swap the tub and vanities, and that did the trick!
This way, we can each have our floating vanities that sit on either side of the window so that Matt can have his accessible sink and I can have my symmetry, and we'll still have plenty of room left in the middle for storage cabinets.
The only obstacle to this plan is the window. The exterior of the house on this side is stone, so any changes to the window size will affect the stone on the outside.
The window that will be the master bathroom is the one hidden behind that mass of overgrown shrubbery. But it looks exactly like the other one on the right.
So as you can see, changing the width of the window (i.e., making it narrower) would pose a problem and require all kinds of extra work and extra cost, so I want to avoid that and keep it the same width. But I do think that the bottom of the window can be raised by removing that thick, wide window sill stone, adding a couple more rows of stone, and replacing the window sill stone.
And since I kept all of the stone that was removed from the side of the front living room, I think I'll have enough to cover up the hole once the side window in the front middle bedroom is removed AND to rework the bathroom window. At least I'm hoping so, because finding Austin stone to match this style that was used 70+ years ago is virtually impossible.
So once the bottom of that window is raised, I can have my bathroom window and have a 12.5-foot-wide double vanity with lots of storage, accessibility and symmetry.
And most importantly, this layout allows for a huge W/C and a huge shower that will allow Matt to have plenty of room for wheelchair accessibility.
I'm so excited to have finally decided on a layout!
Addicted 2 Decorating is where I share my DIY and decorating journey as I remodel and decorate the 1948 fixer upper that my husband, Matt, and I bought in 2013. Matt has M.S. and is unable to do physical work, so I do the majority of the work on the house by myself. You can learn more about me here.
I hope you'll join me on my DIY and decorating journey! If you want to follow my projects and progress, you can subscribe below and have each new post delivered to your email inbox. That way you'll never miss a thing!