My bathroom countertop problem has been solved. Some of you probably saw my update at the end of yesterday's post. But if you missed it, I headed to Design Superstore yesterday to look over their quartz remnants and see if they had anything that would work.
I had my heart set on solid bright white, but sadly, they didn't have any of that in a remnant. And paying full price for such a tiny bathroom that isn't a main bathroom in our house just wasn't an option in my mind. They did have several remnants of one called Snow White, which has very subtle flecks of gray. I brought the sample home and decided that it'll work.
I'm excited about this decision. This countertop is going to see a lot of wear and tear, so quartz will be able to stand up to it much better than resin. They'll be here Thursday afternoon to measure, so hopefully it'll be installed at some point the following week and I can get back on track.
While I was there, I also ordered a big 5′ x 12′ piece of Wilsonart laminate for my work table(s) that I'll be building very soon. I've never installed sheet laminate before, so I'm excited for the challenge. Of course, I'll post the details of that project when I get to it. And I'm excited that it will require me to purchase a new tool. 😀 I've been wanting one of those little routers for quite some time, but had no need for one until now. I love an excuse to buy a new tool. 😀
Anyway, while I was at Design Superstore, I also decided to take a look at their HUGE selection of tile to see if I could find some jumping off point for our future master bathroom design.
Now to be clear, the master bathroom is still quite a ways away. We have a whole Phase 1 remodel that has to happen on the other two bedrooms and part of the hallway before the bathroom can even begin. But I'd love to have everything decided before we start on the bathroom so that I don't cause any delays with my indecisiveness.
I found quite a few tiles that I could definitely work with. Sadly, the one I thought was my absolute favorite turned out to be a huge disappointment. As soon as I saw this tile at a distance, I knew I had found the one.
But then I got closer and noticed this awful rust look on the tiles.
What the heck?! I mean, y'all know that the whole rustic/distressed thing just isn't my taste. I was so disappointed to see this beautiful tile ruined (for me) by this rust look. It would have been so perfect without it!
This Moroccan scale design in teal, turquoise, aqua, and white caught my eye. I love the colors as well as the size of the tiles.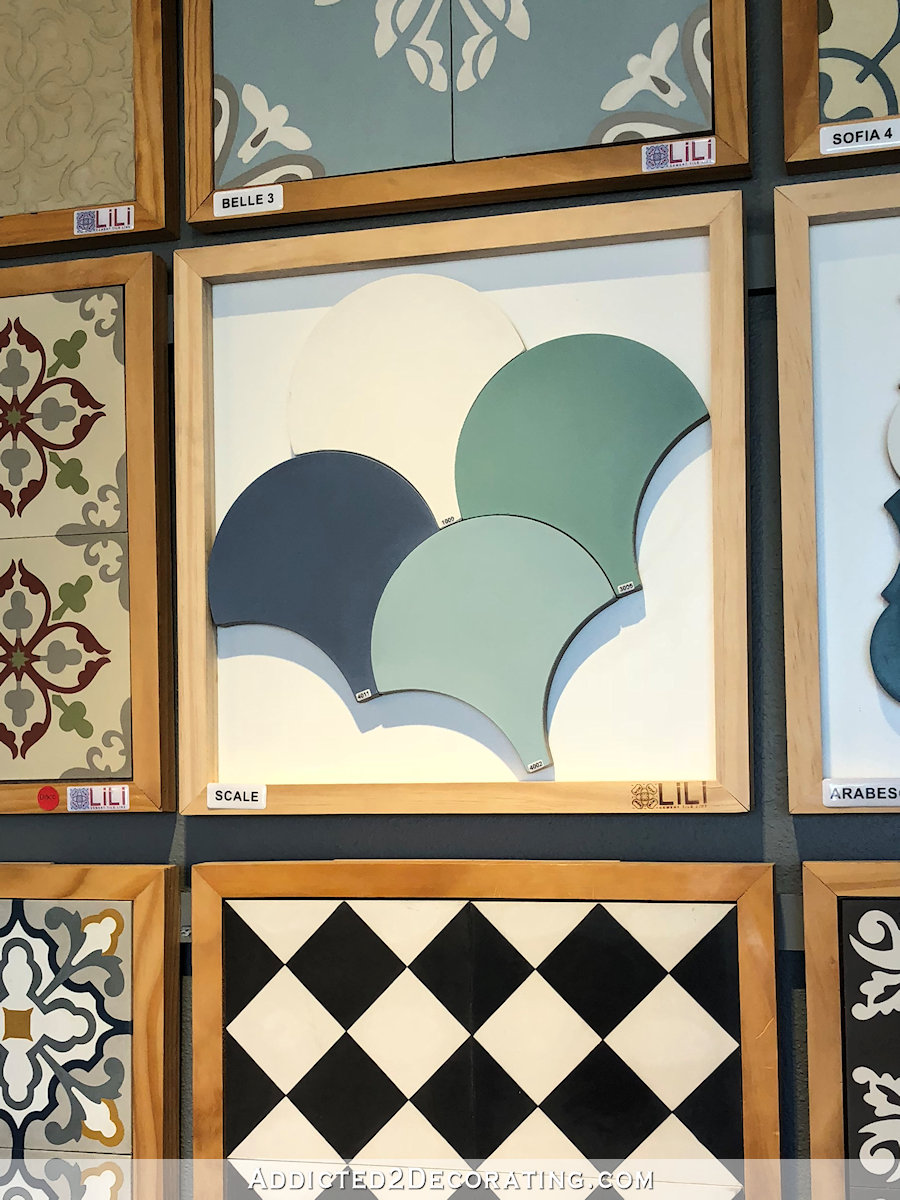 These colorful tiles also caught my eye. I don't know if you can see it, but they have a subtle horizontal pinstripe pattern.
After seeing the gorgeous color in the bathroom that inspired the layout of our master bathroom (which I shared here), I can't see myself using a whole lot of white. But if I were to go with white, I'd love something like these gorgeous white glass tiles…
I've always loved white glass tile, and I love the way that the light casts interesting shadows on these tiles, which just enhances the design to my eye.
And with my love of blue and teal, this tile naturally caught my eye. I really like the variation of color on the tile. I find it more interesting than a completely solid color.
And finally, I absolutely love this monochromatic floral mosaic. I took a picture of it thinking that there was no way Matt would go for it, but he actually said it's fine! I think it's because it's a solid color and not overly frilly, but whatever the reason, I'm so glad he's open to it! I would use it in small amounts as an accent. In fact, I think it looks gorgeous with the blue tile just above.
So those are the results of my preliminary search for master bathroom tile. Obviously, I'm drawn to blues and teals, which shouldn't surprise anyone. Now that I actually know the layout of the bathroom, I'm going to play around with some ideas using these tiles and see what I can come up with. I can't wait to get started on this project! It'll still be a while, though.
Addicted 2 Decorating is where I share my DIY and decorating journey as I remodel and decorate the 1948 fixer upper that my husband, Matt, and I bought in 2013. Matt has M.S. and is unable to do physical work, so I do the majority of the work on the house by myself. You can learn more about me here.
I hope you'll join me on my DIY and decorating journey! If you want to follow my projects and progress, you can subscribe below and have each new post delivered to your email inbox. That way you'll never miss a thing!