Last Updated on October 8, 2017 by Kristi Linauer
Good morning, all! I've spent the last two days trying to get things organized and cleared out so that work can start on the breakfast room. Let's just say that organizing is NOT my strength. On many occasions, I've found myself standing in the middle of the breakfast room just staring at the mess before me (all of my paints, stains, DIY supplies, tools, etc.), not knowing exactly how to tackle it. I'll get there, but it might take me a lot longer than someone who's really good at organizing.
In the meantime, I'll be meeting with the first floor leveling company today to give me an estimate on fixing the breakfast room floor. I don't know if you remember, but the breakfast room floor has two big cracks across it. Here's one of the first pictures I took of the floor as I was removing the carpet in 2013.
Yes, those are asbestos tiles. 🙂 And they're the bad kind.
I had asbestos tiles in my kitchen also, but they were the 12 x 12 flexible tiles that felt very much like vinyl tiles, and that were stuck to a wood subfloor.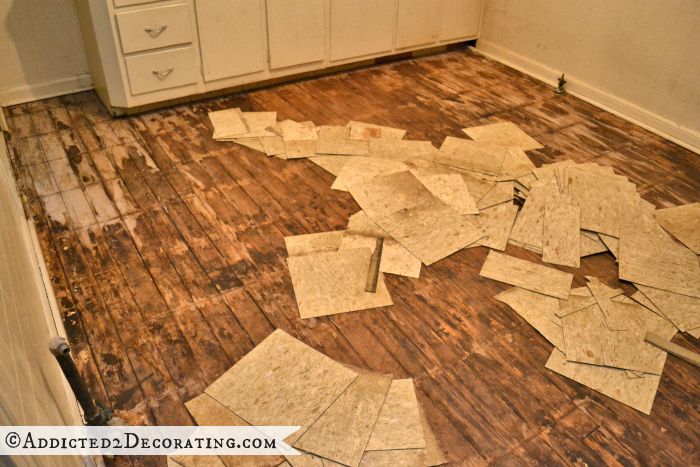 The thing about putting tile down over unsealed/unprimed wood is that over time (years and years), the wood will suck every bit of moisture out of the adhesive and make it brittle and useless. So I was able to pop those tiles up in whole pieces with no effort at all. There were a few broken tiles, but they were already broken. They didn't break as I was removing them. Thankfully, the adhesive didn't contain asbestos (I had the tiles and the adhesive tested), so there was really very little chance of any asbestos becoming airborne when I removed them.
The breakfast room is a different story, though. The ones in there are the 9 x 9 asbestos tiles that aren't flexible at all. Plus, they were installed over a concrete foundation, which bonds much stronger than to wood. There's really no way to get them up without them breaking and crumbling into thousands and thousands of little pieces. And of course, it's when asbestos breaks that it becomes airborne. As long as it doesn't break, it's fine.
So the only option that I can see for the breakfast room is to encapsulate the asbestos tiles, which basically means that they'll just pour concrete right over the top of them. At least, that's been my plan all along, so it'll be interesting to see what the floor leveling guy has to say about it today. I hope and pray that those tiles can be encapsulated, because asbestos abatement is very expensive and would eat right through my budget.
Anyway, back to the floor leveling…
I know some of you are thinking, "Didn't you have your floor leveled in the house a couple of years ago?"
Yes. Yes, we did.
But at that time, they only did the pier and beam part of the house, which is the original part of the house. And to level a pier and beam foundation, they crawl underneath the house, use jacks to jack up the low parts, and shim under the beams that run under the house and hold the whole house up. You can click that link above for more info on that process if you're not familiar with a pier and beam foundation.
The floor in our breakfast room is a completely different thing. Our breakfast room wasn't originally part of the main house. It was some sort of covered, open air walkway/porch area that connected the house (kitchen) to the garage. And the original footprint of the outdoor covered area ended in line with the back of the garage (minus the storage room at the back of the garage).
Unlike the rest of the house, that area has a slab concrete foundation that appears to be about two feet thick. So at some point, that slab foundation was extended to the back of the storage room behind the garage (which I think was also an addition at some point), and then the room was enclosed to become part of the house. I don't know when that was all done, but I would guess that it's been at least forty years. And since then, a crack has formed across the room where the original slab foundation meets the extended slab foundation that was added to make the room extend to the back of the storage room. And another crack has formed at the front of the room. Plus, the age and shifting soil has caused it to become unlevel.
The floor actually dips down in the middle a bit. When the floor levelers were here two years ago, I had one of them look at it, and he actually thought that the floor might not be solid concrete. He thought that it may be a wood structure with concrete poured on top, which sounds very strange to me. But evidently he had seen those before, because he was familiar with the process of leveling that type of floor.
I'll be interested to hear what the guy has to say today, and I'm hoping for a very reasonable estimate! Once this floor leveling gets done, this will be a HUGE relief! It'll be so nice to have that room actually feel like part of the house. Right now, with the step down into that room, and the awful asbestos floor, it just feels like a huge storage room, and that's exactly how I've used it and treated it for the last two-and-a-half years.
So there's no real progress yet, but there's progress towards making progress. 😀
Addicted 2 Decorating is where I share my DIY and decorating journey as I remodel and decorate the 1948 fixer upper that my husband, Matt, and I bought in 2013. Matt has M.S. and is unable to do physical work, so I do the majority of the work on the house by myself. You can learn more about me here.
I hope you'll join me on my DIY and decorating journey! If you want to follow my projects and progress, you can subscribe below and have each new post delivered to your email inbox. That way you'll never miss a thing!