Last Updated on October 6, 2017 by Kristi Linauer
Thank you so much for all of your suggestions on yesterday's post about light neutral wall colors! I wrote down all of the Benjamin Moore colors and headed to my local Benjamin Moore store yesterday afternoon to take a look. I honestly thought most of them were very pretty, but most just weren't quite right — green undertones, purple undertones, too dark, etc. I wanted a barely-there light neutral, and I'm pretty sure the one that perfectly fits the bill is Classic Gray. I didn't have time to get the breakfast room painted yesterday (but I did make great progress on the peninsula and trim on the walls), but here's a peek at this beautiful neutral in a few other rooms.
Of course, it looks a little different in each room depending on factors like light, but the large test swatch on my wall looks so very pretty. I hope to get all of the trim and walls finished this weekend, and also get the door painted, so that I can move on to my two fun projects for the month — refinishing the dining table and painting and reupholstering the dining chairs.
And so that I'll be ready for next month's projects, I also want to go ahead and get my fabric ordered for the breakfast room draperies.
I have my heart set on white. White linen, to be exact.
That seems a bit out of character for me, right? I know. But it's not completely unprecedented for me. When I was getting ready to put the condo on the market, I used plain white curtains in the living room…
…and while I never actually lived with them, I do remember thinking how I loved the simplicity of the white and wanted to use them in a room I'd actually get to enjoy. And those were just super cheap curtains that I made out of inexpensive drapery lining. Linen draperies will be much prettier.
But I do love trim, too. I really liked the curtains I made for the condo bedroom.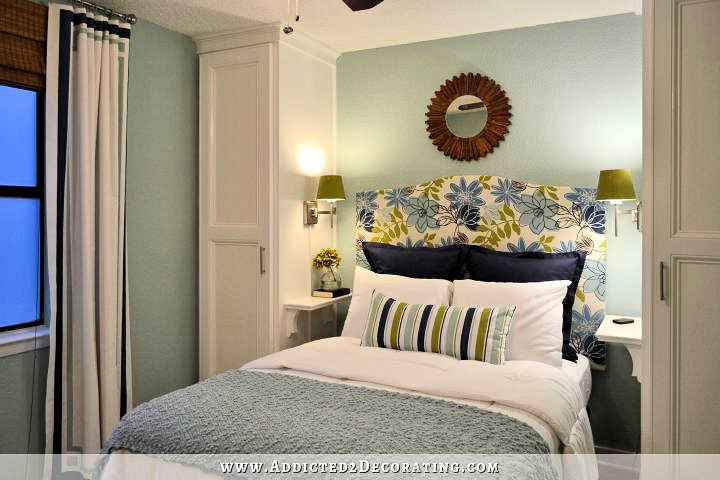 Those were also made with inexpensive drapery lining and paint. Yep, I just painted those edge details right on the fabric with leftover Behr paint. (More on that here.)
But of course, that was the condo. Cheap was the name of the game when decorating the condo. Here at the house, there will be no painted curtains made from inexpensive drapery lining. 🙂 But I'd love a chance to take that idea of white curtains with simple embellishments and take it up a notch with better fabric, actual trim (rather than paint), and well-made draperies.
Something like this has a simple, uncluttered look, but can really give a customized look to a plain white drapery panel.
via Home Bunch
Anyway, I'm not quite sure yet what trim design I'll use on my white draperies (if any), but I just want this room to have a very light and airy overall feel to it when it's finished. It's a small room, and could very easily become cluttered and busy, so I want to keep things simple. But don't worry. There will be color. 🙂 I'm not turning into a neutral house person, I can assure you.
Addicted 2 Decorating is where I share my DIY and decorating journey as I remodel and decorate the 1948 fixer upper that my husband, Matt, and I bought in 2013. Matt has M.S. and is unable to do physical work, so I do the majority of the work on the house by myself. You can learn more about me here.
I hope you'll join me on my DIY and decorating journey! If you want to follow my projects and progress, you can subscribe below and have each new post delivered to your email inbox. That way you'll never miss a thing!