Last Updated on March 3, 2022 by Kristi Linauer
This rolling door design just keeps changing daily. But if you know me at all by now, you know that I'll continue to change my mind until I finally land on something that feels and looks just right (to me).
Yesterday's door options post was me trying (once again) to fit a rustic/farmhouse/cottage look into my house. Why do I keep doing that? I love that look, but it's not what I'm going for in my house. Yesterday I kept sitting there at the table (currently in the music room) looking at that door with the top part cut out, right there next to my green kitchen with the gold leaf, and the two just did not mesh. At all. And there I was thinking about adding to the country/rustic/farmhouse/cottage style of the door with trim and possibly a worn paint finish? What was I thinking?
So I made one more modification to the door.
Now I feel like I'm finally on the right track. This won't end up being a typical French door. Let's just say there will be lots of pretty trim, maybe some gold leaf, and probably some antique brass nailheads mixed in to the design before all is said and done. And they'll be black. And suffice it to say that there will not be even one hint of cottage/country/farmhouse/rustic style on these doors. And they'll look like they were custom made to blend right in with my green and gold kitchen.
So with that in mind, I've been trying to find some really pretty, large, statement-making door pulls for these doors. Turns out that finding reasonably priced large door pulls in an antique brass finish that I actually like has been an impossible task. Every time I happen upon one and think I've found the one, the price ends up being over $150. Per pull. That means in the end, I'd pay over $600 for four door pulls. That's not going to happen, I can assure you.
Obviously I needed to get a bit creative. But do you know what looks a lot like large door pulls? Towel bars! So I started searching for reasonably-priced towel bars. They seemed a bit expensive, too. But after looking at $150+ door pulls, the price seemed a whole lot more reasonable. My very favorite one is this Pearson Towel Bar from Pottery Barn.
Am I crazy, or would that make a gorgeous door pull? Obviously in that picture, it looks like a towel bar, but that's because it's installed horizontally on a tile wall. If you take it out of that context, and install it vertically on a door, would it look like a fancy door pull? I think it would, but please tell me if I'm being crazy.
That door pull…ummm, towel bar…is 18 inches long, but towel bars usually come in three separate pieces, and the center tube is separate. So it could be cut down just a bit if I wanted it shorter.
Anyway, that one was my absolute favorite that I found, but I'd have to get my doors finished to see if the stile on the door is wide enough to accommodate that door pull.
I also came across this Dolce Towel Bar from Signature Hardware that could possibly work as a door pull.
But the base on that one has a very typical "towel bar" appearance, in my opinion. Plus, the actual bar is a smaller diameter than the Pottery Barn towel bar. I think one thing that really draws me to the one from Pottery Barn is the substantial look of the actual bar itself.
Anyway, there are countless different styles available, and I think so many of them would work as door pulls. What do you think? Have I finally just completely gone off the deep end on this one, or do you think this idea would work?
Side note: As I was just writing this post, I got an email saying that my replacement kitchen cabinet doors and drawer fronts are ready and awaiting shipment!! YAAAAYYYYYY!!!!!!!
UPDATE: Now I'm really torn between the Pottery Barn towel bar and these awesome peacock pulls on Ebay that Anne Marie shared in the comments below. Y'all know I have a weakness for anything with a bird on it! 🙂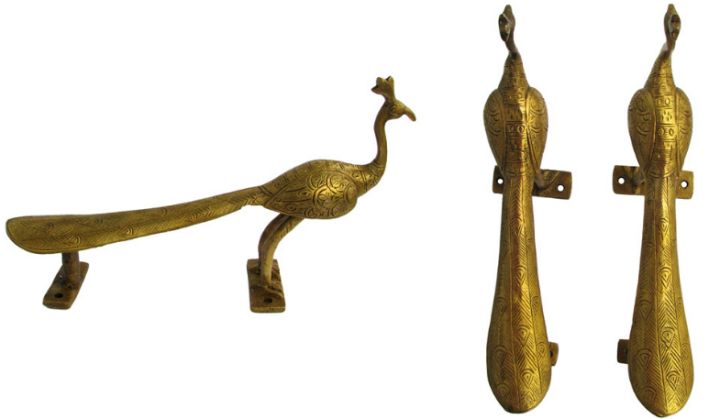 Addicted 2 Decorating is where I share my DIY and decorating journey as I remodel and decorate the 1948 fixer upper that my husband, Matt, and I bought in 2013. Matt has M.S. and is unable to do physical work, so I do the majority of the work on the house by myself. You can learn more about me here.
I hope you'll join me on my DIY and decorating journey! If you want to follow my projects and progress, you can subscribe below and have each new post delivered to your email inbox. That way you'll never miss a thing!