Well, I'm definitely not going to make it all the way through my "to do" list for 2017, but you know what? I'm okay with it. I'm actually quite proud of myself for the progress that I did make on the house this year.
I'm definitely in that December state of mind, where I'm winding down the house-related projects. That doesn't mean that they're coming to a grinding halt, but more like a very slow crawl. A trickle.
The most exciting thing that's still on the books for this month is that we're getting our house painted next week! I'm so excited, not only because it's getting done…finally…but because I'm not doing it myself. 😀 So this rather dull facade with the test paint samples in three areas on the front…
…is hopefully going to look a quite a bit different with Mindful Gray (#4 below) on the siding and stone…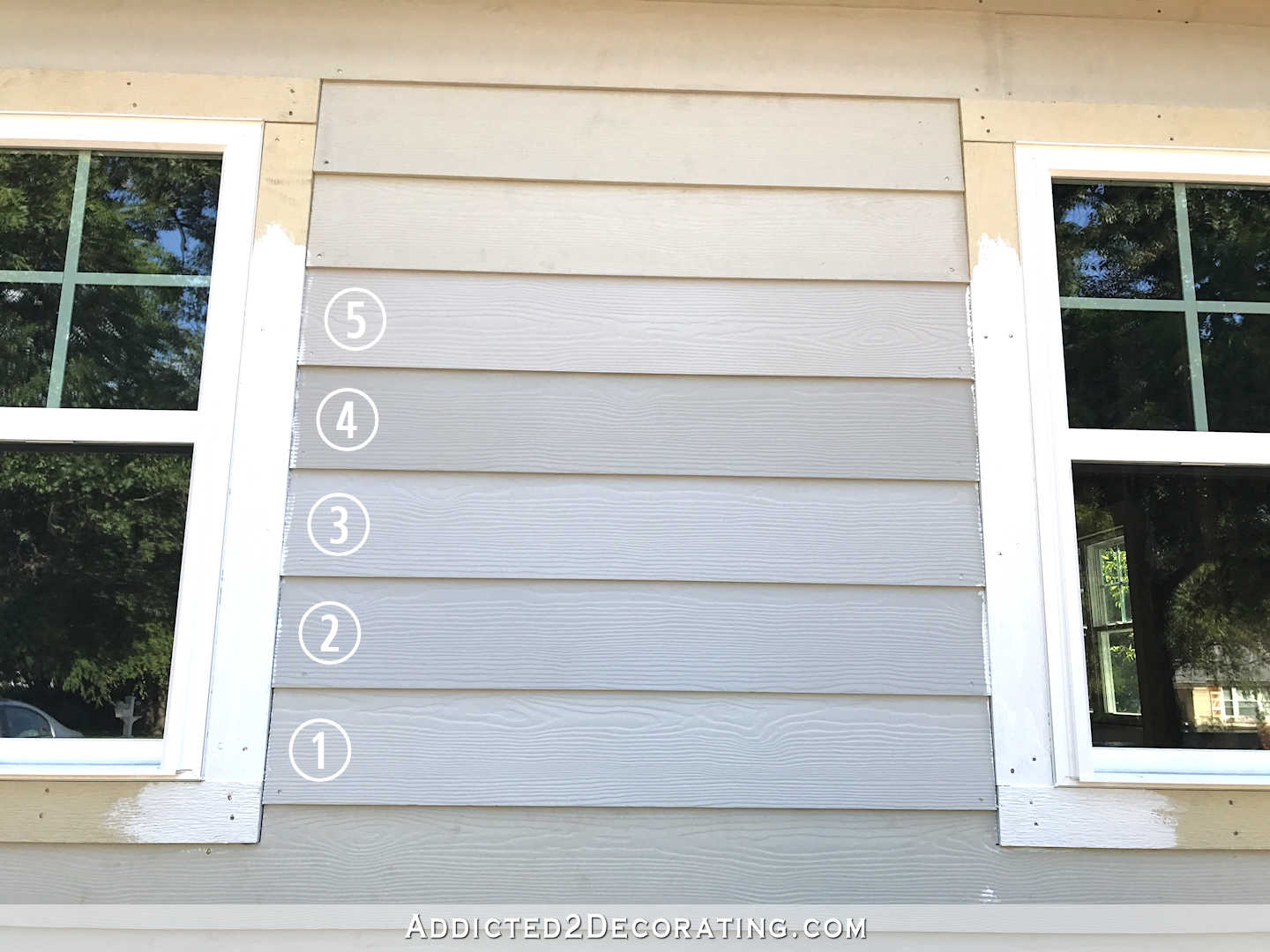 …and white on the trim. I'm not sure which white I'll use. The one shown above is just the pure white base that they mix paint into, but I might choose something else. I want it white and bright, but not too stark.
So that's the one last big thing still to be done this year, and that will open up the possibility of so many fun outdoor projects in the spring — shutters, flower boxes, a pergola that I want to build above the breakfast room windows, etc.
But in addition to that, I have about four or five things left on my "really, really want to get done" list in these next two weeks.
First, I really want to get my hallway done. It's so close! Sooooo close! I need to do some caulking on the cabinets, but the rest is fun stuff, like getting this wall finished.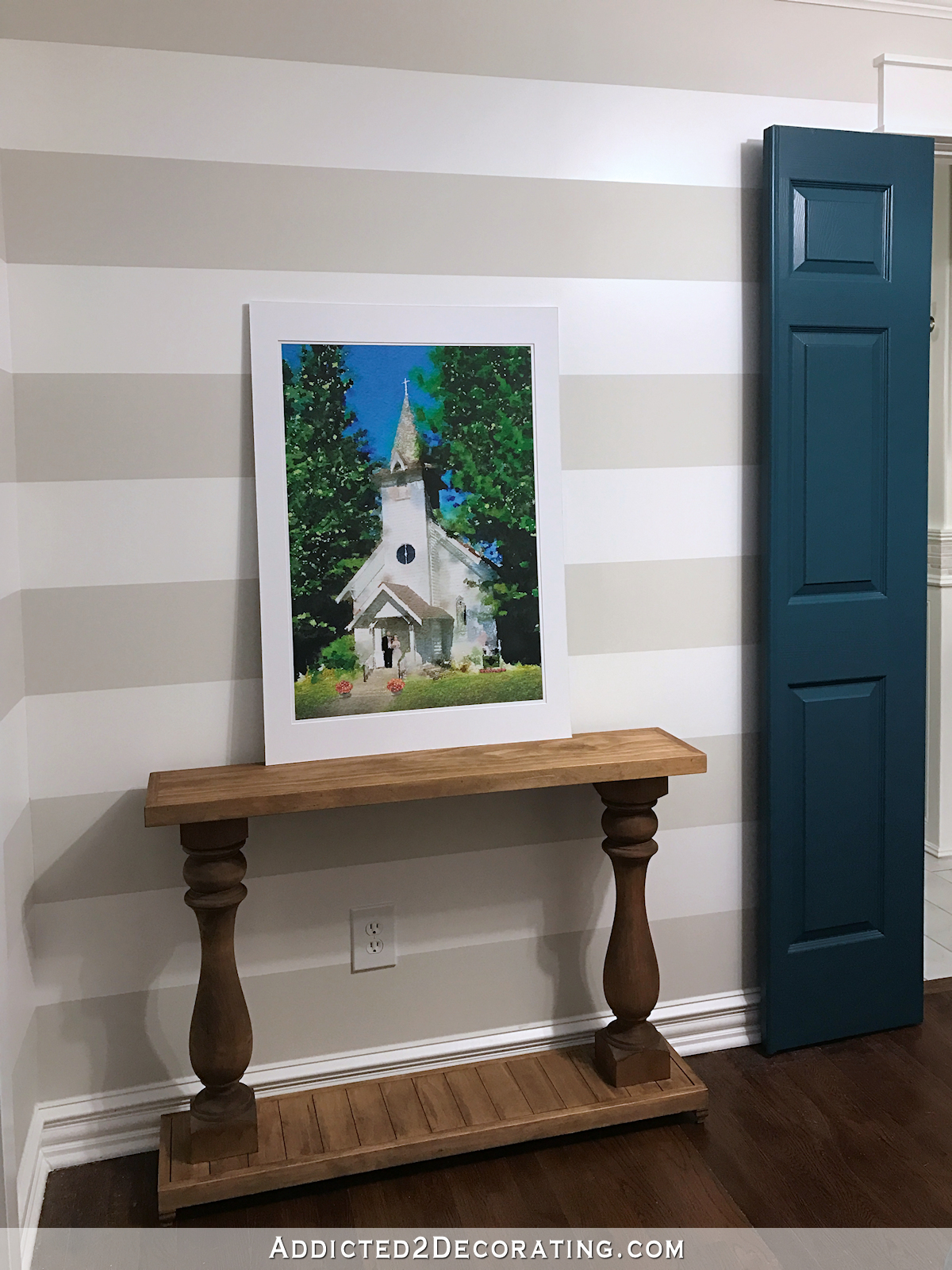 I decided to paint the table, and right now I'm trying out Kendall Charcoal, which is basically what I have on the fireplace in the living room (although the fireplace color is just a bit darker than Kendall Charcoal because I had them alter the formula leaving out the white). I have a coat of Kendall Charcoal on the table right now, but I'm thinking it might be too dark for the hallway, so it's possible I'll have to pick another color. I'll be honest, I know green might be too much for some people, but I did this (really terrible) mock up and I just can't get it out of my mind. I really love it (minus the distressed look).
I also want to get that picture framed. I got my non-glare glass cut for it, so all I need is a frame, but I'm just having a hard time making a decision. I think I want a really thin gold metal frame to add just a whisper of gold around the edges, but every time I go to push that "place order" button online, I can't make myself do it. But I'll make a decision in the next couple of days and get this wall done.
And then for the opposite wall, I ordered a set of prints from an Etsy store called Watercolor Paperie. I've had my eye on this set of colorful watercolor geode slices, so I thought my hallway would be a great place for them.
via Watercolor Paperie
I have no idea when they'll arrive, but I'm hoping it'll be in time for me to get them framed and hung on the wall by the end of the year.
I'd also like to get my piano completely finished. I needed a break from working on the hallway cabinets a while back, and decided to take a day or two to refinish the piano. Two days turned into a week, and by the end of that week, I had gotten all of the hard parts finished — stripping and restaining. I had even gotten some polyurethane on parts of it, but after spending a week on the piano, I decided that's all the time I could spare away from the hallway cabinets at the time. So the piano project has been stalled since then. About half of it still needs a first coat of polyurethane, and then whole things needs a very light sanding and a second coat of poly. And when that's done, it's possible that it'll even need a third coat.
Now that the hallway is winding down, the piano is a pretty easy project that I can get back to and finish fairly quickly.
And finally, I'd like to decide on fabric for my living room chairs, and possibly for some throw pillows to bring all the colors together, and get the fabric ordered so that it's ready to go at the beginning of the year. So far, this is what I have…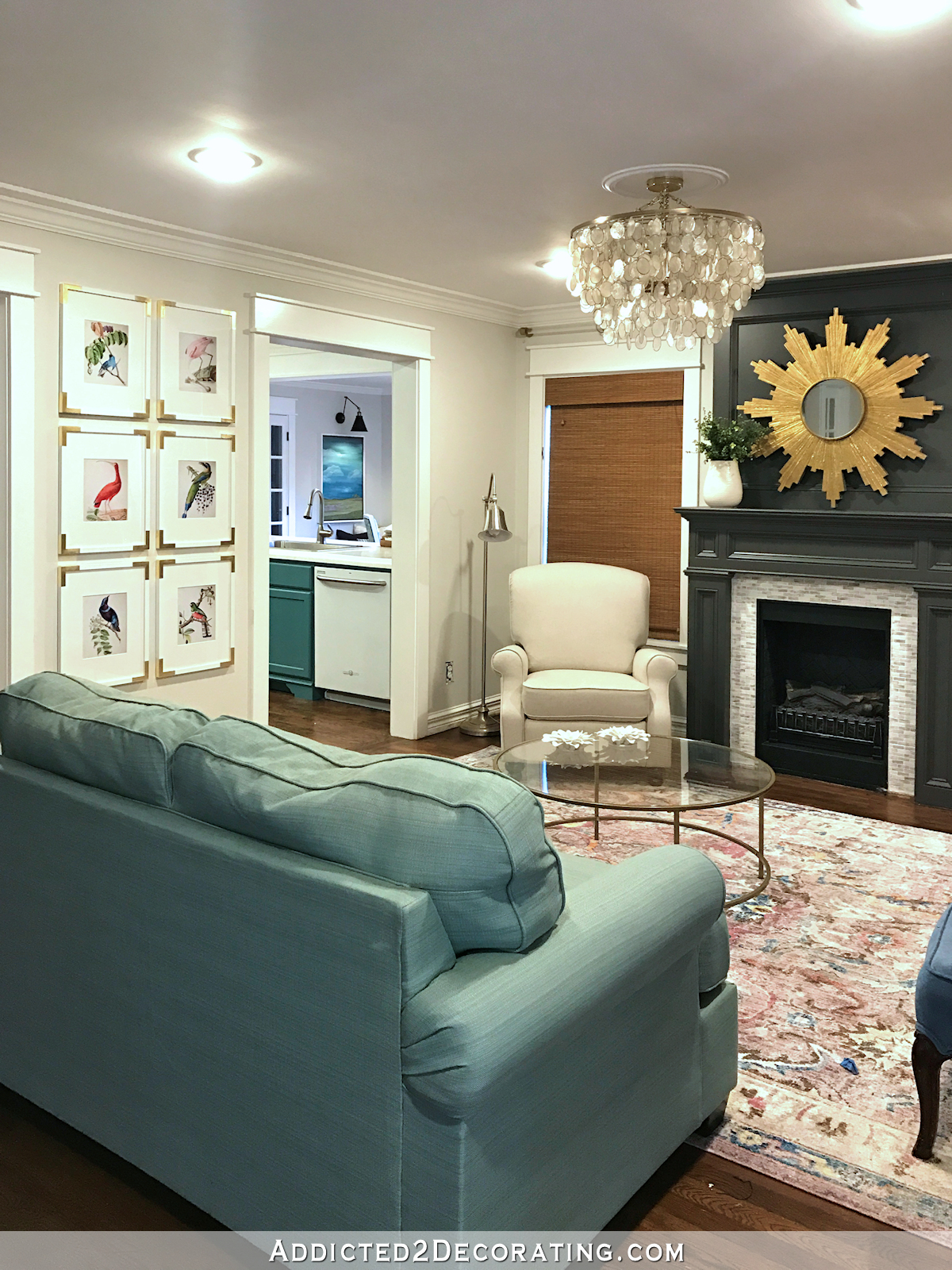 I've decided to move the loveseat in front of the windows, and then use the other chairs (the ones I had originally planned to use) where the loveseat is sitting in the picture above. The others chairs are fully upholstered, with skirts to the floor, and they just look better in that position than the chairs with the wood legs.
But I'm having trouble deciding on color for the chairs. The safe route would be dark purple. My chairs aren't anything like this style, but this is the color I'm leaning towards…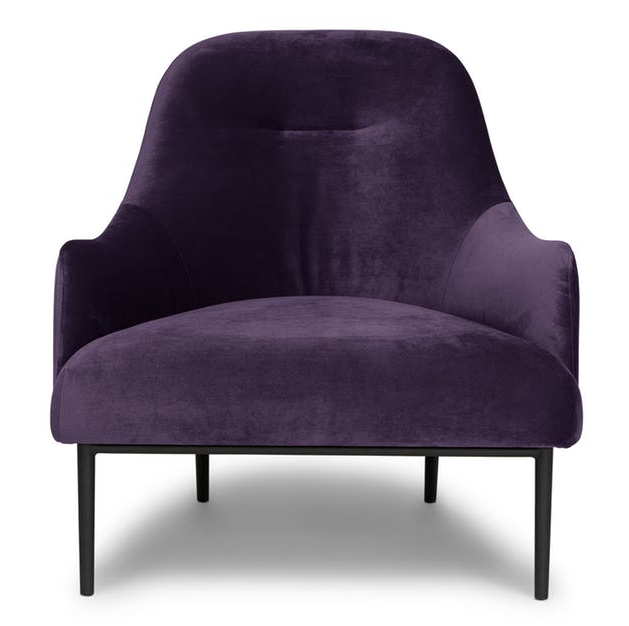 via Article
I think that that would be a beautiful color on my chairs. Safe. Predictable. A little matchy. But pretty.
But I keep seeing pictures of chairs covered in warm colors that just make my heart skip a beat, like this one with the contrast piping. (Did I mention that mine will have contrast piping and buttons on the tufted backs?)
And this amazing tangerine velvet…
I mean, I can't express how much I love those. And a bright warm color on those chairs just might be what my living room and entryway need. If I could find a velvet that's similar in color to the trim that I bought for the draperies, I think it would be amazing.
So as I wind down for the year towards my annual one-week complete blog/project break during the last week of the year, I do still have my eye on a few goals. And if any of you have any input on great sources for upholstery velvet (no cotton velvet — I like polyester velvet or poly blend velvets since silk velvet is generally way out of my price range), or if you have any input on the perfect Sherwin Williams white that will be perfect on my trim with the Mindful Gray siding and stone, I'd love to hear about it!
Addicted 2 Decorating is where I share my DIY and decorating journey as I remodel and decorate the 1948 fixer upper that my husband, Matt, and I bought in 2013. Matt has M.S. and is unable to do physical work, so I do the majority of the work on the house by myself. You can learn more about me here.