Y'all, my life (my DIY life, that is) has been changed. Revolutionized. I know that sounds dramatic, and maybe it is, but I don't think I'm being overly so.
One of the biggest problems I've had when DIYing big projects that require sheet goods like plywood or MDF is that they're just so dang difficult to cut. Until now, I almost never dragged full 4 x 8 sheets of plywood or MDF home and cut them myself, even though I made sure that I bought a truck with an 8-foot bed specifically so that it would hold full sheets.
My process until now has been to decide exactly how I needed each sheet cut for the project I'm making, like the cabinets and built-in daybed in my niece's bedroom…
…and draw a diagram showing how the specific pieces would be cut from each piece of plywood or MDF. Those cut diagrams would look like this…
And then I'd take my diagrams and cut lists to Home Depot and have them cut all of the pieces for me. I'd literally guide the person from one cut to the next telling them exactly where to cut, how to set the saw for the next cut, whether to measure from the bottom or the top, etc. Yes, I micromanage them. 😀 But they always seem to really appreciate it because it makes the process go much faster, and they don't actually have to spend their time figuring out how to get the cuts I need from each sheet. They just have to do exactly as I tell them. 😀
That process has worked okay, and obviously I've gotten lots of big projects done by using that process, like the music room bookshelves…
…and the hallway cabinet…
That process has some problems, though. First, at times, I've had to wait up to 45 minutes for someone to be available to cut the plywood for me. That's valuable time wasted. Also, Home Depot doesn't change their blade as often as I'd like, which means that most of the time, the cuts on plywood result in the top veneer being chewed up along the edges. And then there's the fact that I'm relying on someone else's accuracy (or lack thereof) rather than having full control myself. And although it doesn't happen often, I've gotten some pieces that are off by 1/8 to 1/4 inch. That can be pretty significant, depending on the project.
Even with those issues, having them cut the sheets for me was always more preferable to bringing the full sheet home myself, trying to find a way to prop it up using 2 x 4's so that my circular saw blade could go all the way through the material and not hit the work table, floor or concrete underneath. Then finding a straight edge that's long enough and actually straight, measuring and marking the cut, and then clamping the straight edge into place for every single cut. That process just stinks, and it's so time-consuming. Then you get to the end of the cut, and the plywood starts to shift and binds the blade. And then as you finish the cut, one end inevitably falls to the ground and scars the face of the plywood.
I'd rather deal with chewed up edges and slightly wrong widths than go through all of that to cut enough pieces for a big project.
Of course, I'd love to have one of those massive, industrial-sized table saw set ups that hold full sheets of plywood as you easily guide it through the blade, but I have no room for such a thing right now.
But y'all. The solution is so easy. I mean, it's stupid easy. I saw this on a video a few days ago, and my mouth was hanging open at how ridiculously obvious this solution is, and I couldn't believe that I hadn't thought of it at any point during the last 10 years.
The obvious solution? A 4 x 8 piece of rigid foam insulation. This is the one I bought. One sheet is around $20, and it will probably last through a couple of big projects. Right now I'm working on my pantry cabinets, and I'm about halfway through with the cuts I need to make, and the insulation board is holding up great.
So you just put the insulation board on your work surface, and then place the plywood directly on top.
I'm working directly on the floor since I'm working by myself, and I didn't want to have to lift sheets of 3/4″ plywood up onto a work table to cut them. But if I had a helper, I would have set up my saw horses, placed a piece of plywood on top, then put the foam board on that to create my work table.
I set my saw to cut just over a 3/4″ depth (probably around 7/8″ to 1 inch), and the blade goes right into the foam insulation. And since the insulation board is one inch thick, there's still plenty of it left intact to hold together, even after making 20+ cuts. I have zero doubt that I'll be able to make all of my necessary cuts for the pantry cabinets using this one sheet of foam insulation, and it'll probably last me all the way through my studio cabinet project as well.
I mean, that's such a ridiculously simple idea, right? And yet, it's one that had never occurred to me. I'm sure there are plenty of you who already use this method, but for those of you still trying to prop full sheets of plywood up on 2 x 4's or sawhorses so your blade will go through the material, and then cursing when the plywood shifts and the blade binds, I wanted to pass this tip along. I don't think I'll ever have Home Depot cut plywood or MDF for me again.
But the second piece to this equation that has revolutionized my plywood cutting is this Kreg circular saw guide. I bought mine on Amazon (click here to find it).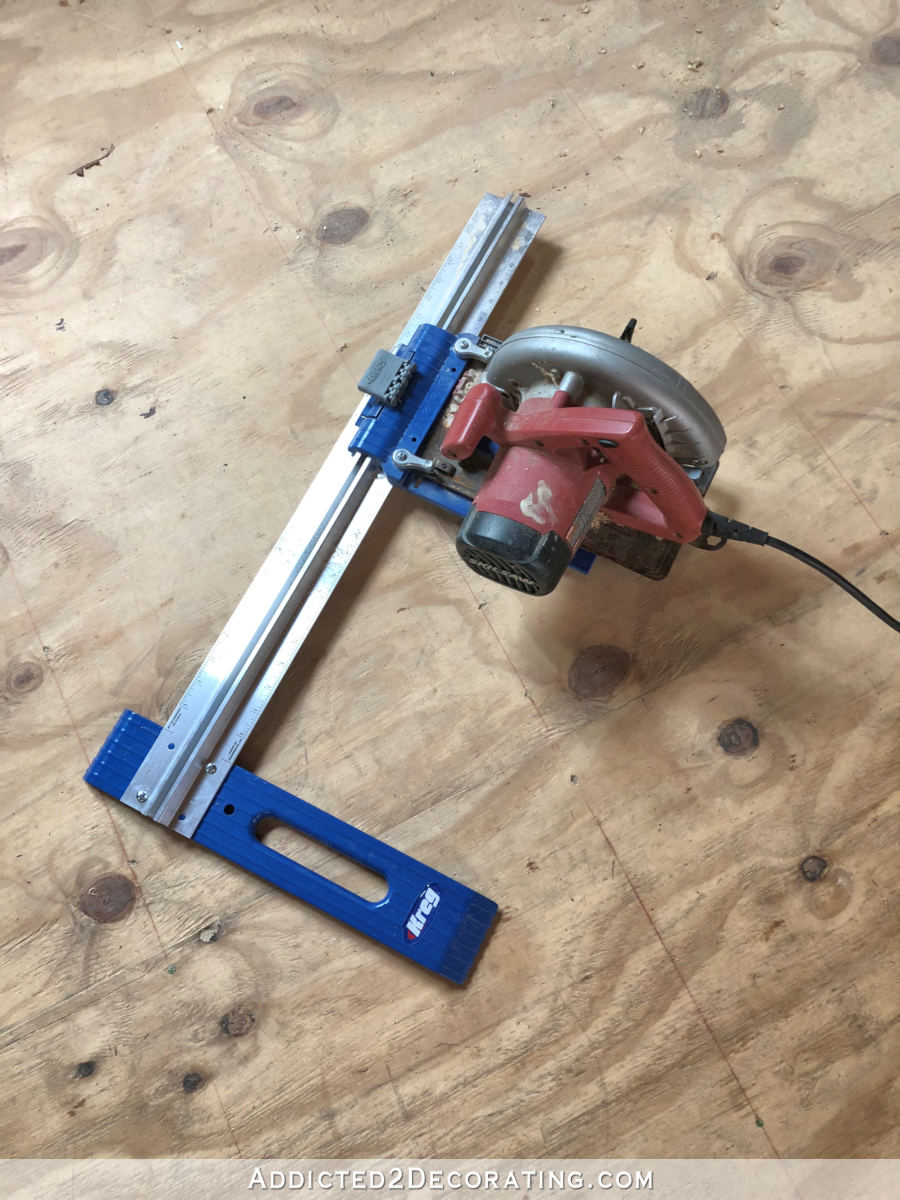 This thing is so easy to use! I'm a big fan of Kreg tools, and this one is great to have in your toolbox. Without this (or something like this) your foam insulation sheet really isn't going to do you much good, because you'll still be stuck using clamps with a straight edge, which means you have to have space under the plywood for the clamps.
So just get rid of the clamps and straight edge altogether and use a simple tool like this. It makes the job so much faster and easier!
I'll be the first to say that the tool isn't perfect. I wish they had thought through the construction a bit better. The clamps that clamp to the circular saw are metal, but the metal clamps are held by plastic. That part should have been made of metal. Also, this tool only cuts up to 24″ widths. That means if you need to rip a piece of plywood that's 32 inches, you can't just set the tool to 32 inches and go. You have to subtract the 32 inches from the full width of the plywood (48 inches). Then you have to set the Kreg guide to 16 inches to make the cut. So rather than cutting the part that you do need. you're cutting away the part that you don't need. I didn't find that to be a problem at all, but from reading the reviews, evidently some people find that annoying.
Also, while it does rip cuts beautifully, it won't do cross cuts over 24 inches. I'm still looking for a guide that will do that (Kreg has this one, but I'm still reading reviews to decide if it's worth it).
But even with those two issues, I still find this Kreg circular saw guide to be well worth the $39 that it cost me. The circular saw guide and the foam insulation board have made my plywood cutting over the last couple of days so easy. Heck, I might actually call it enjoyable! I won't ever hesitate to buy full sheets of plywood or MDF again.
Hopefully by tomorrow I'll have enough progress to show you on the cabinets. Stay tuned!
Addicted 2 Decorating is where I share my DIY and decorating journey as I remodel and decorate the 1948 fixer upper that my husband, Matt, and I bought in 2013. Matt has M.S. and is unable to do physical work, so I do the majority of the work on the house by myself. You can learn more about me here.
I hope you'll join me on my DIY and decorating journey! If you want to follow my projects and progress, you can subscribe below and have each new post delivered to your email inbox. That way you'll never miss a thing!