Y'all, the studio finally has lighting!! This area hasn't had lighting since it was a garage almost two years ago. The lighting all came down before the garage-to-studio conversion started, and it hasn't had lighting (or electricity, for that matter) since. Any time I've needed to use tools or lights in here, I've had to run extension cords from the breakfast room.
Well, not anymore!
I installed ten of my new favorite lights — these ultra wafer thin LED downlights.
These lights sit flat against the ceiling (you do have to cut a 4.5-inch hole in the drywall) and look like recessed lights. They're rated for contact with insulation, so you don't even have to worry about your insulation touching them.
Each light has a little setting control on it so that you can choose the color/brightness you want. I used these in the pantry also, and in there I set them on 3500K, but for the studio, I set them on 5000K, which is the brightest/whitest setting.
These things are amazing and very easy to install. Now that these are available, I don't know why anyone would use those other big, clunky recessed lights that require those massive metal housings that have to go up into the ceiling.
These things are only about 1/2-inch thick, and have a separate metal box that holds the wiring. Once the wiring is done (which uses simple push-in connectors that are already attached to the lighting wiring — so easy!!), you just slip the metal box up into the ceiling above the drywall, and attach the light. Because they're so thin, you can easily use them on vaulted ceilings.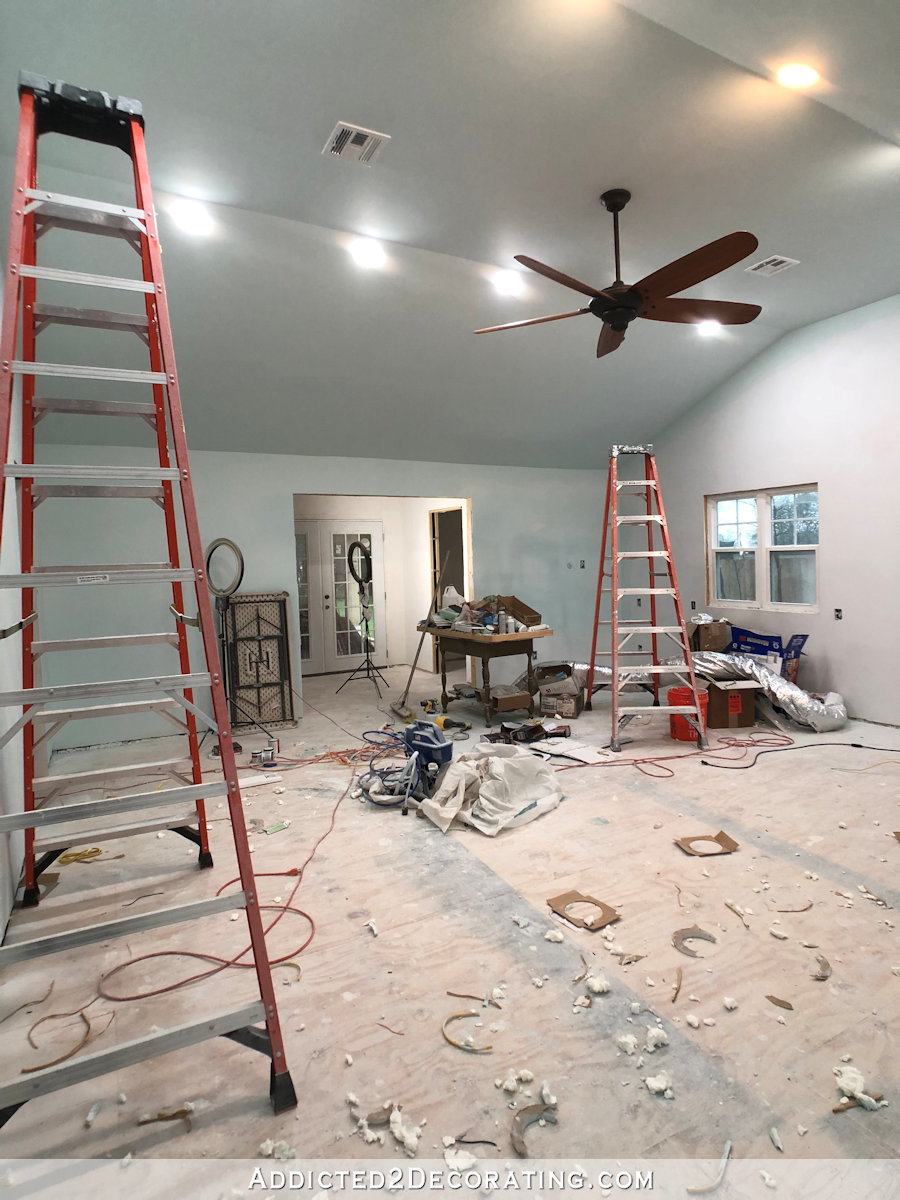 I forgot to change the color/brightness setting on the top top lights in the photo below, and you can see how much yellower they are.
To change them, I just have to pull the light out a bit, and adjust the setting on the metal box.
Now with the new lighting, you can see the ceiling and wall color a little better. Everything in the photo below has been painted except for the right wall with the window, which is still white.
And as you can see, the ceiling fan is also installed. And I hate it. 😀
I don't actually hate the actual fan. There wasn't a huge selection of large fans for rooms this size available locally. (Yes, I realize I could have ordered online, but I forgot, and then I needed the fan ASAP. 😀 ) So the fan itself isn't that bad. I mean, I dislike fans in general, but I do live in Texas, and this is a massive room, and I'm trying to be just a tiny bit practical.
But my goodness, does it have to hang down so far?! That downrod is so ridiculously long! I want it up closer to the ceiling so it's not so far down in my line of sight, so I'm going to order a shorter down rod and swap it out. I know that the closer to the ceiling you put such a large (68-inch-wide) fan, the less efficient it is, but I don't care. I just can't live with it that low.
And in other news, they're officially finished with the drywall! Here's a peek inside the bathroom…
And the back entry…
I always request a smooth finish because I can't stand texture on drywall, and I was nervous to make that request because this was my first time to use these guys for drywall. A smooth finish is more challenging than a textured one, so I wasn't sure what to expect. But wow! I've never seen a smooth finish done this perfectly! They did such an amazing job.
Now I just need to decide on a color for the back entry. I'd like something bold, and obviously it needs to coordinate with the wallpaper, but that still leaves a few options. And I haven't even begun to think about what I want the bathroom to look like. The only thing I do know (and planned for from the beginning since it requires kitchen-sized plumbing) is that I will have a utility sink in there instead of a standard bathroom sink. Other than that, I have no idea.
But they're officially done, and now it's up to me to finish these spaces. Yikes! I'm equal parts excited and overwhelmed right now, but I'm ready!
Addicted 2 Decorating is where I share my DIY and decorating journey as I remodel and decorate the 1948 fixer upper that my husband, Matt, and I bought in 2013. Matt has M.S. and is unable to do physical work, so I do the majority of the work on the house by myself. You can learn more about me here.
I hope you'll join me on my DIY and decorating journey! If you want to follow my projects and progress, you can subscribe below and have each new post delivered to your email inbox. That way you'll never miss a thing!