I've finally started the pretty stuff in the studio! Well, that is, if painting is included in the "pretty stuff" category. It is, right? I think it is.
They finished all of the mudding and sanding in the studio on Friday, which meant that I needed to paint the ceiling this weekend so that they can install the ceiling fan for me today. (There's no way I'm installing a ceiling fan by myself on a 12-foot ceiling, so I'm very happy they will do that for me.)
So on Saturday, I headed to Home Depot to pick out some potential ceiling colors. If you remember, I had my heart set on a light blue. I ended up sampling these three colors…
The one on the right is Behr Sunken Pool, and the one in the middle is the same color at 75%. The one on the left, which is dull and barely visible, is Behr Streetwise. I ruled that one out immediately. My favorite was the middle one (Sunken Pool at 75%), but I thought it could be just a bit lighter still, so I ended up going with Sunken Pool at 50%.
It is such a light and fresh aqua color. There's nothing in-your-face about this color at all. I still have no lighting in the room, so it's hard to get good pictures of it, but I took a few while I was painting so that you can see the aqua next to the white primed ceiling. Here's an in-progress picture during the first coat…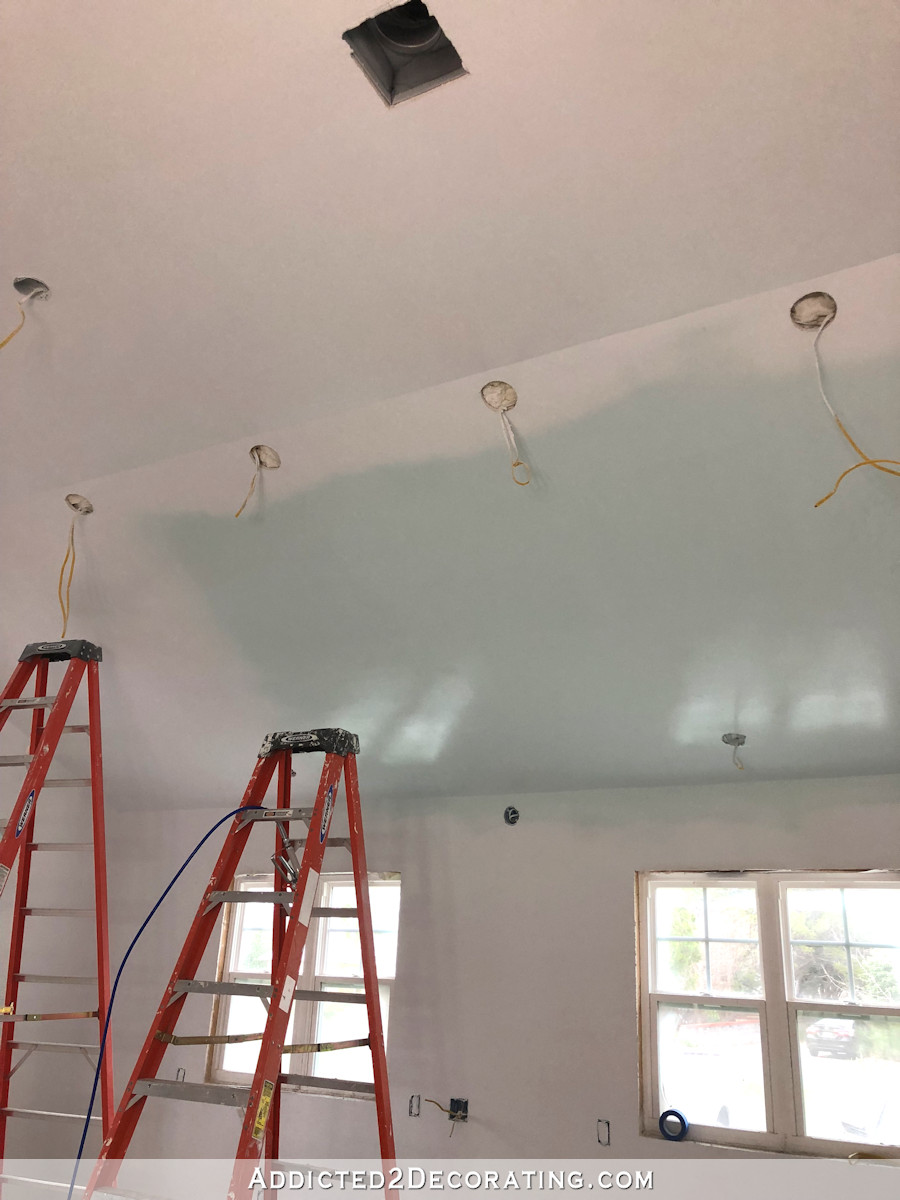 And here it is with the first coat done. It's in various stages of drying so it looks really splotchy, but you can see how light and fresh the color is.
Anyway, I liked the color so much that I decided to just go ahead and paint the entire room with it — ceiling and walls. It's one of those colors that's so subtle that when you see it by itself, you might actually think it's white…
But when you see it next to white trim, it's very obviously NOT white…
I like this so much better than white. And I'm also going to edit my wallpaper design and swap the white background for this color. That way it'll be cohesive all the way around the room.
To paint the room, I started out using my Flexio 590 sprayer…
That's the kind with the paint-filled container actually attached to the sprayer, so when it's full, it's heavy. After a couple of hours of climbing up and down the 10-foot ladder with that thing, and then holding it up to spray over my head, I thought my arms were going to fall off. And in fact, my arms go so tired that I ended up dropping that sprayer and breaking it.
I called one of the local equipment rental places to see about renting an airless sprayer, but the rental fee is $115 per day (!!), which seemed like a waste when I could put that money towards purchasing something that I could actually own.
So I could either buy another Flexio for $100 or so, or I could upgrade and get one of the small airless sprayers for $300. I decided that the airless sprayer, that would only require me to hold and lift the actual spray gun while the paint stayed put on the floor, was worth the extra $200. So I got this little Graco Magnum X5 airless sprayer…
And y'all, I LOVE this thing!!! If you have a whole house painting job in your future, you need to get this. Your arms will thank you, and the job will go SOOOO much faster!!
Now if you saw my Instagram stories yesterday, I know you're saying, "But Kristi, that's not the song you were singing yesterday." That's true. I was about ready to pull my hair out after using the airless sprayer to prime the ceiling.
Well, as it turns out, the first one I got was defective and I just didn't know it. I was using a defective, finicky sprayer, and ended the day in tears of frustration, thinking that that's just how these things are. (I've never used an airless sprayer before.) But after describing how the sprayer was acting to someone on Instagram who has one of these (or a similar one), she assured me that mine was defective.
So yesterday before I started painting the ceiling, I took it back and exchanged it, and the new one worked PERFECTLY!! It made the job so fast and easy that painting a 12-foot ceiling was almost fun. 😀
But just be aware that the sprayer is a whole lot messier than a roller.
I had no idea it was dropping so much paint on me! 😀 But the tradeoff on how much faster and easier this was compared to any other method made it totally worth it. Although it may take a couple or three washings to get all of that paint out of my hair. 😀
Today they should be finished with the mudding and sanding in the back areas (half bath, back entry and storage closet), so after today, the rest will be up to me!
Addicted 2 Decorating is where I share my DIY and decorating journey as I remodel and decorate the 1948 fixer upper that my husband, Matt, and I bought in 2013. Matt has M.S. and is unable to do physical work, so I do the majority of the work on the house by myself. You can learn more about me here.
I hope you'll join me on my DIY and decorating journey! If you want to follow my projects and progress, you can subscribe below and have each new post delivered to your email inbox. That way you'll never miss a thing!