DIY Teal Venetian Plaster Wall Finish Using Modern Masters
I might have my Venetian plaster walls in the bathroom finished, but I'm going to live with them as they are for a day, and look at them throughout the day, and decide if I might want to do one more lighter coat. When I showed you pictures of the walls after I had done the first coat, I was second-guessing the color. I had planned on the walls in the bathroom being a lighter teal, similar to what I have on my kitchen cabinets. But once I got the first coat of the darker teal on the walls, it was so gorgeous that I wondered if I might want to keep the walls dark. Here's how it looked…
But after going back and looking at posts where I had shared my original plan for the bathroom, I decided to stick with lighter walls. I love that spa look that I created with the original mock ups of the bathroom, and I can't get that look with the darker walls. So after two more coats, gradually getting lighter and lighter with each coat of the Venetian plaster finish, this is what my walls look like now…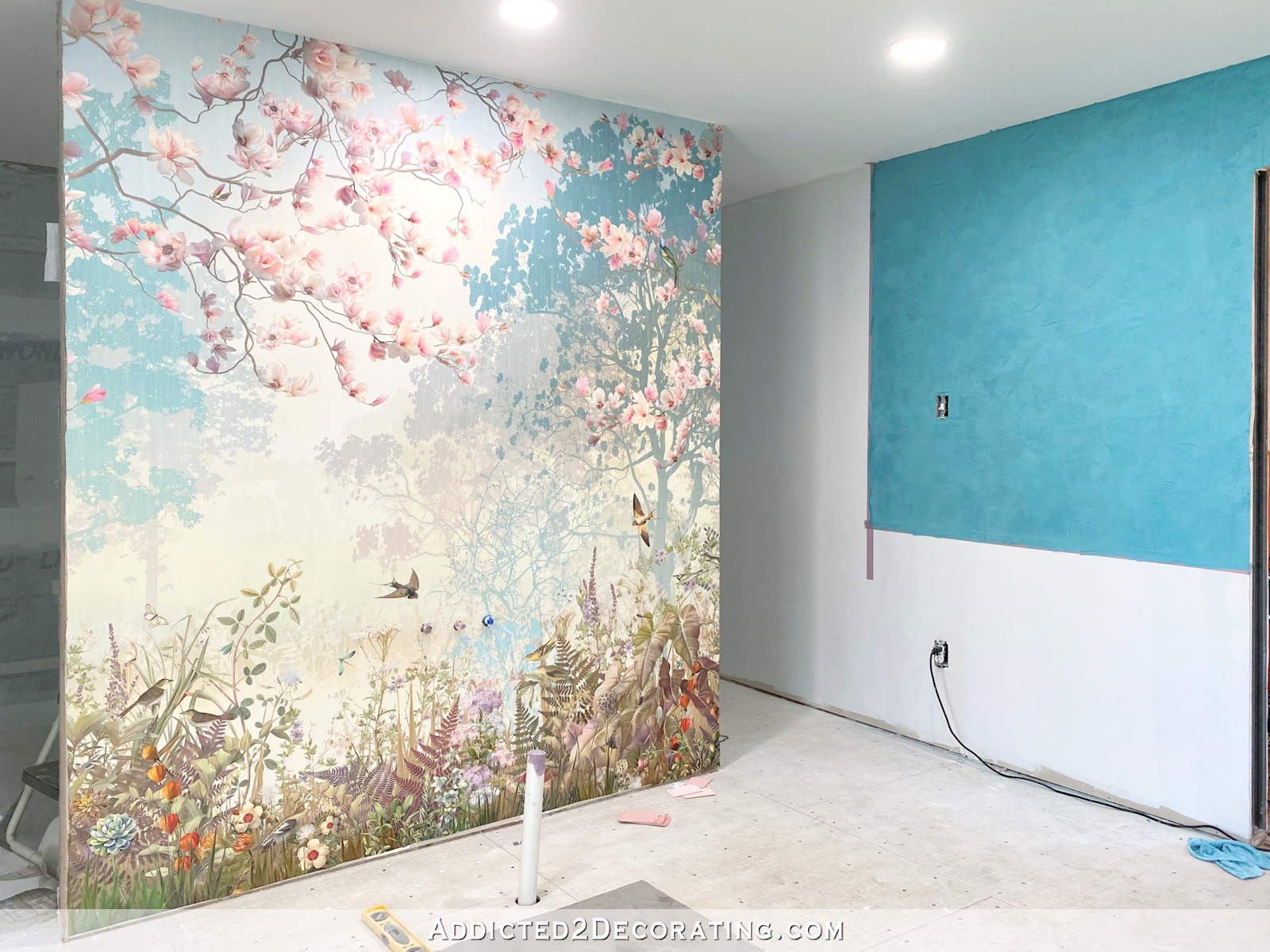 It still has that velvety look, because that's the nature of the Venetian plaster finish. But it's considerably lighter now.
It's still not quite as light and soft as I had originally planned, though. So that's why I'm thinking I might do one more coat this weekend just to lighten it up one more time.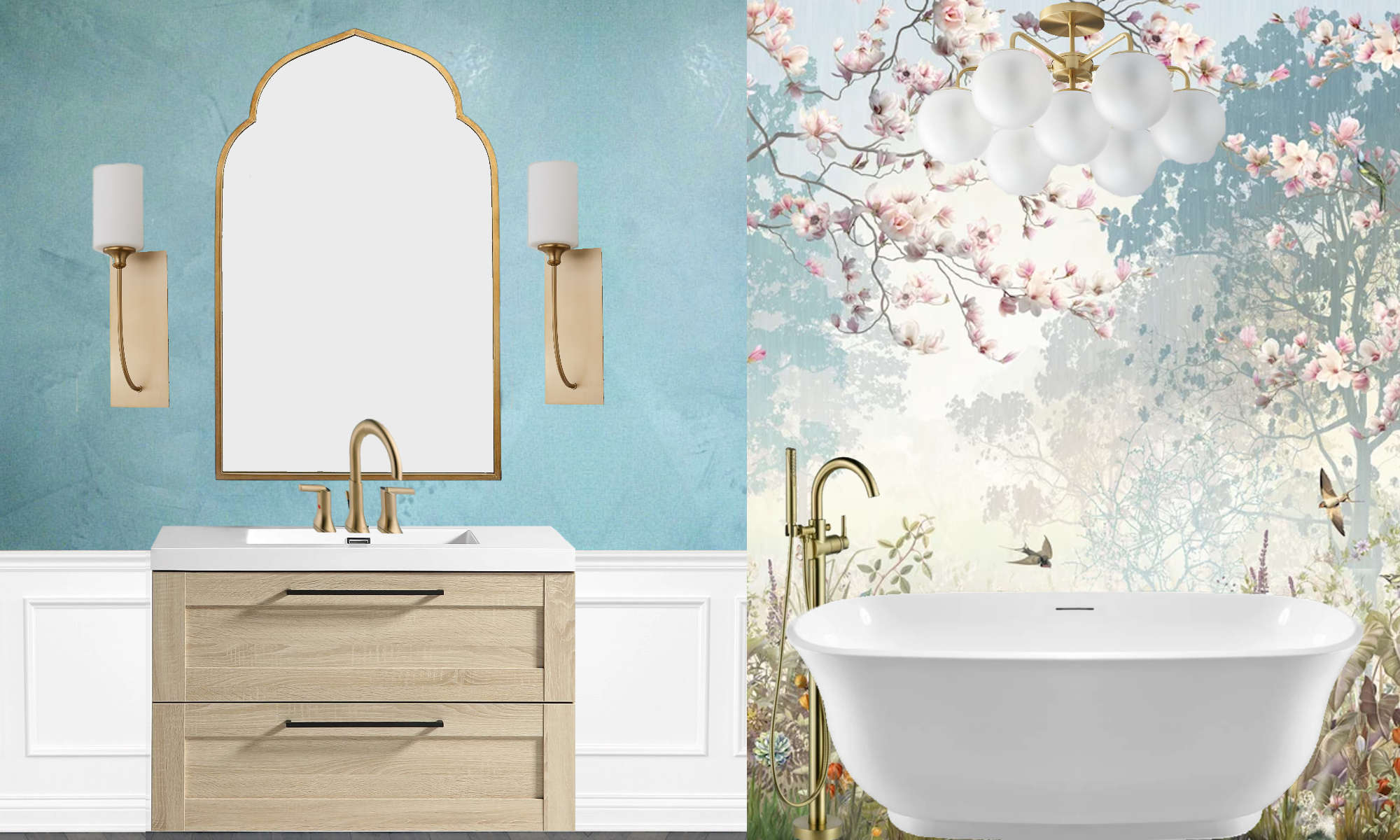 And each new layer adds such a beautiful depth to the finish. Even though it's lighter, it looks much more velvety now than it did with just the first coat on it.
Note: If you're reading this post on a website other than Addicted 2 Decorating, you're on a website that steals content from bloggers, and is using my content without my permission. I'd love for you to join me on my actual website! You can click here to find this post on Addicted 2 Decorating.
So here's the progression. I started with a coat of Behr Aqua Rapids, and then troweled on the Modern Masters Venetian plaster finish on top of that.
This is the product I used — Modern Masters Venetian Plaster in an ultra-deep tint base.
And this is the formula for the original dark teal…
That first coat was pretty dark, and also had a lot of green in it.
That was much darker than I had intended it to be, but I seemed to have trouble communicating what I wanted with the girl working at Benjamin Moore that day. She kept telling me that they generally don't tint this product because it's used as a texture, and then you're supposed to paint over the top with latex paint. That's not at all what this product is, but I think she was thinking she was tinting it more like a tinted textured primer that doesn't really need to be a precise color. When tinting primer, close enough is good enough. So that's how I ended up with such a dark color to begin with.
I wasn't really concerned about it, because I knew I could build up layers and lighten any subsequent coats, and that a darker layer or two would add depth to the finished wall. She told me I could bring it in and she'd lighten it up for me if the color wasn't right. But rather than doing that, I just bought another gallon of the Venetian plaster in a light base, had her add just a touch of gray to it (so that it looked like a dirty white rather than a stark white), and then did a second coat with that new mixture. You can see the difference between the wall to the left of the doorway, and the area above the doorway.
That was still not the right color, so I spent about 45 minutes sanding the wall by hand with 220-grit sandpaper just to remove any imperfections (the wall is supposed to have a smooth finish, not a textured finish). Sanding also brings out the "movement" in the finish. And then I lightened some of the plaster in the same way, and did a third coat. You can see the difference in the third coat (to the left of the door) and the second coat) to the right of the door) in the picture below…
And here's what that third coat looked like when it dried…
DIY Venetian Plaster — The tools and the process
The process using Modern Masters Venetian Plaster (or any other similar finish like LusterStone) is time-consuming, and you'll definitely get a good arm workout, but it's really pretty simple.
First, you'll need a drywall hawk to scoop the plaster onto. You can purchase one from Home Depot, Lowes, or Amazon, and they look like this. But I didn't want to make yet another trip to the store, so I made my own out of several layers of cardboard (the pieces that came out of the mosaic tile packages for the shower) hot glued together with a piece of dowel rod hot glued to the bottom. It worked just fine.
But that one only lasted for a day, and there was no way to wash off the dried plaster, so the next day I replaced the cardboard with an extra ceramic tile. This was heavier, but worked better because it was washable.
And then, of course, you need a trowel. I used this Japanese finishing trowel that I purchased on Amazon.
To apply the finish, I simply scooped some of the Venetian plaster finish off of the hawk onto the trowel…
And then while holding the trowel at about a 15-degree angle to the wall…
…, I smeared the finish onto the wall. Nothing about this needs to be neat or clean. In fact, the more random, the better.
And then while holding the trowel at about a 45-degree angle to the wall so that the edge of the trowel is against the wall, I scraped off the excess.
Again, the key here is randomness. Make sure you're not smearing and scraping in the exact same direction or pattern over and over and over again. Make sure that you're varying the application and your motions so that the finished wall has a more random pattern rather than a noticeably consistent pattern.
Also keep in mind that the finished wall is supposed to be smooth. The textured look comes from the layers, not from actual texture that you can feel on the walls. So you do actually want to scrape off the excess rather than intentionally leaving behind any build-up of the product on the walls. This isn't like those highly textured drywall mud "plaster" walls that people used to do in the 90s that would snag your sweater if you brushed up against it. 😀
So once you repeat that process about 1000 times, you have the first coat done. And then you'll want to repeat that process at least once more time. Even if you don't plan to change colors between coat, it's that second, and perhaps third, layer that creates all of that beautiful movement in the finished wall. You can't get that with just one coat. If you have imperfections or build-up anywhere on the first coat, you'll want to sand those by hand (NOT with an electric sander) with 220-grit sandpaper before doing the second coat.
But as for these walls, I think I might do one more coat to make them just a little lighter and softer. I think it's a safer bet to stick with my original plan that I've been dreaming about for months now rather than changing things up on the fly.
Addicted 2 Decorating is where I share my DIY and decorating journey as I remodel and decorate the 1948 fixer upper that my husband, Matt, and I bought in 2013. Matt has M.S. and is unable to do physical work, so I do the majority of the work on the house by myself. You can learn more about me here.