Over the last years that I've been remodeling and decorating our house, I've had quite a few people say something to me like, "I have no idea how you looked at that house in its original state and saw potential!" I had someone else say that just yesterday, so it got me to thinking about this idea of houses with "good bones."
I'll admit that the house was bad when we bought it. And some things about it went beyond bad.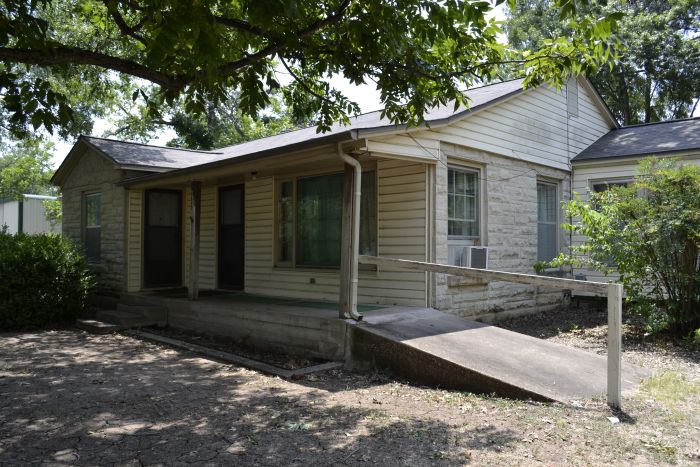 Interestingly, the thing I hated the most about the house the first time I saw it, and the thing that almost made me keep on driving and not stop to look, was the lack of a paved driveway. Of course, now I'm so glad that the house doesn't have a driveway! When you look at most houses with a converted garage, the thing that makes it look so awkward is often the driveway dead ending right in front of that converted garage, making it very obvious that it used to be a garage. Thankfully, I won't have that to deal with.
So I learned over the last years that sometimes, the biggest drawbacks of a fixer upper can actually turn out to be a good thing.
So what exactly was I looking for in a house?
Well, I knew that I wanted a fixer upper. I had just always dreamed of taking an old, neglected house and turning it into something that I thought was pretty.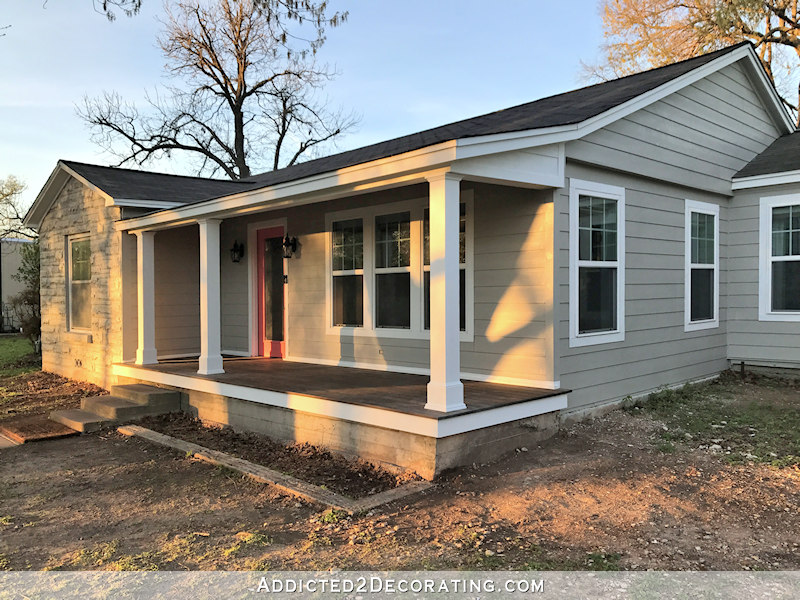 (It still has a way to go, but it's getting there!)
So I was looking for a house that had "good bones." If you've watched any amount of home renovation shows, you've heard that term. But what I learned very quickly is that the term "good bones" is very subjective.
I'll never forget my brother walking through the house the first time and saying, "Well, I'm just glad it's you and not me." (Ha! Little did he know that on several occasions, he would be dragged into my schemes. 😀 )
I'll never forget the concerned look on my mom's face when she walked through the house the first time, looking at the terribly outdated kitchen…
…and the ceilings that were all covered in polystyrene tiles hiding who-knows-what, and the awful green carpet in almost every room covering what we believed were hardwood floors, but we had no idea what condition they were in.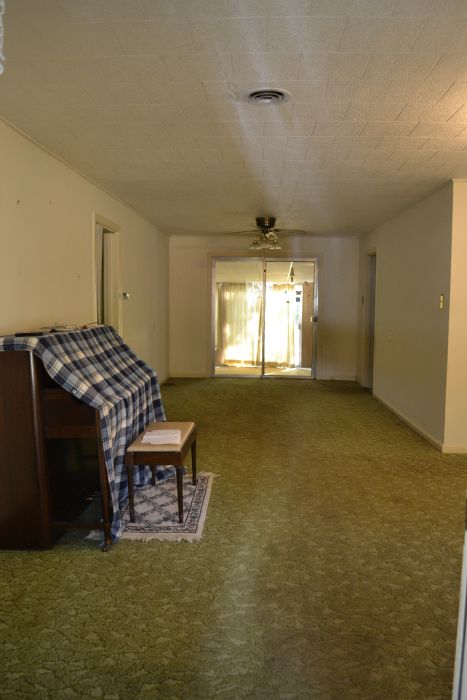 I just remember her trying to be as positive and supportive as possible, but failing to completely hide the extreme concern she was feeling inside. On more than one occasion, she asked, "Kristi, are you sure you can do this? I mean, this is going to be so much work! This is bigger than any project you've ever done."
And my response was, "I can do it, Mom! I know I can!"
I didn't know. I had no idea. In fact, I was excited, but part of me was also scared. But I knew it was a challenge that I wanted to take on, and I'd regret it if I didn't try.
But at least the house had good bones, right?
To be honest, I don't really even know what that means. Did the house actually have good bones? What does that even refer to?
Almost immediately after moving in, we had to have the entire plumbing system replaced because the old, original galvanized pipes had corroded to the point that water would barely trickle through them. We also had to have the main sewer pipe from the house to the street replaced because it still had the original clay pipe that was broken and had tree roots growing into it, causing it to get clogged very easily. That whole plumbing upgrade was pretty darn expensive. I don't remember exactly how much it cost, but it was thousands of dollars.
The house also had no HVAC system. Each room was cooled by a window unit air conditioner, like this beauty in the living room.
I think we used these for the first two years we were in this house.
And the heating system? Well, that was just downright scary and dangerous. We used the furnace the first winter we were here, but every time the furnace would come on, it would make a big, exploding sound that would literally shake the house. Every night when we went to bed, I would wonder if the house (and us in it) would survive the night.
Our second winter here, I refused to use that furnace, so we heated our entire house with space heaters. That was a miserable winter, and quite expensive. But at least I didn't fear for our lives each night as we went to bed. I believe it was the following summer that we had the HVAC system installed, which almost cost as much as my car.
The original electrical wiring in this house was outdated and dangerous in some places — only 100 amp service, old and brittle wiring, open junctions in walls and the attic that were buried in insulation, etc. We upgraded to 200 amp service, and all but three rooms have been rewired.
We've also been replacing all of the windows. The original ones were single-pane, very drafty, and had been painted so many times that they no longer opened properly.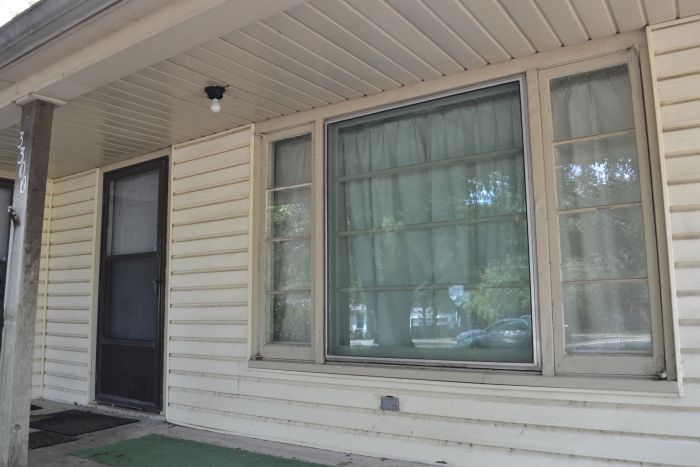 And some of the original windows were missing altogether and had been replaced with aluminum windows. We still have a few to replace in the bedrooms, but we're over the halfway mark now with installing new windows. I've also replaced all of the doors, both interior and exterior.
So was the layout of the house a "good bone"? Not really. I've found so many things about this house to be very awkward. Remember the whole dining room episode? The builders of this house clearly intended for the room that I call the music room to be the dining room. But that wouldn't work for us because a table and chairs in the middle of that room would make it impossible for Matt to maneuver through there. So I wrestled with where to put a dining room. I tried to turn the living room into a dining room, but that didn't really work. I finally settled on the area that the previous owners called the den…
But because the only way to access that room is to walk through the kitchen, I still can't bring myself to actually call it a dining room. Even though it's our only eating area, I call it a breakfast room.
And while I'm very pleased with how it turned out, I still find the placement to be strange. If I had had the opportunity to design a house from scratch, I never would have designed it with this layout. In other areas, I've made major changes like opening up walls, widening and moving doorways, just to make the layout flow a bit better and make a little more sense.
So where are these good bones? The foundation? Perhaps, but we had to have it leveled, and it needs to be leveled again and have more piers added to the front bedroom.
The subloor? Well, I've literally replaced the subfloor in two rooms.
The walls? Well, major areas of the walls had to be completely removed and reframed.
Nothing remains of the original kitchen or hallway bathroom. All of the drywall and trim has been replaced, as has all of the exterior siding and the roof. The garage with the doors that were too narrow for my car has been converted at great expense to create a studio. We're going to tear down a bathroom and the sunroom, convert the master bedroom in a master bathroom, add on a new bedroom, family room, and laundry/utility room.
So what "good bones" were there? Well, I guess in the end, we're talking about some framing (a significant amount, to be sure) and the original hardwood floors in the original part of the house. Although, to be honest, I had no idea that those floors were salvageable when I decided that this was the house I wanted. They very well could have all been damaged and needing to be replaced.
So when it comes right down to it, I think the idea of "good bones" simply boils down to "I think I can work with this." And that's highly subjective.
Heck, just the fact that realtors place so much emphasis on wall color when you put your house on the market shows just how little tolerance buyers at large have for houses that may need some work. While others are quite content ripping the roof, siding, sheathing, and drywall off, being left with the foundation and some framed walls, and rebuilding from there, all while calling it "good bones."
All I know is that when I saw this house…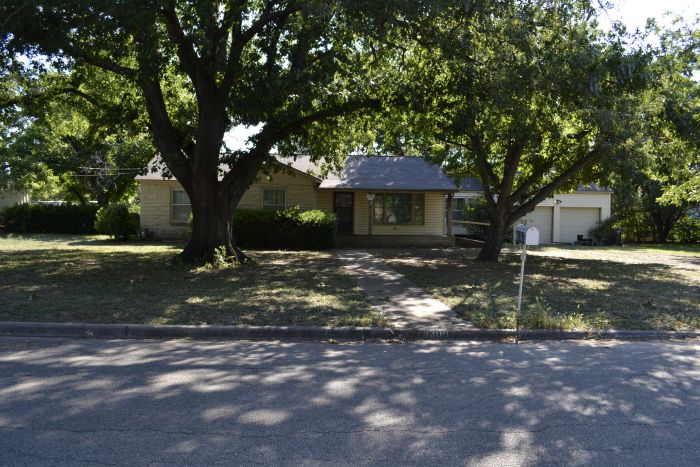 …I said to myself, "I can work with this." One room at a time, one project at a time, I knew I could work with it and turn it into something I could be proud of, and I wasn't going to let a wonky foundation, or polystyrene ceiling tiles, or awful green carpet, or a dark outdated kitchen, or anything else, stop me.
What about you? Did you buy a fixer upper with "good bones"? What exactly were those bones that you were looking for? Or are you like me, and you can't really put your finger on it, but you just knew it was a house you could work with?
Addicted 2 Decorating is where I share my DIY and decorating journey as I remodel and decorate the 1948 fixer upper that my husband, Matt, and I bought in 2013. Matt has M.S. and is unable to do physical work, so I do the majority of the work on the house by myself. You can learn more about me here.
I hope you'll join me on my DIY and decorating journey! If you want to follow my projects and progress, you can subscribe below and have each new post delivered to your email inbox. That way you'll never miss a thing!