Last Updated on December 24, 2015 by Kristi Linauer
It's been a slow and frustrating week.  I've made some progress on the bathroom built-ins, but since I didn't have a car for most of the week, and haven't been able to make any trips to Home Depot for necessary supplies, that progress has slowed to a virtual crawl.  Thankfully, my new ignition switch finally came in, and my neighbor fixed my car for me yesterday evening, so I'm back in business today.  I hope to make up for my slow week by making lots of progress this weekend.
In the meantime, I've been dreaming.  Of course.  It's what I do.  🙂  Yes, I've been dreaming and planning how I want to decorate my new dining room, and how I want to arrange my new breakfast room.  But mostly, I've been dreaming about how I want to organize and arrange my walk-in pantry.  And I just have to say…
When I wrote my post yesterday morning to share my new plan with y'all, I was really excited about the new direction I was heading.  But after reading ALL of your comments, and seeing that literally 100% of you liked my new plan (if I'm remembering correctly, not even one single person disagreed with my new plan!!), well, that just made me even MORE excited!!  I'm seriously like a giddy little school girl over here.  I wasted probably half of my day yesterday going from room to room, measuring tape in hand, planning, dreaming, thinking.  It was so fun!  🙂
Anyway, about the pantry…I'll probably be getting rid of the two windows I have in there right now, and I'll just put one window in the center of the back wall (in the space between the two windows I have currently) so that I have more wall space for shelves.  OR, it might be better to get rid of all of the windows and just opt for a solar tube or two for natural light in there.  That would allow me to really maximize the wall space I have in there.  Hmmm…do I really need a window in my pantry?  What would you do, keep a window, or opt for more shelf space?
Anyway, I took just a little time over the last day to look through some pictures of pantries on Houzz, and the ones I really like the most are like this…
Traditional Kitchen by Alachua Cabinets & Cabinetry Busby Cabinets
…where there's a good combination of built-in drawers, lots of open shelving, maybe some pull-out baskets, and at least one area that has a countertop that is actual kitchen countertop depth, or at least close to it.  The pantry above does have closed cabinet storage along the top that I don't think I'd need.
Oh, and that step stool?  Awesome!  I'll definitely be needing one of those.  🙂
This is another really well-organized pantry with lots of different storage options, although it's considerably smaller than mine will be.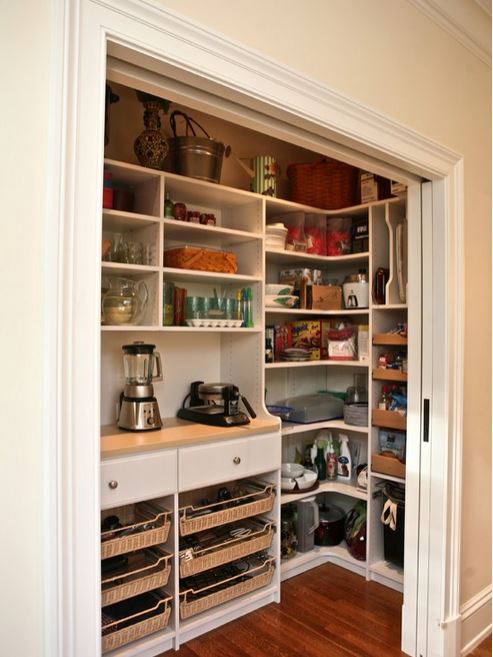 Traditional Kitchen by Weymouth Closet & Home Storage Designers Marie Newton, Closets Redefined
Again, I really like that countertop.  And I'm thinking that a pocket door will be a must.  A swinging door, whether it swings in or out, would get in the way.  And a sliding or rolling barn door would take up too much wall space on the breakfast room side…unless I make it a design feature like my other rolling doors in the music room.  That might be interesting.  I'd have two sets of rolling doors, one on either side of the kitchen, and with both sets along the same plane and about the same distance from the kitchen.  Y'all know I love my symmetry!
But I'm probably overthinking it.  An opening wide enough to accommodate a set of rolling doors like the music room doors would take up more wall space than is necessary for a pantry entrance, and as pretty as it might be, I think I need to maximize the storage and keep to a single door so that I have more wall space for shelves.  Plus, I'd have to be standing at just the right spot in the kitchen to appreciate the symmetry of two sets of rolling doors on either side of the kitchen.
This one is another favorite of mine that I've had saved in my house file for a while…
Victorian Kitchen by Burnsville General Contractors Tyner Construction Co Inc
Of course, that's more butler's pantry than walk-in pantry.  I don't have any need for pretty cabinets or a sink in my pantry.  But again, I do like the open shelves on the left, and I like that the right side has an actual kitchen-depth countertop for storing larger appliances.  And of course, I love the stained wood at countertop height on the left shelves.
This is probably more of what I have in mind, with a countertop and open storage above and below.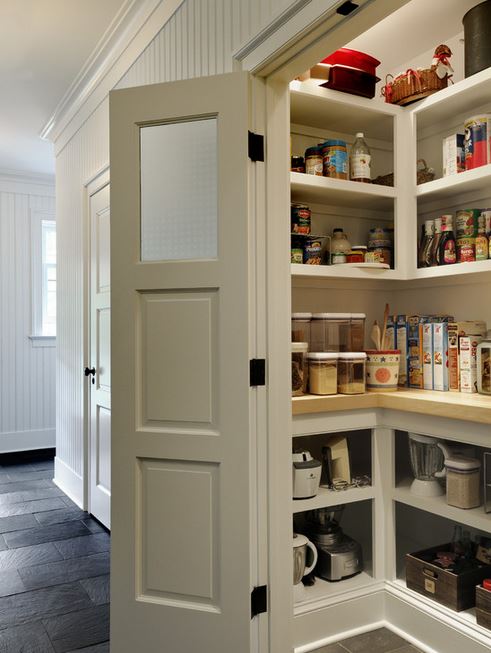 Traditional Kitchen by Millbrook Architects & Building Designers Crisp Architects
Since everything will be inside the pantry, behind a closed door, I really don't see any need to store things neatly behind cabinet doors inside the pantry. I like the idea of being able to walk in and see everything out in the open, so that I can see what I need at a glance and quickly grab it without having to rummage through cabinets.
So what features would you want in a walk-in pantry?  I've only started looking at ideas over the last day, so I haven't really even delved into the world of Pinterest.  I'm sure there are a million ideas on there that will probably keep my mind on overdrive from now until the day I actually finish my pantry.  😀
Addicted 2 Decorating is where I share my DIY and decorating journey as I remodel and decorate the 1948 fixer upper that my husband, Matt, and I bought in 2013. Matt has M.S. and is unable to do physical work, so I do the majority of the work on the house by myself. You can learn more about me here.
I hope you'll join me on my DIY and decorating journey! If you want to follow my projects and progress, you can subscribe below and have each new post delivered to your email inbox. That way you'll never miss a thing!