(I'm Hoping) You Can't Keep A Good DIYer Down
Well, I didn't really intend to go off the radar for a week, but unfortunately I had a horrible relapse with my pinched nerve issue in my shoulder/back/right arm last Friday, and I've spent almost the entire week sitting in one spot with my arm propped up, binge watching shows on Netflix in an effort to keep my mind off of the pain. But after two more trips to the chiropractor, several massages, lots of rest, and finally getting two good nights of sleep after four consecutive days and nights without a wink of sleep because of the pain, I seem to be on the mend again.
I've never in my life dealt with any kind of chronic pain until now, and I'm telling you, I have a new respect/sympathy/empathy/compassion for people who deal with chronic pain regularly, and especially those who deal with it and yet somehow manage to go about their lives, go to their jobs, take care of their families, etc.
The strangest thing is that before I dealt with this the first time a couple of months ago, I was listening to an interview with Bas Rutten, an MMA, UFC champion whose career was derailed by a nerve issue in his arm and neck. I listened to that interview thinking how strange it was that a nerve issue could take someone like that out of the game completely. I just couldn't wrap my head around how a pinched nerve could be so bad. And then two or three days later, I had my first bout with my own pinched nerve issue in my neck, back, and arm. And now I get it. Now I totally understand just how debilitating it can be.
So I've been down for the count. But while I've been binge watching Netflix to numb my mind, there has still been some progress at the house, and I want to show you the thing I'm the most excited about as of this morning.
I've hated the front porch on my house from the beginning — the low roof, the low ceiling, etc. I hated how the ceiling of the porch came right to the top of the trim on the front door and windows…
I mean, I'm only five feet tall, and even I felt like the ceiling was almost right on top of my head.
So before they put the new siding on the front porch, I had them remove the horizontal framing (i.e., the ceiling joists) on the front porch ceiling to make it an angled ceiling instead of a flat ceiling.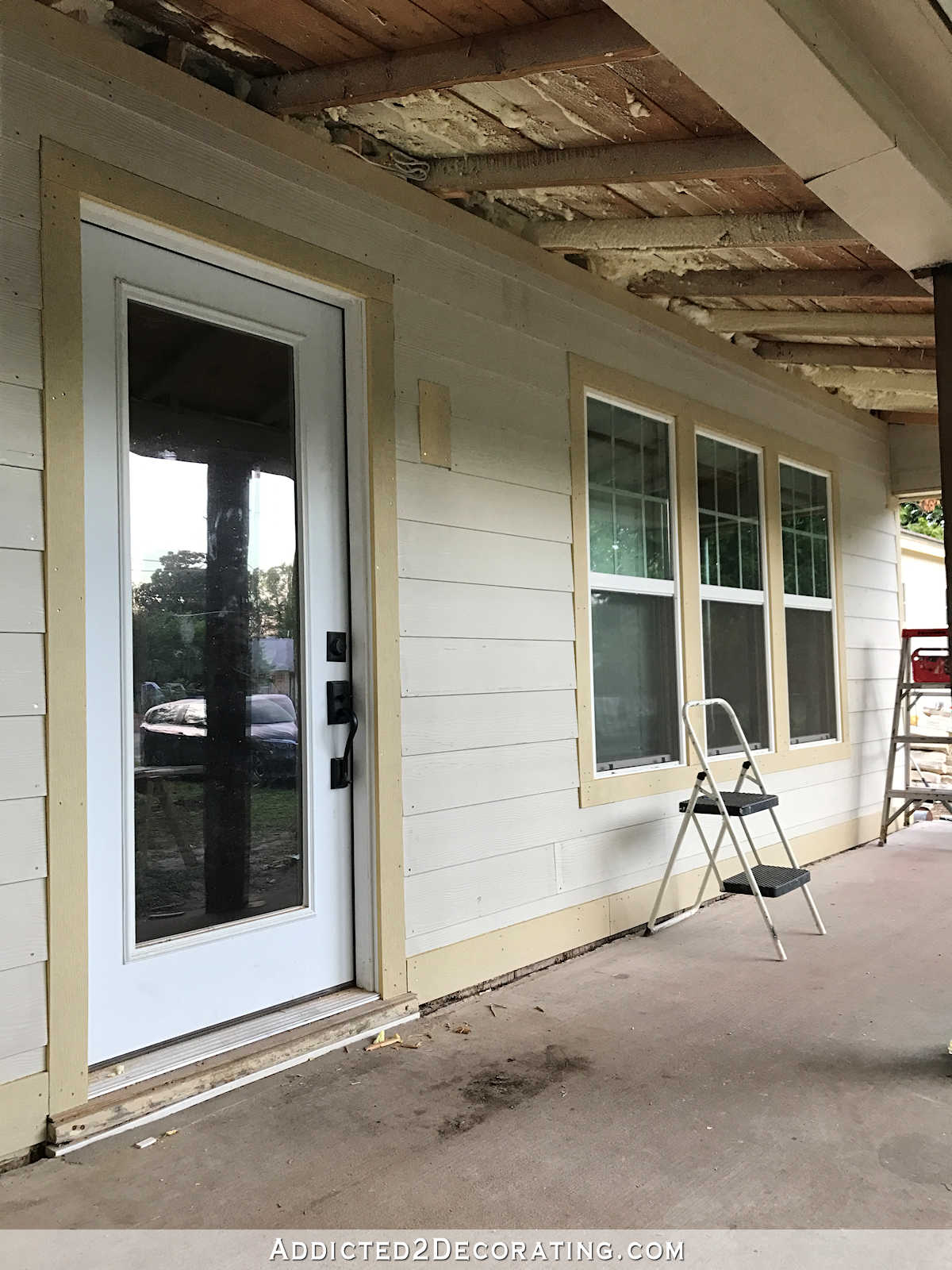 Pictures don't do it justice. It still looks like a mess (and they're here right now working on the end wall, closing up that second doorway and finishing the siding), but it's more about how it feels while you're standing on the front porch.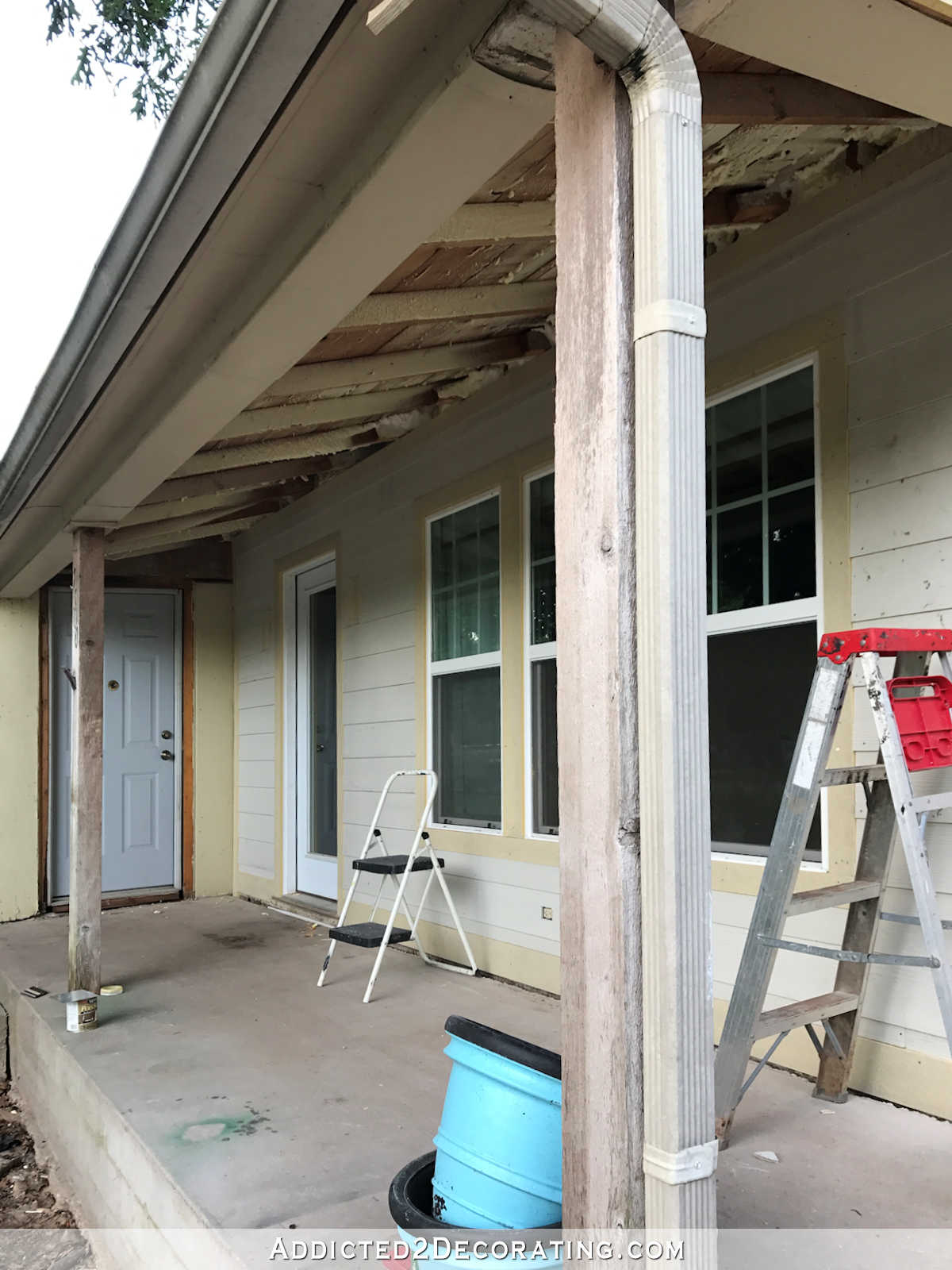 It feels so much more open and airy now, rather than cave-like and oppressive. Just exposing that angled ceiling and raising it about a foot above the door and window trim made such a huge difference that I'm no longer chomping at the bit to completely redo the front elevation of the house with the double gable design, which is a good thing because it might be a few years before that can happen. (Finishing the studio and doing the addition on the back of the house come first.)
I've been dreaming of ways to finish out the front porch, and I've got lots of plans that include covering the concrete porch with stained wood, adding one more column and wrapping them to beef them up a bit and give them a traditional look, etc. I'll wait for cooler weather (and until I can reach forward to pick something up without my entire arm immediately going weak, numb, and tingly) to tackle those things. But for the first time since we bought this house, I'm actually excited about putting time and effort (and money!) into some exterior projects. The new siding has not only done wonders for the house, but has done wonders for my motivation to get the front of the house looking presentable and cute. Until now, I've just put it out of my mind. But now, with just a few projects, it actually has the potential to be a very cute little house from the front.
So I've got to get over this pinched nerve issue, because I've got plans, and I'm chomping at the bit to get started on them. Here's to hoping that a nerve issue can't keep a good (and very determined) DIYer down for long.
Addicted 2 Decorating is where I share my DIY and decorating journey as I remodel and decorate the 1948 fixer upper that my husband, Matt, and I bought in 2013. Matt has M.S. and is unable to do physical work, so I do the majority of the work on the house by myself. You can learn more about me here.