Last Updated on October 25, 2019 by Kristi Linauer
Yesterday, I started building a six-drawer console table, and I'm hoping I can finish it up today. I'll show you my step-by-step process if you'd like to build your own, but I think y'all know by now that if you're looking for precise computer-generated diagrams and cut lists, you're not going to find those here.
When I build things like this, I generally start out with a very basic drawing and some general dimensions, and then I figure it out as I go along. 😀 And my hope is that by sharing my process, you'll be able to see how these things come together so that you can design and build something that is custom for your own home rather than always needing exact diagrams and cut lists to build someone else's design.
So this is the basic drawing that I started out with…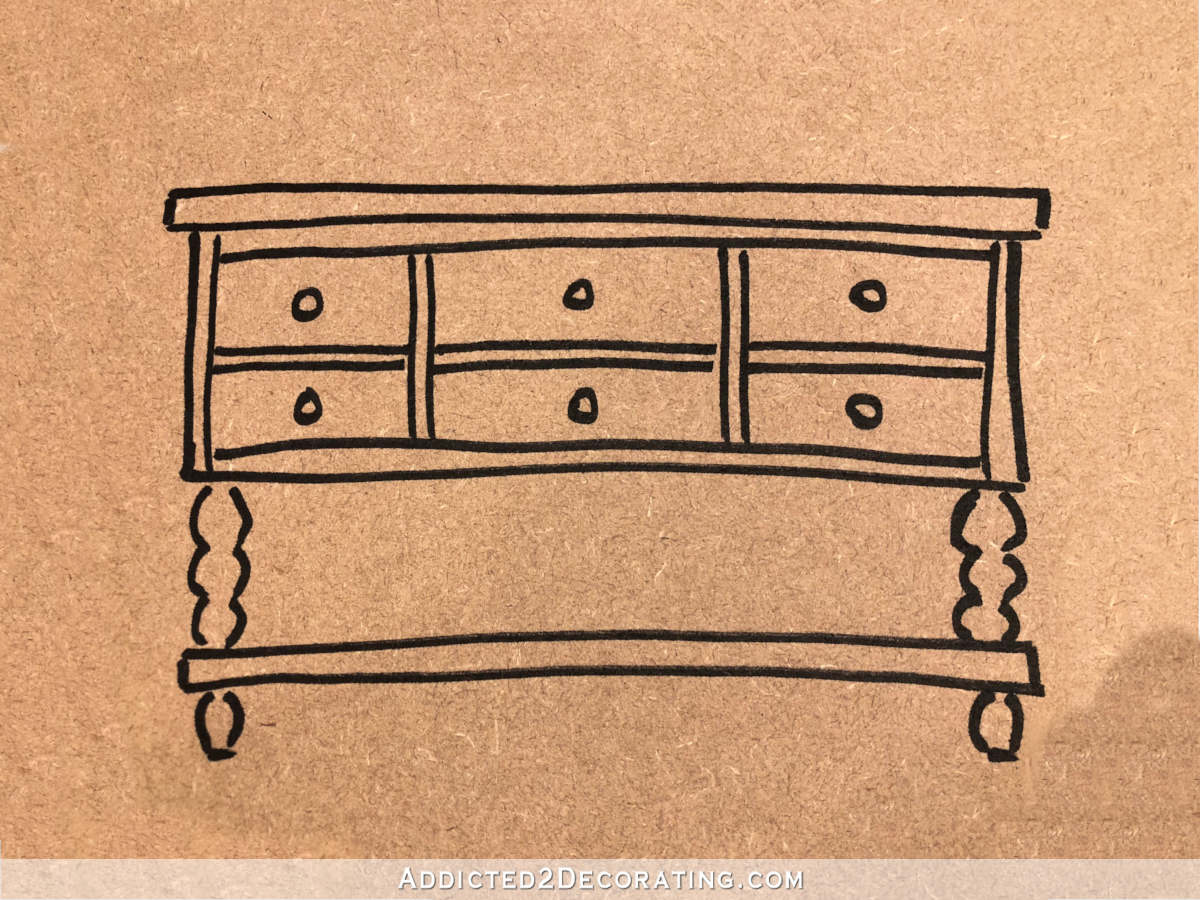 I want it to be about 72 inches wide, 19 inches deep, and 34 inches tall.
So with my basic drawing and dimensions in hand, I was almost ready to begin. I decided that it would be easier to build from top to bottom, but upside down.
But before I got started, I needed to find some turned legs that I could use. I still had the dining table that I modified over two years ago, so I removed the legs from that table and cut them down into sections that were the sizes I needed for the console table. I used my miter saw to cut them.
I needed two sections — one 10 inches tall and the other 3 inches tall. This is how they looked after I cut them.
That left me with four of these sections, which I think will make unique candle holders.
With the leg situation solved, I could then start building the console table.
I started with the top, which is a piece of plywood cut to 18.5 inches by 72 inches. Then I used 1″ x 2″ lumber around the sides and front, mitered on the corners, and attached with 18-gauge 1.5-inch brad nails and wood glue.
Then I flipped the top upside down so that I could build off of it.
Next, I made the frame for the drawers on the front. The first step was to build the outside frame. To build this, along with most of the cabinet, I used my Kreg Pocket Hole Jig. You can click here to see the one I have.
The top rail is thicker than the bottom rail and side stiles to account for the 3/4 inch that would be hidden behind the trim around the top of the console table.
This frame was put together with pocket screws at both ends of the rails.
I also drilled pocket holes in the top rail that would be used later to attach this front frame to the top of the console table.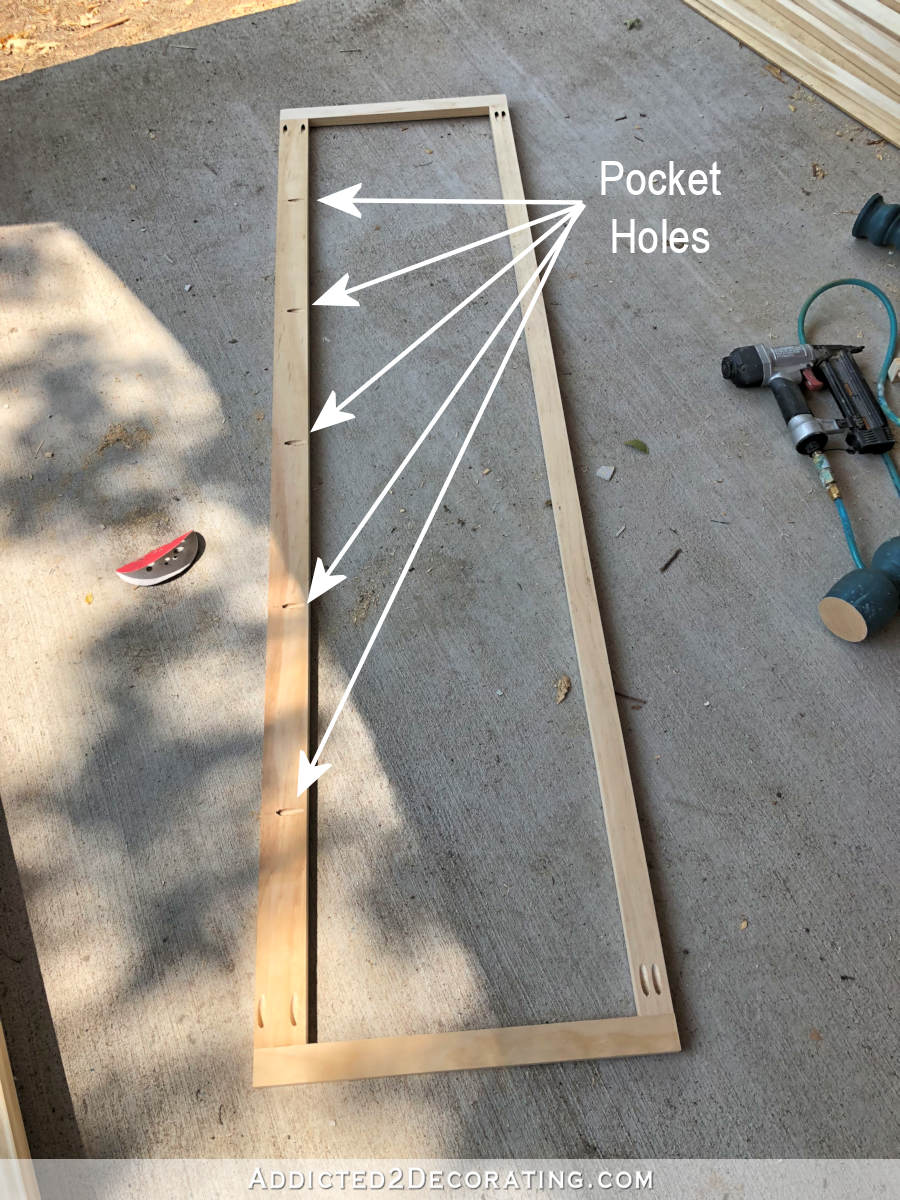 Next, I attached the inside stiles to separate the drawer sections. For this, I used 1 x 2 lumber that I ripped down to 3/4 inch wide on my table saw, and attached with wood glue and pocket screws.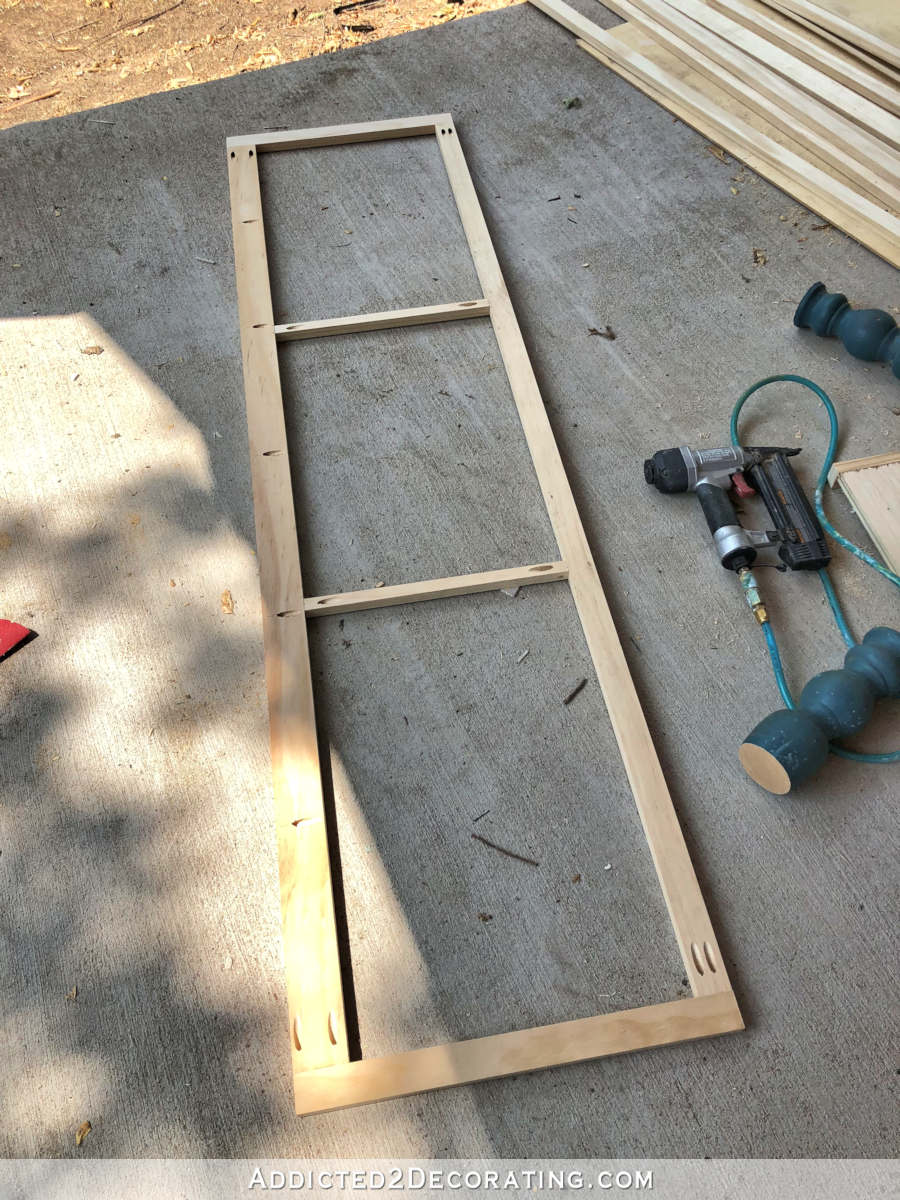 Here's a closer view of the inside stiles…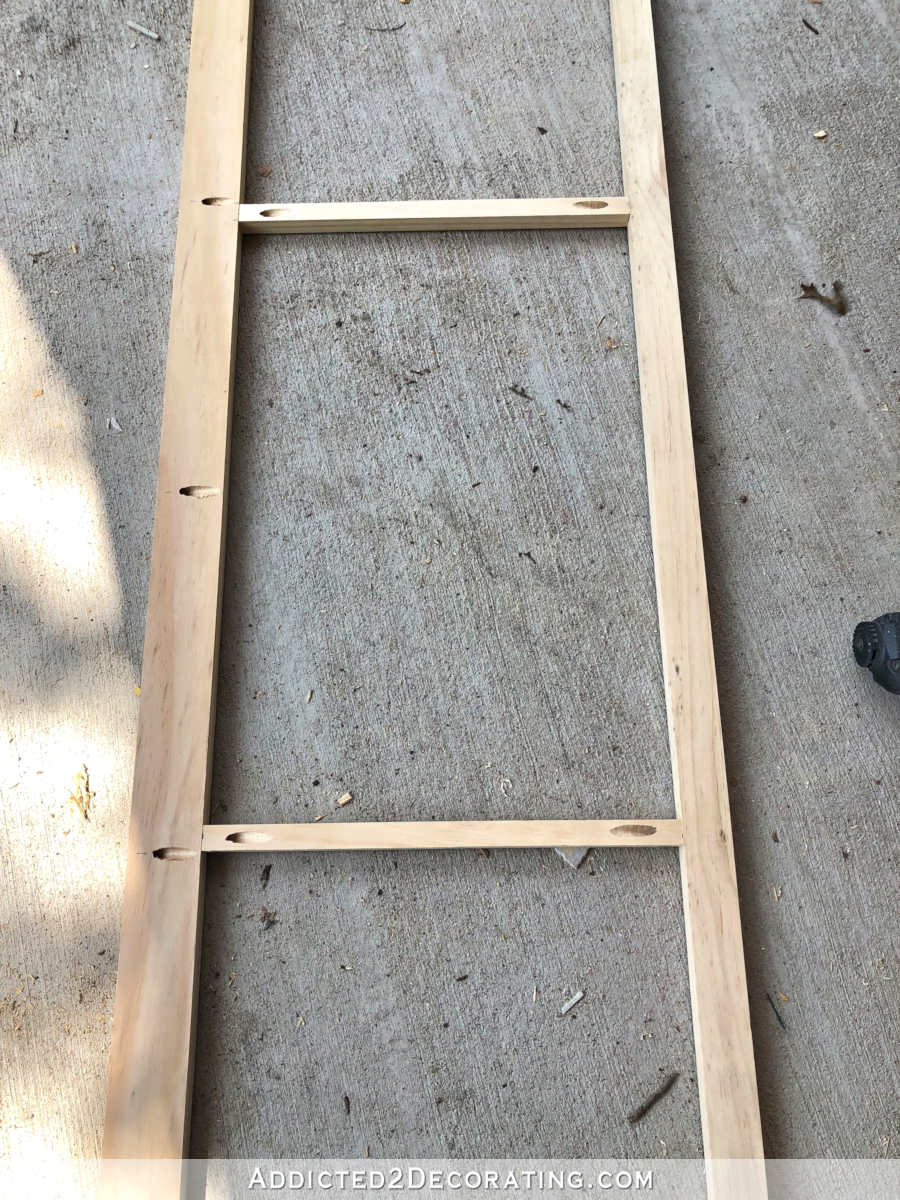 And then I added the inside rails, also ripped down to 3/4 inch wide and attached with wood glue and pocket screws.
The front frame fit onto the top (which was turned upside down) just inside the trim around the top.
I attached it with wood glue and pocket screws through the top rail and into the bottom of the console table top.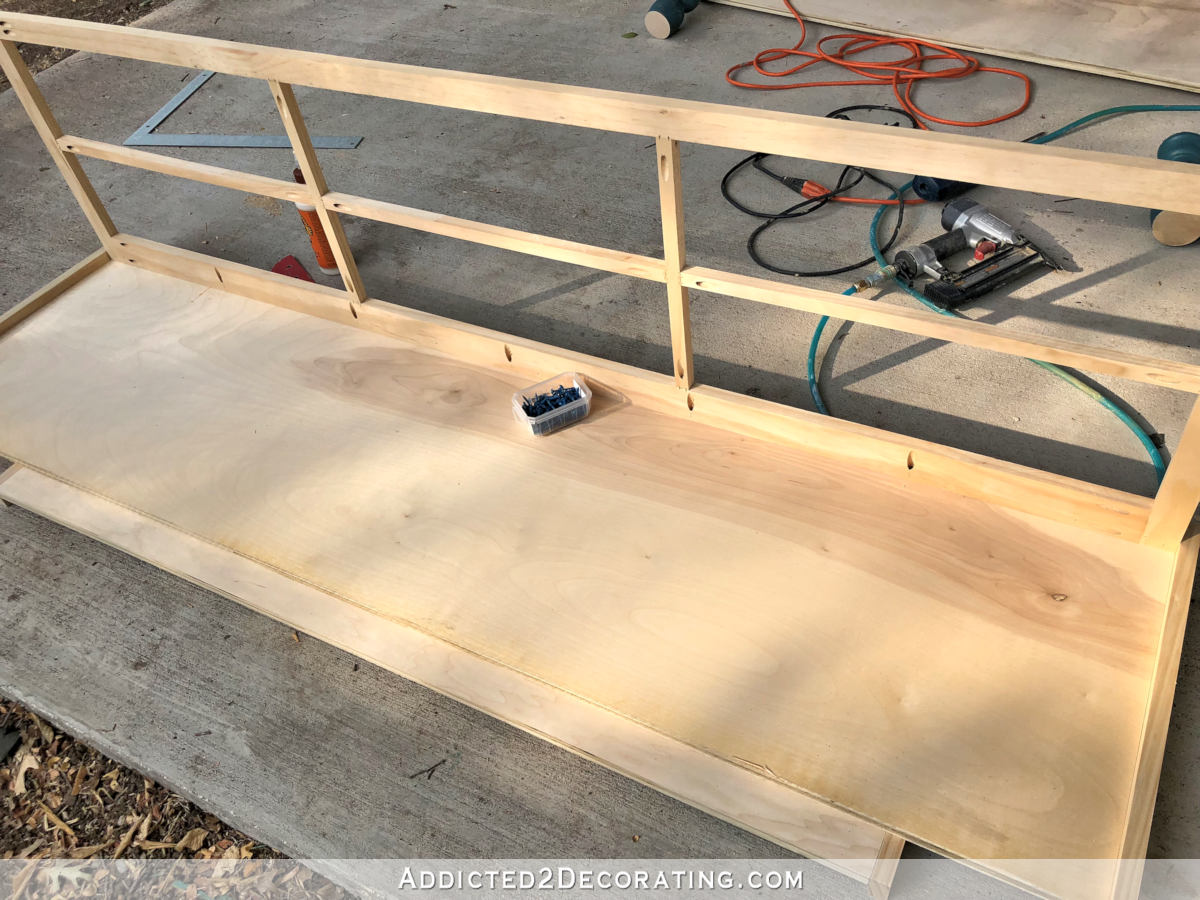 Next I cut the plywood sides…
Those were also attached with wood glue and pocket screws.
Here's how it looked at this point, with the front frame and side pieces in place…
Next I cut two more pieces of plywood to the same dimensions as the sides, and attached them behind the center stiles to create the separate drawer sections. I attached these to the top using wood glue and pocket holes, but since the front stiles were so narrow, I didn't want to put screws into them. So I attached the stiles to the plywood using little brad nails through the stiles and into the edges of the plywood.
To keep the backs of the sections square, I cut pieces of lumber to use as spacers and secured them with glue and nails. You can see them above. The pieces on either end section would also act as support for the legs.
The front needed support for legs as well, so I added two more spacers on the end sections, secured with glue and brad nails.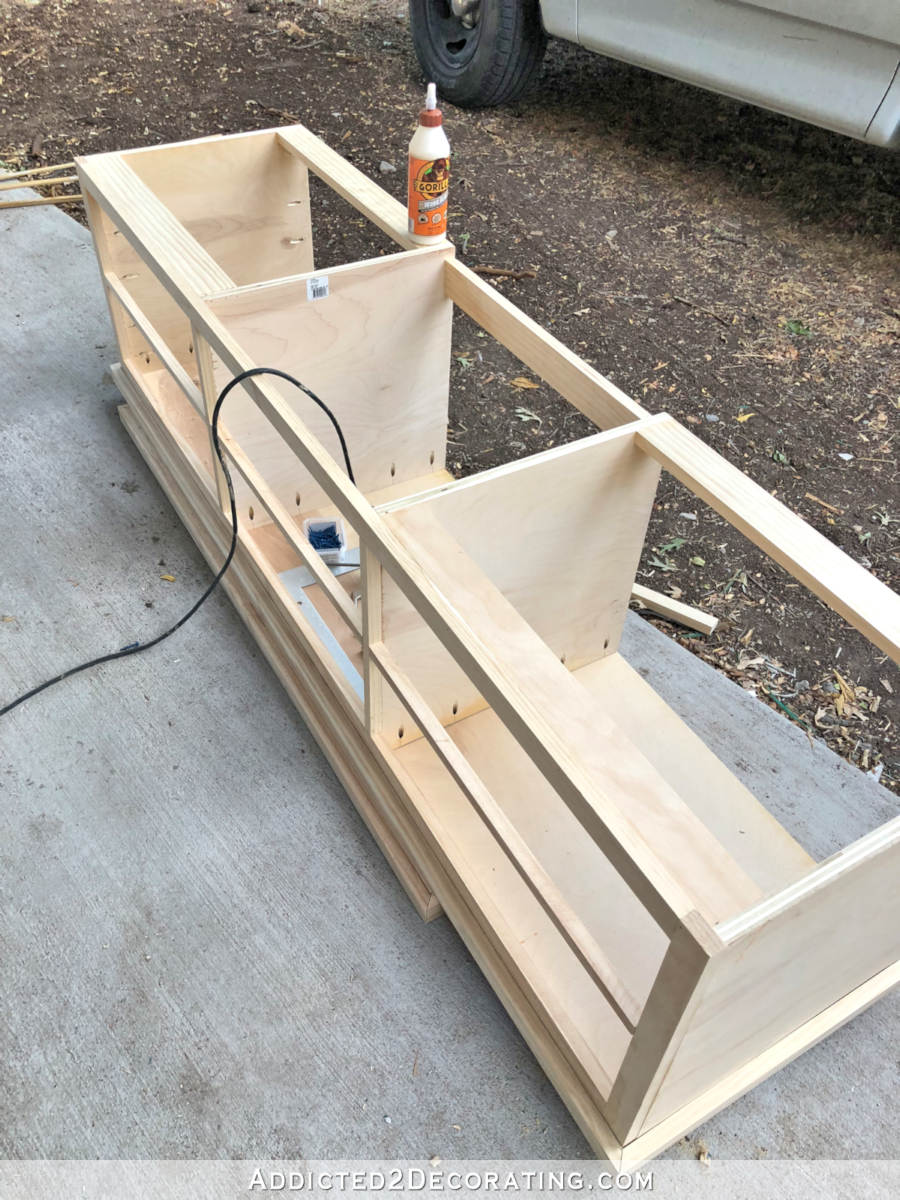 The spacer at the back of the middle section is attached that way because I was using nails and not pocket screws, so if I had lined them up the same, I wouldn't be able to nail through the plywood into the ends of that piece of lumber. So I staggered it so that I could get nails into the ends.
But then I realized that I needed something solid there to nail the bottom plywood to, so I added another piece, glued and nailed into the edge of the original spacer.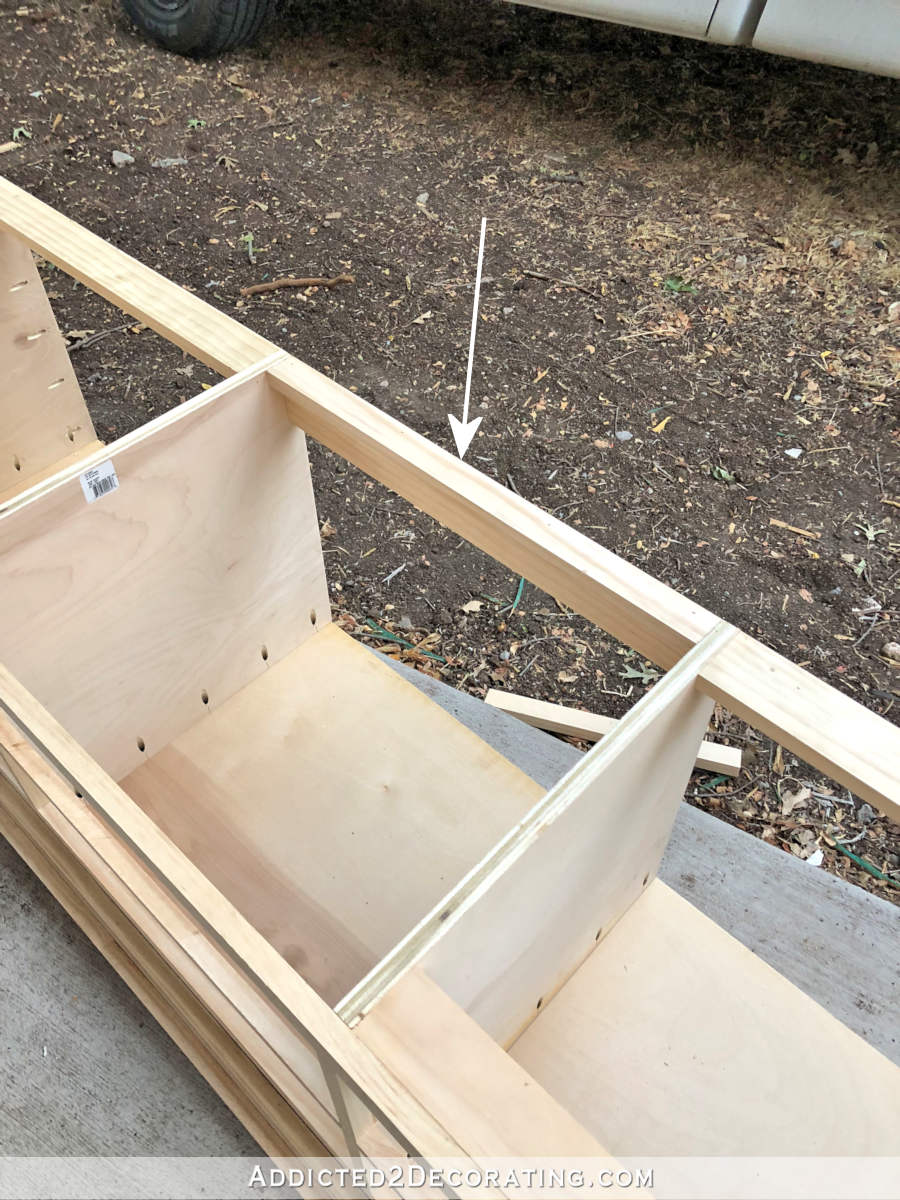 And then I covered the bottom with 1/4-inch plywood, glued and nailed into place.
I could only find what I needed in small 2′ x 4′ pieces, so I had to use two pieces to cover the entire bottom.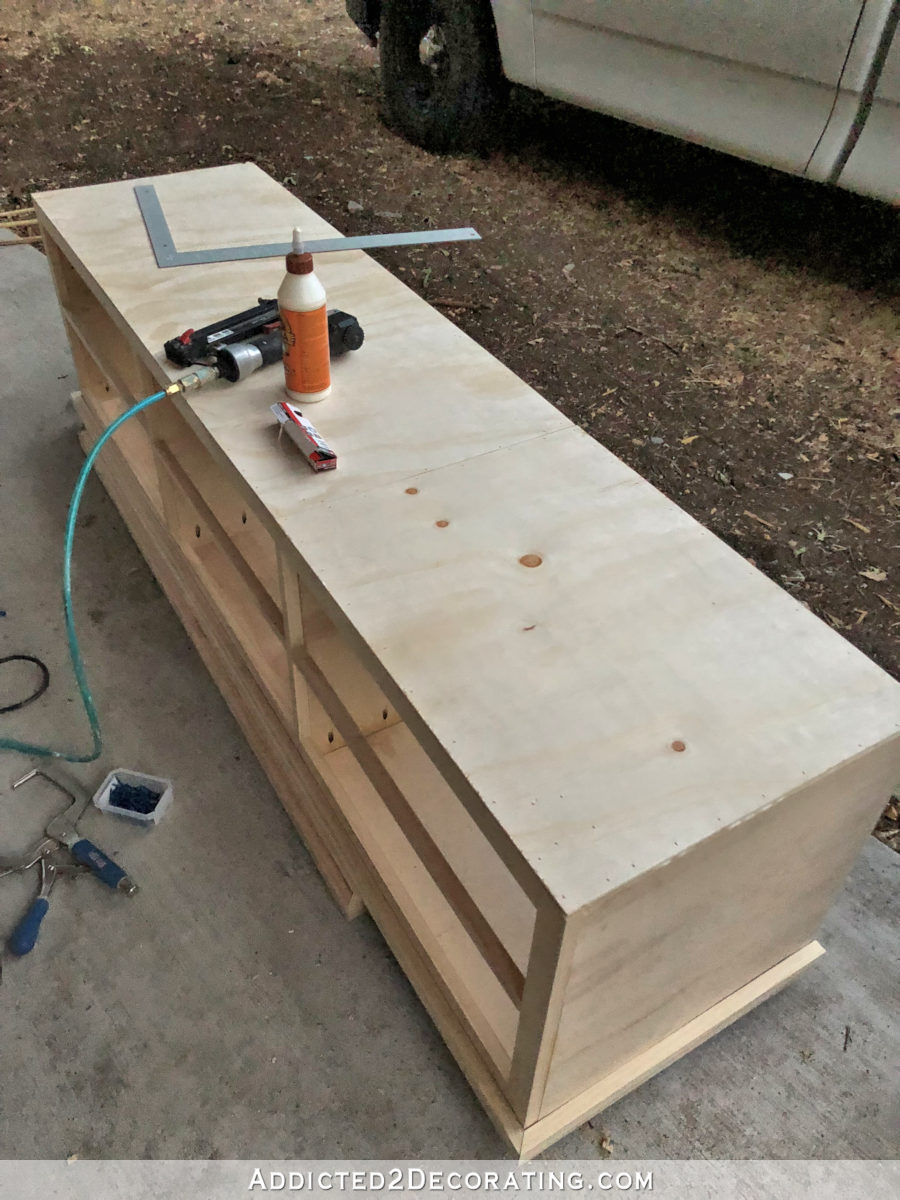 And then I was ready to add the tall leg sections. I glued them into place, and left them there overnight to dry. Today, I'll reinforce them with screws before I continue building the lower section of the table.
And that's where I left it. Today, I'll definitely get the rest of the main table built (lower shelf and little feet), but if things go well, I hope to get all of the drawers built as well.
Update:
The console is finished! Here's a peek at how it turned out…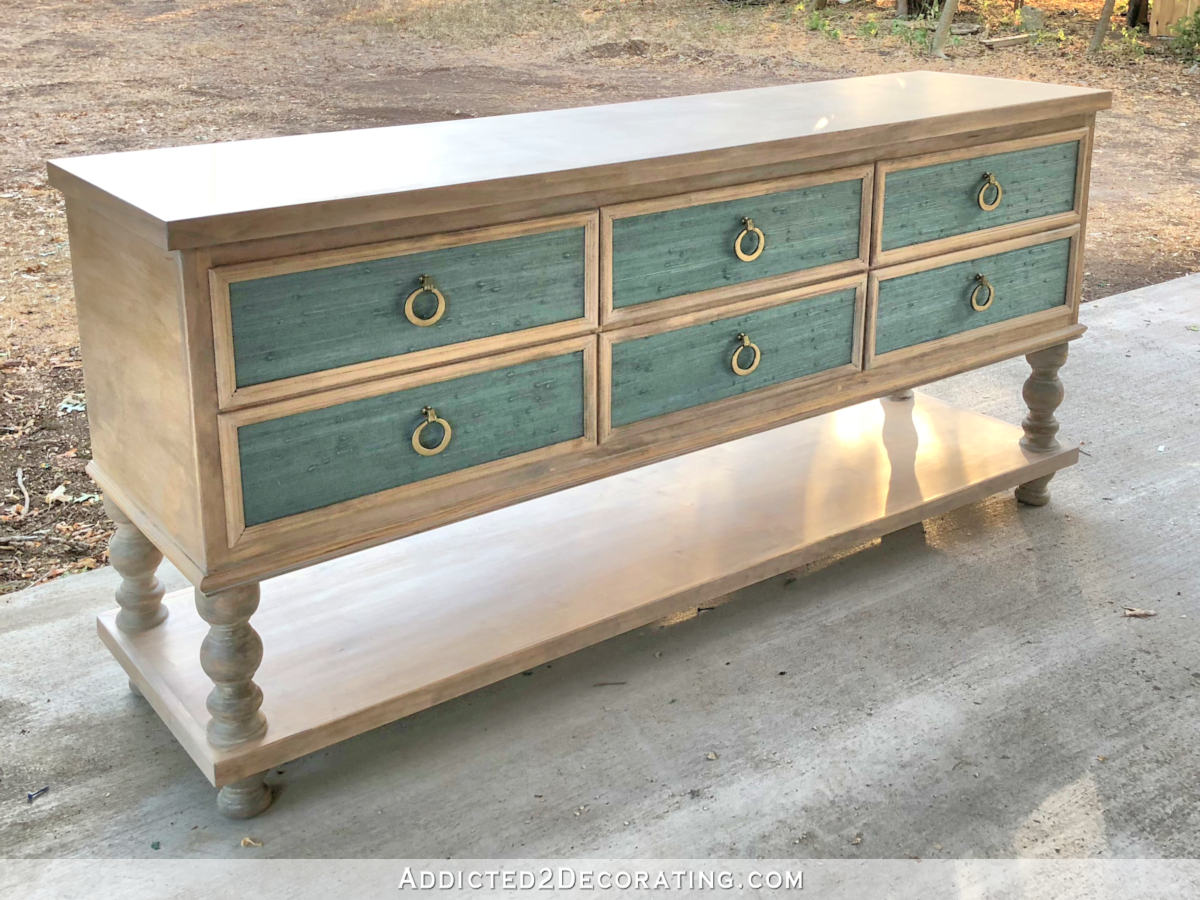 You can Part 2 of this project here…
And the final post of the project is here…
Addicted 2 Decorating is where I share my DIY and decorating journey as I remodel and decorate the 1948 fixer upper that my husband, Matt, and I bought in 2013. Matt has M.S. and is unable to do physical work, so I do the majority of the work on the house by myself. You can learn more about me here.
I hope you'll join me on my DIY and decorating journey! If you want to follow my projects and progress, you can subscribe below and have each new post delivered to your email inbox. That way you'll never miss a thing!