My Finished Entryway – Before and After (and All Of The In-Betweens)
I'm sure some of you guessed what I was up to lately with all of the random building and upholstery projects. But if you were feeling a bit lost, they were for my entryway. I made a couple of changes. Or, really, all of the changes. And now it's finally to a point where I can call it finished.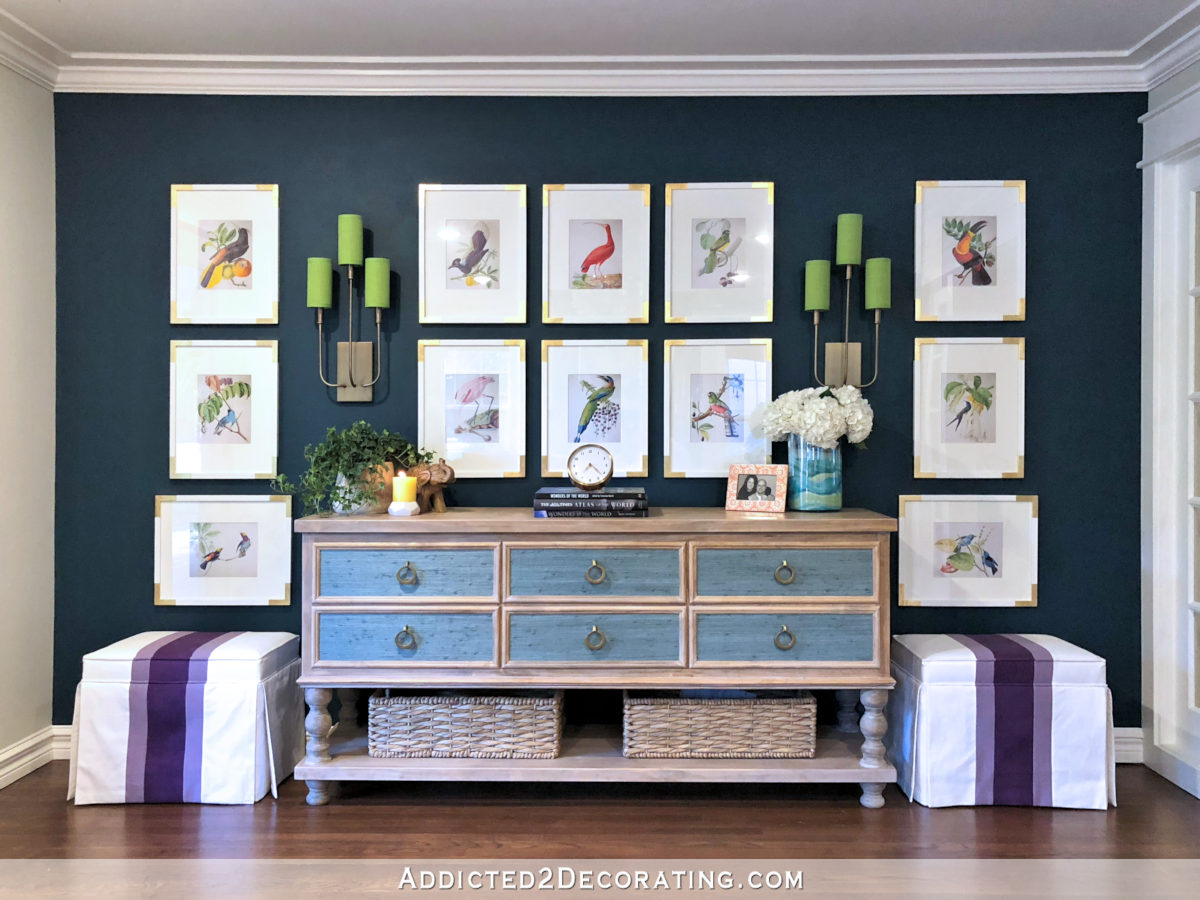 Looks a little different than the last time you saw it, huh? 🙂 Just a couple of weeks ago, it was still "in progress" and heading in a very different direction…
So if you're wondering why and how this came about, let me tell you.
It started when I was reading through comments on this post from the end of June, and I came to realize that one reason I have such a hard time finishing rooms is because I get so much input along the way and start second-guessing myself, changing my mind, and changing course. In the comments, someone asked something like, "Is there any way you could finish a room and then share the projects with us?"
I thought about that, but I've been blogging for eleven years now, and for ten of those, I've been blogging about my own DIY projects. And I've just gotten into a rhythm of blogging in real time, which I love. I finish a project on Sunday, edit my pictures Sunday night, write and publish my post on Monday morning. I like my system, and after ten years, I don't want to change it.
But with this entryway, I did realize that I can play my cards a little closer to the vest when it comes to the overall plan, while still sharing the projects as I do them.
So after that post, I decided to come up with a complete design plan for the entryway and living room, keep it to myself, and put it into action. I must say, I'm very pleased with the results. Of all of the many entryway iterations I've gone through over the years, this one is absolutely my favorite.
This time, I decided to put the color on the entire wall. I know it looks black in some views, but it's actually the same custom mix dark teal that's on the fireplace, which is on the wall opposite this one. (Formula below.)
And you can see that I now have twice the number of bird prints than I had before. In coming up with this new plan, the first question I asked myself was, "What's my favorite decorative item(s) in the room so far?" My answer was my bird prints! I love the frames with the gold corners, and of course, I love the colorful birds. So I decided to move them from a side wall to a more prominent place, and then add more.
I will be using the paintings that were there before. They'll just have a less prominent place now. In fact, they're going on the wall where the original six bird prints started out.
Once I had the arrangement of the pictures and sconces in place, I was able to measure for the exact size that I wanted to build the console table and the ottomans. They're literally custom made to fit the wall.
I brought back the grasscloth, and fortunately I had just enough left from the previous entryway wall to cover the six drawers on the console table.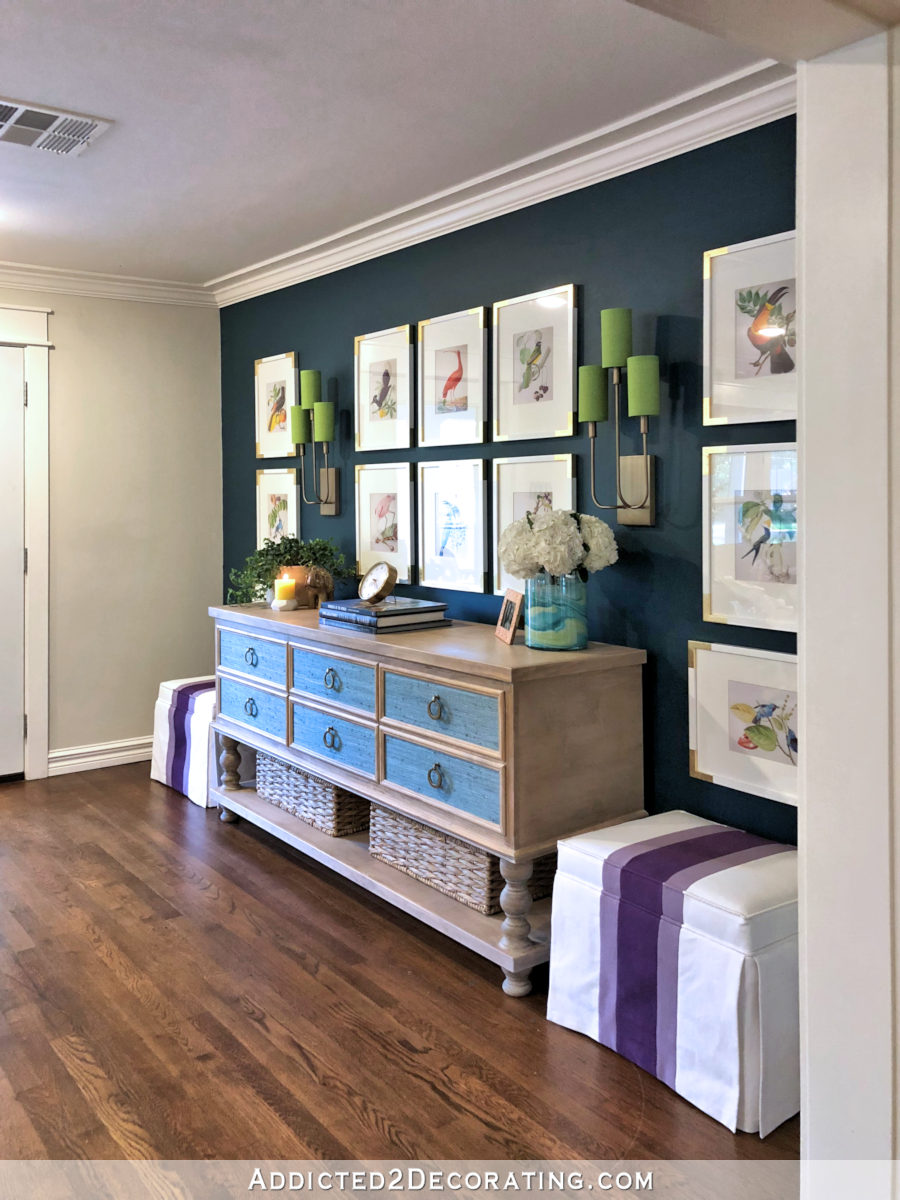 It worked out perfectly, and I'm so glad it did because I think that texture on the drawers is just the right touch.
And even with a much darker wall, a neutral/stained wood console table, and twelve white frames, you can see that I still have lots of color with the bird prints, drawer fronts, sconce shades, and ottomans.
As far as the sconces go, they're not actually wired just yet. 🙂 So right now, they're just purely decorative. They will work eventually, but in order to wire them, I need to get inside that wall.
And while I can do that from the bedroom (i.e., Matt's future game room) on the other side of the wall, I don't really want to tear into the wall until I'm ready to have that room re-drywalled. So for now, they'll just hang on the wall and look pretty and colorful. 🙂
So that's it! It's finished. For real this time. 🙂
So now, let's take a trip back and see what it took to get here.
When Matt and I bought the house in August 2013, this entryway area looked like this…
I will say that this was the area of the house I was the most disappointed with the first time I saw the inside of the house. I had always wanted a house with an actual, separate entryway, but this house has a door that opens right into a large room. But I was determined to make a sort of "entryway" using furniture placement, the addition of some architectural features, and by doing something grand on this wall just inside and to the left of the front door.
My first attempt was the bird and butterfly hand-painted mural with a black buffet, a gold sunburst mirror, and two coral and white chairs that I upholstered.
That was back when I had a kitchen full of green cabinets, so when I repainted my kitchen a softer teal, that entryway no longer complemented the new kitchen color (which can be seen from the entryway). I also decided that all of that moulding in a room with so many doors and windows was just a bit too much.
So then I went with the grasscloth accent wall and featured my own liquid acrylic paintings and a thrift shop buffet (which I purchased after moving the original black buffet into the breakfast room and painting it a dark purple).
And then when a Cooper collision caused a paint mishap on my grasscloth wall, I opted for a purple Greek key painted wall design. It was a fun project to do, but that purple always felt a little overbearing.
And that brings us to this current (and final) entryway wall. It's definitely my favorite.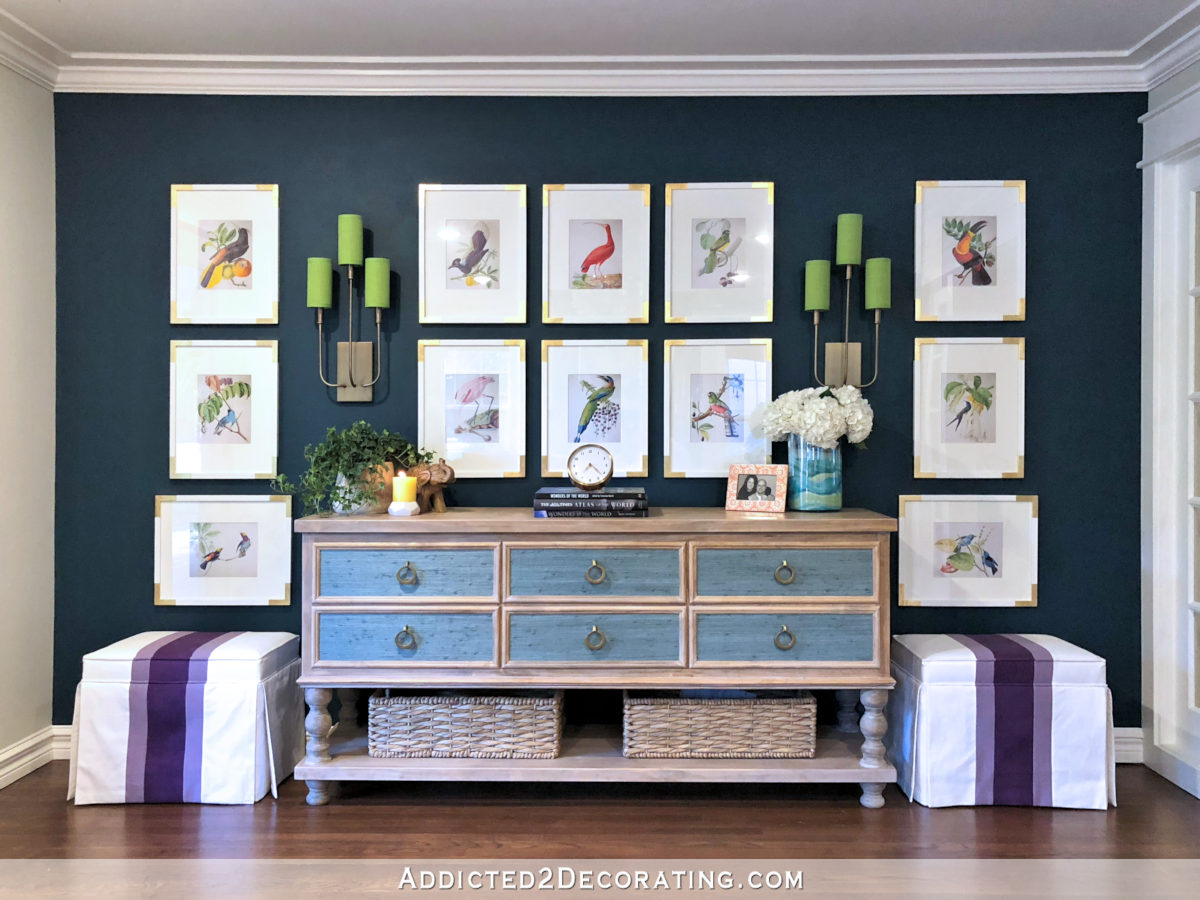 Sources:
DIY Projects:
[laurel_index cat="entryway-diy-projects" amount="6″ cat_link="yes" cat_link_text="View All" title="DIY Projects"]
Addicted 2 Decorating is where I share my DIY and decorating journey as I remodel and decorate the 1948 fixer upper that my husband, Matt, and I bought in 2013. Matt has M.S. and is unable to do physical work, so I do the majority of the work on the house by myself. You can learn more about me here.