Refinished and Painted Upright Piano (The Post Where I Eat My Words)
Well, it's a good thing I'm writing this post before I eat breakfast, because I'll be eating my words…sooooo many words that I'll probably be quite full by the time I'm finished with this post.   The good news is that I finished my piano.  But it doesn't look anything like what I had planned.  And to be quite honest, I'm much happier with the way it turned out.
To refresh your memory, here's what I started out with…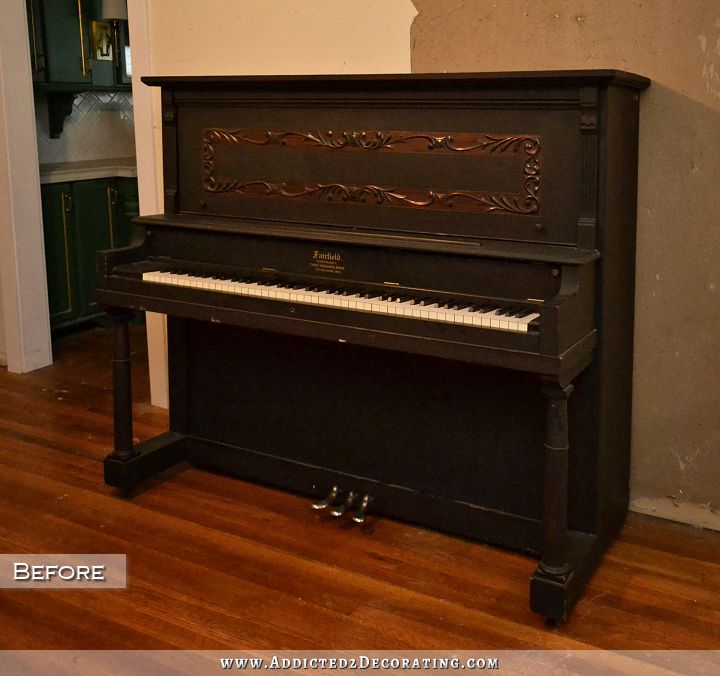 This piano is about 100 years old, and while it's a fantastic piano with an interesting history, the finish was horrible.  It was so thick that you couldn't see any wood grain through it, and it was so old and rough that when I ran my fingernails over it, it kind of felt (and sounded) like parts of it were made of plastic.
So after a week of working on it, let me show you how my refinished and painted upright piano now looks…
So which words shall I eat first?  There are so many to choose from.  🙂
"This piano will either be yellow or green.  I just can't make up my mind.  So majority rules on this one."
"I don't like gray.  I don't decorate with gray."
"If I paint this piano, I'll paint the whole thing."
Ha!  I really did have the best intentions.  In fact, as soon as it became abundantly clear that yellow was the winner, I headed to Home Depot to have my custom color mixed. (I chose the lightest yellow.)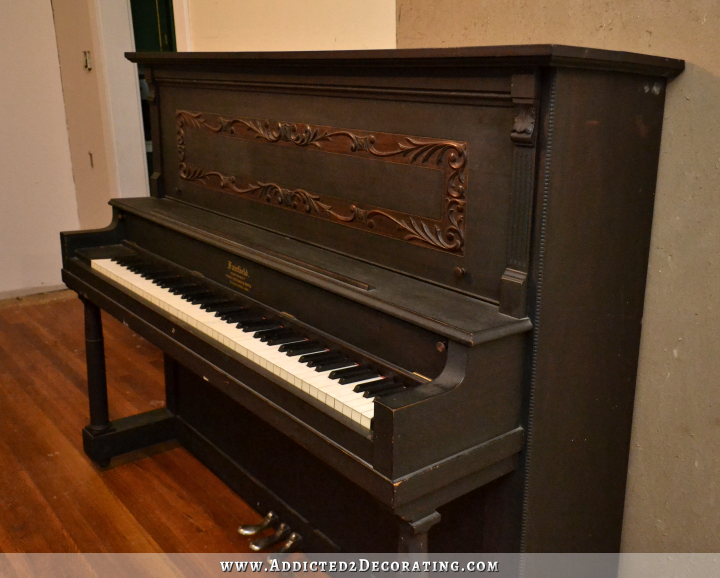 That quart of yellow paint is still sitting on my dining table, and obviously the piano isn't yellow.  So how did the gray thing happen?
Well, I couldn't get the walnut veneer out of my head — all of that gorgeous real walnut veneer that would be hidden under one layer of oil-based primer and two coats of yellow paint. It just seemed so ridiculous.  Because I like to keep things low cost, I'm generally working with cheap wood like pine.  And what do I do with that cheap wood?  I cover it with dark walnut stain, of course!  I try to make the cheap wood not look so cheap by staining it to look like walnut.
And here I had real actual walnut (just veneer, but real walnut nonetheless), and I was going to coat it with paint?  It just seemed so ridiculous.
I kept reading comments from some of you about how I should paint the piano, but stain the top.  I just couldn't picture it, and it seemed a little too similar to my buffet with the painted body and stained top.  Others of you said to strip and stain the part with the carved design, and then paint the rest.  Again, I just couldn't picture that one, lone piece being natural wood while the rest was painted.
And then someone (thanks, Lori!!) gave me this link, and I just couldn't stop looking at some of those gorgeous pianos.  I had three that I really liked, but this one was my absolute favorite.
Yep, the gray one.  They have one that's white paint combined with natural wood, but it doesn't look nearly as good (to me) as this gray one.
So I decided which sections I wanted natural wood and which ones I wanted painted.  Then I disassembled my piano (which was way easier than I had anticipated) and set about stripping all of the old finish off the pieces I wanted to be natural wood.  It was definitely not easy, but it also wasn't too terribly difficult like I had imagined it would be.
The most challenging part of the process was mixing a stain color to match the walnut.  All of the large, flat areas were covered in walnut veneer, but the edges of the wood weren't covered in veneer.  Ugh.  You can see the difference here…
All of those large flat areas are walnut veneer with nothing but Waterlox.  Those areas literally have no stain on them at all.  They turned that gorgeous dark color just from one coat of  Waterlox (a varnish-type of clear coat made from tung oil and resins).  But see how the edge is yellow?  That has Waterlox on it also, but the Waterlox did absolutely nothing for it except turn it an even brighter yellow and bring out some hideous green undertones.
So I had to mix my own custom stain color to match.  I ended up using a combination of Rust-Oleum Carrington and Traditional Cherry, but I have no idea about the ratio.  It wasn't perfect, but it blended pretty nicely.
I disassembled as much of the piano as possible.  It actually wasn't that difficult at all.  Everything came apart with just a flat head screwdriver.
But interestingly, even as I was many hours into the whole stripping and refinishing process, I was still thinking that the painted parts were going to be yellow.  But the more I stripped and refinished, the more I thought that I just couldn't do it.  Yellow with that gorgeous walnut?  It just didn't seem right.  I didn't think that yellow would complement the walnut at all.  And I just couldn't get the image of that gray and stained piano out of my head.
Ugh…gray.  But the more I tried to think of another color that would work, the more convinced I became that gray was the only color that made sense.
So I gathered some paints I had on hand and mixed my own paint color.  I started with white (Polar Bear) and added equal amounts of black (Ultra Pure Black) and brown (Burley Wood).  I ended up with a color that was very gray.  The kind of gray that has blue undertones.  Cold.  Sterile.  Institutional.  All of the things I hate about gray.
But I didn't give up.  I just added quite a bit more brown, and then since the brown I had on hand had slight green undertones, I added just a touch of red to cut the cool look and warm it up a bit.  That worked perfectly.  You can see the difference here.  The original gray is on the left, and the one I ended up using is on the right. (Pay no attention to the one on the far right.  That wasn't for the piano.)
So gray it was.  Or I guess we could actually call it taupe since it has so much brown in it, right?  But who am I kidding?  That piano looks gray.  And oddly enough, I love it.
Once all of the painting was done, and all of the natural wood pieces were sealed, and all of the non-walnut pieces and edges were stained, I was anxious to reassemble everything.  The bottom panel just snaps right in.  No tools necessary for that.  Then I reattached the keyslip (the long wood piece that sits in front of the keys).  Both of those pieces had the walnut veneer on the face, but the keyslip had to be stained on the top edge.  I think it blends nicely, though.
Then I reattached the keyblocks, which are the blocks of wood that sit on either side of the keys.  Neither of those were covered in walnut veneer, so I had to use my custom mix stain on those.
And then I was ready to put the keys back on.  It was so fascinating to see how upright pianos are put together and how they work.  I've played the piano since I was very young, but I had never seen the inner workings like this.  They keys come off and go back on very easily, as long as you keep them in order.
As I removed mine, I numbered each one and put them in a box for safe keeping.  When I was ready to reassemble, I lined them up on the floor by the piano in numerical order, which made reassembly very quick and easy.
And one more piece had to have the custom stain treatment — the low, long piece that sits right behind the keys and keyblocks, and to which the key cover hinges are attached.  Once everything was put back together, I was so relieved to see how well that piece, the keyblocks, and the stained edges of the keyslip and key cover pieces all blended with the real walnut.
Before I started stripping these pieces, I made sure that I covered up the original manufacturer's decal with painters tape so that it could be preserved.
To "frame" the section with the decal and give it a finished look, I used painters tape to tape off a narrow stripe on each side, and painted it with liquid gold gilding that I bought at Michael's.  I was so surprised and ecstatic about how perfectly the gold gilding matched the original gold decal.
And the final finishing touch was the pedals.  These old, worn, rusted pedals really detracted from the newly refinished and painted piano, so I decided that they needed a little refinishing as well.
I used Rub 'N Buff in antique gold to give them a new look.  It actually didn't make them look perfect and new, which I liked.  This is, after all, a 100-year-old piano.  But it did at least give them a consistent color and finish, and hide the awful rusted finish.
It was the perfect finishing touch, and Rub 'N Buff is so quick and easy to use.  Each pedal took me about two minutes, if even that long, and I just rubbed it on with my finger and buffed it with a paper towel.
I actually used Rub 'N Buff on all of the hinges and other small metal parts as well.  All of those little finishing details add so much to the overall look.
And that's the story of how my yellow piano ended up being natural walnut with gray.
And really, I like it so much better than I would have a yellow piano.  I think this is much more appropriate for my house.
The natural walnut gives it an elegant look that complements my kitchen very nicely, while the painted areas keep the piano from looking too formal.  It's the perfect combination.
So I'm pretty confident that I made the right decision about the piano.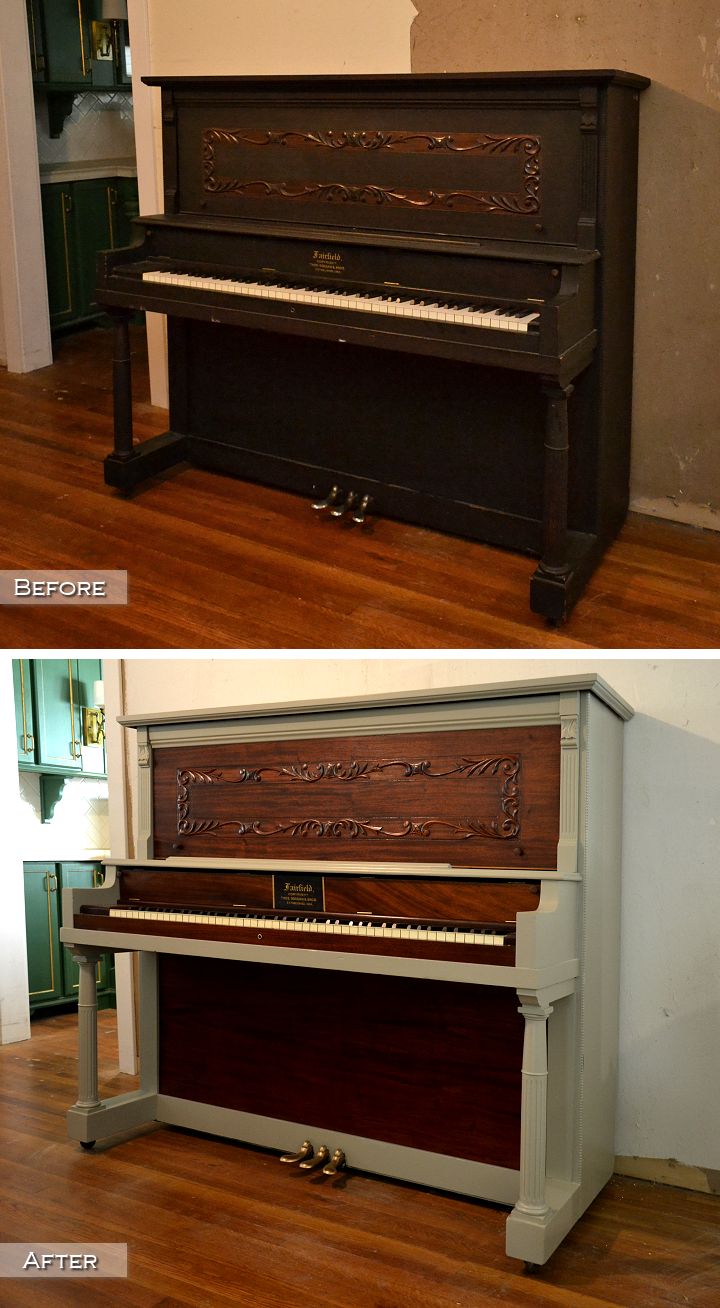 Now I just have to figure out what the heck I'm going to use that quart of yellow paint on.  It's too pretty to let it go to waste!
Addicted 2 Decorating is where I share my DIY and decorating journey as I remodel and decorate the 1948 fixer upper that my husband, Matt, and I bought in 2013. Matt has M.S. and is unable to do physical work, so I do the majority of the work on the house by myself. You can learn more about me here.