Last Updated on October 25, 2019 by Kristi Linauer
Let's have a heart-to-heart chat. I want to share some encouragement with y'all that I know I've shared before. In fact, I've probably written similar posts several times over the years. I'll probably write another one sometime in 2020. But I feel like we all need a reminder every once in a while. And since it's the beginning of a new year, I thought this might be the perfect time. So what is this reminder about? It's this…
Your home should reflect you and those who live in it. No one else. Period.
This whole blogging thing is challenging at times. Not from a "oh, my job is so hard" aspect. I thrive on the actual work, and feel incredibly lucky that I get to do what I love every single day and make a good living doing it.
But from the "putting my life/home out there for public commentary and input" aspect, it gets challenging. And I'm not even talking about the meanies. That's not what this post is about at all. This is more about others' expectations for your home, and doing your best to quiet the voices and stay true to yourself.
I think that the sheer volume of input and suggestions that come my way would be confusing to most people. I love the input I get from those who read my blog, but there have been several times over the years that I've allowed myself to get confused and off track by the input. I have to make a conscious effort to stay true to myself when I make decisions regarding my home. It's not always easy, but I find that generally when I let others have too much influence over my decisions, it's out of fear. Fear of what others may think. Fear of whether others will like my choices or not. Fear of disapproval. Fear of having someone call my decisions ugly or wrong.
When it comes down to it, none of those things matter. They don't matter for me, and they shouldn't matter for you either. While bloggers, Instagrammers, interior designers/decorators, etc., probably get way more input than people who don't put their homes on the internet for public consumption, I think probably most people still get that input from somewhere.
It could be your mother-in-law who gives a disapproving side eye glance at your new dining table, or your nosy neighbor who pops over to see your new kitchen remodel and decides to tell you everything she would do differently and better, or your best friend who just can't understand why in the world you'd paint your wall red because she hates red (even though she knows red is your favorite color).
Regardless of where the input is coming from, we all have to learn to take the grains of good and useful input, and toss the rest. We have to stay true to ourselves, because our houses don't need to reflect our in-laws' or our neighbors' tastes and personalities. They need to reflect the people who live there.
I started thinking that we all may need this reminder again when I published my final pantry before and after post. As a reminder, this is what my pantry looks like…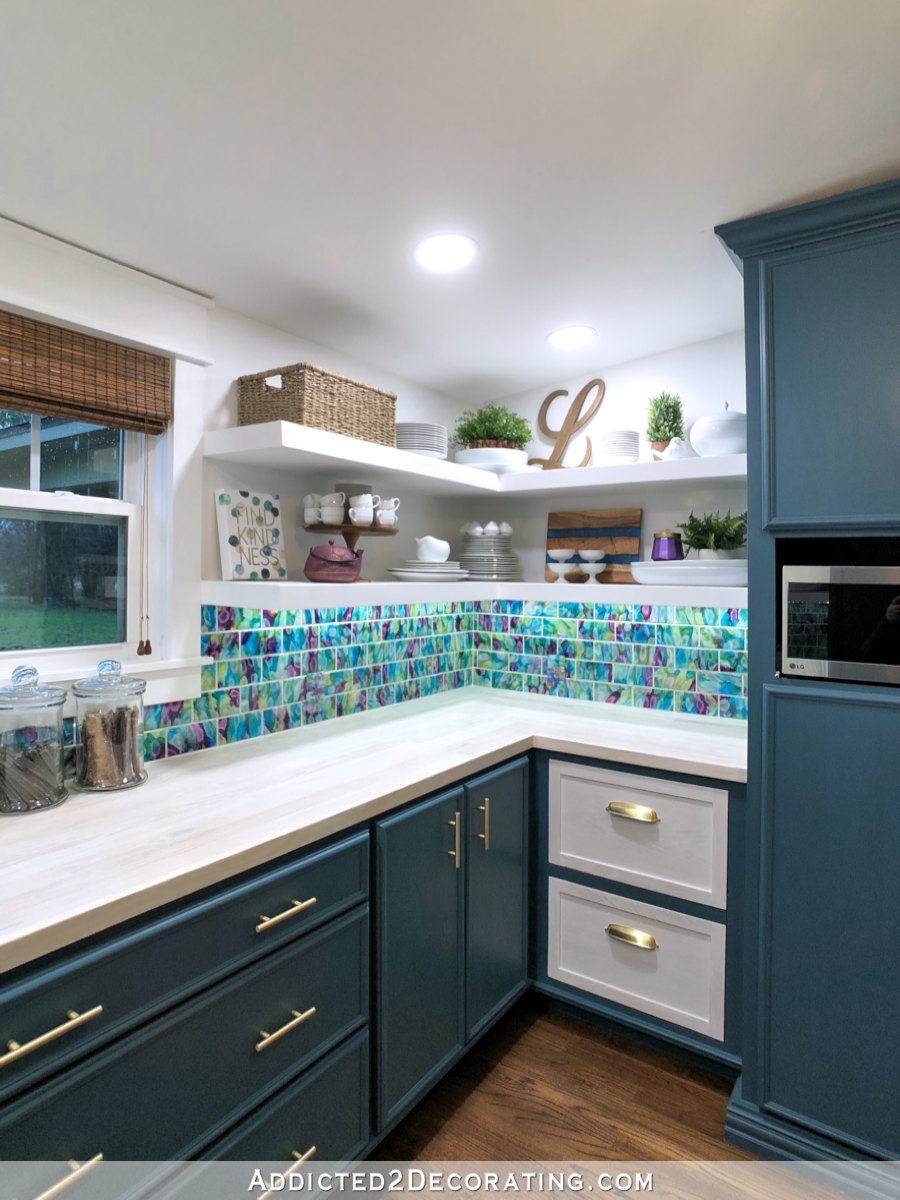 And one commenter said that it's nice, but when we sell our house, I'd have to get rid of those tiles and put something neutral there.
Again, that wasn't a mean or rude comment. This isn't a post about meanies and online bullies, and I'm not looking for responses like, "Kristi, just ignore the haters." This person clearly wasn't being mean or a hater.
This is a post about mindset. And that comment revealed a mindset that I think is so prevalent among homeowners, and it makes so many homeowners fearful of choosing things that truly reflect their own personalities for fear of what the next owner may think.
Matt and I don't plan on selling our house. When we bought this house, we decided it would be our forever home, and that really freed me up to put my own stamp on it.
Now I do know that some people purchase homes knowing that by a specific date, they will be selling the house again. Maybe they have to move every two years for work. Or maybe the house was intended as an interim home while they're building their dream home.
But most people don't buy homes with a definite sell date on the books. And yet, so many people make decisions for the next potential owner. I've known people like this — people who are afraid to paint the walls or paint the cabinets or use some colorful tile because what if they decide to sell the house, and a potential buyer hates the color?
Two homeowners I personally know who did this went on like this for over fifteen years before they actually sold the house. Fifteen years! That's a long time to live with builder white walls simply out of fear that the next owner would disapprove of your love of blue.
Decorating for the next potential owner is something that far too many people do. And that potential future homeowner is an unknown, nameless, faceless person we've never seen or met before. And yet, we let him/her have far too much control over our decorating choices.
So if we let some nameless, faceless person have that much power over our choices, then the opinions and input of the people we actually know — the relatives, neighbors, friends, coworkers, etc. — are even more powerful. And while they mean well (hopefully), we have to weigh that input very carefully and remember that at the end of the day, your decisions still only need to reflect you and the others who actually live in your home.
Some input is very easy to brush off, because you know immediately that the person is speaking about their own preferences and not yours. For example, when someone tells me that they think I'd be happier with white cabinets, I don't even have to give that a second thought. I know what they said isn't really what they mean. There's no way they could know me and believe that I'd be happier with white cabinets.
What they mean is that THEY would be happier with my home if I'd paint my cabinets white. But it's not their home. It's mine. (And Matt's, of course, but he couldn't care less as long as I don't paint anything pink.). And I would never choose white cabinets.
But other input isn't so easy to immediately put aside. I was told yesterday that I was obviously "going through a phase" with all of this color all over my house. My immediate response was a feeling of insecurity and embarrassment. And I thought to myself, "Oh my gosh, is this true? Maybe I am going through a phase!"
It took me a while to convince myself that no, this isn't a phase. I really am being true to myself in my decorating decisions right now. And my love of color is consistent with who I've been for a very long time now. Remember our condo?
Our house before that was a rental, so I didn't do much to it (although I did refinish the kitchen cabinets 😀 ). And our house before that was one that we had built in Albany, Oregon. The inside of that house was painted 21 different colors throughout the various rooms.
So no. This isn't a phase for me. Unlike that commenter, I don't have a need (or a desire) for "peaceful elegant surroundings." I thrive on color, and look for ways to add more. And the last thing I need to do in my home is change directions based on someone else's wants or needs, especially a person who doesn't live here and will probably never set foot in my home. And I certainly don't need to change directions based on fear of someone else's disapproval of my home.
And that's really the point of this whole thing. That's the idea I want to get through to you.
It doesn't matter if every single visitor to your home disapproves of your hot pink feature wall covered top to bottom in your collection of vintage neon signs. If it speaks to you, and you love it, that's all that matters.
Let your home reflect you, regardless of what others think about it. I'm very passionate about this because I think decorating is more than just a way to pass the time making pretty things.
I truly believe that having a home that reflects you can have a huge impact on your mental well-being, just as having a clean and organized home can. Truly creating a home — a sanctuary where you can escape the hectic outside world — is so important for our well-being, but your home has to be filled with the things YOU love. Not the things your mother-in-law loves. Not the things your neighbor loves. Not the things that your best friend loves. And certainly not the things that you think some potential future buyer might love. But the things that you love.
So here's to carefully weighing the input of others, using the input which is truly useful, discarding the rest, pushing aside fear of disapproval, and forging ahead with our own visions for our homes in 2019, regardless of what others think of the outcome. 🙂
Addicted 2 Decorating is where I share my DIY and decorating journey as I remodel and decorate the 1948 fixer upper that my husband, Matt, and I bought in 2013. Matt has M.S. and is unable to do physical work, so I do the majority of the work on the house by myself. You can learn more about me here.
I hope you'll join me on my DIY and decorating journey! If you want to follow my projects and progress, you can subscribe below and have each new post delivered to your email inbox. That way you'll never miss a thing!