DIY Shadow Box Frame (And My Artwork Fail)
A few days ago, I shared with y'all that I wanted to frame a series of nine resin petries to hang on the bathroom wall during its current colorful makeover. First I want to show you how I made the simple DIY shadow box frames that I made for the petries, because you can use this idea to frame all kinds of two-dimensional and three-dimensional items. And then I'll show you why I don't think they work well on the bathroom wall.
These are the resin petries I wanted to frame. They're about four inches in diameter.
And I wanted to display them in very simple easy-to-make shadow box frames.
How to build the shadow box frames
Step 1: Cut four pieces of 1″ x 2″ lumber the same length, mitered on the ends.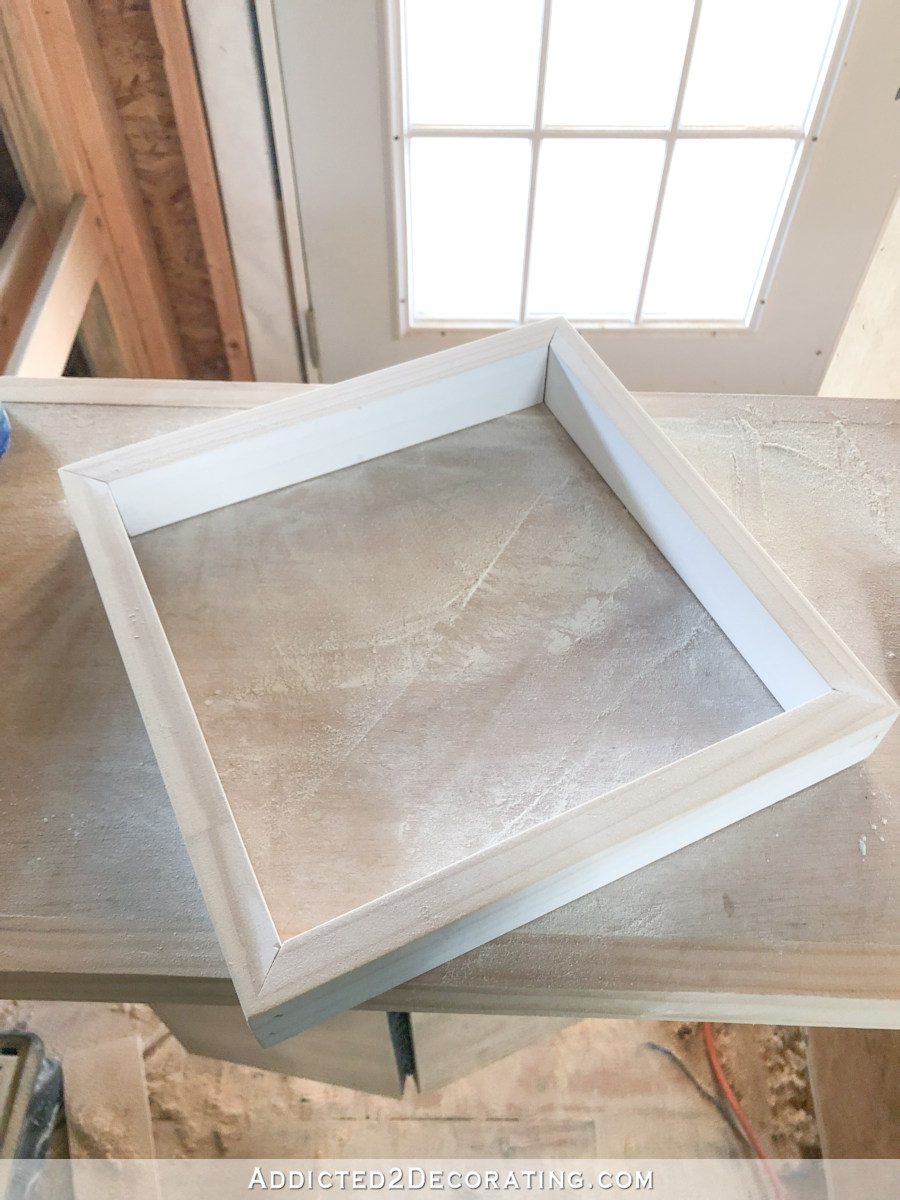 I cut my four pieces to approximately 10 inches long, mitered on the corners. Then I put them together using wood glue and 1.25-inch 18-gauge nails.
Note that I would generally use my table saw to cut a rabbet into the 1″ x 2″ lumber before cutting the pieces, but for some reason, I couldn't get the blade on my table saw to raise or lower. So cutting a rabbet in the back of the lumber wasn't an option. But that's okay, because this allows me to demonstrate the absolute easiest version of this frame idea.
After nailing the pieces together, I used my rotary sander to sand the top, sides and back of the frame and even out any imperfections on the mitered corners.
Step 2: Cut a piece of MDF and attach to the back of the frame.
I used 1/4-inch MDF and cut it to about 1/2-inch less than the outside dimensions of the frame. My frame was ten inches square, so I cut the MDF to be 9.5 inches square. Then I attached it to the back of the frame using 3/4-inch narrow crown staples. But if you don't have a stapler, finish nails will work.
Here's what it looks like from the front…
Of course, you could call it finished at that point. You'd just need to wood fill the nail holes, sand, and give the whole thing a couple of coats of paint. But I wanted mine to have a little extra detail.
Step 3: Add dimension to the display area with MDF
I wanted my frames to have a display area with a raised effect, so I cut a small square of 1/4-inch MDF and glued it to the center of the frame.
And then I cut a larger piece of 1/4-inch MDF that measured about 3/4-inch less than the inside dimensions of the frame on each side. I painted this piece to match the frame, and then when it was dry, I glued it on top of the smaller piece.
And that's it! At that point, I was ready to attach my resin petries. Here's how my series of nine colorful petries looked inside my DIY shadow box frames arranged as a grid on the breakfast room floor.
I loved how that looked!
Unfortunately, my enthusiasm diminished when I got the series of frames hung on the bathroom wall.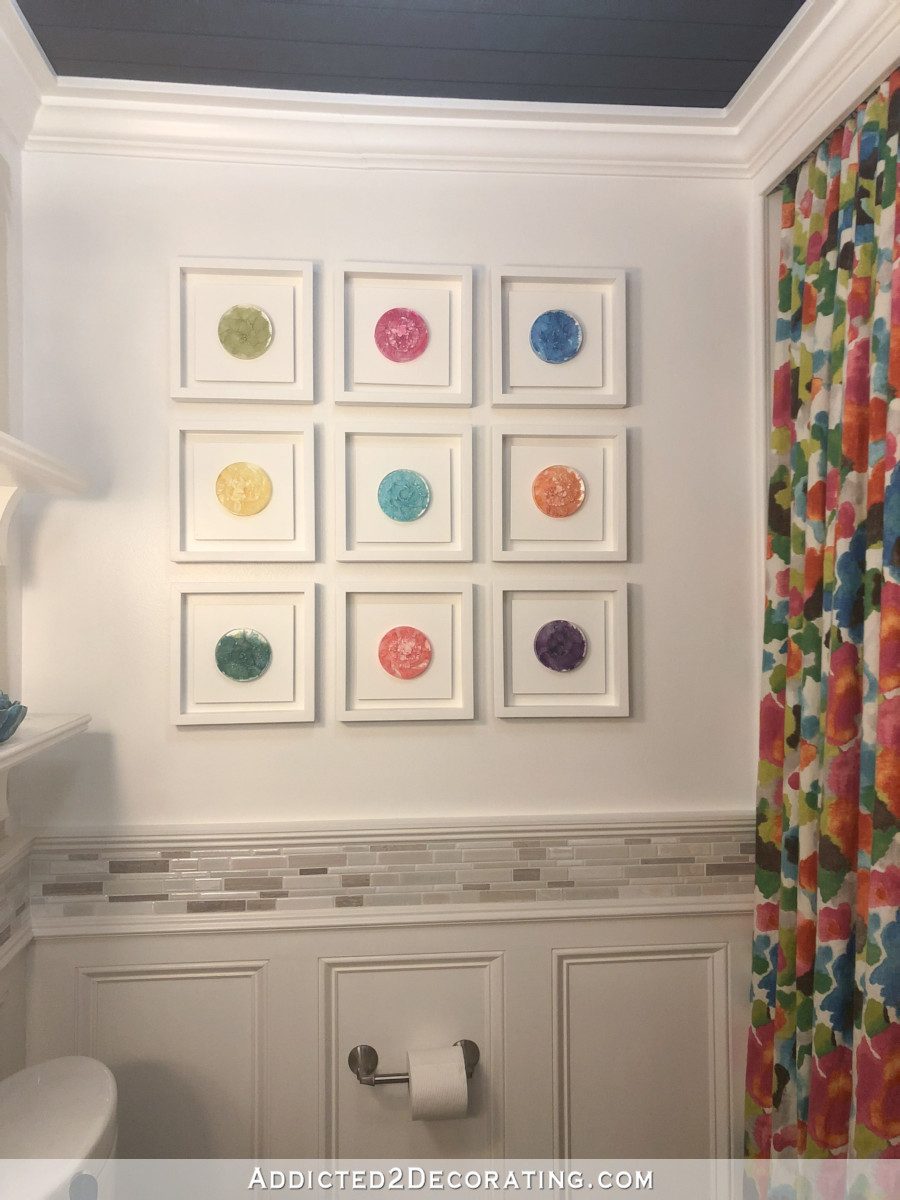 I love the idea, and when I isolate the nine frames, I love the look of them hanging together. What I don't like is how they look on that particular wall.
There are just so many rectangles and squares. There are so many boxes and corners that even the nine round petries can't save the day. There's the box-in-box effect of the wainscoting, with a hundred or more little rectangles just above it in the accent tile. And then there's more box-in-box effect in the series of nine framed petries.
It's way too much for this room. So while I love the look of the DIY shadow box frames with the colorful petries, I'm going to have to find another home for them. I'll be going back to one large framed piece of artwork for the bathroom wall. Of course, I don't have a piece of artwork that will work, so I'll have to paint one.
Another thing that just isn't working for me is the new white wall color. I used the exact same color that I used on the lower half of the walls with the wainscoting. It's the same Behr Polar Bear that I use on all of my trim, and the same color that I used on the walls in the pantry. But do you see how they upper wall and the lower wall look like two different colors?
The white upper wall just looks so stark and sterile, so I've decided to go with Benjamin Moore Classic Gray instead, which is basically the only non-white neutral wall color I can stand. I tested it out on this area…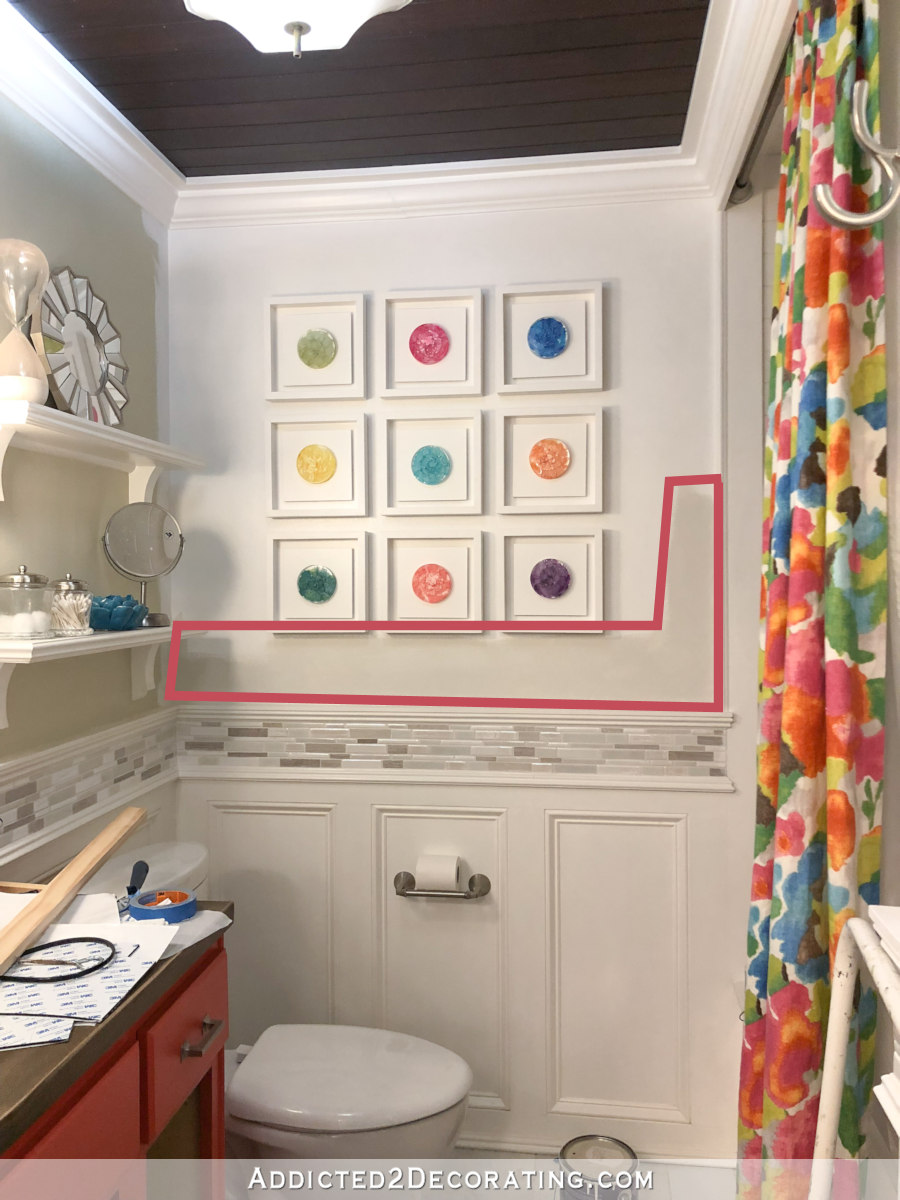 It's one of those barely-there wall colors that keeps the walls nice and bright while giving just enough contrast to make the crown moulding and trim show up. Here's a look at the Classic Gray sample without the pink outline…
So the bathroom is still a work in progress. 🙂 But I'm already enjoying the added color in here. Every time I walk by, I stop and stare just to take in the new colors. I still do that with the pantry (the new still hasn't quite worn off) and now I do that with the bathroom. 😀 Color makes me happy.
Helpful sources and products:
Want to see how I made the resin petries? They're fun and easy to make, and the finished product is so interesting and mesmerizing. You can see the details here…
If you need a larger DIY shadow box frame that will protect your artwork under glass, I show you how to make that here…
Benjamin Moore Classic Gray — If you're looking for the perfect non-white, barely-there neutral wall color for your walls, this is my go-to color. I highly recommend that you give it a try, even if you don't like gray. I generally don't like gray, either, but I love this wall color. I have it mixed in Benjamin Moore Aura wall paint in a matte finish.
---
---
Update:
My bathroom makeover is finished! Want to see the entire project from start to finish? You can find every single post about the bathroom makeover right here…
Or you can skip to the end and see how it turned out. Here's a peek of the finished bathroom…
You can see more pictures on the before and after post right here…
Addicted 2 Decorating is where I share my DIY and decorating journey as I remodel and decorate the 1948 fixer upper that my husband, Matt, and I bought in 2013. Matt has M.S. and is unable to do physical work, so I do the majority of the work on the house by myself. You can learn more about me here.