Last Updated on December 25, 2015 by Kristi Linauer
It's kind of become a tradition here–my annual post at the beginning of the year on the lastest HGTV Dream Home.  I always look forward to seeing the dream homes, hopeful that there's tons of inspiration to take away from it.  After all, it is a dream home, right?
This year, unfortunately, I wasn't that impressed…or that inspired.  Gosh, am I just being a Negative Nellie?  Well, let's take a look and you can tell me if I'm just being unreasonable, or if you also find it a bit blah.
For me, the disappointment started right off the bat with the exterior view…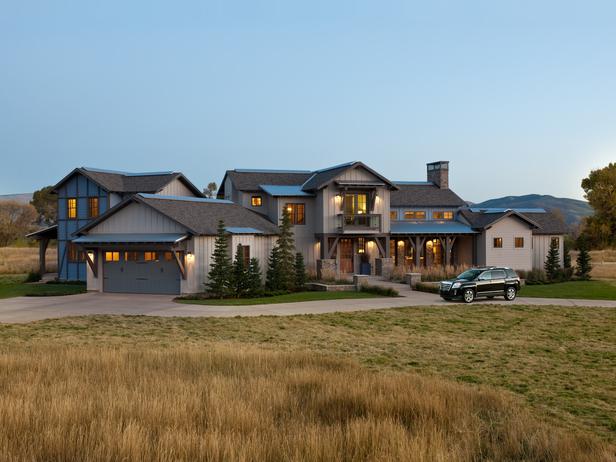 The arrangement just doesn't make sense to me.  Perhaps it's because I like symmetry and order, but I don't like the garage randomly jutting out of the side at an angle.  I find it distracting.
Next, the entryway…
In a brand new "dream home", I would never expect to see such a low ceiling in an entryway…or anywhere in the house.  Maybe they're not as low as they appear.  Perhaps it's the huge light that makes it look that way. And the front door doesn't even look like it would clear that light. I'm sure it does…barely.
From there, we venture into the kitchen…
I do actually really like the kitchen.  The blue and white looks fresh, and I'd give just about anything to have that kind of natural sunlight in my own kitchen.
But the dining room didn't do a thing for me…
It just looks so plain.  No incredible light above the table?  No window treatments?  I think draperies on those windows would have gone a long way towards adding softness, color, texture, and personality to this room.  Without them, it looks like a home staged for sale…on a budget.
While I do really like the great room for the most part, I have the same issues with the windows…
Again, to me it just looks unfinished, and all of the stone gives it a very hard and cold look. Fabric on those windows would have gone a long way in softening up the room and making it cozy.
See what I mean?  Am I just being negative?  Too critical?  Or does this home fall short for you also?  Don't get me wrong.  If I won it, I'd take it in a heartbeat!  But as it is currently, it just doesn't look like a "dream home" to me.
Now the bedrooms…those I like!  Here's one of the guest bedrooms…
And here's the second guest bedroom…
And the master suite…
There's much more to see of this home, including the outdoor entertainment areas, mud room, laundry room, and garage.  But these are the highlights.
So what do you think? Is this your dream home? Don't forget…you can enter once a day to win this home!
Addicted 2 Decorating is where I share my DIY and decorating journey as I remodel and decorate the 1948 fixer upper that my husband, Matt, and I bought in 2013. Matt has M.S. and is unable to do physical work, so I do the majority of the work on the house by myself. You can learn more about me here.
I hope you'll join me on my DIY and decorating journey! If you want to follow my projects and progress, you can subscribe below and have each new post delivered to your email inbox. That way you'll never miss a thing!