The year is coming to a close, and we're only about a week away from 2020! I'm still having a hard time wrapping my head around that.
For the last few years, I've been making lists of home goals filled with projects that I'd like to get done during the year, and 2019 was no exception. And then at the end of the year, I like to look back and see just how I did on achieving those goals.
So, how did I do on 2019? Well, I got a lot accomplished this year, but not nearly as much as I had hoped. And while I do feel like that to some degree at the end of every year, I feel like 2019 was different. In 2018, I had such clear focus, I worked incredibly hard and diligently, I kept my to do list always at the forefront of my mind. 2019 was different. I went for long stretches of time (sometimes three months) without even referring back to my "to do" list for the year. I completely forgot that I even had a list at one point. This year felt more scattered and disorganized.
But even with all of that, I did manage to get quite a bit done. So here's a quick rundown of the year…
The Hallway Bathroom
I started the year with a hallway bathroom makeover. At the beginning of the year, the hallway bathroom looked like this…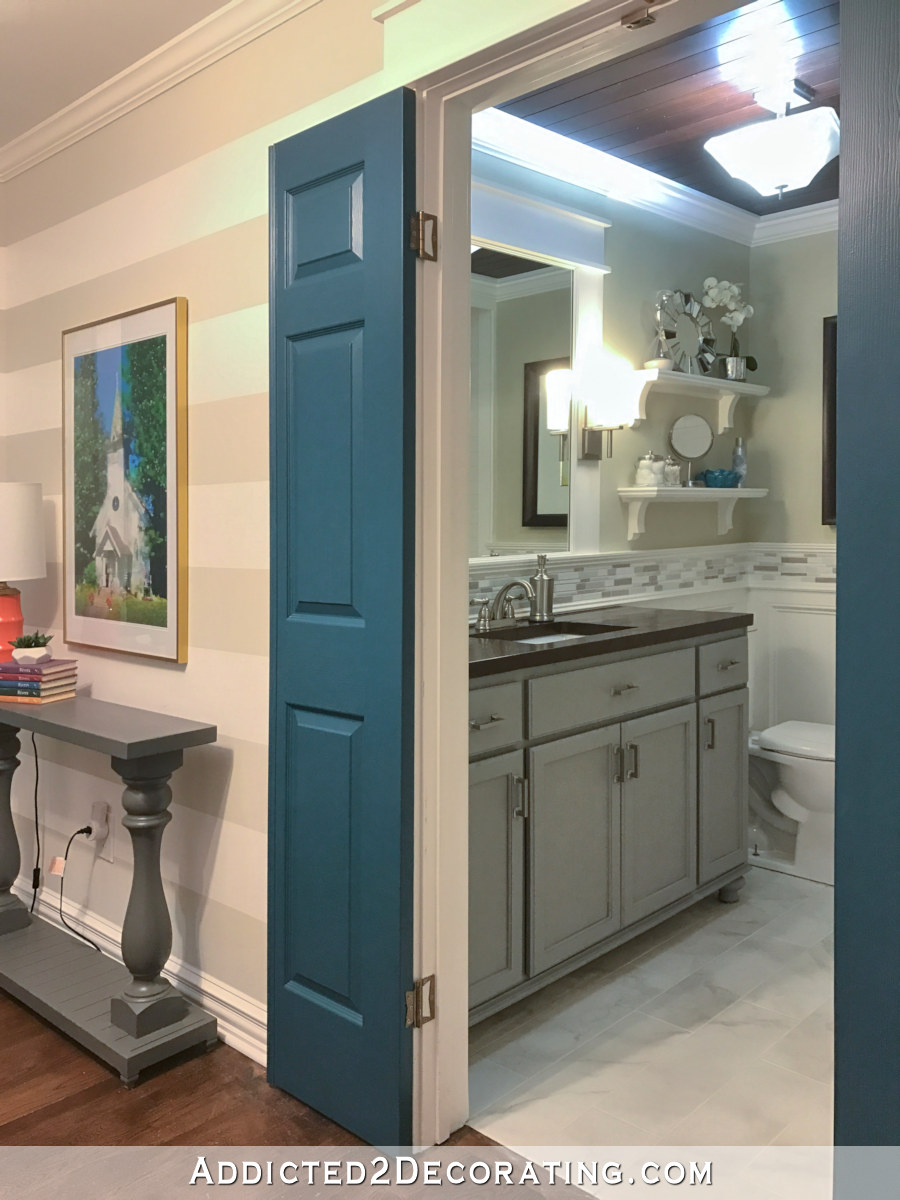 I just couldn't handle that drab gray vanity, the light green wall, and the super dark (almost opaque) finish on the countertop. So with some paint, some sanding, and some refinishing, I ended up with a bathroom that was much more suited to my taste.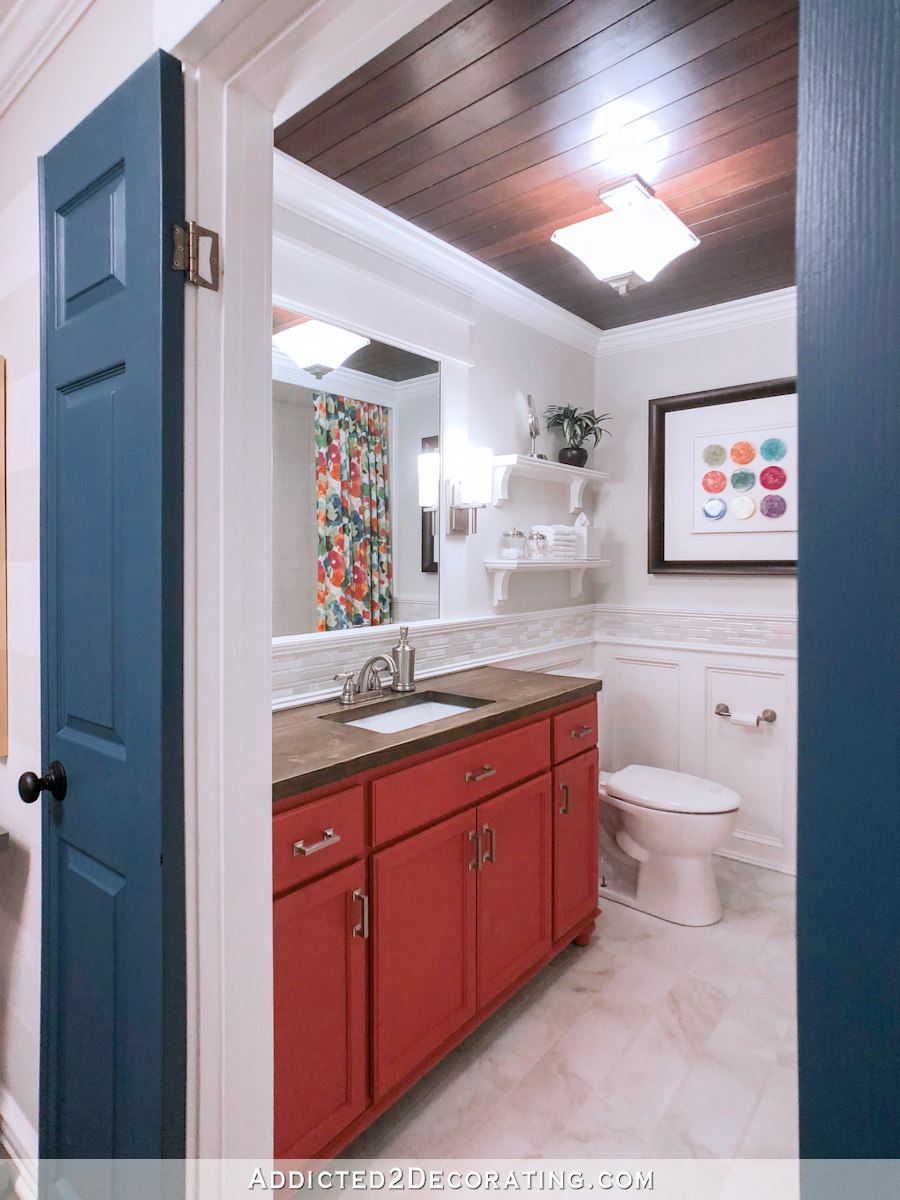 You can see more pictures of this bathroom here…
The Studio
The biggest changes of the year have been in the studio area. At the beginning of the year, the studio looked like this…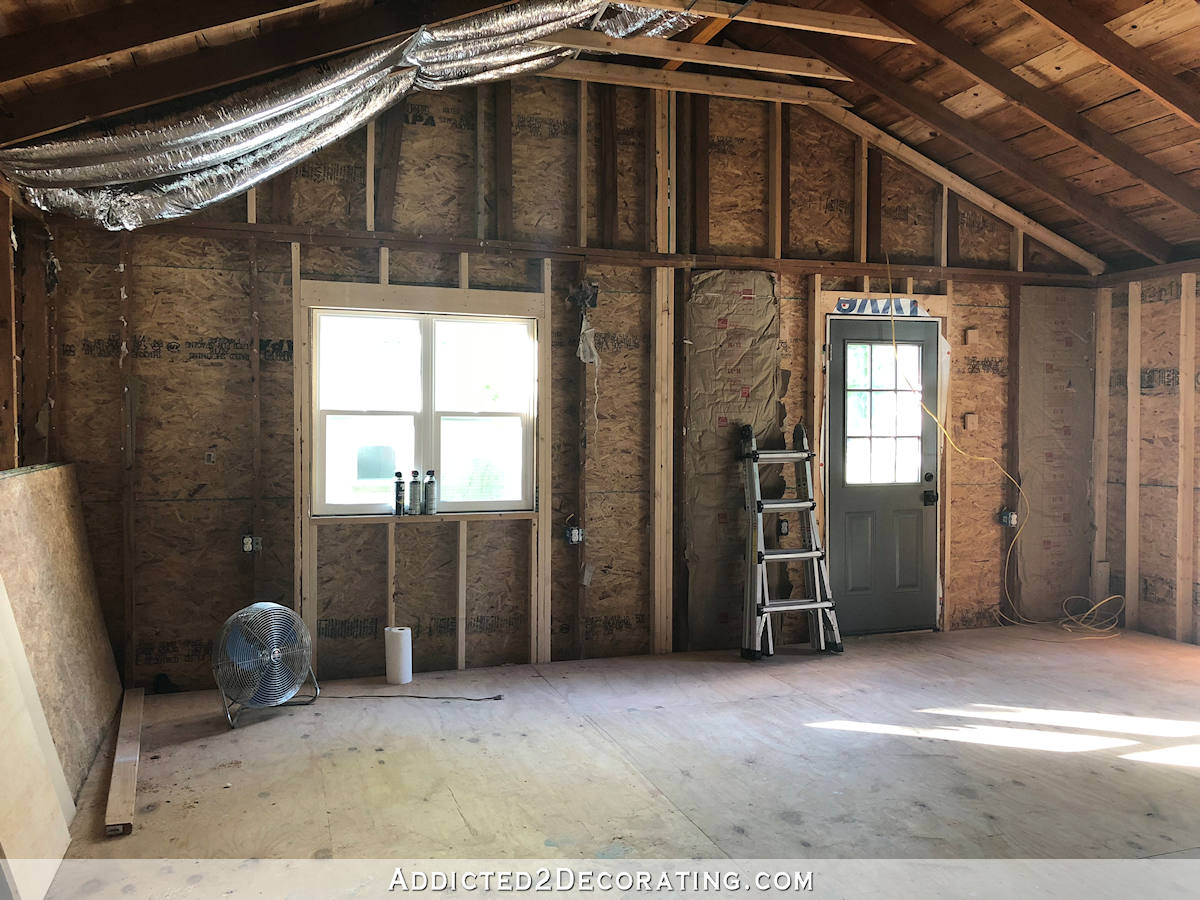 And now it looks more like this…
I had the drywall installed (because I've sworn never to do drywall again), and then I got the walls and ceiling painted and the window trim installed. I still have two doors (and exterior door and the interior door that goes to the breakfast room) that needs to be trimmed out.
I also installed and finished the floor, which was one of my BIGGEST accomplishments of the year. My brother helped me install the floor and whitewash it. It's definitely one of the projects I'm the proudest of this year.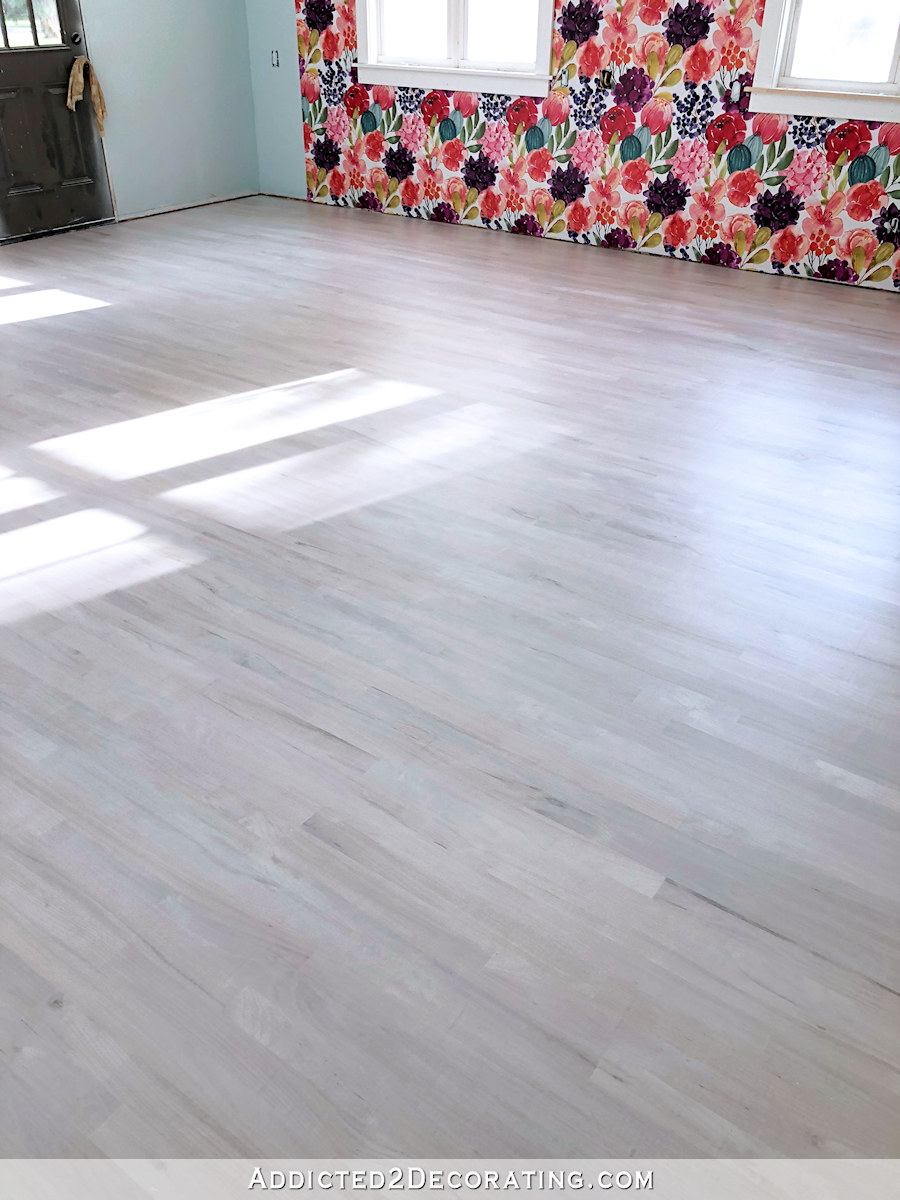 To see more about how I whitewashed the red oak hardwood flooring, you can find that here…
I also designed my own wallpaper for this room to go on the front wall. I wanted something big, floral, and colorful, like an explosion of flowers on the wall. I think this fits the bill. 😀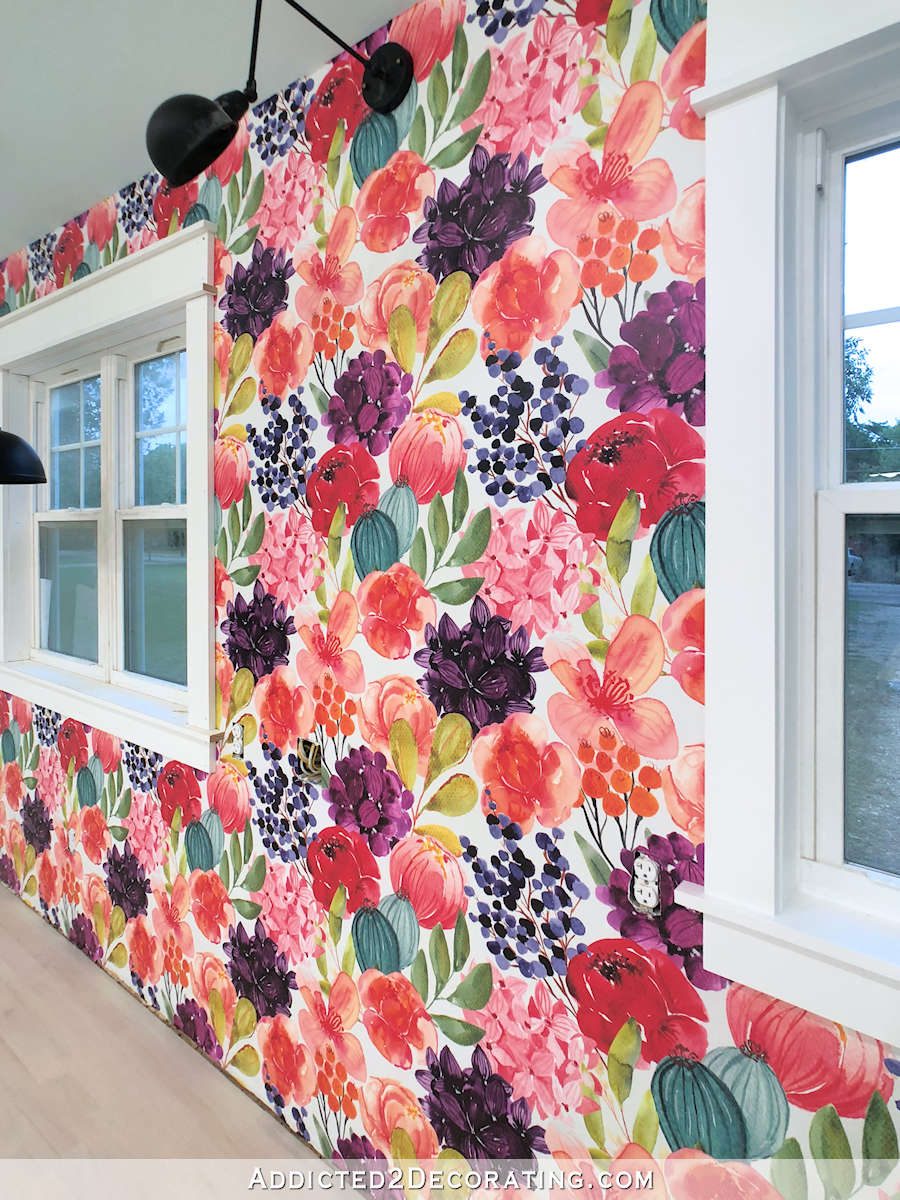 You can see how I designed my own wallpaper here…
I also built a desk for the office section of the studio…
You can find that project here…
And then I finished my favorite thing of the whole year — my huge work table for the studio. This is actually two tables that can be used separately, or pushed and clamped together to form one huge table that's big enough to hold one full drapery panel. This has been my dream for so long, and I finally have it!
You can see how I built those here…
You can also click here to see a video of the build process for those tables.
The Studio Back Entry
The back entry of the studio is an area that is actually finished. At the beginning of the year, it looked like this…
And now it looks like this…
Obviously, I didn't do the drywall myself, but I did the rest! I installed the doors to the bathroom (on the left) and storage closet (on the right), finished the floor, painted the "rug", installed and finished all of the trim, painted the walls, and made the curtains.
You can see more of the back entry here…
Studio Half Bathroom
Another big project (and huge accomplishment) of the year was the studio half bathroom. At the beginning of the year, it looked like this…
And now it looks like this…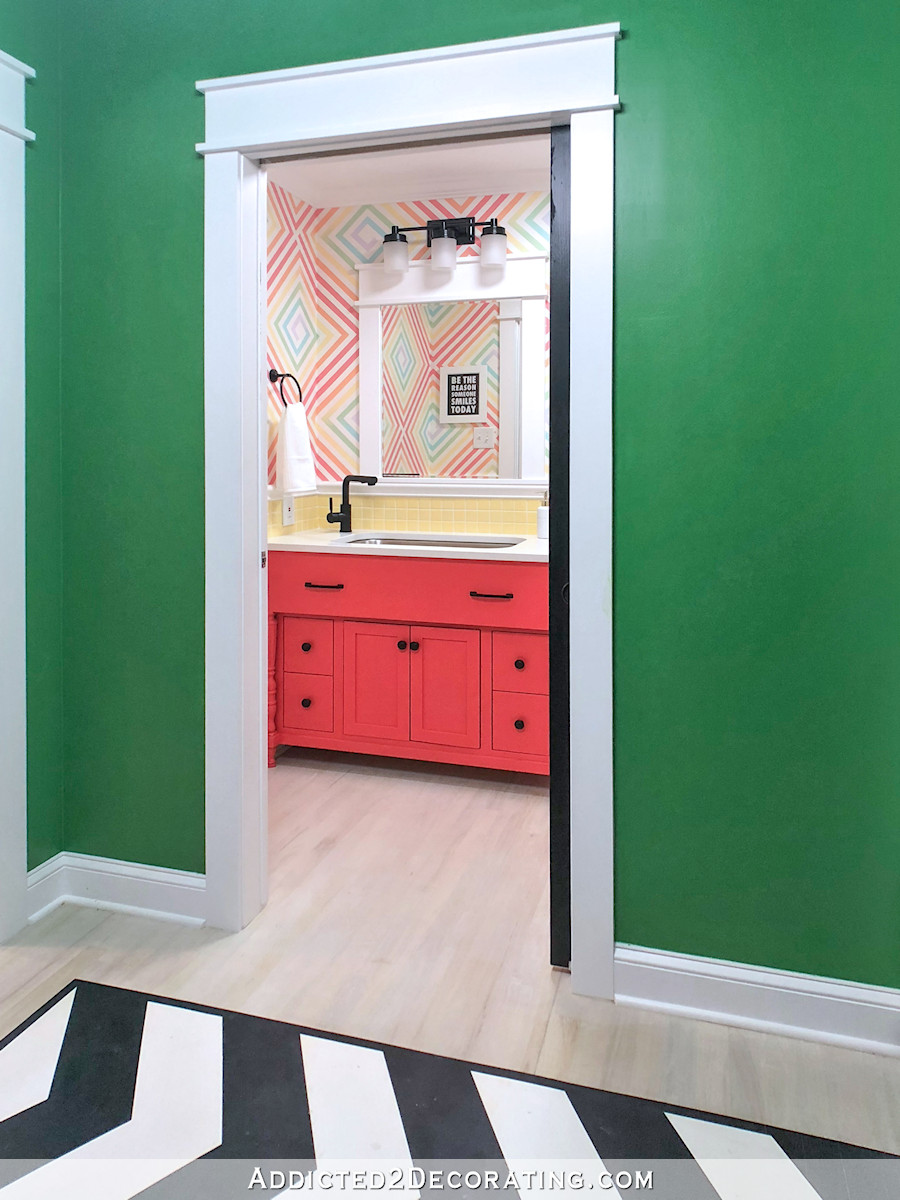 I'm so happy with how this bathroom turned out! And I love the fact that I had this area to do some fun, colorful, crazy things that I'd probably never have the nerve to do in the main parts of my house. But with this being my studio, I felt quite a bit more freedom to take some risks with pattern and color, and it still makes me smile every time I walk in there.
The wall design is obviously the star of the room. You can see more details about that here…
I also decided that since this was a studio bathroom, it needed a big, utility-sized sink. I ended up using a kitchen sink, so that required a custom-built vanity to accommodate such a big sink. You can see how I built that here…
And you can see all of the after pictures of this bathroom here…
You can also click here to see a video of the finished room.
The Living Room
I didn't get my living room finished, but for the first time ever, I feel like I have a clear vision for the finished room. It started with a magazine photo with the perfect answer to my furniture layout, which has been a struggle for me for so long. With this newfound clarity, came some pretty significant changes. I started the year with a small loveseat, small recliner, small rug, and plans to add two matching chairs to the mix. I can't find a picture that shows the actual room at the beginning of this year (with the teal fireplace), but this one is pretty close…
With the new furniture arrangement came a large sofa, a larger rug, a rectangle coffee table, new pink curtains, and two matching chairs (which still need to be reupholstered).
Those are actually not the chairs that will stay in there. Those are the music room chairs, and the chairs that will go in here are currently in the music room. I swapped them because, while all four chairs need to be reupholstered, these at least look a little bit decent. The other ones aren't presentable at all. 😀
And just last week, I finished the the new coffee table. You can see from the photo above that I needed something long and narrow with this new arrangement. So this new one fits perfectly…
You can see how I built that here…
The Current Remodel — Guest Bedroom & Home Gym
And finally, we're ending the year with a remodel underway. This is the "Phase 1" of three phases that will get us to the finish line on this house. Phase 1 is to get the two bedrooms updated (new insulation, drywall, windows, etc.) so that Matt and I could move out of the master bedroom (which needs to be turned into the master bathroom), and move into the middle guest bedroom. (During this Phase 1, we're actually staying in the breakfast room, which has been way more pleasant than I anticipated.)
The guest bedroom (which will soon be our temporary bedroom) currently looks like this…
It now has one less doorway and one less window. The one remaining window is brand new. The room now has actual insulation in the walls, new wiring, and new drywall. And I'm so glad to say that this mess in here isn't mine. 😀
In the other bedroom, which will be the home gym, the progress is underway. They're installing drywall as I write this.
That room also has new windows, new insulation, new wiring, and new drywall, which will be finished this week.
So once the guest bedroom is finished and we can get moved into that room, work will begin on the master bedroom-to-bathroom conversion. If you'll remember, the quote that I got from the contractor kind of blindsided me. The initial quote was around $30,000 for that room, and that's with my DIYing a whole lot of it myself. In other words, that number didn't even include the parts I was going to do myself, like building the vanity, tiling everything myself, etc. I was blindsided by that number, but I still wanted to go ahead with it, even if it meant taking out a loan. But Matt insisted that we wait. I tried to convince him, but he just wasn't okay with going ahead with that remodel right now.
Well, I'm not satisfied with that, so I'm forging ahead on my own. The bathroom remodel will begin on January 25th, when I have four (maybe five) people who are going to come over and help me do the demolition on that room. We'll remove the ceiling tiles, ceiling drywall, wall drywall, shiplap, hardwood floor, and subfloor. My hope is that by the end of the day, the room will be down to ceiling joists, studs, and floor joists. And then I'll start rebuilding the thing myself. I'm just not going to wait any longer for that bathroom, so if doing it myself (with reinforcements brought in when needed) is the only way, then that's the way I'll do it. So that fun will begin on January 25th, whether or not the guest bedroom is finished by that date.
So anyway, 2019 has definitely been a year of progress. I've accomplished quite a bit that I'm very proud of. But for some reason, I still feel like I lost my way at some point during the year. My goal next year will be to come up with my list of home goals at the beginning of the year, and stay laser focused on that throughout the year. But overall, I'm very pleased with what I did this year, and I'm VERY excited about what next year holds! So, I'll see y'all back here next year!
Addicted 2 Decorating is where I share my DIY and decorating journey as I remodel and decorate the 1948 fixer upper that my husband, Matt, and I bought in 2013. Matt has M.S. and is unable to do physical work, so I do the majority of the work on the house by myself. You can learn more about me here.
I hope you'll join me on my DIY and decorating journey! If you want to follow my projects and progress, you can subscribe below and have each new post delivered to your email inbox. That way you'll never miss a thing!